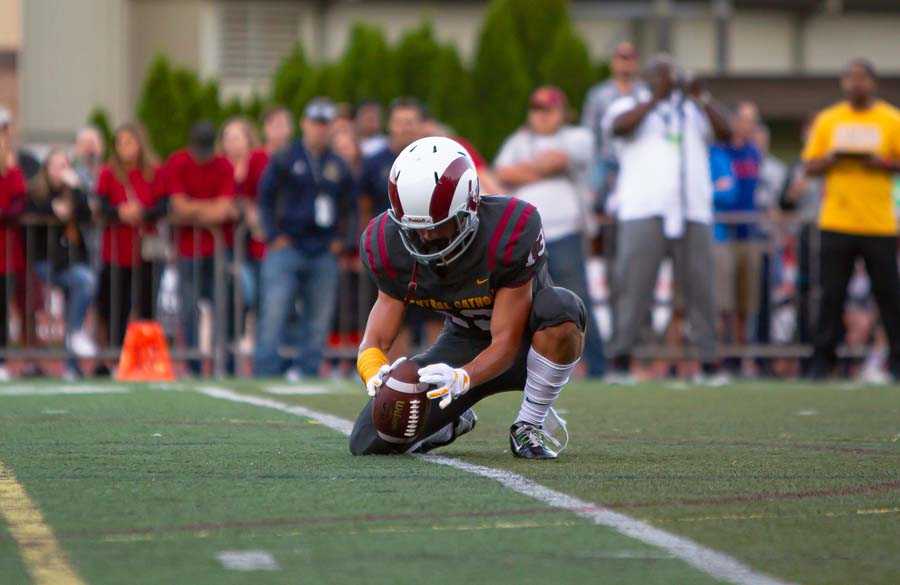 Every Friday night, we'll offer you PATs, a few nuggets from the night that was. Be sure to check out Jerry Ulmer's comprehensive Football Notebook, published Sundays, for an in-depth look at all of Friday's action from across the state.
"Well that was pretty good…"
Oregon's reigning 6A Offensive POY Casey Filkins helped carry defending champion Lake Oswego to a come from behind 42-21 road win at West Salem. The Cal commit had a 75-yard touchdown run in the first half and a 57-yard scoring jaunt early in the third quarter to break open a close game. Filkins finished with more than 200 yards rushing and three scores, not a bad debut as he bids to go back-to-back as the standout offensive player in the state's largest classification.
A tribute to his brother…
It's been a little more than a month since Deante Strickland was murdered. His sister has been charged. On Friday, Strickland's little brother, Elijah Elliott, did his family proud by playing with his whole heart to honor "Strick." Elliott had 215 yards of total offense, including an electrifying 85-yard TD run, in Central Catholic's riveting 35-27 win at West Linn in a battle of top 10 6A teams.
Colts feeling frisky!
Last year, Thurston and Churchill played two thrillers, each winning one. Thurston won the more significant game, by a point in the quarterfinals, and went on to win its first 5A state title. The two teams met in the season opener on Friday and it was no contest. Thurston's Colts piled up 538 total yards in a 55-0 win. Churchill's only scoring threat came in the 2nd quarter, but on fourth and goal at the one-yard-line, Thurston's stout defense forced a fumble that was recovered by team captain Santino Stranieri.
A sprint to the finish
Caleb Hagan won the 6A 100- and 200-meter sprint titles last fall and flashed the jets on the road in Sandy. He outran the Pioneer secondary for a 70-yard score in Sherwood's dominating 52-9 win.
What a rush!
Monroe won a battle of 2A top 10 teams by grinding out 279 yards on the ground with six touchdowns in a 44-16 win over Sheridan. Brody Ballard and Zach Young both went over the century mark for the No. 3 Dragons, with four total touchdowns. Monroe's defense limited Sheridan to 155 total yards.
Turning up the D
Forest Grove scored 13 unanswered to break a 14-all halftime tie in a 27-14 win over Putnam. CJ Doyle caught two TD passes from Jared Miller and rushed for a third for the Vikings.
Y-C cannot be stopped
Yamhill-Carlton scored on seven of its first eight possessions in a 49-34 road win over Warrenton. Jaime Garcia ran for three scores and threw two more for the victorious Tigers.
Lucky No. 13
Junior Hagen Stephenson wore No. 13 well for the Marist Spartans on Friday. He had 154 yards receiving and four TDs and also had a pick in a 55-13 4A win over Sweet Home.
Aloha means business
Usually Aloha means "hello" or "goodbye." Friday it means "good night" as Aloha put its game versus Century to bed early thanks to the aerial attack sparked by senior QB Timothy Dennis, Jr. Dennis tossed five TD passes through three quarters of play in the Warriors' 61-21 win.
Tigers running wild
Tigard rushed for 365 yards and had four rushing touchdowns in a 45-22 win over Sunset.
Demos represent
The Don Johnson era at Jefferson of Portland got off to a good start. With Damir Collins running well, the Democrats held off Southridge, 28-22, to secure a non-league win for the PIL. Southridge, which saw Derik Salinas connect twice for TDs with Josh Calo, had a chance to tie or win in the last minute but came up empty on four shots in the red zone.
Heppner gives 2A bragging rights
Heppner, No. 4 in 2A, won a thriller, 27-20 over Clatskanie, No. 2 in 3A, that wasn't secure until an eight-yard run by punter Gavin Hanna-Robinson gave the Mustangs the clinching first down. Senior Mason Lehman led the way for the Heppner offense with 126 yards rushing and receiving and two scores.
Rainier takes it back; wins battle of No. 1s
Rainier, the pre-season No. 1 team in 3A, lived up to its billing by pitching a 22-0 shutout of Kennedy, the pre-season No. 1 team in 2A. The Columbians forced six turnovers and got TDs from Kenney Tripp, Stone Ware and Brandon Isaacson in the win.
Vale prevails in Idaho
It wasn't pretty but it sure was exciting when Vale crossed the border to edge Parma of Idaho, 27-26, on Friday. The Vikings had 222 yards rushing, led by 79 from senior Keegan Mizuta.
That's pretty efficient!
Lowell senior back Taysian Williamson touched the ball nine times and found the end zone on five of them as the 2A Devils beat back 1A Siletz Valley, 54-12.
Sweet revenge
Defending 4A champion Banks lost only once all of last year, in its opener versus Gladstone. The result was different this year as the Braves got a late interception from Martial Stegemeier to seal a 21-6 season-opening win.
***
That's all we have time for tonight. Be sure to check out Jerry's report on Sunday!