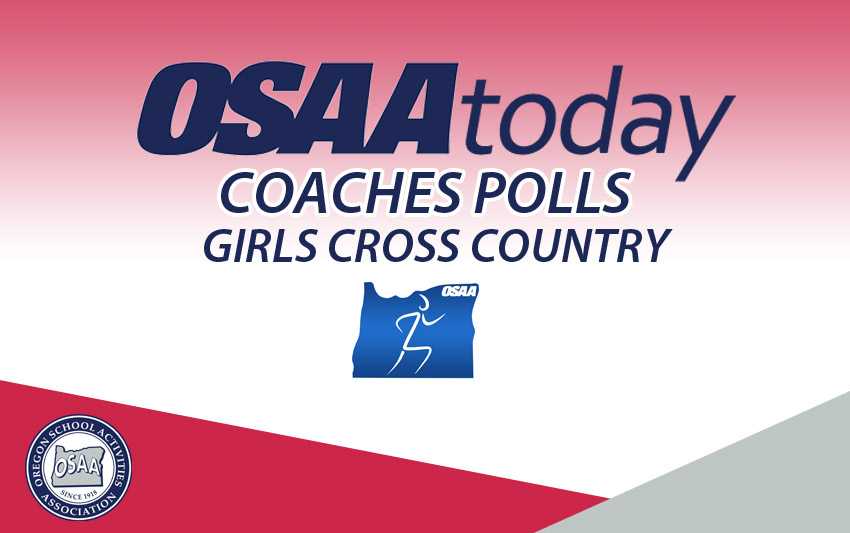 Sept. 12 Statewide Girls Cross Country Coaches Polls
OSAAtoday presents its twice-monthly weekly statewide Girls Cross Country Coaches Polls in all classifications. Thanks to all the coaches who took the time and had the expertise to contribute their opinions to this endeavor.
Look for the girls cross country polls every other Thursday during the fall season.
If you are a varsity girls cross country coach and would like to vote, please contact John Tawa at [email protected].
6A
1. Summit (11) [1] 117
2. Jesuit [2] 106
3. Lincoln (1) [3] 90
4. South Eugene [4] 73
5. Franklin [6] 71
6. Sunset [5] 56
7. Tualatin [7] 29
8. Grant [nr] 20
9. St. Mary's Academy [9] 16
9. Aloha [10] 16
First-place votes in parentheses
Last ranking in brackets
Others receiving significant votes: Grants Pass (13)
5A
1. Hood River Valley (6) [1] 68
2. North Salem [2] 61
3. Crater [3] 52
4. Wilsonville [5] 42
5. Crescent Valley [4] 41
6. Corvallis (1) [6] 34
7. Rex Putnam [nr] 22
8. The Dalles [8] 19
9. Ashland [7] 16
10. West Albany [10] 8
First-place votes in parentheses
Last ranking in brackets
Others receiving significant votes: Silverton (6); Churchill (5); Thurston (5)
4A
1. Marist Catholic (8) [1] 89
2. Siuslaw (1) [2] 83
3. Tillamook [3] 76
4. Philomath [4] 64
5. Klamath Union [nr] 62
6. Phoenix [7] 36
7. Valley Catholic [10] 30
8. Stayton [8] 29
9. Sisters [5] 17
9. Baker [nr] 17
First-place votes in parentheses
Last ranking in brackets
Others receiving significant votes: none
3A/2A/1A
1. Enterprise / Joseph / Wallowa (7) [2] 89
2. Burns [3] 70
3. Heppner / Ione [nr] 60
4. Union / Cove [6] 49
5. St. Mary's, Medford [6] 43
6. St. Stephens Academy [nr] 32
7. Sutherlin [nr] 25
8. Kennedy [nr] 15
9. Santiam Christian [nr] 11
10. Catlin Gabel (1) [1] 10
First-place votes in parentheses
Last ranking in brackets
Others receiving significant votes: Westside Christian (9); Neah-Kah-Nie (8)