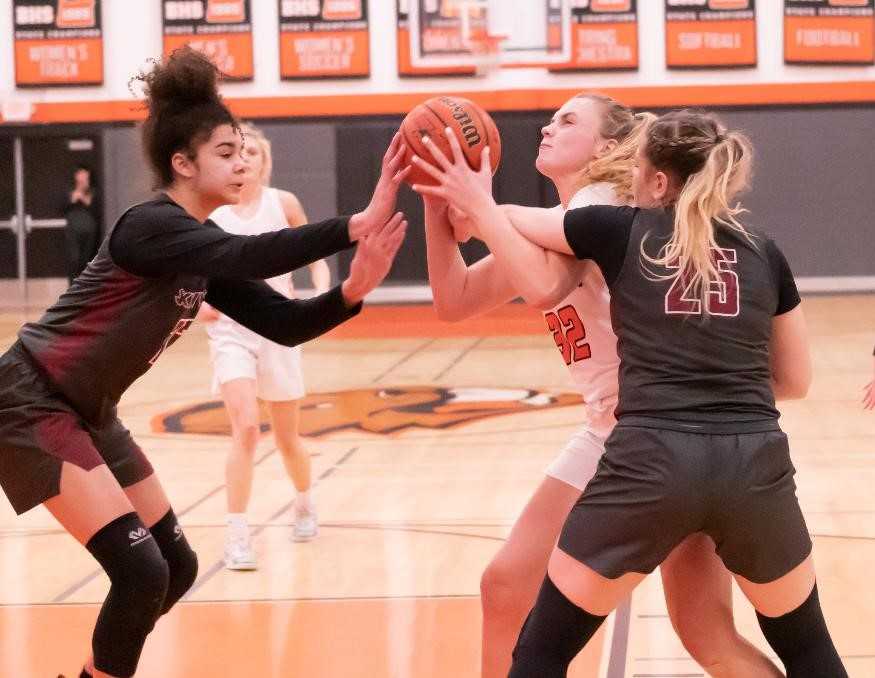 BEAVERTON – No. 1 Beaverton took a crucial step toward what it hopes is a changing of the guard in Metro League girls basketball Tuesday night.
The host Beavers started fast and cruised to a relatively stress-free 55-44 win over four-time reigning league champion Southridge, ending the Skyhawks' 53-game Metro winning streak and taking sole possession of first place.
The victory was cathartic for Beaverton, which had lost nine in a row to Southridge dating back to the 2014-15 season, including a semifinal defeat in last year's 6A tournament.
"We were talking in pregame, we were like, 'This is the night, we're not losing to them,'" said Beavers senior forward Sydney Erikstrup, who led her team with 18 points. "It's amazing to come out on top. We worked so hard for this."
Beaverton (14-4, 6-0) jumped in front 8-0 and never trailed the fifth-ranked Skyhawks (12-5, 5-1), building the lead as high as 15 points midway through the third quarter. The Beavers also got 13 points from senior forward Laura Erikstrup and 11 points from junior guard Alexa Borter.
It was similar to their other big Metro win, a 55-49 victory at No. 6 Mountainside in which they scored the game's first seven points and led wire-to-wire.
"We're a lot more settled, calm, collected under pressure, which is good," Beaverton senior point guard Mary Kay Naro said. "We're more of the aggressors, which is what we want to be – be aggressive and don't back down. It was really good to see that tonight."
It reflects a change in mentality this season for Beaverton, which has not lost to an Oregon team.
"We're just going at teams this year, where last year we were a little more tentative," Sydney Erikstrup said. "This year we're just more like, 'We got this.' Our mindset every game is if we do the little things, we can take care of anyone."
The Beavers had the Skyhaws on their heels early.
"They came out with so much energy in that first half, and hit shots," Southridge coach Michael Bergmann said. "We knew what we wanted to do, but we weren't quite doing it at the beginning."
The Beavers were able to offset another strong offensive performance from Southridge senior point guard McKelle Meek. The University of Portland-bound Meek, who is averaging about 25 points this season, poured in 22 points.
"McKelle is having an amazing year," Beaverton coach Kathy Naro said. "She's so tough to guard. She's so good at changing speeds. She'll go a little bit slow, kind of lull you, and then burst by you. And she's got such a great touch around the basket, and she's very crafty."
But the Skyhawks had to deal with Mary Kay Naro, who once again was outstanding in conducting Beaverton's offense. She finished with seven points and five assists.
"She's phenomenal," Sydney Erikstrup said of Naro, who has signed with Boise State. "She's easily the best point guard in the state. She's not selfish. She'll do whatever the team needs. Her defense is phenomenal. She defends super hard. She can shoot, she can score, she can do it all."
Southridge made a brief run in the fourth quarter, getting to within 45-37 on a basket by senior Emoney Perry-Reid with 4:37 left, but the Beavers spread the court and finished the game by making 10 of 15 free throws.
It was the Skyhawks' first Metro loss since falling to Jesuit on Feb. 9, 2016.
"The end doesn't matter, what matters is how hard these girls have worked to make that streak," said Bergmann, who coached Southridge to the last three 6A finals, winning titles in 2017 and 2018. "Some of these girls have been playing together for like 12 years. They're great kids. It's been fun to be with them."
Kathy Naro called beating Southridge "a huge accomplishment."
"Southridge is one of the best programs in the state," she said. "I think Mike does a great job, and I love their players. They've got all kinds of gifts on that team. So it was a great win."
The Beavers will try to carry the momentum into Friday's home game against Mountainside (12-7, 4-2).