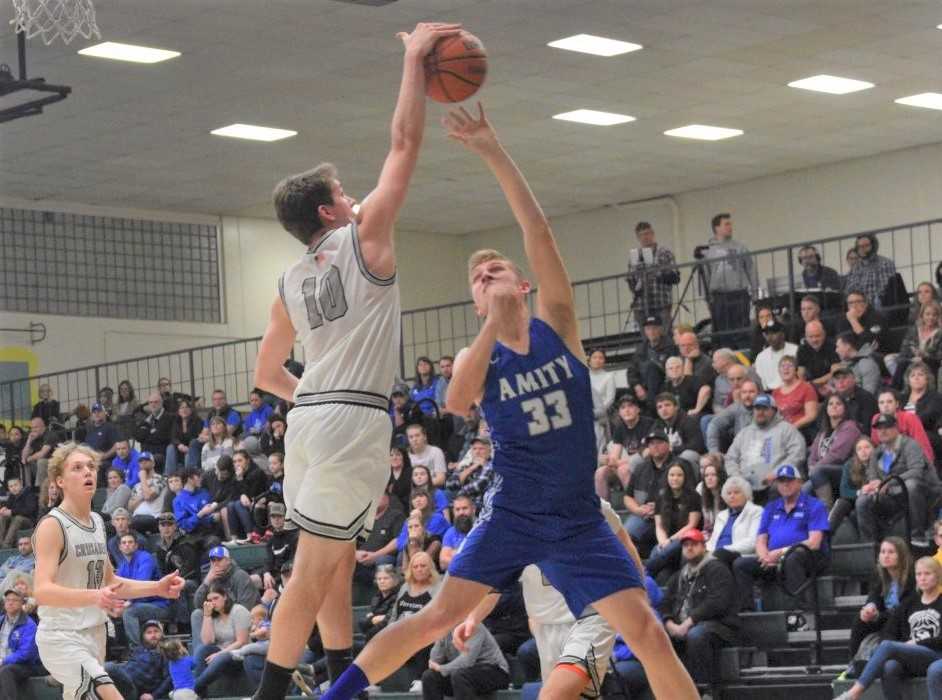 SALEM – Junior forward Bennett Bos had 18 points and 11 rebounds as No. 2 Salem Academy remained unbeaten in 3A PacWest Conference boys basketball with a 57-43 home win over No. 3 Amity on Friday night.
The Crusaders (16-4, 8-0) clinched at least a share of the PacWest title with the win. With two conference games remaining, they stand ahead of Amity (17-5, 5-3) and No. 4 Dayton (18-5, 6-2), and are 2-0 against both teams.
It is the Crusaders' first conference title since 2017, when they shared it with Blanchet Catholic.
Amity, last year's state runner-up, came out fired up Friday and took a 13-3 lead. But Salem Academy responded by outscoring the Warriors 25-7 to lead 28-20 at half.
Senior forward Austin Miller scored 11 points in the first half to lead the Crusaders back.
"Down 10, we're a calm team. Play SA ball and we got it," Miller said. "Staying calm and not panicking because we know our basketball."
Salem Academy turned the game around by going to a 2-3 zone defense, which helped to shut down Amity's driving lanes and control the Warriors' Josh Wart, a 6-foot-7 junior who finished with 12 points, 11 rebounds and three steals.
"Just playing our style of basketball, trusting our coaches," Bos said. "Not being afraid of people who we play against. …Just being confident in our offense, playing good defense and not playing selfish basketball, playing hard and having fun."
Amity pulled to within 36-31 in the third quarter but could get no closer. It is the third loss in six games for the Warriors after opening the season 14-1.
"We've got to realize our competition. I feel like we underestimate people," Wart said. "We've got a lot of pressure on us after last year, finishing second in state. I think we've got that on our shoulders, and I think we need to lose it and play like we usually play."