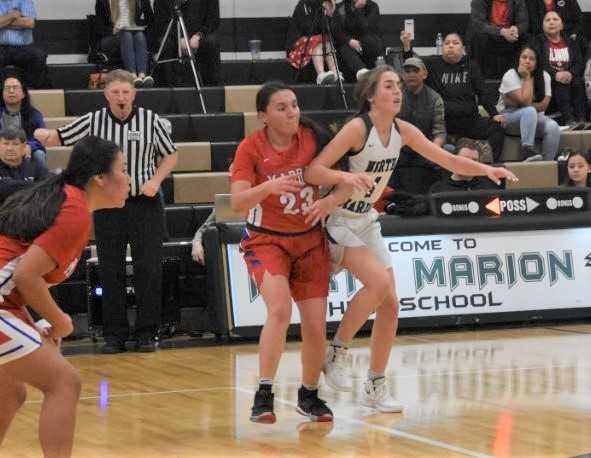 AURORA – It wasn't pretty, but No. 5 North Marion kept its winning streak alive tightened its grip on first place with a 39-32 home win over No. 8 Madras in a 4A Tri-Valley Conference girls basketball game Friday night.
The Huskies (15-6, 7-0) struggled against Madras' zone defense for much of the night, committing turnovers and missing layups. But they got it done when it mattered, scoring the game's final nine points to hold off the White Buffaloes (12-8, 4-3) and extend their winning streak to 13.
"I think this was good for us," said North Marion coach Trevor Bodine, whose team won at Madras 48-30 on Jan. 24. "We've been kind of coasting. Big win against Molalla, I think we felt we were getting complacent and a little bit too full of ourselves.
"So I think this was good. I think we needed a tough grinder. We've got Gladstone coming up at their place (Feb. 21) and that's going to be just as tough."
The Huskies trailed 32-30, but junior Mya Hammack scored a tying basket with 4:29 left and converted a steal into a layup with 2:53 left to put them ahead 34-32.
Hammack, who finished with a game-high 17 points, said the game was an eye-opener for North Marion, which maintains a two-game lead over second-place Gladstone (11-9, 5-2).
"It was really helpful, and as Trevor said, we needed this," Hammack said. "We've been cruising a little bit and this helped us. Everyone's trying to come after us. We just need to step up and play our best game every time because anyone can win on any day."
Madras got 13 points from senior Jiana Smith-Francis, who made three of the team's four three-pointers in the first half.