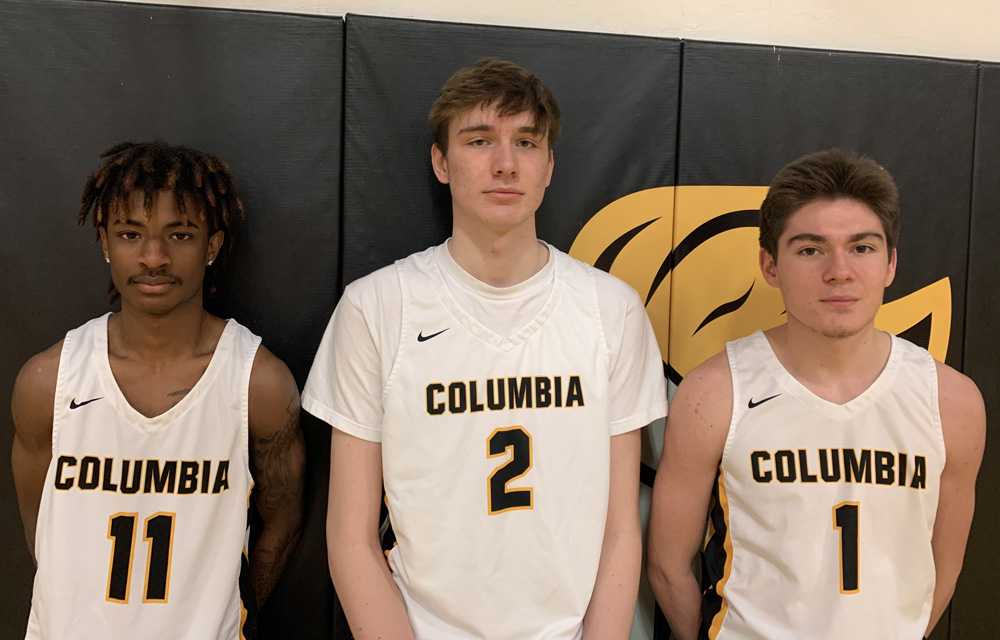 Columbia Christian's boys basketball suffered three serious jolts in 2019. The first came when the heavily favored Knights, the 2018 state champions, were upended last March by Western Christian in the OSAA 2A championship game.
Four weeks later, 6-8 All-State forward Ben Gregg informed head coach Bart Valentine that he was transferring to Clackamas. Valentine said the news did not come as a surprise.
"When Ben came as a freshman, I knew it might be a two-year stint," he said. "They told me in advance."
Valentine said the championship loss likely sealed Gregg's transfer.
"Had we won, the lure of winning four state titles at the same school might have been attractive to him," Valentine explained.
Columbia Christian was still in good shape going forward without Gregg, thanks to terrific returning talent and promising newcomers. Then, in the third week of July, Valentine got more bad news. Elijah Munyan, the ultra-athletic 6-4 All-State guard, informed Valentine that he, too, was leaving the school. This, after playing with the team all summer.
Losing Gregg was one thing. Losing Munyan also? The team took the news really hard.
"The kids were really down," Valentine said. "I will admit myself being discouraged. My choice was to turn it into an opportunity and let the kids know there's space for somebody to really step up. Once I got over my own emotional struggles with the changes, I turned to Mo [Hartwich] and Isiah [Mariscal] and said, 'Let's get to work.'"
The remaining players embraced the opportunities that the departure of Gregg and Munyan created. Mariscal put in considerable extra time to improve his game. Munyan's leaving was the turning point for Hartwich, a 7-0 junior who played a complementary role a year ago. Hartwich's attitude became, "The team needs me. I can get after it!"
While the team started to believe in itself others weren't so sure. Columbia Christian was ranked fourth in the OSAAtoday Coaches Poll to start the season. Being an afterthought was fine with Valentine.
"They saw we lost two first team all-state kids, it was normal for people to say that Columbia was not going to be there," he explained.
Coaches are not saying that anymore. With exponential growth from Mariscal and Hartwich and tremendous contribution from cat-quick junior point guard Freddie Jackson, a transfer from Roosevelt; the Knights went 22-5 playing a very competitive schedule. And their five losses came by a total of just nine points.
"It was for sure a season of growth," Valentine explained. "I could see where we could be really good but at times we struggled and we looked at times like a rebuilding team. I knew we could get a lot better. Even losing I was optimistic we could get it going. As it turned out, we were just a few possessions from being undefeated."
Despite the strong season, the Knights are still generally flying under the radar heading to Pendleton for the OSAA/OnPoint Community Credit Union 2A Basketball Championships. They were fourth behind Western Christian, Toledo and Knappa in the final OSAAtoday Coaches Poll. Valentine thinks he has the kids to surprise.
"For three games we just have to be good," he said. "I think we've become a very good defensive team. I feel we'll be in there with everybody if we can maintain that defensive execution and intensity for three games. We're a tough matchup for anybody."
2A boys quarterfinals, Thursday, Pendleton Convention Center
No. 7 Bandon (19-7) vs. No. 1 Toledo (23-3): The Sunset Conference foes feature a contrast in styles. Bandon's tough 2-3 zone has yielded a 2A-low 43 points per game. Toledo's high-powered offense averaged almost twice that many. In two meetings this year, Toledo won by double digits. The Boomers, who finished third last year, are not only going for their first state title in basketball, but also the school's first state title in any team sport. Eddie Townsend's team is led by senior guard Conner Marchant, who averages 30.3 points along with 6.2 assists and 6.5 rebounds per game. Marchant has 2,457 career points and stands just 125 points from breaking the career small-school record. Other players to watch for Toledo include sharp shooter Mason McAlpine, who averages 20 points per game; 6-7 post Jaxon Rozewski, who averages 12 points and 14 rebounds per; and Clifton Howard, a senior wing who contributes 12 points and eight rebounds per contest. Bandon, making its first trip to Pendleton in five years, is led by seniors Braydon Freitag and Coby Smith. Freitag, a point guard; and Smith, a post; average a tick over 14 points per game apiece. The Tigers should have a strong contingent of fans in Pendleton despite being 450 miles from home. That's because, for the first time in school history, both the boys and the girls are at the state tournament in the same year. "Both teams at the state tournament is super exciting for the school and the community," Bandon boys' coach Vince Quattrocchi said.
No. 5 Oakland (23-3) vs. No. 4 Knappa (25-2): This is a rematch of last year's state quarterfinal, which Knappa won, 53-50. The teams did not play during the regular season, but Knappa has the more impressive resume, with wins over Toledo and Columbia Christian. The Loggers are led by All-League junior guard Devin Hooper, who averages 16 points, 4.5 rebounds and 2.5 steals per game; 6-3 forward senior Eli Takalo, who contributes 16 points and six rebounds per contest; and 6-7 senior post Mason Westerholm, who averages 12 points and seven rebounds a game. Oakland graduated seven off of last year's tournament team, but brought back its two best players. The Oakers, who average 66 points per game and yield just 47, are led by 6-5 inside/outside threat Colton Brownson, a senior averaging 19 points, 11 rebounds, four assists, four steals and 3.5 blocks per game. Senior guards Noah Strempel and Colton Mask also are vital to the Oakland cause, as they combine for 27 points, seven rebounds, seven assists and five steals per contest. The game should come down to how well Oakland handles the defensive pressure of the athletic Knappa team.
No. 6 Columbia Christian (22-5) vs. No. 3 Coquille (22-4): Bart Valentine, a longtime coach at Warner Pacific College, came out of retirement four years ago to coach Columbia Christian. In that time, the Knights have finished fourth, first and second at the state tournament. This year's squad is led by senior guard Isiah Mariscal, the Northwest League POY. Mariscal averages 19.8 points, 5.0 rebounds and 2.8 assists per game and also is a premium defender. Columbia Christian also boasts 7-0 junior center Mo Hartwich, the league's Defensive POY. Hartwich pours in 16 per and also contributes 11.2 rebounds and 6.5 blocks per contest. Junior point guard "fast" Freddie Jackson and 6-9 junior forward Cameron Andre-Covington also are players to watch, as is the Knights' X-factor, junior guard Derek Valentine. The coach's grandson broke his fibula in October and only started playing recently. A "glue guy," Valentine could provide a huge spark off the bench. Coquille is making its first trip to Pendleton in 17 years. The Red Devils have two standout seniors who are huge contributors, guard Ean Smith, who averages 19 points and 10 rebounds per game and was Sunset Conference Defensive POY; and 6-4 post Jeremy Kistner, who averages 18 points and 15 rebounds a game. Two junior guards, Jace Haagen and Cort McKinley, each contributes 10 points per game.
No. 10 Santiam (22-7) vs. No. 2 Western Christian (24-3): Tri-River Conference foes Santiam and Western Christian will be playing for the fourth time this season. Western Christian, the defending state champions, won the first three, but the last game, less than two weeks ago, was a one-point contest. Western Christian is making its 15th consecutive trip to the state tournament and will be looking for its third title since 2011. Gary Hull's Pioneers are led by seniors Payton Richardson, Alex Nicoli, Ethan Halgren and Brayden Hopper and a good group of juniors in Ty Vanderhoof, Darrin Campbell and Jordan Trammell. Richardson and Nicoli are the team's go-to players and had 32 points between them in last year's championship game win over Columbia Christian. Halgren is a rugged inside player. Santiam finished sixth in last year's tournament two years after claiming the state title. The Wolverines do not have any players who were on the championship team and managed to win 22 games this season despite a plethora of injuries, some carried over from football. Head coach JD Hill said that everyone will play, but the team will not be 100 percent healthy in Pendleton. Chaz Storm, a 6-6 sophomore forward, leads the way for Santiam. The First Team All-League performer averages 20.5 points and 10.4 rebounds per game. Others to watch include freshman guard Ezra Downey (12.6 points; 3.1 assists) and a trio of seniors: guards Colin Thurston and Aiden Aerni and forward Hunter Reeser. Together they average 29 points, more than nine rebounds and more than seven assists a game.
2A girls quarterfinals, Thursday, Pendleton High School
No. 9 Coquille (23-4) vs. No. 1 Kennedy (23-4): Kennedy comes to Pendleton seeking its third state title over the past five seasons. In 2019, the Trojans were denied in the semifinals by Coquille, which won in overtime, 41-35. Kennedy turned the tables this winter during the regular season, winning by 10. This game promises to be a showdown between arguably the two best players in 2A, 6-1 senior forward Sophia Carley for Kennedy and 6-0 do-everything senior Morgan Baird, a Portland State signee, for Coquille. Carley, the Tri-River Conference POY, averaged 19 points and eight rebounds per game. Baird, the Sunset Conference POY, averages 23.4 points per game. (Coquille does not keep other statistics). This game could come down to how the team's complementary players perform. Kennedy will look to four underclassmen, juniors Ellie Cantu, Hailey Arritola and Elise Suing, and sophomore Reese Hall, All-Conference performers all, to be big factors. Cantu and Arritola combine to average nearly 21 points per. Arritola, Hall and Suing also collectively get seven steals a contest. Seniors Mia Ruiz and Saige Gallino and junior Drew Wilson are key Coquille performers, combining to average 22 points per game for the Red Devils.
No. 5 Bandon (25-1) vs. No. 4 Gervais (23-4): The Bandon Tigers were 10-36 over the past two years but are working on a 22-game winning streak in their third year under head coach Jordan Sammons. Bandon's win over Faith Bible marked the first time in 30 years that the Tigers advanced past the playoff's first round. The roots of Bandon's success started with 30 summer ball games, hours of shooting and conditioning and were aided by the mid-season arrival of Eduarda Reolon, a foreign exchange student from Brazil who has been a big addition, averaging 11 points, 3.5 rebounds, 4.0 steals and 2.5 assists per game. Bandon's go-to player is senior guard Traylyn Arana, who averages almost 20 points per game to go along with six steals, three assists and four rebounds. Senior Ashley Strain and junior Kennedy Turner are two others to watch. "We never thought we'd be 25-1 with a trip to the State Tournament, so it's just awesome for this whole group," said Sammons. "They deserve and earned every good thing that has come to them this year. The culture and bond these girls have created in our team is something that is already trickling down throughout our programs and will remain long after they have graduated." Gervais' story is just as compelling. The Cougars were ousted in the first round of the playoffs last year and are making their first trip to Pendleton in 25 years. Head coach Kyle Buse has a young team with just one senior. He's been with Gervais at the JV and Varsity levels for 10 years and helped nurture his current roster as a youth coach. "It's not like we had talent [transfer] into our school," Buse said. "As a coach I had to develop my players over time." Players to watch include junior guard Araceli Vasquez, who averages 14 points per game; junior wing Lilly Welburn and posts Bella Vasquez and Katie Hanson.
No. 6 Monroe (21-5) vs. No. 3 Central Linn (23-4): Monroe holds a 2-1 series lead over Central Valley Conference foe Central Linn this season, with the lower-seeded Dragons having won the last two. Monroe missed the State Tournament last year after losing to Vernonia in the first round, but the Dragons have plenty of experience in Pendleton. They won the state title in 2017 and finished second in 2018. This year's team is led by senior guard Mirtha Lopez and junior post Ashley Sutton. Lopez averages almost 11 points a game and also contributes five rebounds and five steals. Sutton is averaging 10 points and six rebounds per. Central Linn is making its second consecutive trip to Pendleton. The Cobras placed fourth last year and feature a defensive style. Marcus Campbell's yields just 31.5 points per game. Central Linn graduated five seniors off of last year's team and only returned one starter, so getting back to State is a pleasant surprise. "I knew we had good kids and a ton of athleticism, but asking so many new players to step in and play significant roles is tough to predict," said Campbell. The team is led by fearless sophomore guard Ryleigh Nofziger, who averages 10 points, seven rebounds and 3.5 steals a game. The Cobras' leading scorer is freshman Maya Rowland, a great shooter with strong basketball I.Q. Rowland, who averages 10.5 points, 4.4 steals and three assists per game, is working her way back to full strength after a leg injury.
No. 10 Portland Christian (24-4) vs. No. 2 Union (24-3): Portland Christian is headed to Pendleton for the first time since 2010, when the Royals won both the boys' and girls' titles. Portland Christian did play in the 3A State Tournament in Coos Bay in 2015 but no player on the current roster has any State Tournament experience. The Royals, who average 46 points a game while giving up 32, will be somewhat of a mystery team, as they are the only one that hasn't played anyone else in the State Tournament field. Players to watch include junior guard Carly Brunner, who averaged 17 points and four steals per game during league play. Senior guards Jounie Conard and Madi Delucia also are impact players for head coach Charles McKinney's team. The Union Bobcats are making their first State Tournament appearance since back-to-back trips in 2014 and 2015. Rhondie Johansen's team comes in with a ton of momentum: the Bobcats have won 14 games in a row and won their league without losing a game. Sophomore point guard Callie Glenn is a team captain and the leading scorer at 16 points per game. Johansen calls her "the driver of our team." Others to watch include First Team All-League senior Brianna Kohr, workhorse sophomore post Audrey Wells and rugged rebounder Kylie Marriott. Last year, Coquille ousted Union in the first round of the playoffs but only one senior graduated off of that team. That loss stayed with the returning players, Johansen said. "It created a burning desire for another chance this season," she explained. "This particular group of girls defines the meaning of team. They are the most coachable, dependable, dedicated, team-oriented, selfless group of girls that I've had the pleasure of coaching. They work extremely hard and we pride ourselves on their work ethic. They are fierce competitors and work hard day in and day out to get better. They are coachable and have all bought into the goals we set at the beginning of the season."