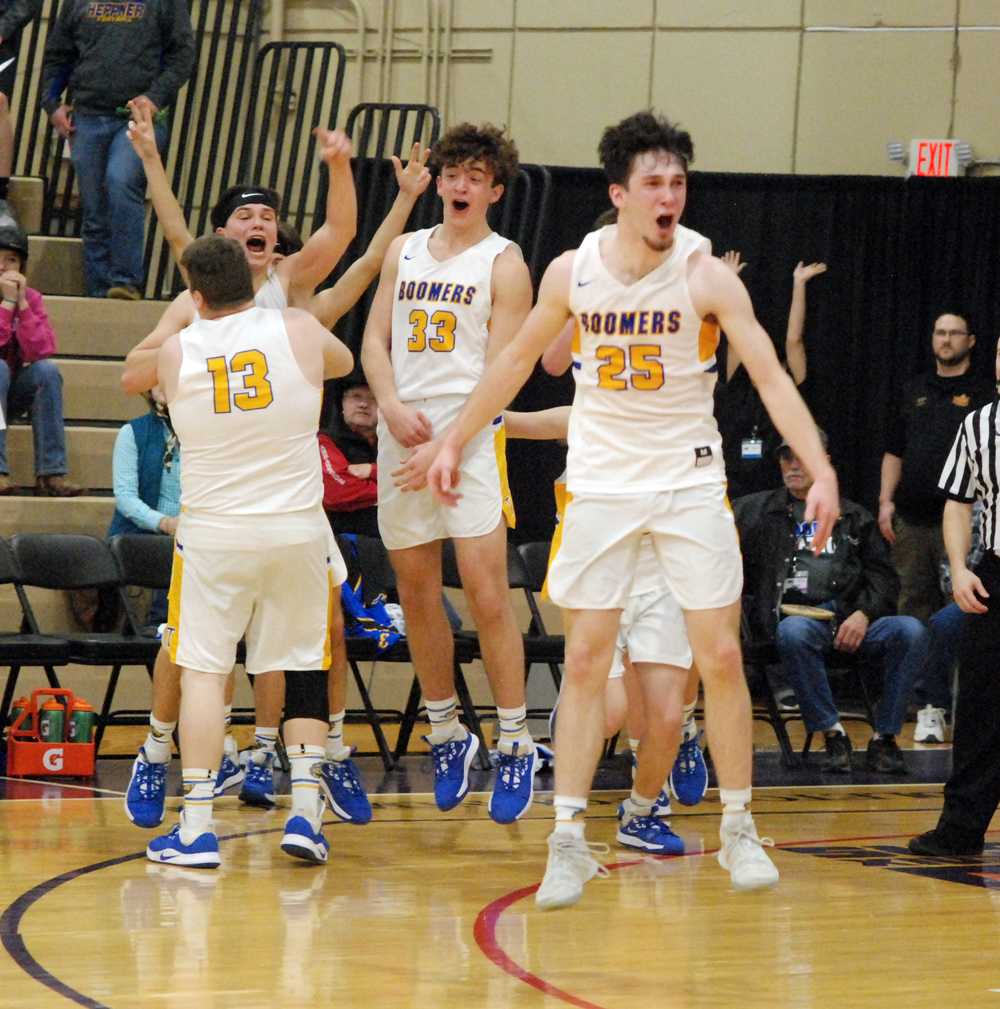 When Toledo's high-scoring senior guard, Conner Marchant, left Friday's semifinal rout of Knappa late in the fourth quarter, he pointed his index finger towards coach Eddie Townsend as he ran by.
One more.
One more game to win the state championship that had eluded Boomer nation in ANY team sport, boys or girls, since the school opened in 1959.
On Saturday night at the OSAA/OnPoint Community Credit Union 2A State Basketball Championships, Marchant again looked toward the Toledo bench after the first of two free throws with 18 seconds left gave the Boomers an insurmountable 57-48 lead. This time his hands were on his head and his mouth was wide open in disbelief.
They'd done it!
Toledo was about to celebrate winning the blue trophy for the first time in school history! Better yet, the 58-48 win was over Western Christian, the defending state champion, the program that knocked the Boomers out in the semifinals a year ago, the same team these Toledo players were 0-14 against all-time going back five years. It was almost too much for Marchant and his teammates to comprehend.
"We strived for this every day, we dreamed about this every night and we talked about it all the time," Marchant said. "Just to see it. Somebody pinch me; it doesn't feel real."
"We envisioned this," said Townsend. "We were at practice today and turned the lights off. I said, 'All that fear and all that doubt...I need you to remove it and put faith and belief in your minds. We envisioned making shots. We envisioned this. We knew."
Toledo showed early nerves playing before a rowdy, packed house at Pendleton Convention Center. The Boomers passed up open shots they normally would drill, turned the ball over a little bit and Marchant appeared bothered by the pressure defense he faced at midcourt from Western Christian's senior star, 6-4 guard Payton Richardson. When junior Ty Vanderhoof completed three straight headlong drives to the hoop for seven straight points, the Pioneers had a 9-6 lead and all the momentum.
"That was their first punch," Townsend said. "They're a championship team. They've been to the finals three years in a row."
Townsend told his team, "Let's think about making a run. See yourselves up five, up 10. Take a deep breath. We're fine. We've been down. We were going to fight back. What were we down? Two? Four? That was nothing."
The spark came from Marchant and junior wing Mason McAlpine. The duo combined for all but two points in the quarter, including a 9-0 run to close it out with Toledo up 17-11. The highlights included McAlpine's "nothing-but-net" deep three pointer and two Marchant free throws with 10 seconds left that gave the southpaw six points for the game and 2,515 for his career, moving him into second place all-time among Oregon small school scorers.
Richardson, the Seattle Pacific signee who was Player of the Game in the state championship a year ago, scored seven points early in the second quarter to keep Western Christian in the game, but the Pioneers obviously weren't playing their game of sharing the ball and getting everyone involved.
"I felt like Payton and Ty were out there playing offense all by themselves," said Western Christian coach Gary Hull. "I'm not sure why that is. A big show, a big stage maybe? I don't know. We've had so many big games this year that I'm a little surprised at that, but they're only kids."
Toledo methodically built its lead. When post Jaxon Rozewski fed McAlpine for another deep three, the Boomer lead was eight.
"We just moved the ball around," McAlpine said. "Our goal was less turnovers and to work harder than they were working."
Toledo's lead grew to 13, 33-20, after senior Clifton Howard scored twice, inside on a stick back and from the free throw line with a jumper; and freshman Gunner Rothenberger, who was fantastic all game long, added two free throws. Ethan Halgren tallied once from the stripe late in the half for Western Christian, which went to the locker room down a dozen.
Western Christian, with its championship pedigree, should have made a run early in the third quarter. But other than Alex Nicoli's great effort to steal the ball in transition and convert a traditional three-point play, it was all Toledo. Marchant had seven points and fed Rothenberger for a triple in a 10-0 run that put the Boomers up 45-24 with 3:36 remaining in the period.
"I'm not sure where some of my guys were tonight," said Pioneer coach Hull. "I'm a little baffled."
Western Christian showed some life late in the quarter, getting five points from Richardson and a bucket, assisted by Richardson, from sophomore big man Austin Sladek, but the fourth quarter started with the Pioneers on the short end of a 48-31 score.
The fourth quarter was characterized by desperation on the part of Western Christian and Toledo trying to run clock. The momentum swung early in the direction of Western, which scored eight straight points in a little over three minutes, drawing to within 48-39 with 4:45 remaining in the game.
"I was expecting that from the opening tip but we never got into it, I don't know why," Hull explained. "When it came to desperation and they saw that they were really losing, then we started to do what we do best. I'm not sure why that didn't happen sooner."
McAlpine said that Toledo wasn't worried.
"We always have to stay calm," he stressed. "When they went on that run, we tried to stay even keeled and keep working hard."
Western Christian had a chance to get within six after Richardson's stunning block and save gave the Pioneers another possession. Brayden Hopper's open three was on target but just a tad short, however.
Toledo, meanwhile, was taking the air out of the ball and accumulating fouls. Both Richardson and Vanderhoof had four on them with six minutes to play, meaning they could not be as aggressive pressuring the ball at the top of the key.
Townsend said that his high-powered team often practices the slow down.
"That's something we work on quite a bit," he explained. "We put five minutes on the clock and tell the defense if you can't turn them over you're running and if we turn the ball over we're running."
The strategy only works, however, if you take care of the ball and you make your free throws. The Boomers did neither. They had five turnovers in the fourth quarter and were only 4-for-11 from the free throw line over the final 2:30 before Marchant sank those two free throws at the very end.
"Normally we're a 76 percent free throw shooting team," said Townsend. "I think we were gassed. Luckily we built that lead and could survive the misses."
Western Christian's last gasp came with just over two minutes remaining and the Pioneers down 11, 50-39. Richardson drove hard to the hoop and made a layup in traffic. The whistle sounded. What might have been an and-1 opportunity for Richardson was instead ruled a charge, foul No. 5 that forced the emotional senior from the game. Western Christian fought on without him and got within nine points one final time on Nicoli's three pointer with 67 seconds remaining, but it was far too little and far too late. Toledo was able to savor the victory with the many stoppages for foul shots over the final minute of play.
Richardson finished with 19 points for Western Christian (26-4), whose other three losses came in January at the Les Schwab "The Eight" Tournament. Nicoli added 13, 12 after halftime. Vanderhoof, the only non-senior in the starting lineup, finished with nine.
"I'm proud of the guys," Hull said. "They've been with me since the fifth grade and we've had so many great moments. It's been a great season. Toledo's a great team and they got us finally. I'm happy for Eddie. I'm sad for some of our seniors. This isn't how we planned to end it."
Marchant had 22 points, seven rebounds and four assists to lead Toledo (26-3). McAlpine, Rothenberger and Howard combined for 33 more. Toledo shot 51 percent from the field for the game.
It came down to execution, Townsend said.
"We envisioned this. We envisioned making shots."
Marchant said the impact of the title on the Toledo community, a town of about 3,500 on the Oregon Coast near Newport, could not be quantified.
"It's huge," he said. "The first state championship in the history of the school…There are no words I can say l about how much this means to the school and community. No words."
"It means that we're no longer the Cincinnati Bengals of Oregon sports," said Townsend. "We've got a championship and we can hang something on our wall. We are champions. People take pride in that. It just means the world."
In the 3rd/5th game:
No. 6 Columbia Christian 64, No. 4 Knappa 49: Columbia Christian rattled off the first 17 points against turnover-prone Knappa, 12 by senior guard Isiah Mariscal; and the game was never in doubt thereafter. The Knights, paced by 16 from Mariscal and 12 from junior center Mo Hartwich; led 39-13 at the break. Columbia took 15 more shots than Knappa and made 11 more, thanks in part to a 29-14 rebound advantage and 11 Knappa turnovers.
Knappa, with four senior starters, won the second half by 11 points. Joe Ramvick had 11 after the break and Devin Hooper and Eli Takalo added nine points each. But the Columbia Christian lead was just too big. Hoover's deep three got Knappa as close as 11 points with 75 seconds remaining but Freddie Jackson took over late for Columbia Christian, dishing to Hartwich for a dunk, then finishing the scoring with two free throws followed by a steal and lay in.
Mariscal led the way for Columbia Christian (24-6) with 21 points and 11 rebounds.
"I had a chip on my shoulder, because I wanted to make the championship game but we didn't make it," he said. "I wanted to come out here for my final game and do something special. It feels great especially going out the way we did defeating our rivals, Knappa."
Hartwich finished with 17 points, eight rebounds and six blocked shots and Jackson contributed 11 points and four assists for Columbia, which lost to Knappa by four in January. The Knights will bring back all impact players besides Mariscal in 2021.
Hoover, the only junior in the Logger starting lineup, had 15 points to top the score sheet for Knappa (26-4). Takalo and Ramvick teamed for 27 more and 14 rebounds.
In the 4th/6th game:
No. 10 Santiam 60, No. 5 Oakland 43: Santiam outscored Oakland, 26-10, in a fateful second quarter that proved the difference in a game that otherwise featured evenly-match teams. Santiam and Oakland were tied 10-10 after one quarter and the second half went to the victorious Wolverines by a point, but it was that second quarter that proved pivotal. Chaz Storm, who had 12 points and 12 rebounds, hit three from beyond the arc late in the quarter to help Santiam (23-8) pull away. Ezra Downey, who scored seven points in the quarter, had a team-high 13 points for Santiam, which had six players score seven or more points. Colton Brownson had 20 points and Triston Mask pitched in with 18 for Oakland, which finished the year 24-5.