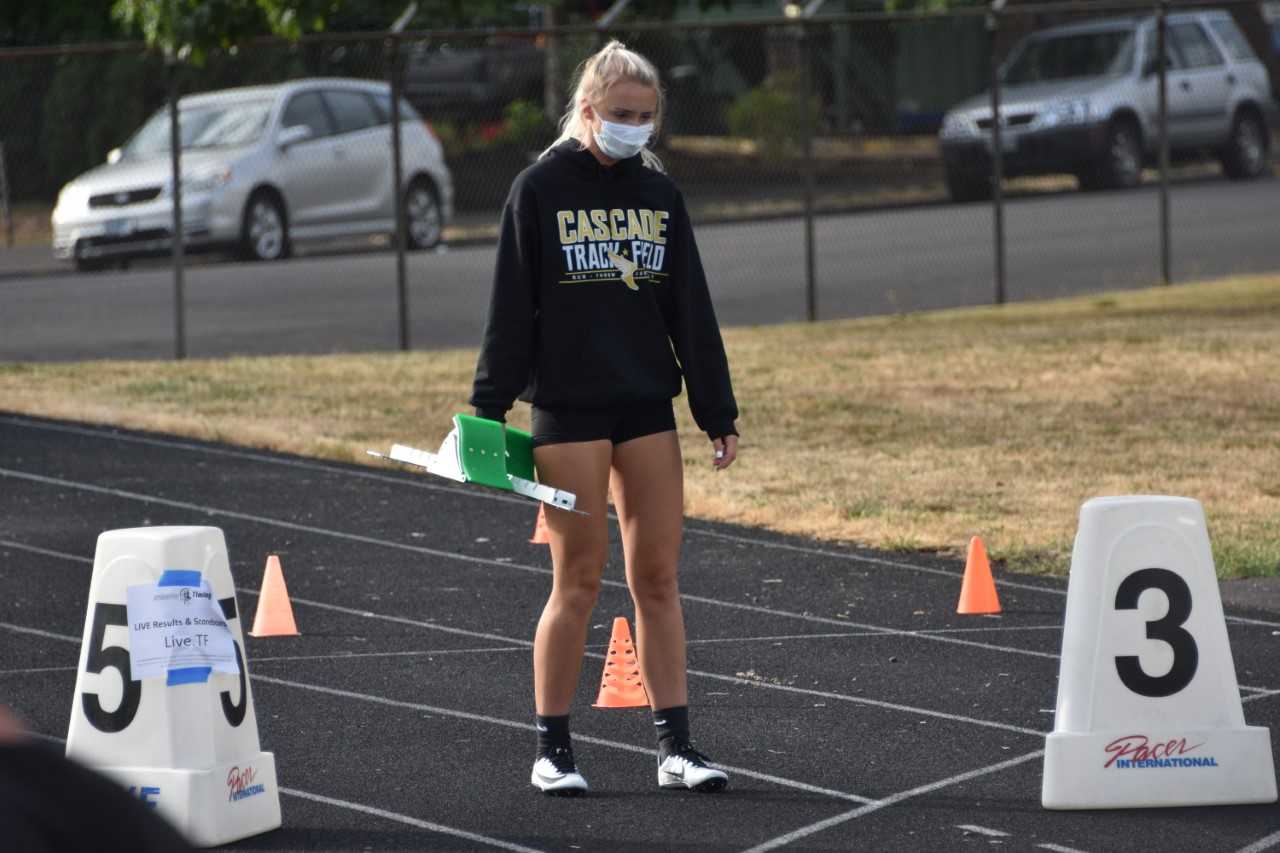 SPRINGFIELD – In some ways, it felt like an April track meet Thursday night at Springfield High School's Silke Field. Clouds were overhead and a cool breeze cut across the stadium.
Except much was different.
Masks were required for runners until they lined up at their blocks. In every heat, runners had an empty lane to each side. After each race, they had to wait in lanes to get a disposable mask before leaving the track.
It was far from ideal conditions, but for athletes such as Cascade's Emma Gates, the Oregon Track Club All-Comers Meet represented a rare chance to compete head-to-head rather than in a virtual meet during the COVID-19 crisis.
"It's a little challenging, but I'm just grateful that we can actually have something out here with us missing track season," said Gates, the 2019 4A high jump champion. "I'm hoping that it'll make up for it a little bit."
Gates has been putting in work in her jumps on her own once a week and competed in one virtual meet, clearing 5 feet, 7 inches. Thursday's meet -- with boys and girls races from 100 to 800 meters -- was her second meet racing with restrictions.
"I think I'm doing better than I expected," said Gates, who finished fourth in the 200 (27.22 seconds) and seventh in the 100 (13.27). "I'm glad I keep up with it regardless of all the restrictions and everything. I'm glad it's working out. I'm hopeful for future seasons."
Through the pandemic, the private workouts and the restricted meets have been critical in keeping her on course for what she hopes is a big 2021 season.
"It's helped a lot," Gates said. "I feel like if I hadn't kept with it, I'd be very off track. I'm happy that I have the efficiency to keep working at it and keep progressing regardless of everything that's happening."
Cascade teammate Ashton Williams made his 2020 debut Thursday, more than a year after a hip injury in the 200 prelims at state dampened the finish to his sophomore year.
Despite some tightness, it was a good learning experience for Williams, who finished fourth in the 100 (11.83) and seventh in the 200 (24.40).
"My 100 was a little bit shaky," Williams said. "By the 200, I had figured out that I was a little too tense in the 100. Right after my transition phase, I felt myself tighten up a little bit and in the 200 I tried to keep it a lot more consistent and keeping it relaxed.
"First meet of the season, I'm not worried about times, just getting out to compete again. I've just got to get out and run more. … Now I got my first meet done, it's just getting back into the loop of things, and I feel like it'll be a lot easier to relax the next time."
Boys winners were Wilsonville's Rocco Marshall in the 100 (11.42) and 200 (22.98), Lakeridge's Aaron Chao in the 400 (55.26) and South Salem's Evan Gonzalez in the 800 (1:58.18).
Girls winners were Lake Oswego eighth-grader Mia Brahe-Pedersen in the 100 (12.14) and 200 (25.08), Sheldon's Chloe Shedrick in the 400 (59.10) and Bend eighth-grader Kate Cheldelin in the 800 (2:24.78).