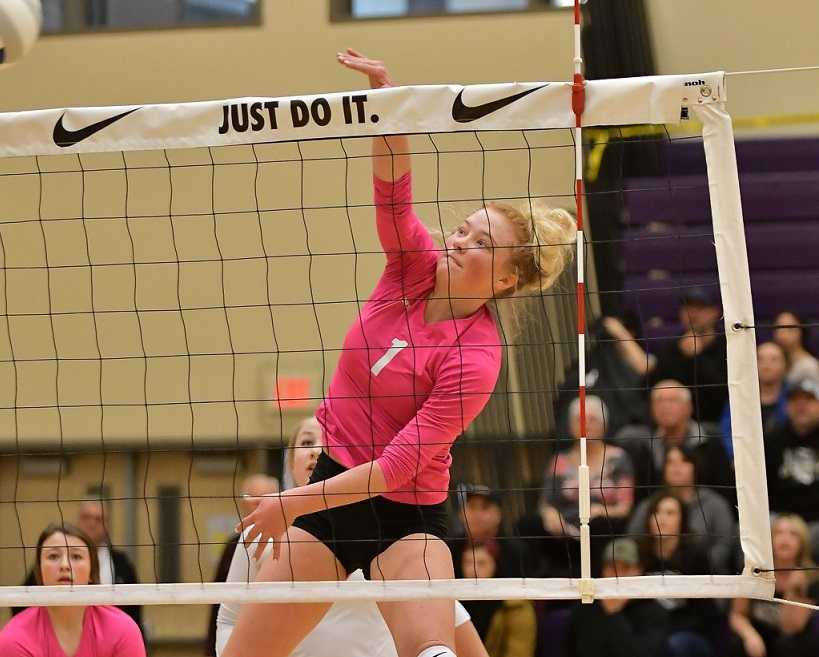 Considering they met the metrics for in-person learning, several small high schools in northeast Oregon already were among the state's most fortunate heading into 2020-21.
Now, that group is making the most of its opportunities by forming a league to compete in 5-on-5 football, volleyball and cross country during OSAA Season 1.
Six schools from the 1A Old Oregon League – Powder Valley, Cove, Imbler, Elgin, Joseph and Wallowa – have combined with Enterprise and Union of the 2A Blue Mountain Conference to schedule contests starting this week and running through the end of October.
"It was a dream come true to give our kids an opportunity to compete, where so many schools are not able to compete right now," Union athletic director Chris Dunlap said. "It was the group making it work, kind of seeing that the door was open, and running with it. And so far, so good."
Volleyball teams will play regulation 6-on-6 matches, something only schools with in-person learning are permitted to do. Football will play a scaled-down version of a 7-on-7 passing league. And the three cross country teams – Enterprise/Joseph/Wallowa, Elgin and Union/Cove -- will compete in dual meets.
Friday is the first day for contests with spectators. Following state guidance, volleyball matches and football games will be limited to gatherings of 100 and 250 people, respectively, counting participants.
Parents will have first priority to attend contests. Schools will charge regular admission prices, although several are planning to live stream events.
Powder Valley athletic director Brad Dunten, the driving force behind the league, said the plan started to come together in discussions among athletic directors in the summer.
"It was just building dialogue with our schools and trying to figure out a region to play in Union County, and then we incorporated Wallowa County into it," Dunten said. "We just kind of made a regional format."
Union's coaches were "immediately on board," according to Dunlap.
"It wasn't even a question for any of them, really," Dunlap said. "They were champing at the bit to have the opportunity. They wanted to know what it took to make it all work."
Dunten said the schools agreed to protocols that are stricter than those laid out by the Oregon Health Authority. Masks will be required for all on site and sanitation rules will be closely followed.
"The balls in volleyball will be sanitized before every single serve, kind of like the college model where they roll the balls down the side," Dunten said.
Dunten said that some in the athletics community have pushed back on parts of the state guidance – in particular the football team not being allowed to wear protective equipment – but he is hopeful that providing opportunities for students will outweigh any potential drawbacks.
"I think after our first game there will be buy-in, for the most part, by everybody," Dunten said. "Just getting everyone to follow the protocol is going to be a task. But I think we have a good support system put in place."
Dunlap said that Union's athletes are making the necessary adjustments.
"The kids are doing a great job of wearing the masks, which is probably the biggest hurdle at this point," Dunlap said. "We're still pretty new to it. Our players and coaches know we have to follow these guidelines if we're going to continue to have these opportunities. As soon as we mess that up, we know that this could go away very quickly."
Powder Valley, Joseph, Union and Enterprise will be the only schools participating until being joined by the other four schools in October. Cove, Imbler, Elgin and Wallowa began practices this week and need more time to complete their required nine sessions to be eligible.
Football teams will play by the 5-on-5 rules from Eastern Oregon University's camp book, except they will wear masks and won't use protective gear. Eastern Oregon University football players will officiate the games.
"They can't play football, and their coach was like, 'Hey, we need football,'" Dunten said, referring to Mountaineers coach Tim Camp.
Volleyball teams tentatively scheduled seven matches but could add more, up to the limit of 14. Football has a seven-game schedule. Cross country teams will compete in 2-4 dual meets.
The league has entertained the idea of postseason competition, "but we don't have anything concrete yet," Dunlap said. "We're just trying to see how they go, and how the management goes."
The schools are hopeful to play winter sports in November and December, depending on state guidance. Official practices for winter sports are scheduled to begin Dec. 28, the start of OSAA Season 2.
"We're kind of hoping if we can prove the concept can work for this, that it will work for basketball, and then it just goes into Season 2, 3 and 4," Dunten said.