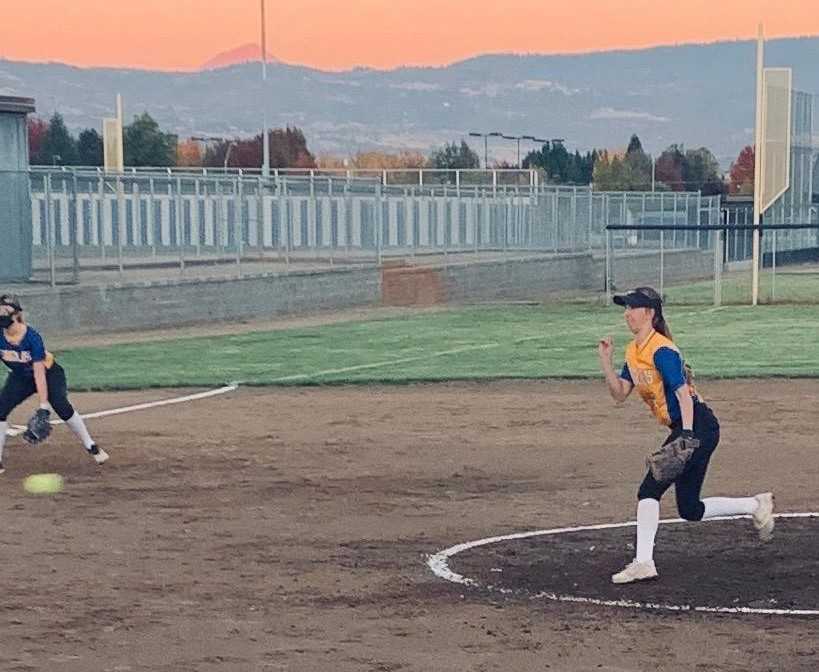 Twice thwarted by natural forces, high school softball teams in the Rogue Valley finally found a way to play games this year.
First it was the coronavirus pandemic wiping out the 2020 spring season. Then, just as several teams were gearing up for a series of friendly contests this fall, wildfires raged in the area and put the schedule on hold.
But teams from Eagle Point, Crater, North Medford, South Medford and Grants Pass would not be deterred. They reworked the schedule and began playing games early this month.
"We have a tight-knit group of coaches in the valley down here," Eagle Point coach John White said. "We started talking to each other and figuring out how we could do it. We finally just put it together."
White's team got in the required nine practices in time to play last month, but the wildfires caused a two-week layoff, forcing the Eagles to get in another nine practices before competing.
"It really messed us up," White said. "We were going to play for probably five weeks, but now it's ended up more like three or four."
Crater has played five games but canceled its final three contests after the school had a positive COVID test this week and shut down athletics and activities until Nov. 9. Still, Comets coach Chris Arnold called the experience "vital" to his program considering the time that has been lost.
"I think the thing we'll find this year, all around the state, is that we have a lot of kids that are young that don't have a lot of experience, especially at the varsity level, because we missed a year," Arnold said.
"So you have a lot of younger kids coming up, and anything they can get in the fall is really going to be important for their progression through winter time and the spring. All of our programs are getting stronger and getting experienced."
The games have a different feel with no fans – and players wearing masks – but the competition has been intense between the programs, all of whom have had at least one 20-win season since 2015. Eagle Point outlasted Crater 12-11 and North Medford 11-10.
"In all of these games, it's been kind of like that," White said. "The competitive aspect of it is right there. The pitching's not quite there yet. It's been good softball."
Crater, which went 16-0 in the 5A Midwestern League in 2019, has dropped four of its five games. Four games have been decided by one run.
"As far as winning and losing, we haven't used those terms with the kids," Arnold said. "Oftentimes we're not even keeping an official book or running the scoreboard."
Eagle Point, league runner-up to Crater in 2019, got fired up to play the rival Comets. All-league third baseman Bailee Worrell, the Eagles' only senior, had three hits to lead Eagle Point to the five-inning win.
"Even though we have a great relationship with Crater, that rivalry is always there," White said. "I don't think it will ever go away."
Eagle Point's varsity defeated South Medford 4-3 on Tuesday to finish the abbreviated schedule with a 5-1-1 record. This is the final week of games as daylight will become scarce next week after turning back the clocks.
The schedule was shorter than planned, but well worth the effort, according to White.
"Honestly, I believe that it's just been a joy for the kids," White said. "It's just been a delight to have them out here because I think they appreciate the fact that we're able to do it."
Being able to get back in the dugout, build relationships and compete has helped the Eagles develop chemistry for the 2021 season. The schedule calls for practices to begin April 19 and games to start May 3.
"It has been invaluable," White said. "It gets the kids out of the house and doing something. It's been great from that aspect."
Said Arnold: "From a team bonding and experience factor, it's great, but also just for the mental health. There's such a value in participating in activities. Athletics just provides so much motivation for students."