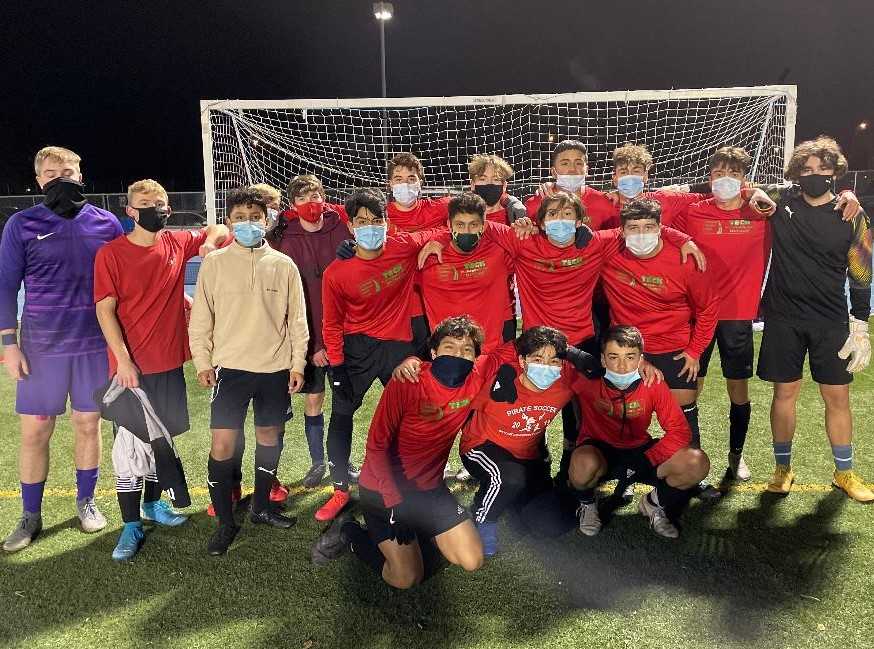 Not even devastating wildfires can keep the Phoenix boys soccer team from continuing its winning ways.
With a 6-0 start, the Pirates have extended their Skyline Conference unbeaten streak to 27. They have outscored their opponents 35-1 with a lineup that features only two senior starters.
Phoenix is doing it all despite 12 players in the program losing their homes to the wildfires that ravaged the Phoenix and Talent communities in September.
The Pirates stayed connected through it all, playing in a fall league against other southern Oregon schools. It provided an oasis for those affected.
"They had a place to go, they had someone to see," first-year Phoenix coach Chris Gallegos said. "They had an outlet. So it just brought them together. We were trying to get everybody together as much as possible. Everybody was on board. We just kept reaching out."
Junior forward Victor Martinez has led the offensive attack along with junior forward Caden Gallegos and junior midfielder Jorge Mejia. The defense has been stout, led by its center backs, seniors Dan Martinez and Yahir Valdovinos.
"They've really been stepping up," Chris Gallegos said. "We talk about scoring goals wins games, but defense wins championships. We've really been putting a lot of effort in our training with our defensive backs, and getting them gelled and working the right way."
Phoenix's wins include a 3-1 decision over Hidden Valley (3-1-1), which tied the Pirates last season, the only blemish on their Skyline record. They also won 3-0 over North Valley (2-3), the conference runner-up in 2019.
The Pirates won the Skyline the last two seasons, advancing to the 4A semifinals in 2018 and quarterfinals in 2019. Longtime coach Dennis Flenner – who guided the team to 294 wins and 15 conference titles in 25 seasons – stepped down after last season.
Chris Gallegos, a 1990 Phoenix graduate who was the head coach at Crater (2002-08) and North Medford (2009), has succeeded Flenner. Gallegos has spent the past decade with the Southern Oregon Soccer Academy, coaching his son, Caden, and many of the current Pirates on youth teams.
"We got them traveling, took them to tournaments," Chris Gallegos said. "The majority of them stuck with us.
"We've got a pretty good bond. They just love to play. The coaching is one point, but they just go and go and go. If we don't have sessions, they'll go and do things on their own. I don't have to tell them. That in itself is rewarding that they love the game that much."
Divine Providence
Sherwood boys coach Monty Hawkins is helping to turn back the clock for high school soccer in Oregon as the catalyst for a series of 6A matches at Providence Park during the culminating week.
Sherwood, Jesuit, Lincoln and Clackamas boys and girls teams each will play matches April 5 and 7 at the downtown Portland stadium, the home of the Portland Timbers and Thorns and the site of OSAA finals 17 times from 1977 to 1995. The winners of the April 5 matches will meet April 7, as will the losers.
"I think it's pretty cool, during COVID, for the kids to get the opportunity to play in an MLS and WSL stadium," Hawkins said. "It's really been the centerpiece of soccer in Oregon for the last 40 years."
Hawkins recalled how – during his playing days at Gladstone – the Timbers came to his team's practices to help with training. During that era, the Gladiators were among teams that got a chance to play at the stadium, then known as Civic Stadium.
"I was motivated by my own personal back story," Hawkins said. "In today's age, these kids haven't really had the opportunity to go experience it. Now that it's exclusively soccer – and especially during COVID – they could have a positive during a tough season."
The opportunity came about after Hawkins allowed the Timbers and Thorns teams to use his Tualatin Indoor Soccer facility to train for free during the wildfires in September. Early this month, he contacted Timbers president Gavin Wilkinson to ask about using Providence Park and received approval.
Hawkins had hoped to use the facility for five dates so schools could organize multiple eight-team brackets. He received permission for two dates, eight hours each, which was enough time for four matches per day.
Hawkins said that any plans to organize a 6A bracket as a championship tournament were "too pretentious" considering many 6A schools are under district travel restrictions.
SOC reboot
The old Southern Oregon Conference plans to reunite for a culminating-week soccer tournament.
North Medford, South Medford, Grants Pass and Roseburg – all 6A schools – will be joined by 5A neighbors Ashland, Eagle Point and Crater in seven-team brackets for boys and girls.
Games are scheduled for April 6, 8 and 10. The tournament also will have a losers bracket, which means that each team will be guaranteed at least two matches.
"We had just agreed from the get-go that with no postseason, we would just create our own postseason tournament," Ashland athletic director Karl Kemper told the Medford Mail-Tribune. "I made up the bracket and said, 'Let's do it.'"
Late escape
Reigning 6A champion Franklin and Cleveland added another chapter to their burgeoning neighborhood rivalry last week.
The Quakers rallied from a 2-0 halftime deficit to lead 3-2, but Cleveland got a goal from sophomore Ian Lama with 19 seconds left to salvage a 3-3 tie.
Juniors Elliot Perron and Skeet Starr scored in the first half for the Warriors. Franklin got two goals from senior Vincent Rose – one off an assist from senior Andrew Reed and the other on a penalty kick – and one goal from Reed.
Franklin is 3-1-2, its only loss a 1-0 decision to Jesuit on March 12. After winning its first four matches, Cleveland is 4-2-2, dropping one-goal decisions to Portland Interscholastic League rivals Lincoln and Grant.
Last season, Franklin defeated Cleveland 1-0 in the regular-season finale and 2-1 in the 6A semifinals.