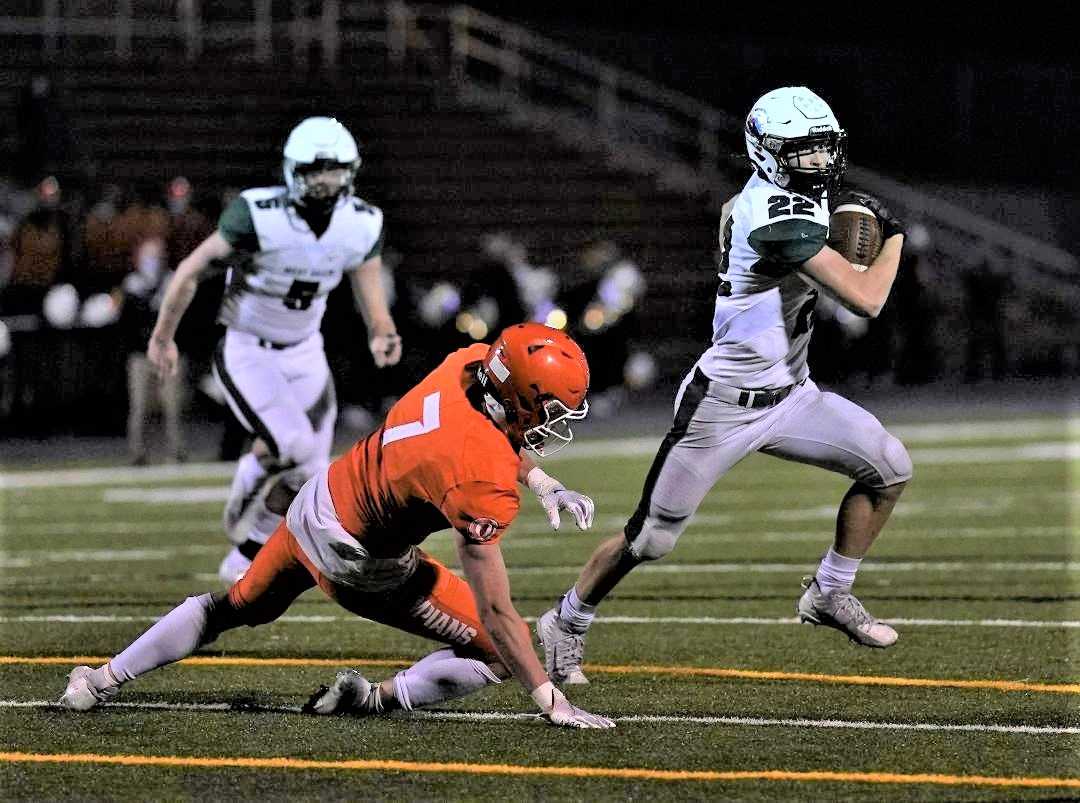 West Salem football coach Shawn Stanley isn't making any claims about where the Titans belong in the hierarchy of 6A teams that completed the shortened season with 6-0 records.
After they topped Sprague 35-21 in a battle of unbeatens Friday, though, he admitted to being a bit curious.
"I don't know where we stack up, but it would sure be fun to find out," Stanley said. "I don't know if we could hang with the West Linns of the world, but we'd love to go compete. I guess it'll be left for people to speculate."
West Salem, West Linn, Sunset and Mountain View were the only 6A teams to make it through unscathed this year. Most seem to agree that West Linn and Sunset have resumes that put them above the other two.
"I'm realistic about the schedule we played relative to other people," Stanley said.
West Salem's most impressive win came against Sprague. In what amounted to an unofficial title game for the Salem-Keizer School District, the Titans led wire-to-wire.
" I think Sprague is a quality team, and that was something we could judge our team on," Stanley said. "I feel pretty good about that game. I'd like to think we could win some playoff games. We were getting healthy at the end of the year, getting some kids back, so I think we were playing our best football."
Senior Nate Garcia rushed for 225 yards and five touchdowns on 25 carries Friday, scoring on runs of nine, six, 43, 15 and 38. The 5-foot-11, 180-pound Garcia, who ran for more than 1,000 yards as a junior, rushed for 850 yards and 15 touchdowns this year.
"Nate kind of looks like a slot receiver but runs like he's 225 pounds," Stanley said. "I've never seen him caught from behind by anybody. Physical, tough. He had some definite highlight runs this year.
"I think he's going to have to be a slot receiver in college, but I think he could play running back in the right place. If he chooses to play, I think he'd be a dynamic Division III football player."
West Salem's senior-dominated line was led by 6-foot-4, 300-pound Holden Whipple, who has signed with Northern Arizona. The athletic Whipple played quarterback, tight end and receiver early in his career before becoming a force up front.
"Finally he just accepted his role," Stanley said. "Maybe he looked in the mirror at that great lineman body he had and said, 'You know what, maybe I'm not a quarterback.' He was definitely an anchor for us at left tackle."
The Titans will lose a lot to graduation but have some building blocks in place for next season. Stanley likes the potential of 6-6, 225-pound junior quarterback Brooks Ferguson, who started one game this season. Junior receiver Zach Dodsen Greene (6-2, 185), hindered by injury this year, also could be ready to break out.
"If we can shore up the offensive and defensive lines, I feel really good about our team," Stanley said.
Challengers rise
Forgive Cascade Christian for feeling a hint of deja vu Friday when the Challengers knocked off reigning 3A champion Santiam Christian 13-10 at Cottage Grove High School.
The game between the unbeaten teams had a similar feel as when they met in the 3A final at Cottage Grove in 2017, when Cascade Christian prevailed 28-21. This time it wasn't for the state title, but after ending the Eagles' 18-game winning streak, the Challengers (5-0) were feeling pretty good about themselves.
"Once we got toward the end of the year and the opportunity to play Santiam Christian was a possibility, we certainly wanted to take advantage," Cascade Christian coach Jon Gettman said. "It was just a blessing to get a game like that, a meaningful game for the seniors to play in and go out on."
Gettman said the Challengers didn't approach it like anything more than a game against a "really good team," but after coming from behind in the fourth quarter to beat the Eagles (5-1), "the kids were pretty hyped and excited for it."
Senior Sam Martin completed 23 of 36 passes for 194 yards and two touchdowns, a four-yard strike to senior Kristian Fralich in the second quarter and a 43-yard bomb to senior Matt McPheeters for the go-ahead score with 6:22 left in the game.
It marked the end of a solid season for Martin, who took over the starting spot after playing behind standout Kiegan Schaan the last two years. In five games, Martin completed 71 percent of his passes for 1,058 yards and 15 touchdowns with two interceptions.
"It was great to see because he's been kind of a program kid," Gettman said. "This was his one shot, his only year starting. From the end of his junior year, he just took off and carried that momentum in."
Gettman liked how Martin played with poise against Santiam Christian.
"He made good decisions," Gettman said. "That last ball that he threw, he put it right between the corner and the safety. Matt made a great catch to go up and get it, and a great run after that."
McPheeters, who played quarterback as a freshman and moved to receiver as a junior, also broke out this season. He finished with 22 catches for 325 yards and five touchdowns.
"He's a long-strider, so he gets on top of kids really quickly," Gettman said.
The offensive catalyst, though, was Fralich, who started the season at receiver but moved to running back when senior Titus Miller suffered a season-ending injury in the opener against Brookings-Harbor. Fralich not only rushed for 494 yards and five touchdowns on 53 carries, but he caught 11 passes for 239 yards and six scores.
"He's an electric kid," Gettman said.
Sailor man
One of the state's most dominant eight-man players ended his career with a bang Friday.
Mapleton senior quarterback JJ Neece put on a virtuoso performance in a 76-48 win over Falls City. The 6-3, 215-pound Neece rushed for 452 yards on 40 carries and accounted for nine touchdowns – six rushing, one passing, one receiving and one interception return -- and four two-point conversions. At outside linebacker, he had 15 tackles, three sacks and two interceptions in the win for the Sailors (3-2).
The yardage total ranks No. 13 on the state's all-time single-game list for eight-man. It boosted his career rushing total to 6,502, which is No. 2 all-time to Dufur's John Hammel (6,959, 1965-68). With a full season, it is likely he would have become Oregon's all-time eight-man rusher.
"You don't get kids like that very often in eight-man," Mapleton coach Jeff Greene said of Neece, who averaged 13.2 yards per carry in his career. "They're usually at a bigger school. When you see him play, he turns a lot of heads. He's a freak, man."
Neece, who played receiver as a freshman before switching to quarterback, rushed for 89 touchdowns in his career. That ties him for third all-time behind Zac Cardwell, who ran for 101 scores for Lowell from 2007 to 2010.
Neece passed for 2,304 yards and 31 touchdowns, caught five touchdown passes and scored 57 two-point conversions in his career. His combined yardage of 9,082 for rushing, passing and receiving is No. 6 on the career list.
Neece has signed to play at Western Oregon as an outside linebacker. He participated in an MVP Combine in Eugene last summer and finished first among tight ends.
"He's never played tight end. That just shows you what kind of athlete he is," Greene said. "They said he's pretty much a Division I kid, he just didn't play at a big school. He's the real deal."
On defense, Neece finished his career with 18 sacks, 14 interceptions (four returned for touchdowns), six fumble recoveries and six fumbles caused.
Greene said that Neece "beat the odds" to get a scholarship despite playing at a school with an enrollment of about 50.
"It just gives kids hope," Greene said. "Small schools, it's good for the kids to still dream. It can be accomplished, you've just got to work that much harder to get noticed."