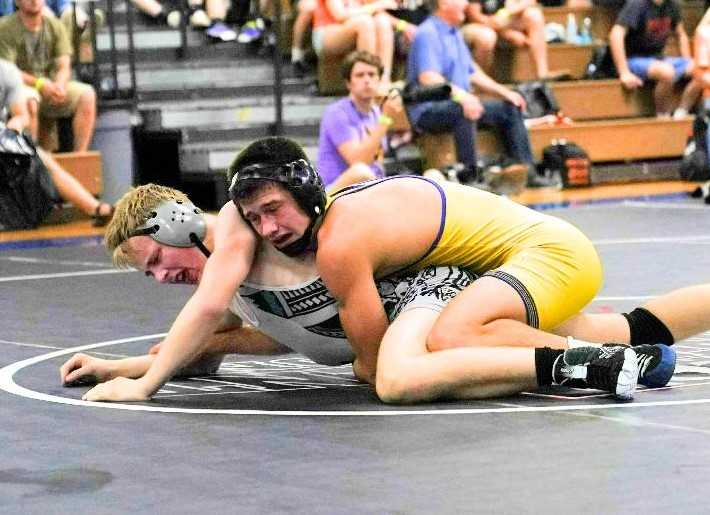 Newberg put the final touch on one of the most dominant seasons ever by a big-school wrestling team Saturday by running away with first place in the 6A culminating week tournament.
The reigning 6A champion Tigers, wrestling in their home gym, racked up 490.5 points to easily defeat Sprague (261.5), Roseburg (198.5) and Mountain View (161). The OSAA big-school tournament record is 366 points, set by Roseburg in 2017.
Newberg had 10 finalists and got titles from juniors Nicky Olmstead (126 pounds), Ayden Garver (145) and Charlie Evans (152), sophomore Hudson Davis (195) and freshman Zachary Keinonen (113).
"It was a blast. I wouldn't trade this team for the world," Olmstead said.
Said Evans: "It really did feel good to be in the home gym, in front of all the fans. It was cool."
Newberg coach Neil Russo, who has led the Tigers to two of their 12 state championships, again asserted that this team is historically good.
"We can debate whether this is the best 14 we've ever had, but there is no question that this is the best 28 we've ever had," Russo said. "We've got kids in the room that we couldn't get into our lineup that I'm confident would have scored, and maybe even placed, here at state. It truly is an individual sport that's been turned into a team sport here at Newberg High School."
Garver, Olmstead and Evans were among seven previous state champions to win individual titles at the two-day tournament, joining Sprague juniors Brayden Boyd (120) and Brook Byers (182) and Roseburg junior Nash Singleton (132) and senior Darian Thacker (170).
Garver won titles at 113 as a freshman and 126 last year.
"Definitely, I felt pressure," Garver said. "And I think I'll feel it again. I have a very strong goal to be a four-time state champion."
Evans bumped up three weight classes after taking the title at 132 last year.
"I did the same things I always do, but they did feel a lot bigger," Evans said. "My goal is 195 next year. I'll make it. I'm going to be in the weight room all offseason and get to 195."
Olmstead won a title at 106 as a freshman but fell in the 120 semifinals as a sophomore.
"It motivated me quite a bit, going from being at the top of the podium to the bottom of the podium," Olmstead said. "It felt pretty bad, and I knew I didn't want to be there again."
Boyd and Thacker won rematches from their 2020 finals. Boyd defeated Newberg junior Ethan Ritchie 9-3 and Thacker stopped Mountain View senior Cannon Potts 5-4.
Sprague had four champions in Boyd, Byers, sophomore Riley Davis (160) and junior David Sherman (220). Roseburg also had four champions in Thacker, Nash Singleton, freshman Gage Singleton (106) and senior Kahleb Diaz (138).
"I just felt like I've got to finish what I started," Nash Singleton said of his title. "I've got to finish it all the way through."
The short season presented many challenges for wrestlers, though.
"It was kind of weird," Nash Singleton said. "I felt like it affected our team because we normally get 35 or more matches. We had a couple guys make little mistakes here that we normally would have fixed by now."
McMinnville senior heavyweight Jacob Barnes beat Century senior Broderick Reese 1-0 for the title, avenging a finals loss to Reese last year. Barnes entered the last two state tournaments as the top seed but fell in the semifinals in 2019 and in the final in 2020.
Russo said staging the event at Newberg was "stressful," but well worth it.
"Fortunately, I had people here that were unbelievable," Russo said. "This wrestling community came together and they put on an event for kids that I don't think anyone will ever forget."
5A
Two-time reigning state champion Crescent Valley ruled the 5A culminating week tournament Friday and Saturday at Cottage Grove.
The Raiders had 10 champions and amassed 364.5 points to beat Thurston (196.5), Crook County (182.5) and Redmond (118).
Crescent Valley senior Chance Lamer, a three-time state champion, won the title at 145. Raiders juniors Gabe Whisenhunt and James Rowley – state champions the last two years – won at 126 and 185, respectively.
The other reigning state champions to win for Crescent Valley were sophomores DJ Gillett (120), Daschle Lamer (152) and Hayden Walters (195) and seniors Hunter Eveland (138) and Jackson Rosado (170). Freshman Everest Sutton (106) and junior Riley Godek (285) also won titles for the Raiders.
Rowley won 3-2 in the final over Thurston senior Asher Ruchti, who won a 3A title at Pleasant Hill as a sophomore and a 5A title for the Colts last year.
4A
Sweet Home, runner-up to La Grande in the 4A tournament last year, turned the tables on the Tigers to win the 4A culminating week tournament Saturday at Cascade.
The Huskies got titles from freshman Kyle Sieminski (106), sophomore Jake Sieminski (120), junior Brayden Newport (145) and senior Tristan Spencer (152) to finish first with 262 points. La Grande (167) was second, followed by Tillamook (147) and Philomath (124).
Stayton junior Mauro Michel, who won state titles for Cascade in his first two seasons, completed an 18-0 season by pinning Banks junior Dylan Smith in the first round of the 126 final.
Junction City senior Evan Potter (132) and La Grande junior Braden Carson (138) followed last year's state titles by winning their divisions.
3A
La Pine, led by two champions in sophomores Tyson Flack (106) and Dominick Evans (170), won the 3A culminating week tournament at Redmond.
The Hawks, who won the state title in 2019 and finished fifth last year, scored 149.5 points to beat Willamina (107), Rainier (92) and Dayton (88).
Harrisburg senior Chandler Strauss, a state champion the last two years, finished the season with a 19-0 record by winning at 195. Amity senior Blake Runion, last year's champion at 113, took the title at 120.
Yamhill-Carlton senior Reily Liesegang prevailed at 126 with a 2-1 decision over Willamina senior Moses Mercier, a two-time state champion.
2A/1A
Culver, which has won 12 small-school state championships since 2007, earned 2A/1A bragging rights by lapping the field in the culminating week tournament at Sweet Home.
The Bulldogs, runners-up to Reedsport by 3.5 points last year, scored 231.5 points to run away from Pine Eagle (94), Central Linn (89) and Coquille (76). Senior Anthony Hood (152) was the lone champion for Culver, which had five runners-up.
Four reigning state champions won their divisions in Imbler junior Garrett Burns (120), Reedsport junior Aaron Solomon (132), Oakland junior Kaleb Oliver (160) and Pine Eagle senior Seth Butler (195).
Girls
Thurston, the reigning girls state champion, got titles from sophomore Kaylee Annis (100) and seniors Cailee Hallett (125) and Adelle Kent (170) to win the season-ending tournament Thursday at Cottage Grove.
The Colts scored 170 points to beat Sweet Home (62), Oregon City (50) and North Medford (48).
Among the winners were four 2020 state champions in Oregon City senior Emma Baertlein (105), West Linn sophomore Destiny Rodriguez (155), Milwaukie senior Fiona McConnell (190) and Cottage Grove senior Raina Herzog (235).
Kent, Cleveland sophomore Haley Vann (115) and Forest Grove junior Makaila Takahashi (135) each knocked off reigning state champions to win titles.
Kent pinned Central Linn junior Anna McDougal, Vann pinned McKay senior Tess Barnett and Takahashi beat Eagle Point senior Shayla McNulty 10-2.