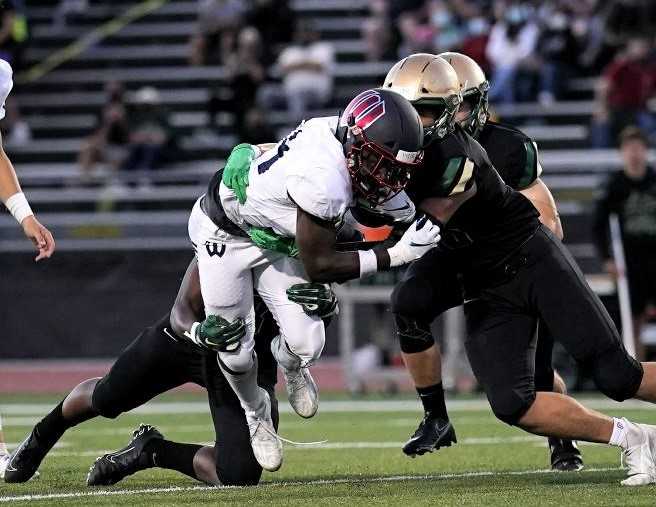 Entering the football season, Westview's Jordan Fisher wasn't considered among the state's top running backs.
In fact, the junior was in the shadow of senior teammate Aaron Jones, a dynamic athlete who plays running back and has committed to Navy as a cornerback.
But as the season has unfolded, the 5-foot-7, 175-pound Fisher not only has become the Wildcats' No. 1 weapon in the backfield, but an all-state candidate. And Friday night, he broke out in a big way by rushing for a school-record 288 yards and five touchdowns in a 48-13 win over Sunset.
"He's always had a burst, but he showed a different burst of separation," Westview coach Ryan Atkinson said of Fisher's performance. "He played at a different level. I haven't seen many running backs do that where it was a different gear. It was pretty cool to watch."
After winning a four-way battle for the starting spot, Fisher has rushed for a Metro League-leading 973 yards and 12 touchdowns for the 10th-ranked Wildcats (6-1, 4-1). He has come a long way from the five-game spring season, when he ran for 111 yards on 44 carries.
"He played a little bit, but he wasn't quite ready," Atkinson said. "He really improved in the offseason. I told people, 'Hey, keep an eye on him, he could be a guy that makes some noise.' To rush for 288, it's a great moment for him and our team. I think our kids were more fired up than anybody to see him get that."
Fisher's compact frame, strength and terrific first step make it difficult for defenders to track him down.
"Fish has kind of taken the ball and run with it," Atkinson said. "You've got a guy rolling like that, you kind of stick with it. The kid is very, very humble. He doesn't want the spotlight, but it's kind of naturally coming to him because of his work ethic."
Fisher's play has helped elevate Westview as a 6A contender. Since a heartbreaking 44-42 loss at No. 6 Jesuit, the Wildcats have responded by winning two games by a combined 70 points.
Atkinson said his team has grown from the loss.
"We looked ourselves in the mirror and said, 'Look, we're going to be in some big-time, four-quarter games, and how do we respond to that?'" he said. "We adjusted a lot on that game. By no means are we a well-oiled machine yet. We put together a pretty good game against Sunset, but we still feel the ceiling can get a little bit higher.
"We haven't done anything yet. We've got to go earn the respect. It's not going to be given to us."
Thornton enters record book
Siuslaw senior Braydon Thornton set a state record Thursday by catching seven touchdown passes in a 66-19 home win over Pleasant Hill.
The 6-2, 170-pound Thornton caught 13 passes for 359 yards and seven scores, all from senior Beau Erickson. He caught five touchdown passes in the first half to tie the state record – held by 11 players -- and added two more scores in the fourth quarter.
His 359 yards is No. 4 all-time, behind Waldport's Kraig Pruett (456 in 2012), Century's Chance Sparks (391 in 2018) and West Albany's Dustin Monda (362 in 1996).
Erickson also had a big night for the No. 2 Vikings (6-0, 3-0 Special District 2 North). He completed 22 of 35 passes for 502 yards, the 11th time in state history that a quarterback has thrown for more than 500 yards. He fell short of the state record for touchdown passes in a game -- nine, set by Cascade Christian's Seth Knox in 2013.
Siuslaw coach Sam Johnson said Erickson and Thornton have a "super special" connection.
"Braydon grew up with Beau most of his life, being his quarterback," Johnson said. "We do lots of scrambling drills, step-up drills, in practice, and we try to have Beau work the field, but for some reason, there's always a better connection throwing it to Braydon.
"He gets right where Beau wants him to be, right in his eyesight, and Beau knows right where to put it for Braydon. It's awesome to see when they're connecting like that in a game."
Pleasant Hill started the game with single coverage on Thornton, and Erickson hit him for a 74-yard touchdown pass on Siuslaw's first play. The Billies moved a safety over the top of Thornton but he still was able to catch scoring passes of 14, 22, 28, 41, 6 and 38 yards the rest of the game.
Thornton has 47 catches for 1,052 yards and 13 touchdowns for the season.
"I've never seen a kid that can do what he does on the football field consistently," Johnson said. "When you've got kids double- and triple-covering, it seems he always finds a way to get open, still."
Erickson has completed 85 of 137 passes for 1,587 yards and 17 touchdowns with three interceptions.
Hughes soaring for Eagles
The all-around play of senior quarterback and free safety Trenton Hughes has Hood River Valley (6-1, 4-1) in contention in the 5A Northwest Oregon Conference East division.
The 5-foot-11, 175-pound Hughes is doing a little bit of everything for the Eagles, who are No. 7 in the OSAAtoday 5A coaches poll. Not only is he excelling on defense, where he is a fourth-year starter, but he has settled into his role at quarterback after switching from receiver in the spring.
He played one quarter in Friday's 56-7 home win over Parkrose and accounted for five touchdowns. He rushed for 63 yards and two touchdowns on four carries, completed 2 of 3 passes for 29 yards and two scores and returned an interception 28 yards for a touchdown.
For the season, Hughes has rushed for 779 yards and 11 touchdowns and passed for 667 yards and 15 scores without an interception. He also has picked off three passes, returning one for a touchdown, and has a kickoff return for a score.
"We've been playing well because of him," Hood River Valley coach Caleb Sperry said. "He's playing at an all-state level. He's throwing the ball way better. He's just as dynamic throwing it and running it. He's the best 5A offensive player I've seen on film this year."
Hughes, who is drawing interest from Big Sky Conference schools, has come through in the biggest games.
He threw three touchdown passes and broke up the potential game-winning two-point pass in the end zone in a 27-26 overtime win over Ridgeview in Week 3. He rushed for 234 yards and three touchdowns, passed for 151 yards and three scores and had an interception and two blocked extra-point attempts to lead the Eagles past Redmond 44-29 in Week 5.
Sperry said that a local radio broadcaster, who has been doing Hood River Valley games for more than 30 years, told him that Hughes' offensive performance against Redmond was the best he has ever seen by an Eagle.
Sperry convinced Hughes to make the move to quarterback last season.
"I said, 'Hey, if you're a wide receiver, I can probably only get the ball to you like 10 times a game,'" Sperry said. "'But if you play quarterback, the ball is going to go through your hands every single play, and we can do a lot of stuff with you.'
"We have a lot of zone-read stuff, designed quarterback runs. We try to roll him out a little bit, take advantage of his skill set. He is super explosive, so if he gets to the next level, he's hard to catch."
Titans 'grind it out'
West Salem took a big step toward its first conference title since 2017 with a 34-27 win at McNary on Friday night.
The Titans (6-1, 4-0) – Mountain Valley Conference runners-up to McNary in 2018 and 2019 – built a 34-14 lead and held off a late rally by the Celtics (5-2, 2-2). West Salem remains a step ahead of second-place Summit (5-2, 4-1), a team it defeated 28-15 six days earlier.
"Summit is a physical team, and so is McNary, so to win against two physical teams, and do it on a short week, it was good," Titans coach Shawn Stanley said.
McNary trailed by 20 points in the second half before pulling within 34-27 midway through the fourth quarter. But West Salem, which did not punt in the game, burned the last 6:30 off the clock to seal the win. Quarterback Brooks Ferguson ran to convert fourth-and-inches for the final first down.
"We're making a habit out of going up early and having to grind it out at the end," Stanley said.
Stanley said it is good to see his team learn how to win close games.
"Hopefully, it pays off for us down the road," he said. "Not that some of those teams that are blowing teams out aren't prepared for that, but it's different having to actually do it in game time. I'd like us to have a little less practice at the four-minute offense at the end, but the kids have done a great job managing those situations."
Senior Johnny Withers (5-9, 190) rushed for 123 yards and one touchdowns for West Salem, one week after running for 115 yards and two scores against Summit.
"He's running hard," Stanley said. "He's built himself up in the weight room, so he runs himself through arm tackles. He's not a big, heavy guy, but he's got big, strong legs. And he has speed to finish plays."
Ferguson completed 14 of 17 passes for 203 yards and one touchdown with one interception and ran for two scores.
Dayton scrimmage
The record will show that 3A Dayton had Friday night off after picking up its second consecutive forfeit victory.
But the co-No. 10 Pirates (6-1, 3-0), who will finish off the season with big road games against co-No. 10 Philomath (5-2, 2-1) and Amity (4-3, 3-0) in the Special District 1 West division, weren't content to just sit around.
Friday's scheduled date with Scio was supposed to be their final home game of the regular season, so the Pirates decided to commemorate senior night with an intrasquad scrimmage. They divided their 35 players into two teams, coached by assistant coaches Justin Sutton and Niles Tuihalangingie, and the other coaches served as officials.
"We just kind of brainstormed it," Dayton coach Jacob Peterson said. "The guys were excited. We let them do fun things, like wearing visors and armbands, and do touchdown celebrations. I've never seen guys rehearse stuff like that before. It was cracking me up.
"We're all just trying to come up with ideas to keep it fun and keep the guys excited to play."
The game not only served to recognize the seniors, but it gave the players a much-needed chance to compete.
"That's really the big thing," Peterson said. "I don't like to do this at this time, but we haven't actually hit in two weeks. We had to roll the dice a little bit. We can't go three weeks straight without any real tackling. These last two games, we don't want to come out too flat."
After the scrimmage, Dayton coaches hustled over to watch Amity defeat Philomath 20-6.
The Pirates have put themselves in position to win a league title, a goal that seemed lofty after they finished 2-4 in the spring.
"I didn't believe we'd turn it around as well as we have this season," Peterson said.
The wing-T offense has been clicking despite a young backfield that features three sophomores in quarterback Boston Hodges and running backs Zach Smith and Justin deSmet, as well as junior Nate Arce. Ethan Hedgecock, a 6-5, 285-pound senior lineman, is helping pave the way for them.
"He's a bruiser," Peterson said.
Smith, deSmet and Arce each ran for more than 100 yards in a Week 5 win over Willamina. Smith had a huge game to help beat Blanchet Catholic in Week 4, rushing for 233 yards on 33 carries, catching three passes for 67 yards and scoring four touchdowns.
Other highlights from Week 7:
6A
Jae'Sean Pete rushed for 122 yards and three touchdowns on 22 carries and returned a kickoff 77 yards for a score in Grant's 42-41 double-overtime win at Roosevelt. Trailing 41-35 in the second overtime, Pete scored on a six-yard run and Oliver Thake kicked the winning extra point. … Teague Clemmer threw three touchdown passes and freshman Ethan Lamphere returned an interception for a score in Sandy's 46-14 win over Nelson. … David Douglas got three defensive touchdowns – including two fumble returns from Caleb Clardy – to roll past Reynolds 38-13. … Gabe Olvera ran for three touchdowns in Lake Oswego's 48-15 win over Oregon City. … Clackamas blanked Barlow 28-0 as Blake Baker threw two touchdown passes to Miles Williams. …
Cru Newman completed 7 of 8 passes for 178 yards and three touchdowns and ran for a score to spark Central Catholic's 56-0 win over Centennial. … Sherwood defeated Century 61-35 as Bjorn Bergstrom threw for more than 300 yards, three times connected with Cody Hall for scores. … Jesuit dominated Aloha 70-0 behind Michael Rincon, who rushed for 170 yards and three touchdowns on 14 carries. Jacob Hutchinson threw two touchdown passes to Jace Burton. … Jay Keuter rushed for 195 yards and two touchdowns to lead Beaverton past Grants Pass 36-18. … South Salem put up 670 total yards in beating Bend 50-46. Javier Ramirez-Perez rushed for 233 yards and three touchdowns on 21 carries, Daschel Smith passed for 319 yards and one touchdown and ran for three scores, and Tini Tinitail caught 12 passes for 157 yards and one touchdown for the Saxons. Bend's Seve Castillo passed for 324 yards and three touchdowns. …
Unbeaten Roseburg broke from a 14-14 halftime tie by outscoring South Medford 21-0 in the third quarter, and held on to win 35-26. Colton Marsters rushed for 118 yards and two touchdowns and threw for a score for the Indians. … Sheldon overcame a 28-14 deficit to beat North Medford 37-35 on a 26-yard field goal by Sam Poole with 1:39 left. Brock Thomas ran for three touchdowns and threw for a score for the Irish. … Earl Ingle threw three touchdown passes and had three of West Linn's six interceptions -- returning one for a score -- in a 42-21 rout of Tigard. … Tualatin got a field goal from Dominic Borges with 26 seconds left to upend Lakeridge 24-21. Jackson Jones completed 15 of 22 passes for 252 yards and three touchdowns, one to Malik Ross, who rushed for 137 yards and a score on 26 carries. … Summit defeated rival Mountain View 34-17, its first win in the series since 2015. Chip Allers ran for two touchdowns and Hogan Carmichael passed for two scores for the Storm.
5A
No. 1 Thurston survived a defensive struggle to beat Crater 9-0, getting a touchdown run from Brycen Indell. Thurston had a 173-75 edge in yards. … Eagle Point's Isaiah Hill ran for 177 yards and seven touchdowns – six in the first half – to propel Eagle Point past Ashland 56-6. … Pendleton stopped Redmond 38-13 as Collin Primus completed 17 of 24 passes for 238 yards and three touchdowns and Payton Lambert ran for two scores. … Brayden Burton exploded for 287 yards and two touchdowns on 38 carries as Lebanon handled Dallas 34-14. … Michael Cale had four carries for 79 yards and two touchdowns and passed for a score in West Albany's 29-13 win over South Albany. … Jordan McCarty was 15 of 22 for 313 yards and two touchdowns with two interceptions as Silverton downed Corvallis 34-7. Austin Ratliff had five catches for 133 yards and returned an interception for a score. … Canby bolted to a 27-0 lead at halftime and coasted past Scappoose 33-21. Tyler Konold rushed for more than 200 yards and scored three touchdowns for the Cougars. … Nathan Benz ran for two touchdowns and returned a kickoff for a score in Ridgeview's 49-12 win over The Dalles.
4A
Jacob Hage passed for four touchdowns, two to Colin Smittle, and Blake Lewis scored three touchdowns for Cascade, which rumbled past Newport 70-27. … Marist Catholic smashed Cottage Grove 56-16. Lucas Tuski rushed for two touchdowns and recovered a blocked punt in the end zone for a score. … Banks held Seaside to under 100 yards to win 38-0. Charles White had five catches for 85 yards and two touchdowns and Cooper Gobel passed for two scores and ran for another. … Marshfield remained unbeaten with a 49-13 win over Tillamook. Miguel Velasquez rushed for 173 yards and four touchdowns on 17 carries and Dom Montiel went 17 of 22 for 187 yards and two scores. … Shaw Stork ran for three touchdowns and passed for one score in Henley's 48-0 win over North Valley. … Estacada broke from a 14-14 tie in the third quarter to put away Molalla 25-14. Hunter McDonald rushed for 149 yards and one touchdown for the Rangers. … Mazama thumped North Valley 42-7 as Aidan Kindt rushed for 142 yards and two touchdowns. … Milwaukie turned back a two-point conversion attempt to beat Astoria 35-34 in overtime. Kaden Harris threw three touchdown passes for the Mustangs.
3A
Vale scored touchdowns on six of its 13 first-half plays en route to a 39-8 win over McLoughlin. Nathan Kimball had three touchdowns on three carries, totaling 63 yards. … St. Mary's trailed by 13 points at halftime before coming back to beat Elmira 35-32. Eli Haynes passed for three touchdowns, two to Tyson Delplanche, and ran for two scores. … South Umpqua's Caj Simmons ran for 108 yards and two touchdowns in a 35-6 win over Sutherlin. … Rainier's Stone Ware rushed for 314 yards and four touchdowns on 22 carries – his second 300-yard game this season – as the Columbians downed Warrenton 32-12. ... Junction City routed Sisters 50-22 as Gabriel Ward rushed for 143 yards and two touchdowns on 21 carries and Colby Evans completed 12 of 15 passes for 161 yards and three scores. ... Logan Grove had 118 of Amity's 328 rushing yards in a 20-6 win over Philomath. He also had a team-high eight tackles and an interception. ... Keith Reed threw two touchdown passes to Austin Waits to lead Cascade Christian past 5A Springfield 28-0. The Challengers held the Millers to 149 yards.
2A
Heppner won its 25th in a row, downing Grant Union 36-12 as Brock Hisler ran for 224 yards and three touchdowns on 19 carries. … Dylan Ackerman scored on a quarterback sneak with 1:06 left to lift Glide over Reedsport 17-12. … Zach Wusstig ran for 170 yards and four touchdowns on eight carries and caught a 60-yard pass for a score as Jefferson outlasted Monroe 44-34. Brody Ballard ran for 132 yards on 25 carries for Monroe. ... Blane Peal threw four touchdown passes to lead Weston-McEwen past Riverside 43-6. Tight end Chase Ferenbacher had three catches for 116 yards and two scores. ... Knappa dispatched Sheridan 47-7 behind Tanner Jackson, who completed 7 of 14 passes for 133 yards and two touchdowns and ran for 147 yards and two scores on 11 carries. Mark Miller rushed for 124 yards and two touchdowns for Knappa, which had 486 total yards. ... Morgan Ludwig ran for two touchdowns and Gavin Patterson rushed for 92 yards and one score as Lakeview dominated Illinois Valley 42-0. ... Kennedy held Gervais to 52 total yards in a 63-6 win. Owen Bruner (101 rushing yards, two rushing touchdowns, one receiving touchdown) and Elijah Traeger (103 rushing yards, two rushing touchdowns) led the way for Kennedy, which led 57-0 at half. .. Toledo rushed for 389 yards to outlast Creswell 38-30. Gunner Rothenberger ran for 276 yards and four touchdowns on 41 carries, threw a 60-yard scoring pass and ran for four two-point conversions. ... Gaston ran over Nestucca 58-0, getting big games from Brandon Clowdus (six carries, 135 yards, three touchdowns) and Jaden Dolan (six carries, 118 yards, two touchdowns). Jesse Liesegang had a sack and two fumble recoveries. ... Brayden Webb rushed for 90 yards and three touchdowns in Oakland's 60-12 win over Oakridge. Silas Arscott returned an kickoff for a touchdown and James Baimbridge returned a kickoff for a score for Oakland.
1A
Cedrick Dayandante ran for 322 yards and four touchdowns in Ione/Arlington's 46-6 win over Dufur. … St. Paul racked up 543 yards in beating Camas Valley 58-26. Lance Tuck ran for two scores and passed for three touchdowns, two to Clancy Koch, who rushed for 207 yards and two scores on 12 carries. … Lost River stopped a two-point conversion attempt in the final minute to hold on for a 24-22 win over Bonanza in the Spud Bowl. Lost River rallied from a 16-0 deficit and took the lead 24-16 on Nathan Dalton's 1-yard run in the fourth quarter. … Union ended a 10-game losing streak by beating Lyle/Wishram/Klickitat 34-26. … Powder Valley opened a 34-0 lead in the first quarter on its way to a 62-24 victory over Wallowa. Freshman Tucker Martin ran for two touchdowns and returned a punt for a score for the Badgers. … Trenton Storns rushed for 102 yards and four touchdowns and completed 6 of 7 passes for 139 yards and two scores for Gold Beach, which stopped Days Creek 54-14. … Powers beat North Douglas 38-27 in a six-man game as Rene Sears ran for two touchdowns and threw for two scores, both to Alex Mahmoud, who also had two rushing touchdowns. North Douglas' Palu Rayon-Wilder rushed for 154 yards and two touchdowns. … Elkton edged Gilchrist 41-38 in a six-man game as Nathan Rausch rushed for 112 yards and two touchdowns and caught three passes for 90 yards and three scores. Christian Halstead caught eight passes for 226 yards and ran for a touchdown for Elkton, which got four scoring passes from Ronny Ronning.