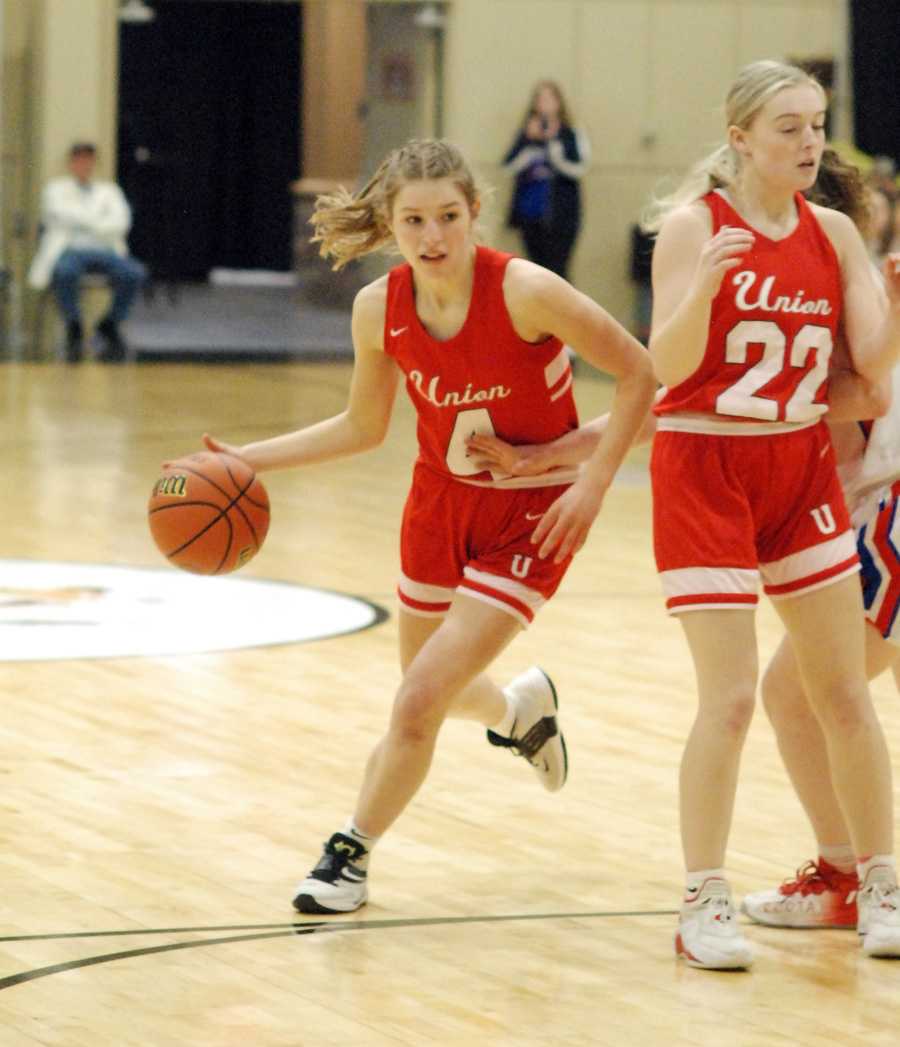 PENDLETON: Union jumped to a 10-0 lead on cold-shooting Central Linn and led wire-to-wire in its 47-40 2A semifinal victory Friday night at the OSAA / OnPoint Community Credit Union 2A Girls Basketball Championships at the Pendleton Convention Center. With the win, the Bobcats advance to their first state title game since 2013. They will seek their first state title today, at 6:30 p.m., versus No. 1 Salem Academy, a 41-35 winner over Bandon earlier in the day.
The game was decided largely from the three-point arc. It featured several runs, large Union leads and a thrilling finish.
Union built its 10-0 first quarter lead on a hunch. The Bobcats played man-to-man defense, but did not defend the three-point line. Central Linn simply fired away from long range behind long-range shooters Ryleigh Nofziger, Maya Rowland and Ashlei Ramirez. That trio missed all 10 triples they attempted in the first quarter, allowing Union, behind senior point guard Callie Glenn, to build a 10-0 lead after one.
"I've had my eye on Central Linn all season watching NFHS," said Union coach Jordan Klebaum-Johnston. "They're really aggressive and really good at getting to the paint. I was going to take a little bit of a gamble from the three-point line and said, 'I want you guys to pack the paint a little and see how they're shooting from the three point line.' They came out a little cold which gave us enough time to jump on the lead. We tried to make them take hard shots from the beginning and I think we did a pretty good job."
Central Linn missed twice more from distance before Ramirez broke the ice with a second-quarter three pointer 90 seconds into the second quarter. Union responded with seven straight points – a Kaylin Nowak free-throw line jumper; drive and lefty layup from Audrey Wells and top of the key rainbow three from Glenn – to extend its advantage to 17-3.
Rowland's first three midway through the second quarter cut the lead back to 11. The Cobras scored eight of the last 11 points before half, including a Nofziger triple at the horn that cut Union's lead to eight at 19-11, the first time in more than eight minutes that the Bobcats hadn't led by 10 points or more.
Central Linn finished the half 3-for-19 from beyond the arc. In Thursday's quarterfinal win over Lakeview, the Cobras attempted just two three-point shots THE ENTIRE GAME.
You had to figure that, at some point, second-seeded Central Linn would heat up from long distance. Had No. 3 Union built a large enough cushion to survive an onslaught? The Bobcats did not wait to find out. They blazed out of the locker room with six straight points, including a Jesse Ledbetter runner, to regain a robust advantage. Union played hard for 90 feet, used its quickness to get to loose balls and took advantage of any scoring opportunities.
When Glenn banked in a three with 3:52 left in the third to make it 28-15 Union, the 13-point lead felt insurmountable if the Bobcats simply could hit their free throws. But success from the charity stripe has not been a Union strength all year. The team came into the tournament shooting 41 percent for the year from the free-throw line and were hardly better in the semifinal, making just 14 of its 33 attempts.
"Did you see how many free throws we missed?" Klebaum-Johnston queried. "It's enough to make my blood boil out of my veins."
The missed free throws gave Central Linn an opportunity to get back into the game. Buckets inside from Bri Beauchamp and Nofziger and three-balls from Rowland and Nofziger cut the Union lead to just five, 32-27, heading to the fourth quarter.
Central Linn (22-4) drained its first shot of the fourth period, a three-pointer from Rowland 46 seconds in. Union's lead was now only two. It was nervous time if you were a Bobcat fan.
Union responded in a big way!
After two Ledbetter free throws grew Union's lead to four, Glenn took over the game. She assisted on two buckets inside from Kaelyn Shoemaker and a three pointer from Nowak. Those seven points, in a 77-second run, along with Ledbetter's free throws, made it 41-30 Union with just five minutes to play.
Central Linn remained resolute. Great work inside from Gemma Rowland, together with missed free throw after missed free throw from Union, helped the Cobras three times get as close as six points in the game's closing minutes. Central Linn had great looks from long range during the final frenzy and had so many shots come agonizingly close to going down. But today was not a day to be a Cobra. Union had just enough scrap in it to fight to the finish and hold on for the win.
Union (24-3) will now play for the title in its second consecutive trip to Pendleton. When the Bobcats were here in 2020, they lost in the semifinals and finished fifth.
"A lot of girls felt our semifinal loss from that year and it definitely fueled our fire," said Glenn, who finished with a game-high 21 points and four assists. "We weren't going to let that happen again."
"We came out expecting a challenge but the fire we had before the game led to that 10-0 lead," Glenn continued. "We kept pushing through each quarter. All the hard work we put into the season is finally paying off."
Nowak had nine points and 13 rebounds to complement Glenn. Wells, who was very active all game long, chipped in with eight points. Union outrebounded Central Linn, 34-17, for the game.
Nofziger led Central Linn with 13 points. Gemma Rowland added 11. The game might have been much closer or decided differently had the Cobras fared better behind the line. They were just 3-for-11 at the free throw line and 7-for-31 for the game from behind the arc.
In other semifinal action:
Girls 2A
No. 1 Salem Academy 41, No. 4 Bandon 35: Top-seeded Salem Academy saw a blowout turn into a nail biter versus Bandon Friday night in Pendleton, but made just enough free throws and had just enough defense to hold off the scrappy Tigers, 41-35.
Two left-handed finishes inside from senior Annabelle Brawley extended SA's lead, which was 12-7 after one quarter and 26-13 at the half; to 30-13 three minutes into the third quarter. It felt like a continuation of the first half, where Salem Academy overcame a fast 5-0 Bandon start by scoring 10 in a row, including two threes from Bailey Pedersen; and kept building its lead.
Bandon had a 10-3 turnover disadvantage in the first half, which created a lot of empty possessions for the Tigers. When that deficit grew to 17 with just 13 minutes left to play, it appeared that the game was well in hand for Salem Academy.
That's when Makiah Vierck banked in a three near the top of the key to give Bandon life. The Tigers implemented a 1-2-2 full court press thereafter and it created turnovers that they turned into points. Another Vierck triple and one from Olivia Thompson helped Bandon slice SA's lead to 9, 32-23, heading to the final quarter.
Bandon didn't stop there. Katie Senn scored on a driving layup to open the fourth quarter. Not even a corner three from Pedersen for SA could blunt the Tigers' momentum. Nor could Grace Hinkle's sweet dish to Haley Ferry for a lay up.
Bandon was relentless. Senn had a steal and dish to Vierck cut into the lead. Makenna Vierck scored inside off a nice Thompson dish, Mariah Veirck and Thompson hit triples and suddenly the score was just two, 37-35 with 25 seconds left.
"It's like they flip-flopped on us," Pedersen said. "I knew we had to calm down, slow everything down, and play our game."
Bandon never got the chance to shoot for the lead. Pedersen was fouled and swished two free throws. She did the same seconds later to put the game away. They were so pure!
When Pedersen stepped to the line the first time, she was recalling an earlier missed opportunity on the front end of a 1-and-1 one minute before.
"I had to calm myself down and tell myself it was going to be okay," Pedersen recalled. "I breathed and I shot them."
Pedersen finished with a game-high 16 points plus seven rebounds in the win for Salem Academy (26-3). Brawley had 10 points and three assists.
Bandon (24-4) was paced by Thompson, who scored 14; Makiah Vierck, who had 11 coming off of a sprained ankle on Thursday; and Senn, who had six points, eight rebounds, four assists and four steals.
Boys 2A
No.1 Western Christian 46, No. 10 East Linn Christian Academy 27: Western Christian advanced to its third straight 2A boys championship game Friday afternoon by defeating East Linn Christian Academy, 46-27, in a low-scoring affair.
The game featured lots of excitement, effort and intensity, but very few points.
Two spurts of inspired play aided the Pioneers' victory. Western Christian's first-half star, 6-3 senior wing Owen Stalnaker, who scored five points in the first quarter, added seven more in the second. They include a scintillating five in a 20-second stretch that extended the Pioneer advantage to 21-13 just before halftime. Stalnaker first scored off the weave and tacked on the free throw, his second "and-1" of the game. He then picked off a pass at half court and went unimpeded to the basket for another two.
Freshman Lucas Zook was the second-half star for Western (29-3). After a forgettable first half, Zook had a bucket and two freebies in the third quarter, then tickled the twine from long range to start the fourth quarter, as the Pioneers extended their lead to 38-19.
"He's a gritty kid who loves to compete," said Western coach Gary Hull.
The tall duo of Chaz Storm and Austin Sladek controlled the inside the rest of the way, scoring easily in the lane, until the benches cleared in the game's waning moments.
Stalnaker and Saldek finished with 12 apiece and Zook had 11 as Western Christian's trio in double figures. Storm finished with eight points, 11 rebounds and two assists.
"I think our defense was really sound; we held them to a lot of 1s and dones," Hull said. "I thought we won the rebound battle and I was really proud of our guard exchange up top on the defensive side."
East Linn Christian, which scored 74 points on Thursday while shooting 61 percent in the quarterfinal win over Bonanza, managed only 24 percent shooting in this one, including 1-for-12 (8 percent) from three-point range. Cole King topped the team in scoring with 10 and added eight rebounds before fouling out. Point guard Chayse Beachy also showed his skill. He scored only three but he showed an uncanny passing touch that would have yielded more than three assists but for several missed layups. ELCA fell to 21-8 with the loss.
No. 3 Salem Academy 39, No. 2 Knappa 34: Salem Academy outlasted Knappa, 39-34, in a 2A state tournament boys semifinal basketball game Friday afternoon at the Pendleton Convention Center. It wasn't pretty basketball by any means, but it sure was exciting.
Less than two minutes remained in the game and all the momentum was with Knappa, which had pulled to within 33-32 on a Nicolai Ogier corner three, off of a nice assist from Shane McMahan. The Loggers had trailed throughout the second half, but had pared six points from Salem Academy's 33-26 lead. One more stop, one more basket, and Knappa (26-2) would be in the lead.
The Loggers had lead early in the game. Knappa gave up the first bucket to Landen Iverson, then scored the next 8 to seize control. Morrill had six points and McMahan had four points, an assist and steal for the Loggers, which used exotic defenses to slow Salem Academy both coming up the court and in their its half-court sets.
Salem Academy had been better after that and won the second quarter, 18-7, to take a five-point lead at the half. The teams slogged through the third quarter, with neither team putting much of a dent in the scoreboard and that continued until Ogier electrified the capacity crowd with his triple.
Clinging to that one-point fourth quarter lead, Salem Academy (23-5) needed a basket desperately. Since a 90-second spurt midway through the second quarter, which saw senior guard John Pass hit three corner threes to put the Crusaders ahead, 23-20, they had hardly scored. A Landen Mitchell triple from the baseline 36 seconds into the fourth quarter got Salem Academy to 33 points, but since then, there'd been nothing. Not a single point for almost six minutes as Knappa, despite foul trouble for its high scoring big man, Logan Morrill, crept closer and closer.
After Ogier's three pointer excited Knappa's loud crowd, Salem Academy needed a boost of its own. Pass tried one jumper but it missed. Salem Academy rebounded its miss but McMahan created a turnover for Knappa and drove the length of the court, only to short arm a layup. Pass corralled the rebound and headed up court.
The ball was passed around until it found the hands of Mitchell. The junior found Pass floating to the corner. Pass launched a high arching three that bounced high off the rim, then landed softly on the rim and dropped in. The basket gave Salem Academy a four-point lead, 36-32, with only 1:31 remaining on the clock.
"It bounced around up there," Pass said. "At first I thought I missed it. And then I was, 'Oh man it has a chance.' And when it went in, it was amazing, because it gave us a little bit of space that we were really needing. It was a really big shot."
A few seconds later, as Knappa was trying to come back, Morrill, the game's leading scorer with 18 points, lowered his shoulder trying to get to the basket and was called for his fifth foul. Missed free throws in the end game gave Knappa life and additional possessions, but the Loggers could not find the points it needed to rally.
Pass finished with 14 points for the victorious Crusaders. Jaren Oglesby had nine, including a cold-blooded three pointer under heavy defensive pressure early in the third quarter when Salem Academy's lead had been cut to 25-24. Mitchell finished with eight, while Jackson Oglesby had six points and nine rebounds.
McMahan recorded eight points, six rebounds and six assists to complement Morrill's strong inside game. Knappa shot just 25 percent from the field for the game and made just 2 of-18 from beyond the arc.
In consolation action
Boys 2A
Regis 67, Heppner 49: Regis won every quarter in the workmanlike win over Heppner. The Rams got 28 points from freshman Isaiah Koehnke, including five three-pointers; and Nick Woods added 16 in the win. Tucker Ashbeck scored nine and had 11 boards in the loss for Heppner.
Bonanza 62, Kennedy 56: Bonanza outscored Kennedy 19-9 in the fourth quarter to pull off the mild upset. The Antlers went up for good on a three-pointer by Allen Hill with less than a minute remaining. Hill finished with a team-high 18 points, as did Ty Nelson. Kennedy guard Riley Cantu led all scorer with 24 points.
Girls 2A
Stanfield 49, Gervais 44: Stanfield rallied from a two-point deficit after three to score the win and guarantee the first trophy in school history. Alexis Shelby, Zuri Reeser and Maggie Sharp all made big plays down the stretch for the Tigers. Sharp finished with a team-high 17 points. Olivia Boyd scored 18 and had 13 rebounds for Gervais in the loss
Lakeview 48, Faith Bible 44: Lakeview survived a fourth-quarter rally to win at Pendleton High School. Tyler McNeley and Kenna Stratton had 23 points combined for the victors. Alexis Mallory and Ashley Lohman teamed for 25 in the loss.