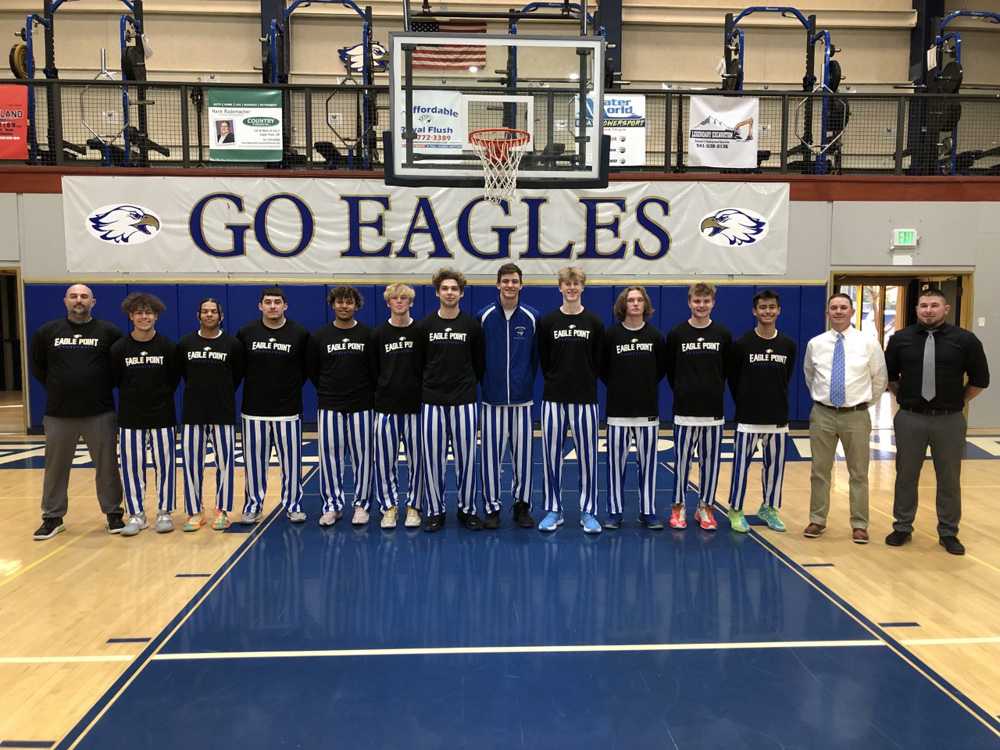 The 2022 OSAA / OnPoint Community Credit Union 5A Basketball State Championships has so many storylines that it would take a book, not just this intro, to do justice to them all.
In 2020, the boys were set for an epic 5A semifinal, with the top four teams, Churchill, Silverton, Crater and Wilsonville, all still alive right before Covid struck and canceled the rest of the tournament. All four teams return, through this time they are seeded 2, 4, 5 and3, respectively.
The top-seeded girls team, Willamette, was not in the top 10 of the OSAAtoday Pre-season Coaches Poll.
After winning the 5A football state title, Silverton's boys are going for that rare double. The Foxes were the pre-season pick in the OSAAtoday Coaches Poll.
Churchill head coach Kelly Bokn is coaching in his last state tournament. The Lancer AD and head basketball coach is retiring after 32 years and moving to Nampa, Idaho, which is his wife's hometown. "It has been a great ride and I am looking forward to our new retirement adventure," he said.
The nine-team Midwestern League is represented by four of the eight boys teams –Churchill, Crater, Eagle Point and Ashland – and two of the eight girls teams – Springfield and Willamette.
The final eight boys teams at state were all seeded among the top eight teams to start the playoffs. And all were ranked among the top eight in the final OSAAtoday Coaches Poll.
While any one of the above would have been terrific openers for this 5A preview, we lead with the boys team at Eagle Point, which last made the state tournament in 2014 and went two and out and which has never appeared in a state championship final.
What's so compelling about the Eagles?
They made the state tournament in 2022 after a dismal 1-13 record during the Covid-delayed spring tournament. That's right. One solitary coupled with 13 defeats in May and June of last year, and 18 wins against just seven defeats IN THE MIDWESTERN LEAGUE from December through early March.
Eagle Point matched its season win total from the previous year on Dec. 1, the first date games could be played. By the weekend, the Eagles had triple the number of wins and just kept going.
Eagle Point head coach Ryan Marrs' first season as head coach came during that 1-13 run. He said the record did not tell the story of the culture change going on in the program.
"We were competitive in every game for the first time in a long time," he said.
The Eagles graduated just one starter off of that team; better yet, they gained three senior transfers from Butte Falls Charter, which was folding. They had all been three-year contributors and were friendly with players on the Eagle Point team.
"They had heard about how the basketball program was under my leadership and the culture was changing, so I met with all three of them, shared my vision and mission with them, and they decided to come play here," Marrs said.
Meshing the veteran players around the Eagle program with three new players was tough.
"We had to learn to gel and build a family throughout the season," Marrs said. "All season we have had to learn things on the fly: how to win, how to close out close games, and how to navigate the toughest conference in the state."
Eagle Point lost to Arcata, a 22-3 California team, in early December. The Eagles then won 12 in a row, including beating Crater for the first time in at least six years; before getting into the meat of a brutal league schedule, which saw them lose only to teams that made the Dance with them.
"I don't think anyone is giving us a chance because of our long history of losing," Marrs said, "but I believe this team is dangerous and can hang with anyone in the state."
5A boys quarterfinals, Wednesday, Gill Coliseum, Corvallis
No. 8 Ashland (15-9) v. No. 1 Redmond (20-5), 1:30 p.m.: Ashland is making its first state tournament appearance in more than a decade. The Grizzlies had a winning record for the first time in more than a decade. They had a winning record despite being challenged nightly in the Midwestern League, where they complied an 11-5 record, including wins over Crater and Eagle Point. The team is led by 6-8 senior guard/forward Hawthorn Lapierre, who averages nearly 18 points per game as well as 7.5 rebounds. Egan Shields, a 6-10 junior forward, contributes 10 points and 7.1 rebounds per game. Guard Izzy Golden also averages 10 points per game and is Ashland's long-range shooter, averaging 42.4 percent from distance. Senior point guard Toby Barnes averages almost six points and five assists per contest. Ashland's winning season wasn't accomplished without adversity. Starters have missed time – the team is 14-4 with all of its starters healthy – and the entire program was paused for 24 days in January because of Covid. Redmond is making its first appearance at the state tournament in 16 years. The Panthers, who won their conference title for the first time since 2013, are the top seed and kind of snuck up on the rest of the field. The coaches voted Redmond fifth in the state in the final poll. Garrett Osborne, a 6-3 senior wing, is the team's top talent. He averages almost 22 points per game, mainly from attacking the basket. Osborne is second on the team in rebounding behind 6-8 junior center Evan Otten, who averages almost 15 points and almost 11 rebounds per contest. Point guard Yoshi Saito and 6-4 junior forward Nathan Wachs are two others to watch for a Redmond squad that has been healthy all years and thrives on its man defense. "We are at our best when we are getting stops and playing above the rim in transition," said coach Reagan Gilbertson.
No. 5 Crescent Valley (20-6) v. No. 4 Silverton (21-5), 3:15 p.m.: Crescent Valley comes to Gill as the only team to play all of the top four seeds in the field. The Raiders went 2-3 against them and could make some noise in their first tournament appearance since 2017. Crescent Valley is led by 6-6 senior guard Noah Dewey, a prolific scorer from anywhere on the floor. The Mid-Willamette Conference POY averaged 15.4 points, seven rebounds and 2.7 assists per game during the season and shot above 50 percent from the field, including 36.4 percent from long range. Jake Liebelt, a 6-5 senior post, also had a fantastic year, averaging 11.7 points and 8.1 rebounds. He can score both inside and out. Adam Temesgen, a 6-0 junior, made First Team All-League along with Dewey and Liebelt. He averaged 14 points and two assists per game. Senior Cooper Wakefield and sophomore Rocco McClave are two others to watch for head coach Michael Stair's squad. Stair has taken the Raiders to state five times during his tenure. He has the unenviable task of taking on conference foe Silverton in the quarterfinals. Silverton won both match ups during the regular season, but both were close. Silverton was the pre-season No. 1 in the OSAAtoday coaches poll and played like it in conference play, earning a 16-0 record. Outside of conference play, the Foxes were just 5-5, although four of those losses came to teams outside of the state at a pre-Christmas tourney and all five losses, including a rout at the hands of West Salem, came just a few weeks after Silverton won the 5A football state championship. The Foxes have four players on their roster looking for a second ring and nine seniors who are hungry for a basketball title, which would be its first since winning initially in 2015. Three First Team All-Conference seniors, wing Neil Efimov, point guard Jordan McCarty and post Ryan Brown lead the team. Efimov averages 17.1 points per game along with 4.4 boards, 2.7 helpers and 2.5 steals and is efficient from beyond the arc. McCarty, an Air Force football commit, averages 12.5 points, 5.8 assists and 2.5 steals and the best defender head coach Jamie McCarty says he has ever coached. Brown averaged 12.5 points and can rebound and block shots with the best of them. Others to watch include Joey Haugen and Austin Ratliff. Coach McCarty said that Silverton, which yielded just 37.5 points per game to conference opponents this year, is long and athletic, with every player capable of stretching a defense with a three pointer and every player also capable of finishing at the rim. Do not be surprised if this team, with no player taller than 6-5 but no player shorter than 6-0, is the one holding aloft the blue trophy on Saturday evening.
No. 6 Crater (21-5) v. No. 3 Wilsonville (24-2), 6:30 p.m.: The Nate Bittle era may be over at Crater, but the Comets remain formidable. They went 12-4 in the brutal Midwestern League and have defeated the three other state tournament teams from their league each one time in two attempts. The Comets are coming to Corvallis on a five-game winning streak, including a 34-point playoff rout of Corvallis just five days ago. Logan Price, a 6-3 senior wing, had 33 points and 13 rebounds in that contest and is one of Crater's top scorers at 10.1 points per game. The others are 6-0 senior guard Colton Vranes (11.6 ppg; 4.5 rpg). Tate Broesder also averages over 11 points per game while Javon Smith and Caden Lasater team to average an additional 16 points and almost seven rebounds per game. Chris Roche's Wilsonville Wildcats seem primed for a long tournament run. The team enters the state tournament on a 13-game winning streak and its two losses came by a combined five points. The team has weathered the loss of 6-6 sophomore Kyle Counts to a broken wrist in February by continuing to win. Wilsonville, which has won three of the last four 5A titles and finished first or second in the last five, are led by 6-10 senior Logan Thiebay, a rim protector who averages 11.6 points and 9.4 rebounds per game. Kallen Gutridge, a 6-3 sophomore wing, scores almost 13 per and fills the stat sheet in all the categories. Maxim Wu, a 6-0 junior guard, leads the team in assists while averaging eight points per game. Tristan Davis, a 6-7 junior, is a double figure scorer who pulls down 5.4 rebound per contest.
No. 7 Eagle Point (18-7) v. No. 2 Churchill (21-5), 8:15 p.m.: Eagle Point had lost five of its past six before thrashing Hood River Valley to make the state tournament. The Eagles are led by returning starter Brennen Neyt, a 6-4 scoring wing with the ability to score from range or slash to the hoop. He averages almost 18 points and more than six rebounds per game. The Eagles' three senior transfers, post Tommy Johnson, point guard Mickey Redondo and wing Tristan McGuire, all are integral to the team's turnaround. Johnson averages 8.3 points and almost nine rebounds per. Redondo scores 9.4 per game and tops the team in assists. And McGuire scores a bit, rebounds a bit, steals a bit and assists a bit, the perfect role player on a senior-led team. "Their impact has been a big part of our success mainly because of their basketball IQ," said coach Ryan Marrs. "All three know the game well, and have done a great job sharing their insights with their teammates. In addition, they knew how to win and had that mentality. The majority of our returning players had not won since their freshmen year playing freshmen ball, so having guys come in who knew what it took on the court helped out a lot. All three boys play different positions on the court so having that balance was a good impact as well. The entire team has created a new identity for our program in our community and we now have younger generations of kids wanting to play basketball. The whole community has had a new 'pep in their step' because of this team; we have had so much support and love all season." Churchill has a long history of state tournament success, but the Lancers haven't won a title in more than 20 years. The team's stars are all seniors with experience and include senior point guard Samaje Morgan, perhaps the best 5A player in the state. He averages 20 points and six assists per game. Ty Wieskind, a 6-4 senior guard; and Matthew Forsyth, also a 6-4 senior guard, complement Morgan by combining to average 20 points and 10 rebounds a game.
5A girls quarterfinals, Thursday, Gill Coliseum, Corvallis
No. 9 Crescent Valley (19-7) v. No. 1 Willamette (25-1), 1:30 p.m.: Crescent Valley will be playing in its third state tournament over the past four years. Each time the Raiders have been a higher seed and have beaten their seed every time. Crescent Valley is a young team, without seniors, but has improved as the season went along and comes to Corvallis 17-3 over its last 20 games. Junior guards Gabby Bland and Nicole Huang are the team's top players. Bland averages almost 18 points per games while Huang scores eight per while putting up 5 rebounds, three steals and five assists per contest. Charlotte Patel, Molly Campbell and freshman Haley Bland are other impact performers. Willamette lost to 6A power South Medford in January. The Wolverines did not lose again this season, not bad for a team that was unranked by the coaches in the pre-season. The coaches might not have known about Willamette's five freshmen, including 5-11 Brynn Smith, the team's scoring leader at 16.5 points per game. Smith comes from a long line of great basketball players and is off to a great start to her career. She shoots it well and can get to the basket with ease. The other freshmen, Victoria Nguyen, Maddy Warberg, Harper Wagner and Jadynn Ireland, all are big contributors to team success. Nguyen runs the offense and averages eight points and five assists a game. Warberg is a lights out shooter who averages 11.5 points per game and shoots 37 percent from three-point range. Wagner is a lock down defender and Ireland, a reserve, is a monster on the boards. Guard Kayla Morris and junior Nancy Coffman are others to watch for the Wolverines, who average 55 points per game as a team while allowing just 34 points per game. Willamette is coached by Danielle Bellando, who was on the Wolverine team that won their first state title in 2007. They have since won three more, the last in 2014.
No. 5 Corvallis (20-6) v. No. 4 Ridgeview (19-6), 3:15 p.m.: Dan Miller coaches Corvallis, which went 13-3 in the Mid-Willamette Conference and comes to the state tournament on an eight-game winning streak. The Spartans have been to the state championship game only once in their history, when they fell to Willamette in 2014. The team is led by seniors Erika Prechel and Sevennah Van De Riet. Prechel averages almost 15 points per game. Van De Riet scores at a 10 points per game clip, with six rebounds per game on average. Sophomore Taylor Brasfield averages 11 points per game and can score from distance. Sophomore Holland Jensen also is a capable scorer while sophomore Marlee Hammer is a defensive stopper who also averages seven rebounds a game. Point guard Ava Prechel, a junior point guard, is out, but Brasfield and Sydney Conklin have filled in admirably. The Spartans share the ball admirably and average 12 assists per game. Ridgeview made its first appearance at Gill in 2020 before Covid shutdown the tournament. The Ravens went 9-1 in conference play, to win the Inter-Mountain for the third straight year; and will ride a ten-game winning streak to the tournament. Conference POY Jenna Albrecht, a 5-8 senior guard, averages more than 16 points per game to lead the way. She also leads the team in rebounds, steals and assists. Senior Faye Davis also is a top scorer and tough competitor. Ridgeview is a dark horse to win because, midway through the season, junior Kyrah Daniels returned to Central Oregon from Australia and made an immediate impact. Daniels averages 14 points and seven rebounds per game and was considered by some to be the best player in the Intermountain Conference.
No. 11 Putnam (19-6) v. No. 3 Crook County (21-3), 6:30 p.m.: Putnam may be the No. 11 seed according to the OSAA, but the Kingsmen were ranked sixth in the OSAAtoday pre-season coaches poll. The team had a 9-1 spring record and graduated no one, making this a most formidable team despite its seeding. Putnam, a smaller team, plays a defensive style and shoots it well. The Kingsmen last made the state tournament in 2017, but did not have an extended run, going 0-2. Mentored by second-year head coach Maxwell d'Auvergne, Putnam is led by crafty senior guard Maddie Olma, a true point guard with great athleticism and the ability to score in bunches. She also is an elite passer, dishing to the likes of junior Emma McDonald, a 2-guard with deep range; and sophomore Rylee Lemen, an elite athlete. Down low, junior Riley Greenleaf is a smaller post player, but works hard and is the team's main interior presence. Crook County started the season 15-1, but is just 6-2 over its last eight games. It's been a year of firsts for the Cowgirls, who defeated 6A schools Bend and Summit for the first time in school history, defeated 5A Ridgeview for the first time in school history to win the Sisters Holiday Tournament for the first time in school history. The team had all this success with just one player, 5-10 senior post Emma Bales, returning. Crook County plays tough defense, yielding just 36 points per game, and pushes the ball in transition. "The girls have learned how to win and play like a true family," said veteran coach Bob Boback. "Players have accepted their roles and are unselfish for the team cause. In 24 years of coaching this is my favorite team by far!! Great attitude, work ethic, tough people!" Junior Katelynn Weaver, a 5-7 guard, is the team's scoring leader at 14 per. She also leads the squad in assists and steals. Bales is a monster competitor who averages 11.8 points and 12.2 rebounds per game. McKenzie Jonas, a 5-10 junior guard/forward, is a great athlete who was POY in the conference. She's fast, a hard-nosed defender and will be a hard guard for anyone. Consummate teammate Grace Brooks, a rugged rebounder; and three point threat McCall Woodward are two others to watch.
No. 7 Springfield (19-7) v. No. 2 Silverton (21-4), 8:15: Springfield is a traditional 5A girls basketball power. The Millers won state in 2012 and finished as runners up in 2013, 2016, 2019. This may not be their best team but it is young and talented. The team leader is do-it-all sophomore Danaeja Romero-Ah Sam, who fills up the stat sheet. She averages 16 points, six rebounds, four assists and an astounding four steals per game. Her partner in crime is freshman Juju Henderson, who averages 10.5 points and six rebounds a game. Alexi Morgan, a junior, is another player to watch. She scores at a six-point clip per game and also averages four steals per, as Springfield employs a defensive style that yielded just 29.5 points per league game on average. When Silverton and Springfield met on Dec. 10, Silverton won by 15 points. Tal Wold, coach of the Foxes, hopes that happens again. His Silverton squad is making a seventh straight appearance at the state tournament. The Foxes went 13-1 in the spring, winning games by almost 30 points on average. They weren't quite as strong this winter playing without all-everything Truitt Reilly, who's now at Western Washington; but their 21-4 record reflects a team that isn't tall but knows how to score the basketball. Kyleigh Brown, a 5-7 sophomore, is the team's top player. She averages 18 points, five assists and four rebounds a game. Paige Traeger and Lilly Horner, the team's only two seniors, are great team leaders and players for Silverton. Traeger, who stands 5-7, was a First Team All-League pick and averages 11 points and seven boards a game. Horner, a 5-3 wing with a great stroke and hard-nosed defensive approach, has really played well of late for the Foxes, who come to Corvallis 19-1 over their past 20 games. Junior Lily Hayashida, at 5-10 the tallest player on the team, averages six points per game and is another to watch.