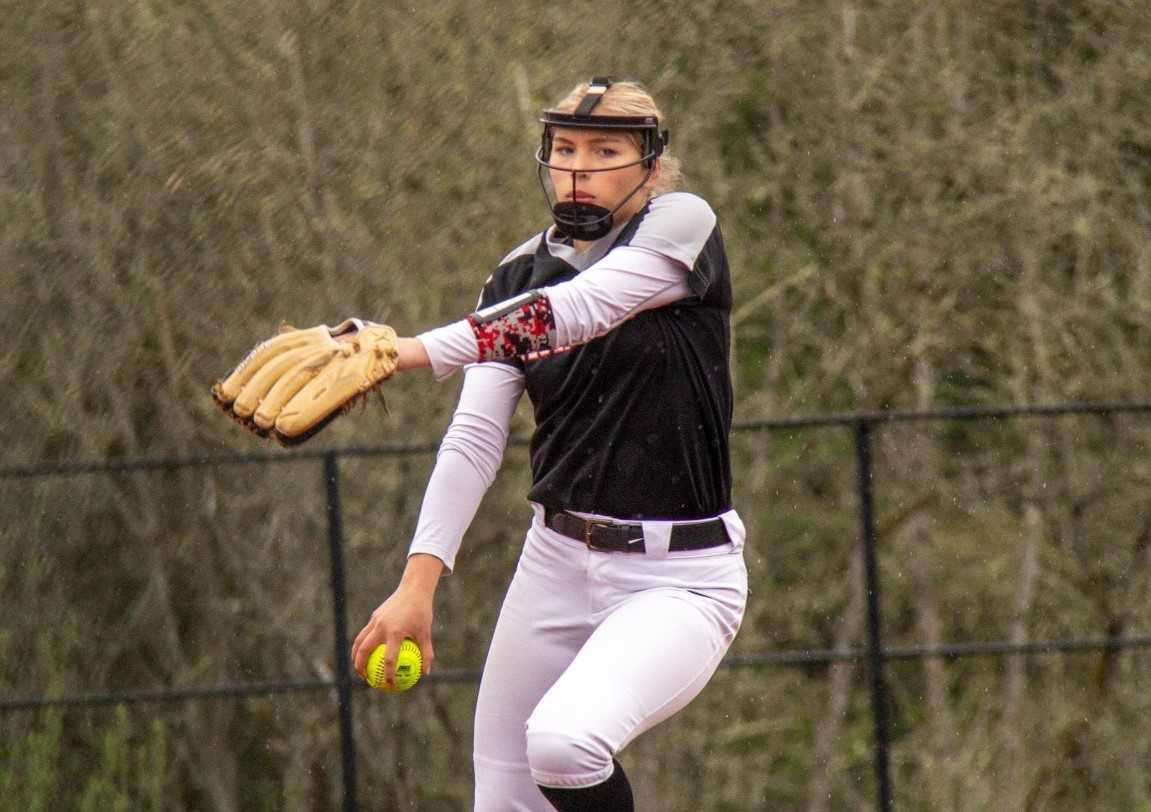 For much of the softball season, the ball wasn't bouncing Oregon City's way.
"We were losing close games early in the season, and I just kept telling them, 'Our time was coming, and we're going to learn how to win them,'" Oregon City coach Mackenzie Washington said. "We're a young team, so we had to learn what it was going to take to win in extra innings. And to our luck, we've had a lot of them."
Much has changed in the state playoffs for third-seeded Pioneers, (22-7), who will play in their first state championship game Saturday when they meet No. 1 Tigard (28-3) in the OSAA/OnPoint Community Credit Union 6A final at the University of Oregon.
No team is more of a survivor this postseason than Oregon City.
In the second round, the Pioneers scored twice with two outs in the bottom of the seventh inning to defeat Lakeridge 2-1. In the quarterfinals, they came back from a 3-0 deficit in the fourth inning to beat West Linn 4-3 in eight innings. And in the semifinals, they went on the road for a 4-0, nine-inning win over No. 2 Bend.
It's a dramatic turn from the regular season, when Oregon City lost three games by one run and two games by two runs.
"They took them hard, and they took them personally," Washington said of the losses. "That was probably the opposite of what we needed to do, and that's what kind of pushed us into our slump even further, because they were trying so hard.
"Once we relaxed and started having fun again, and just played our game, is when they started to find themselves and come out of the hole and start winning those close games. And then they were like, 'We can do this.'"
It helps that Oregon City has an emerging star in the circle in sophomore Lily Riley, who has not allowed an earned run in the playoffs. She went head-to-head with Bend sophomore flamethrower Addisen Fisher in the semifinals and came out on top, throwing a two-hitter with 15 strikeouts against a high-octane lineup that was averaging 9.2 runs per game and had hit 45 home runs.
Riley had shared time at pitcher with junior Allyson Nordling and freshman Ellie Joseph through much of the season but has evolved into the team's ace. For the season, she has thrown 101 innings, allowed 56 hits, struck out 157, walked 41 and has an ERA of 1.39.
Washington said that having Nordling and Joseph help shoulder the load during the season has benefited Riley.
"We didn't have to use Lily every inning of every game up until now, and so she's been rested and ready to go and just waiting to have the ball in her hands for the playoffs," Washington said. "And she has taken the circle and found a whole new level. Her pitches are moving and she's keeping batters off-balance. We've just got to let her keep going."
The Pioneers have grown close throughout the season. The players threw a baby shower for Washington, who is 32 weeks pregnant. And they have leaned on each other in dealing with the loss of a classmate, sophomore Bianca Ceperich, who died in a car accident May 20.
"That kind of gives them something bigger to play for," Washington said.
Oregon City made the quarterfinals in 2016 and the semifinals in 2017 and 2018 behind pitcher Morgan Hornback, now a fifth-year senior at Texas Tech. The Pioneers slumped to 8-18 in 2019, though, and were a modest 11-7 last year, losing to Tigard 15-0 and 10-0 in Three Rivers League games.
Tigard represents the third Three Rivers foe for the Pioneers in the playoffs. They split with the Tigers in the regular season, losing 1-0 in 10 innings in a pitchers' duel between Riley and Tigers senior Makenna Reid and winning 5-1 in a rematch with different pitchers.
"It's difficult playing a team three times, but we know them very well," Washington said. "We definitely know each other's strengths and weaknesses. I think it's going to be who can come up with something different in the next couple days to show, and who's going to come out ready."
Regardless of Saturday's outcome, the future is bright for Oregon City, which has two seniors on the roster.
"The program is in a really good spot right now, and it's growing," said Washington, the JV coach for two seasons before taking over as the varsity coach in 2020. "Softball in Oregon City is becoming a fan favorite."
A look at the state finals, Friday and Saturday at the University of Oregon:
6A, Saturday, 5 p.m.
No. 3 Oregon City (22-7) vs. No. 1 Tigard (28-3): Both teams are going for their first titles. It is the second finals appearance for Tigard, which lost to Putnam in extra innings in 1988. Oregon City has never made it to the championship game. The game promises to be a pitchers' duel between Tigard senior Makenna Reid and Oregon City sophomore Lily Riley. The Florida State-bound Reid is having a monster season. The lefty has thrown 189 innings, allowed 57 hits, struck out 417 (No. 2 all-time in the state) and has an ERA of 0.48. The Tigers have big bats in junior Karen Spadafora (.379, 11 home runs, 35 RBIs) and senior Kani Korok (.398, four home runs, 30 RBIs). Oregon City's offense is led by juniors Allyson Nordling (.427, eight home runs, 37 RBIs) and Gina Allen (.357, seven home runs, 26 RBIs) and senior Phoebe Borkus (.439, 12 doubles, 25 RBIs).
5A, Saturday 11 a.m.
No. 2 Wilsonville (27-3) vs. No. 1 Pendleton/Griswold (27-2): Pendleton is in its sixth final since 2011, winning titles in 2012, 2014 and 2018 under coach Tim Cary, who is 359-111 since taking over as coach in 2006. Before this season, Wilsonville had won only three playoff games in school history, making it as far as the quarterfinals in 2001 and 2002. The Wildcats and Buckaroos, who split a doubleheader at Wilsonville on April 9, have been on a collision course all season. In that doubleheader, Wilsonville won the first game 9-1 behind senior pitcher Maddie Erickson (three-hitter, 17 strikeouts) and Pendleton won the second game 10-4 as Sauren Garton pitched a complete game with 14 strikeouts and went 4 for 5 with a triple and four RBIs. Garton has struck out 352 in 148 1/3 innings, allowing 46 hits, and has a 0.66 ERA. The Michigan-bound Erickson threw a no-hitter with 13 strikeouts in a 1-0 semifinal win over Lebanon. Erickson is hitting .512 with 12 homers and 38 RBIs. Pendleton senior Chloe Taber is batting .510 and has scored 38 runs.
4A, Saturday 2 p.m.
No. 2 Cascade (24-4) vs. No 1 Marist Catholic (25-3): A rematch from March 17, when Marist Catholic won at Cascade 3-0, scoring two runs on errors. The Spartans lead 4A in fewest runs allowed with 31 and Cascade is next at 63. Marist Catholic, which won the 4A Showcase last year, hasn't lost to a 4A team since 2019. This season, the Spartans lost to Vintage (Calif.) and two 6A playoff teams, Sheldon and Tualatin. Spartans senior Malia Williams (296 strikeouts in 137 innings, 1.17 ERA) has thrown a state-record 14 no-hitters this season (six perfect games), including three in the playoffs. Marist Catholic junior Paige Doerr is hitting .648 with 12 home runs and 70 RBIs, just off the state record of 74 RBIs, set by her sister Abby in 2019. Doerr's slugging percentage is 1.386, with 32 of her 57 hits going for extra bases. Cascade senior shortstop Crystal Campbell is hitting .526 with six home runs and 28 RBIs. Cougars senior Hannah Walliman not only excels in the circle (144 2/3 innings, 169 strikeouts, 1.45 ERA), but also at the plate (.417, 36 RBIs). Marist Catholic is 7-0 in state finals, its last title coming in 2017. Cascade won 4A titles in 2010 and 2011.
3A, Friday 5 p.m.
No. 3 Burns (29-1) vs. No. 1 Yamhill-Carlton (26-3): Burns, with one senior, has won 29 in a row since opening the season with a 4-0 loss to 2A/1A finalist Grant Union/Prairie City. Prior to this season, the Hilanders had never won a playoff game since the program's inception in 2006. They finished 0-20 in 2018. Burns sophomore Ayla Davies (0.88 ERA, 328 strikeouts in 132 2/3 innings) has yielded only four hits and one run in three playoff games. Hilanders junior Merissa Medley (.539, five home runs, 46 RBIs) leads the offense. Burns coach Robert Medley coached Scappoose to 4A baseball titles in 2010 and 2015. Yamhill-Carlton is playing in its first final. Tigers senior Kati Slater (14-2, 1.15 ERA) moved from shortstop to become the team's ace during the season. She has pitched 16 scoreless innings in the playoffs, allowing four hits and fanning 37. Slater (.455), committed to Carroll College, and junior Lexiss Antle (.465) shared player of the year honors in the PacWest Conference. Yamhill-Carlton coach John Kuehnel is 420-237 – No. 9 on the state's all-time wins list – since taking over the Tigers in 1997.
2A/1A, Friday, 2 p.m.
No. 7 Lakeview (24-4) vs. No. 1 Grant Union/Prairie City (26-1): Grant Union swept a nonleague doubleheader at Lakeview on April 20. The Prospectors won the first game 3-0 in nine innings as sophomore Drew Williams threw a one-hitter with 13 strikeouts. They took the second game 12-5 as sophomore Halle Parsons was the winning pitcher. Grant Union has hit 34 home runs and is averaging 13.6 runs, led by junior Raney Anderson (.493, eight home runs, 38 RBIs), freshman Savannah Watterson (.480, five home runs, 50 RBIs) and senior Riley Robertson (.464, five home runs, 38 RBIs). The Prospectors returned seven starters from last year, when they lost to Kennedy 16-0 in the 2A Showcase final. They have never played in a state final. Their only loss came against 4A La Grande. Lakeview also is playing in its first final. Honkers junior Tyler McNeley has struck out 316 in 144 innings, has a 0.63 ERA and is batting .442 with 34 RBIs. Senior leadoff hitter Emily Philibert (.456, 46 runs) and juniors Annikah Tacchini (.380, 25 RBIs) and Bridget Shullanberger (.410, 35 runs) have been key.