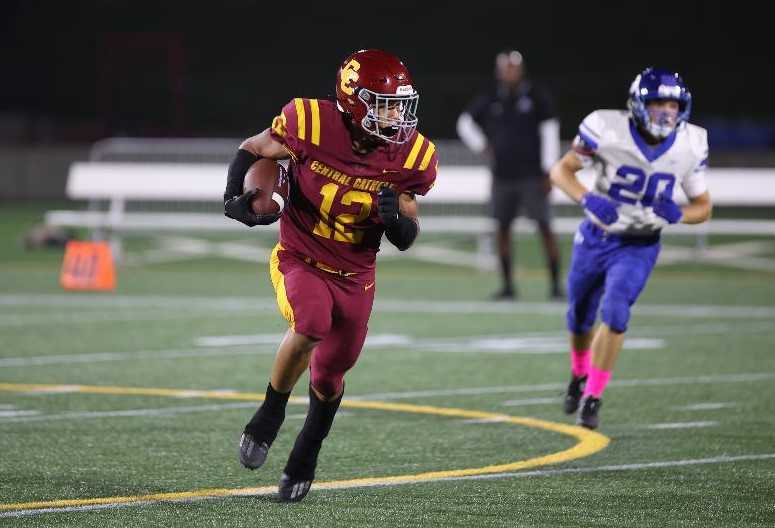 Two-time reigning 6A football champion Central Catholic needed new receivers to emerge this season after the transfer of Miami-bound tight end Riley Williams to Florida and the graduation of Jordan King and Stryder Todd-Fields.
Through six games, it's becoming clear that sophomore Zhaiel Smith is ready to carry some of that load for the third-ranked Rams (5-1). The 5-9, 165-pound Smith leads the team in catches (15), receiving yards (305) and receiving touchdowns (seven).
"He's maturing pretty quickly," coach Steve Pyne said. "He's made some big plays. He's been kind of steady throughout the season. I think before the season's done, he's probably going to be our No. 1 or 1A kind of guy."
Smith had a breakout game in a win over Reynolds in Week 5 with four catches for 91 yards and three touchdowns and a 65-yard punt return for a score. He followed that Thursday by catching three passes for 63 yards and two touchdowns as the Rams dropped Gresham 49-0.
"I think he wants to be considered one of the best receivers in his class before he's done," Pyne said. "I think he'll probably get there."
Smith showed he was ready for prime time as a freshman when he started the team's first three playoff games in place of the injured King (ankle) and had four catches for 84 yards.
In a 24-23 win at Bellevue (Wash.) in the season opener, he made one of the team's biggest plays this year, a 40-yard catch-and-run that set up the deciding field goal with three seconds left.
"It was just a big play in a big moment," Pyne said. "The moment wasn't too big for him."
The Rams have had a run of college talent at receiver in recent seasons. Of the team's current crop of receivers, it appears that Smith has the best chance to keep the pipeline flowing, according to Pyne.
"He's not a burner, but he's got good speed, so he can pull away from you," Pyne said. "Probably at the next level he's an inside receiver, like a Wes Welker type. But for us, he works great on the outside. He's physical, strong, runs really good routes."
The receiving corps – which also features seniors Blake Anderson and Amari Abraham and juniors Niko May and Pomer Davison – is a work in progress as it builds chemistry with junior quarterback Cru Newman, the starter since last season. Newman threw for a career-high four touchdowns in the win over Gresham.
"It's taken a little bit of time to gel that whole unit together," Pyne said. "They're getting better. Obviously, the loss of Riley, for Cru, that was kind of his safety blanket. So that's gone, so he had to learn how to trust other guys, and I think that's developing."
Taken by Storm
Trailing by a touchdown in the third quarter, No. 1 Summit dug deep to overtake No. 2 Bend for a 35-21 win in a key 5A Intermountain Conference game Friday night.
Junior Sam Stephens carried 25 times for 107 yards and three second-half touchdowns and senior Hogan Carmichael connected with senior Charlie Ozolin for an 81-yard touchdown pass for the go-ahead score early in the fourth quarter for the Storm (5-1, 2-0).
"Our players have been in this situation before," Summit coach Corben Hyatt said. "We knew what we needed to do."
Hyatt said that Summit's nonleague schedule – which included a loss to 6A No. 4 Tualatin and wins over 5A No. 5 Thurston and 5A No. 3 Wilsonville – served the Storm well against Bend (5-1, 1-1).
"That's the biggest thing is our kids are battle-tested," Hyatt said. "Playing a tough preseason was critical for us last night. … You could tell that Bend hadn't really played a full game this season because of all their blowouts. You could just see that taking a toll on them. We kept grinding."
Bend, coming off three consecutive shutout wins, had allowed only seven points all season. The Lava Bears controlled the ball through much of the first half, taking a 14-7 lead into the break, and were ahead 21-14 in the third quarter.
But Stephens scored on a run to tie 21-21 and Hogan found Ozolin for a 28-21 lead. Summit senior defensive lineman Spencer Elliott intercepted a pass that was tipped by senior defensive end Chip Allers, setting up another touchdown run by Stephens to make it 35-21.
Elliott and Allers have been a tag-team force up front for the Storm this season.
"It was kind of fitting with those two dudes, one doing the pressure, like we've had all season, and the other one making a play," Hyatt said. "Chip and Spencer are on another level as high school football players. They would be amazing individually, but you put the two of them next to each other, it's kind of unfair."
Carmichael completed 15 of 21 passes for 204 yards and two touchdowns, the other score going to junior Tadhg Brown. Ozolin had four catches for 120 yards.
Hyatt estimated the crowd to be at about 4,000.
"It was the biggest crowd I've seen in the 10 years I've been at Summit," he said. "It was a super cool atmosphere. And it was a great game. It lived up to all the hype."
Summit is tied with Mountain View (4-2, 2-0) for first place in the IMC. The Storm goes to Mountain View on Oct. 21.
Generals 'still here'
Much of the talk in the Portland Interscholastic League this season has been about the improvement of Franklin, which got off to a 4-0 start under new coach Jamal Jones.
But Grant (4-2, 4-0), which has won at least a share of the last three PIL titles, delivered a message Friday night with a 35-0 road win over the Lightning (4-1, 3-1) in a battle for first place.
"It's been cool to see them have success," Grant coach Alex Melson said of Franklin. "But for us, it was all about making a statement and showing that we're still the No. 1 team in the PIL."
With their fourth consecutive win, the Generals own a one-game lead over Franklin, Jefferson (3-3, 3-1) and Roosevelt (3-3, 3-1). They hold a win over Jefferson and will visit Roosevelt in the regular season finale Oct. 28.
"Trying to get sole possession of first place has really been the goal of ours," said Melson, a former Grant standout who was promoted from assistant to head coach this season. "We really wanted to come out and make a statement and let people know that we're still here and you can't write us off just yet."
In Friday's win, senior Kellen Segel completed 11 of 17 passes for 165 yards and three touchdowns and ran for a two-yard score for the Generals, who had a 284-126 edge in total yards. It was the highest point total this season for Grant.
"We've been trying to turn the corner offensively, making sure we can get into a groove and complement what defense and special teams have been able to do," Melson said. "We had the opportunity to come out of our shell, and that's exactly what we did."
Segel connected on touchdown passes of 40 yards to senior Marshune Waters and 15 yards to senior Dakota Hoffart, then ran for a score as Grant opened a 21-0 lead at half. Segel threw a 78-yard touchdown pass to junior Charles Manigo in the third quarter, and junior quarterback Cameron Reed finished the scoring with a seven-yard run in the fourth quarter.
At practice during the week, Melson sensed that Segel was ready to have a big game.
"He really caught on this week in trusting his guys," Melson said. "We have a lot of different playmakers to spread the field out, and we were kind of honing in on just a couple of guys the last few weeks. This week, he really put his trust in all his teammates and was able to spread the ball around."
Muscling up
Tired of getting bullied by more physical teams in recent seasons, Sandy decided to do something about it.
The Pioneers (3-3, 3-1) turned to Rock Gullickson, a former college and NFL trainer who joined the coaching staff last season, to toughen them up. The fruits of that labor were on display Thursday when they won 24-14 over Clackamas (2-4, 1-3), a team that had manhandled them 41-6 and 35-0 in Mt. Hood Conference games the last two seasons.
Sandy coach Josh Dill said that he and Gullickson had circled the Clackamas game on the calendar.
"He told me that it wasn't going to happen again," Dill said. "The way we train is next level now. Our kids are so much more physical than they've ever been. To match up with a team like that physically, and now surpass them physically, this was a weight-room win, without a doubt."
Pioneers senior Garrett Willenberg ran for 70 yards and two touchdowns, junior Billy Lucas passed to senior tight end Leithan Thompson for a score and sophomore Marco Torres booted a 51-yard field goal, tying him for the eighth-longest in state history.
Sandy rushed for 166 yards behind a line led by senior tackle Gabe Rhue (6-4, 300) and junior guard Cohen Guisto (6-0, 240). Burly junior fullbacks Alex Hager (5-11, 235) and Gabe Tammad (6-1, 225) helped pave the way for the 220-pound Willenberg, who has rushed for eight touchdowns in the last three games.
Leading 17-14 in the fourth quarter, the Pioneers went on a six-minute march down the field that culminated with a one-yard touchdown run by Willenberg on fourth down with 10 seconds left. It was a defining drive for Sandy.
"This is who we are, we're coming at you," Dill said. "It was a reminder of how we were physically dominated in years past. It was a big weight-room moment for us."
Sandy got a much-needed boost from Torres, a soccer player who joined the team this season. Torres, who hit a 43-yard field goal in the season opener against Sunset, showed his range by connecting from 51 yards late in the first half. He missed from 57 yards later.
"We really struggled in kicking last year, so I asked all the soccer kids, 'Who's got the biggest leg?'" Dill said. "He has a tremendous leg. He's pretty special."
The Pioneers have won three in a row after an 0-3 start. Dill said the team's season turned after it recommitted following a 45-0 loss to No. 7 Tigard in Week 2.
"The accountability just went way up. We haven't really looked back," Dill said.
In Week 3 against No. 3 Central Catholic (5-1, 4-0), the Pioneers scored in the final minute of the first half to pull within 7-6, but gave up two touchdowns before halftime and never recovered, losing 41-6.
They beat David Douglas 41-6 and Gresham 34-6 in their next two games. They are tied with Nelson (4-1, 3-1) and Barlow (3-3, 3-1) for second place behind Central Catholic.
"There's a path to second place," Dill said. "That's what we're setting our eyes on."
Tigers on a roll
Yamhill-Carlton is making a move in 3A Special District 1 behind second-year coach Brad McKechnie, a receiver on Linfield's 2004 NAIA national championship team who is in his first head coaching job.
The No. 7 Tigers (5-1, 4-0) extended their winning streak to five games Thursday with a 56-16 win at North Marion (3-3, 2-2), Up next for Yamhill-Carlton is a showdown with No. 2 Banks (6-0, 3-0), the second-place team.
It's been a fun ride for McKechnie, 39, who assisted at Marshfield and North Bend before taking over the Tigers.
"I've been working my whole career to become a head coach," said McKechnie, who went 4-5 in his first season at Yamhill-Carlton. "It's been really nice to come back and live in McMinnville. It certainly feels like home."
The senior-dominated Tigers have been on a roll since opening the season with a 48-13 loss to No. 6 Dayton. The offense began to find its stride in beating Valley Catholic 46-8 and Rainier 46-8 in Weeks 3 and 4, and erupted for a season-high point total Thursday.
Senior quarterback Jacob McGhehey, a third-year starter, has been the catalyst.
"Things have slowed down for him," McKechnie said. "His accuracy and decision-making this year have been unbelievable. He's really made our offense go."
Junior receiver Kyle Slater caught three touchdown passes each against Valley Catholic and Rainier. Junior Kaden Sutton was the workhorse Thursday, rushing for more than 200 yards and three touchdowns.
"We've done a really good job of mixing up the pass and the run," McKechnie said.
Senior lineman Kaden Raever (6-1, 240) has been a force on both sides of the ball.
"He's a lineman-of-the-year type kid," McKechnie said. "He's just been a lot for teams to handle. He just washes guys down as an offensive tackle. On defense, there aren't many guys that have been able to stop him, whether he plays at defensive tackle or comes off the edge, causing a lot of havoc for teams."
Injuries have been mounting for the Tigers, however.
Sophomore Carson Carden, the team's best downfield receiving threat, broke his leg against Rainier. Senior outside linebacker and receiver Max Armstrong separated his shoulder in Week 5 against Warrenton and could miss a month. Junior cornerback Spencer Stiff suffered a concussion in an auto accident after the Warrenton game and could be out until the playoffs.
Other highlights from Week 6:
6A
Brock Thomas passed for four touchdowns and ran for two scores to propel Sheldon to a 49-0 win over South Medford in a matchup of unbeaten teams. Luke Leighton had a touchdown catch and an interception for Sheldon. Nikko Klemm and Mana Tuioti also had picks for the Irish. … JT Knobloch-Scott, a transfer from 3A Cascade Christian, came off the bench to throw four touchdown passes and lead North Medford past Roseburg 42-6. North Medford's starting quarterback, Caiden Lacey, suffered a concussion and neck injury on the team's first play and was taken off the field on a stretcher after a 20-minute delay. Connor Cesaro had two touchdown catches for North Medford, which held the Indians to 107 yards. … Jace Blanchard threw a three-yard touchdown pass to Luke Morgan with 1:35 left to give Grants Pass an 18-14 win over North Salem. …
Nelson got a 21-yard field goal from Henry Nelson as time expired to edge Barlow 37-34. Avirey Durdahl threw three touchdown passes for Nelson, including a strike to Kyle Pahlke to tie 34-34 in the fourth quarter. … Sherwood took sole possession of first place in the Pacific Conference by blasting McMinnville 55-12. Kasen Covert passed for three touchdowns, one to Jaylan Moore, who also returned an interception for a score. … Payton Roth rushed for 290 yards and five touchdowns on 13 carries as Jesuit rolled Westview 52-18. The Crusaders held explosive Wildcats running back Jordan Fisher to 71 yards and one touchdown on 21 carries. … Beaverton dropped Aloha 41-12 as AJ Arneson returned an interception 87 yards for a touchdown and Javonte Thomas recovered a fumble for a score. …
Sam Leavitt completed 15 of 24 passes for 258 yards and four touchdowns, two to Wiley Donnerberg, to lead West Linn past Tualatin 42-30. Koffi Kouame rushed for 150 yards and one score on 16 carries for the Lions. Tualatin had a 521-506 edge in yards, led by quarterback Jack Wagner, who passed for 313 yards and one touchdown but had three interceptions. … Mountainside rallied from a 20-7 deficit to beat Sunset 21-20. The Mavericks took the lead early in the fourth quarter on an 84-yard interception return by Aaron rey Simpson and the ensuing extra point. … Konner Grant scored touchdowns rushing and receiving and had an interception in Tigard's 28-14 win over Lakeridge. Tigard's Brady Jordan and Lakeridge's Ryan Oliver each passed for two scores. … Daschel Smith completed 13 of 17 passes for 252 yards and four touchdowns, two to Zach Wusstig, as South Salem handled McNary 55-19.
5A
Willamette got two touchdown passes from Ryan Prescott to beat Crater 18-13. … Connor Crum threw three touchdown passes, one to Jackson Hersch, who also scored on an interception return, in Mountain View's 45-6 win over Redmond. … West Albany's Marcus Allen ran for 149 yards and three scores as the Bulldogs brushed off South Albany 41-25, their 17th consecutive win in the series. Tyler Hart-McNally scored three touchdowns for West Albany. … Noah Blair threw two touchdown passes for Thurston in a 24-14 win at Eagle Point. The Colts scored 17 consecutive points after the game was tied 7-7 in the third quarter. … Caeleb Kasperek passed for two touchdowns and ran for a score for Springfield, which broke from a 14-14 halftime tie to defeat Churchill 31-14. The Millers had six sacks, two by Connor Dye. …
Kallen Gutridge passed for four touchdowns, three to Cooper Hiday, as Wilsonville held off Hillsboro 28-14. … Jackson Pfeifer scored six touchdowns – four rushing, one on an interception and another on a punt return – as Silverton won a shootout with Crescent Valley 72-54. Rocco McClave completed 20 of 27 passes for 450 yards and five touchdowns with one interception and rushed for 144 yards and three scores on 16 carries for Crescent Valley. … Forest Grove turned back Southridge 42-13 as Kaden Hale threw for three touchdowns and ran for two scores. The Vikings had four interceptions, two by Tyler Rebsom and one each by Kyle Fabela and Hunter Frohnert, who returned his for a score. Fabela also had two receiving touchdowns. … Emilio Miranda rushed for 181 yards and three touchdowns for Dallas, which defeated Corvallis 48-26. Brock Dunkin returned an interception for a touchdown and had three tackles for loss for Dallas. … Canby's Taeler Pfenning had 17 carries for 188 yards and three touchdowns as the Cougars rolled Centennial 35-0. .. Chase Nelson passed for three touchdowns and ran for two scores to lead Central past McKay 49-13.
4A
Brody Hubble had two touchdown catches and an interception in Mazama's 47-0 win over Hidden Valley. Tyson Van Gastel threw for two touchdowns and ran for a score for the Vikings, who also got an interception return for a touchdown by Trevor Anderson. … Cory James and James Durand returned interceptions for scores for Estacada, which throttled La Salle Prep 59-13. … Marshfield dominated Ashland 45-8 behind Landon Croff, who completed 22 of 32 passes for 344 yards and five touchdowns. Ashland, coming off a forfeit loss to Mazama due to lack of players (illness), was held to 144 yards. … Pendleton ran over Crook County 39-0, gaining 339 of its 465 yards on the ground. Payton Lambert rushed for 141 yards and one touchdown on nine carries and Jack Davis threw for two touchdowns and ran for a score. …
Junction City raced to a 20-0 lead midway through the first quarter and dispatched Sweet Home 59-34. Brett McKee ran for 185 yards and two touchdowns for the Tigers, who had 330 rushing yards. Sweet Home's Heath Nichol passed for 283 yards and three touchdowns and ran for 60 yards and two scores. Brady Nichols caught six passes for 187 yards and two touchdowns for Sweet Home. … Drew Prickel rushed for 109 yards and two touchdowns and Parker Nelson ran for two scores as Marist Catholic rolled over Cottage Grove 49-13. … Henley's Logan Whitlock ran for four touchdowns in a 54-7 win over Klamath Union. … Max Nowlin passed for four touchdowns for Scappoose, which trailed Seaside 14-7 at half but pulled away to win 45-14. … Baker defeated The Dalles 35-8 as Kayden Garvin ran for two touchdowns and Hudson Spike returned an interception for a score. … Cascade got two touchdown runs from Trenton Wymore in beating Philomath 38-20.
3A
Cascade Christian gained 498 yards and scored 12 touchdowns in an 82-0 win over Phoenix, tying the school record for points, set in 2009. Kameron Rague ran for 121 yards and two touchdowns and caught a scoring pass for the Challengers, who led 62-0 at half. … Indiana Olson ran for 100 yards and one touchdown on 20 carries and Jaden Foster returned an interception 55 yards for a score as St. Mary's turned back Douglas 26-8. … South Umpqua remained undefeated by thumping Brookings-Harbor 49-0. Jace Johnson completed 11 of 15 passes for 255 yards and four touchdowns, connecting with Isaac Simpson (three catches, 108 yards, two touchdowns) and Isaac Real (five catches, 130 yards, one touchdown). The Lancers had a 338-45 edge in yards. … La Pine won at Pleasant Hill 44-6 as Colton Campbell completed 10 of 13 passes for 207 yards and four touchdowns -- all in the first half -- and ran for 125 yards and one score on nine carries. Haakon Hanson caught five passes for 119 yards and two touchdowns. ...
Bryson Teal and Leo Freedman each ran for two touchdowns as North Valley subdued Sutherlin 38-20. … Christian Lyda completed 6 of 8 passes for 167 yards and two touchdowns and Logan Kind had five catches for 108 yards and one score as Banks blanked Rainier 49-0. ... Benny Alves threw an 18-yard touchdown pass to Denver Johnson as time expired to give Lakeview a 33-28 win over Coquille. The Honkers pulled within 28-27 when Brandon Markus scored on a hook-and-ladder, but they failed on the two-point conversion attempt. Lakeview recovered the ensuing onside kick to set up the winning score. Alves threw for 263 yards and three touchdowns, two to Johnson. Bryson Granger caught six passes for 131 yards for the Honkers. ... Kennedy led 56-0 at half in its 56-7 win over Salem Academy. The Trojans rushed for 224 yards and five touchdowns, two by William Schaecher. Elijah Traeger threw two touchdown passes and Jaydon Estrada returned an interception for a score.
2A
Lowell's JaMar Thurman rushed for 249 yards and three touchdowns on 18 carries and Lehi Zylstra had 17 tackles as the Red Devils routed Monroe 42-6. Lowell held Monroe's Nate Young to 58 rushing yards and one touchdown on 12 carries. … Oakland built a 30-0 lead in the first quarter, getting three touchdown runs from Brayden Webb, and went on to defeat Bandon/Pacific 56-6, avenging a first-round playoff loss from last year. … Hunter Vaughn led North Douglas/Yoncalla past Illinois Valley 50-29 by rushing for 155 yards and three touchdowns on nine carries. … Freshman Adrian Brown ran for two touchdowns in Glide's 25-12 win over Reedsport. … Umatilla dispatched Irrigon 54-20 behind Kaden Salamanca, who rushed for 228 yards and two touchdowns and passed for two scores. Alex Escamilla rushed for 121 yards and two touchdowns and returned an interception for a score. ...
Landon Mitchell threw a 20-yard touchdown pass to Cameron Proudfoot and ran for a 25-yard score as Heppner built a 14-0 lead in the second quarter and held on to beat Weston-McEwen 14-6. Mitchell (96 yards) and Caden George (102 yards) led Heppner in rushing. … Dayton handled Scio 42-20 as Zach Smith rushed for 217 yards and four touchdowns on 19 carries. Bowen Johnson had 13 tackles and two fumble recoveries for Dayton. … Tim Crowell caught three touchdown passes from Kollin Schumacher and returned an interception for a score to spark Regis past Culver 53-20. … Jake Westerman ran for five touchdowns for unbeaten Gold Beach, which thumped Rogue River 56-6. … Armando Fajardo completed 13 of 23 passes for 265 yards and three touchdowns to lead Taft past Waldport 43-28. Devin Evjen rushed for 160 yards and two touchdowns and Kol Tolan had four catches for 114 yards and one score for Taft.
1A-8
Connor Dunlea rushed for 131 yards and two touchdowns and threw two scoring passes for Lost River, which dropped Camas Valley 54-0. Grady Dunlea had five catches for 124 yards and three scores. … Dufur defeated Pilot Rock 60-32 as the Rangers celebrated the naming of Jack Henderson Athletic Field, after their coach, who has won 288 games and a state-record 10 state championships. Dufur overcame a big effort from Pilot Rock's Deacon Gourlie, who rushed for 160 yards and three touchdowns. … St. Paul's George Pohlschneider completed all four of his passes, three going for touchdowns, and Sullivan Grott threw for a score on his only attempt in a 72-0 win over Alsea. Warren Rose had three catches for 57 yards and three touchdowns and Frank Pohlschneider rushed for 91 yards and two scores on five carries. … Cole Martin ran for two touchdowns, passed for two scores and had an interception on defense to lead Powder Valley past Ione/Arlington 44-20. Liazandro Rodriguez caught a touchdown pass and returned an interception for a score for Powder Valley. ... Myrtle Point ran away from Perrydale 50-6. Logan Backman threw for 201 yards and three touchdowns, two to Howard Blanton. Andreas Villanueva racked up 164 receiving yards and one score and Billy Reynolds and Troy Warner ran for 123 and 102 yards, respectively.
1A-6
Christian Halstead caught touchdown passes of 40, 30, 26 and 7 yards for Elkton, which blasted Riddle 48-6. Anthony Alimenti threw three touchdown passes and Nathan Rausch ran for 105 yards and two scores on eight carries for the Elks. … Powers overwhelmed Gilchrist 70-7, gaining 476 yards on 27 plays. Alex Mahmoud had six carries for 207 yards and three touchdowns and Rene Sears passed for two scores in the win. Powers forced seven turnovers, turning three into scores, including a 98-yard interception return by Braden Bushnell and a 61-yard fumble return by Sears. … Garrett Warren ran for three touchdowns and returned a punt for a score as Triangle Lake downed McKenzie 73-0. Gus Gamache passed for three touchdowns, two to Ben Wyse, and Matt Wyse had a sack, fumble recovery and blocked punt. ... Spray/Mitchell/Wheeler dominated Harper Charter 50-6 as Nate Clark and Carter Boise each rushed for three touchdowns. Clark returned an interception for a score and Boise had a team-high eight tackles. ... Jaxon Grover caught four passes for 110 yards and three touchdowns from Kane Johnson and Kale Ferguson had a 46-yard interception return for a touchdowns as Joseph defeated Huntington 45-25. ... Prairie City/Burnt River blanked Pine Eagle 72-0. Cole Teel rushed for 160 yards and four touchdowns on 20 carries, Wes Voigt threw passed for two scores and ran for another, and Cody Reagan had three sacks, a forced fumble, a fumble recovery and an interception.