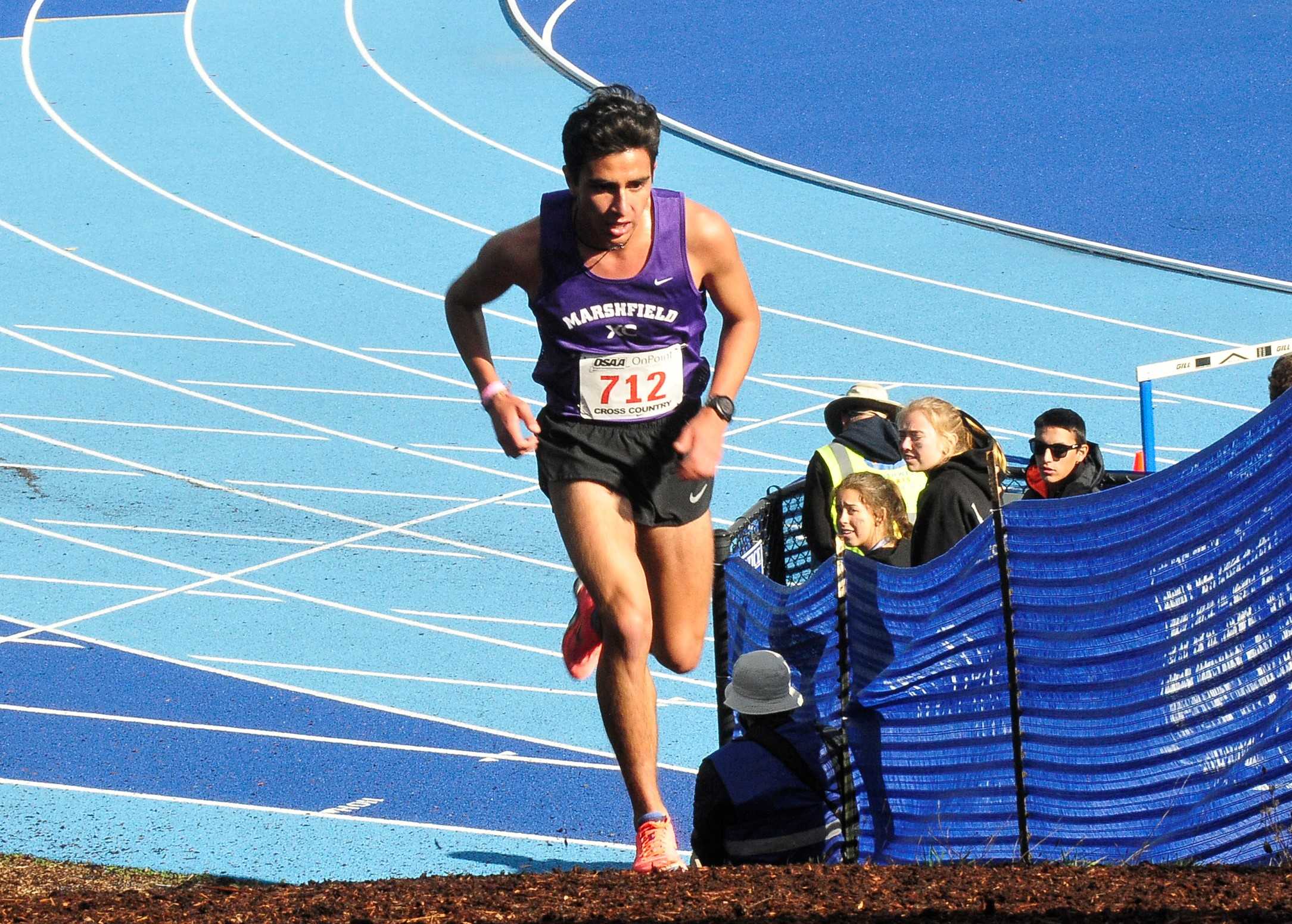 By JOHN GUNTHER/for OSAAtoday
A particularly fast crop of boys runners around the state have set the stage for a possible record-breaking spree when the first champions of the new school year are crowned Saturday during the OnPoint Community Credit Union/OSAA cross country championships at Lane Community College in Eugene.
Across the state's three biggest classifications, 10 runners have cracked the 15-minute barrier for 5,000 meters, and all three meet records are in jeopardy if course conditions are good after what is expected to be a wet week leading up to the meet.
In all, nine races bill be contested over a span of about six hours, including a break in the afternoon before the schools in the largest two classifications compete.
The first race, for the 3A/2A/1A girls, starts at 10 a.m. It will be followed, in order, by the 2A/1A boys (10:35), 3A boys (11:10), 4A girls (11:45) and 4A boys (12:30 p.m.).
Following a break to give athletes from the larger schools time to warm up, the 5A girls race at 1:45 p.m., followed by the 5A boys (2:20), 6A girls (2:55) and 6A boys (3:30).
Admission, good for all day, is $12 for adults and $6 for students. Digital tickets can be purchased in advance through Home Town Ticketing and the OSAA website, as well as the OSAA Live Mobile App. Tickets also can be purchased through cash sales on site the day of the meet.
Competition could spur new records in the 6A and 5A races for the boys while the 4A record might fall to a runner trying to match the accomplishment of one of Oregon's most legendary runners.
Alexander Garcia-Silver is trying to become Marshfield's second repeat champion. The other was Steve Prefontaine.
Garcia-Silver will likely be racing against the clock. His best time in a standout season is 14 minutes and 45 seconds, nearly 50 seconds better than Juan Diego Contreras of The Dalles, who ranks second in the classification.
Garcia-Silver's top time, appropriately, came in the Prefontaine Memorial Run on a mostly paved course that finished on Steve Prefontaine Track at Marshfield High School. But he also ran 14:55 while beating a distinguished field in the Danner Championships at the Nike Portland XC Invitational and also topped a solid field to win the Ash Creek Cross Country Festival, winning in 15:09. He ran 15:11 at Lane Community College on a course similar to the state meet course while winning the Sky-Em League title last week.
To break the record Saturday, he'll need to run faster than 15:35, the time Elliot Jantzer ran while winning the first of his two state titles for Phoenix in 2007.
The only Oregon runner to post a faster time than Garcia-Silver this year is Crater senior Tyrone Gorze who is aiming for his second straight 5A title while also hoping to lead the top-ranked Comets to the state title. Gorze has only competed in two races, but had blazing times in each — 14:43 in the Rogue Valley Max King Invitational and 14:41 in the Midwestern League district meet, also held at Lane.
Unlike Garcia-Silver, Gorze likely will find himself in a good individual race, his chief competitor expected to be Milwaukie standout Logan Law, who has been under 15 minutes three times this fall and enters the meet on a three-race win streak, including taking the Northwest Conference title in 15:04. Law also won the prestigious Nike Twilight XC Invitational and the Rose City Championship Invitational, both featuring many of the state's other top runners.
Gorze and Law will have to run well to have a shot at a new record. The 5A meet record is 14:45 by former Summit standout Matthew Maton in 2014, the fastest 5,000-meter time on the Lane Community College state meet course.
And in the biggest classification, the 6A record by legendary Galen Rupp of Central Catholic (14:55 in 2003) also is in jeopardy.
The list of runners under 15 minutes this fall includes West Salem's Jack Meier (14:46), Central Catholic's Wesley Shipsey (14:50), Jesuit's Jacob Nenow (14:52), Lincoln's Samy Anderson (14:57), West Salem's Brady Bliven (14:57) and two more Jesuit runners, Gus Clevenger (14:57) and Caden Swenson (14:58).
Anderson was second to Garcia-Silver at the Danner Championships and Law at the Rose City Invitational, beating Meier both times. Shipsey also was in the Rose City Invitational.
Nenow, meanwhile, was second to Law in the Nike Twilight XC Invitational, one of two times he has clocked 14:52 this fall. The other was the Metro Conference district meet last week, when he pulled teammates Clevenger and Swenson under 15 minutes and helped the top-ranked Crusaders to a perfect score. Meier's West Salem squad, ranked second by the coaches, also had a perfect score in its Central Valley Conference meet, with the top seven runners across the line. The Titans hope to push the Crusaders in the team race.
The best chance for a meet record on the girls side comes in the 5A race, where Crescent Valley's Emily Wisniewski is gunning for her second straight individual title and has a season best mark of 17:24, the best of any Oregon girl this fall. The 5A meet record is 17:45, set by Summit's Olivia Brooks in 2016.
Wisniewski will have to contend with Summit's standout squad since the Storm have dropped back down to 5A this fall and are looking to extend a streak of 13 straight state crowns at the 5A or 6A levels. Summit's Ella Thorsett has the second best mark among 5A girls at 17:48.
Without Summit to contend with, Jesuit is expected to win the 6A title, led by Maura O'Scannlain with a 6A best time of 17:38.
BOYS
6A
Teams to watch: Jesuit, West Salem, Lincoln.
Top times: Jack Meier, West Salem, 14:46; Wesley Shipsey, Central Catholic, 14:50; Jacob Nenow, Jesuit, 14:52; Sammy Anderson, Lincoln, 14:57; Brady Bliven, West Salem, 14:57; Gus Clevenger, Jesuit, 14:57; Caden Swenson, Jesuit, 14:58.
Last year: Jesuit scored 66 points to beat runner-up Central Catholic (83) and Sherwood's James Crabtree took the individual title.
Top returning placers: Wesley Shipsey, Central Catholic (third); Jacob Nenow, Jesuit (fourth).
5A
Teams to watch: Crater, Summit, Wilsonville.
Top times: Tyrone Gorze, Crater, 14:41; Logan Law, Milwaukie, 14:51; Carter Cutting, Wilsonville, 15:07.
Last year: Gorze was the individual champion and led Crater to the team title with 35 points, 19 better than Crescent Valley.
Top returning placers: Gorze (first), Josiah Tostenson, Crater (second); Law (fifth); Nathan Stein, Ashland (sixth).
4A
Teams to watch: Philomath, The Dalles, Hidden Valley.
Top times: Alex Garcia-Silver, Marshfield, 14:45; Juan Diego Contreras, The Dalles, 15:34.
Last year: Garcia-Silver won the individual title while Siuslaw was the runaway team winner in its final year before dropping down to 3A. Runner-up Sisters and fourth-place Valley Catholic also have dropped to 3A leaving third-place Cottage Grove the highest returning team placer.
Top returning placers: Garcia-Silver; Juan Diego Contreras, The Dalles (third in 5A); Mateo Candanoza, Philomath (sixth); Grant Bohanan, Hidden Valley (eighth).
3A
Teams to watch: Siuslaw, Valley Catholic, Oregon Episcopal.
Top times: Olin Gilster, Oregon Episcopal, 15:42; Benjamin Bourne, Santiam Christian, 15:43; Wyatt Montgomery, La Pine, 15:48.
Last year: Zac Knapp won the individual title to lead Enterprise to the team crown ahead of Westside Christian and Burns.
Top returning placers: Montgomery (second); Glister (third); Bourne (sixth) and Samuel Ulrich and Kyle Hughes, Siuslaw (fourth and seventh in 4A).
2A/1A
Teams to watch: Union/Cove, Knappa, Heppner/Ione/Condon, Bandon.
Top times: Isaiah Rodriguez, Knappa, 15:46; Taylor Fox, Union, 16:00; Trevor Nichols, Heppner, 16:01.
Last year: Union added to its collection of state titles, edging Bandon in the team race (39 points to 43) as Colin Friend of St. Stephens Academy won the individual title.
Top returning placers: Rodriguez (second); Nichols (third); Fox (fifth); Alex McIntyre, Weston-McEwen (sixth).
GIRLS
6A
Teams to watch: Jesuit, Sunset, Lincoln.
Top times: Maura O'Scannlain, Jesuit, 17:38; Keira Saavedra, Lincoln, 17:47; Josie Fale, Ida B. Wells, 17:59; Ana Peters, Lake Oswego, 18:00; Ella McGillis, Central Catholic, 18:09.
Last year: Summit edged Jesuit by three points to win the title before dropping down to 5A this fall while Lake Oswego's Kate Peters took the individual title.
Top returning placers: Emma Bennett, Jesuit (fifth); McGillis (12th); O'Sannlain (13th).
5A
Teams to watch: Summit, Crescent Valley, Corvallis, Crater.
Top times: Emily Wisniewski, Crescent Valley, 17:24; Ella Thorsett, Summit, 17:48; Barrett Justema, Summit, 18:08; Lillian Weiss, Crescent Valley, 18:16.
Last year: Corvallis won its second straight state title with a squad that includes six runners back this season while Wisniewski capped a sensational freshman season by running away from the field to win the individual crown.
Top returning placers: Wisniewski (first); Ava Betts, Corvallis (fifth); Avery Nason, Corvallis (sixth); Kate Middleton, Corvallis (seventh); and Thorsett and Justema, Summit (sixth and ninth in 6A).
4A
Teams to watch: Philomath, Junction City, La Grande.
Top times: Emily Tubbs, La Grande, 19:08; Anika Jenson, Molalla, 19:12; Adele Beckstead, Philomath, 19:16; Kyla Potratz, Phoenix, 19:17.
Last year: Siuslaw edged Philomath by a single point and Marist Catholic by eight to win the title while Tubbs won the individual title for La Grande, which was fourth in the team race.
Top returning placers: Tubbs (first); Potratz (third); Beckstead (seventh).
3A/2A/1A
Teams to watch: Siuslaw, Enterprise/Joseph/Wallowa, Oregon Episcopal, Burns, Bandon.
Top times: Daisy Lalonde, East Linn Christian, 18:36; Jaya Simmons, Valley Catholic, 18:40; Sydney White, Burns, 19:16; Saniyah Ayala, St. Mary's, 19:18; Lauren Tittel, Oregon Episcopal, 19:21.
Last year: Bandon edged Vernonia for its first-ever state title in a girls sport, the margin decided by the sixth runners for each team after both scored 74 points.
Top returning placers: Lalonde (third); Delaney Draeger, Vernonia (fifth); Maslin Sigler, Valley Catholic (11th in 4A).