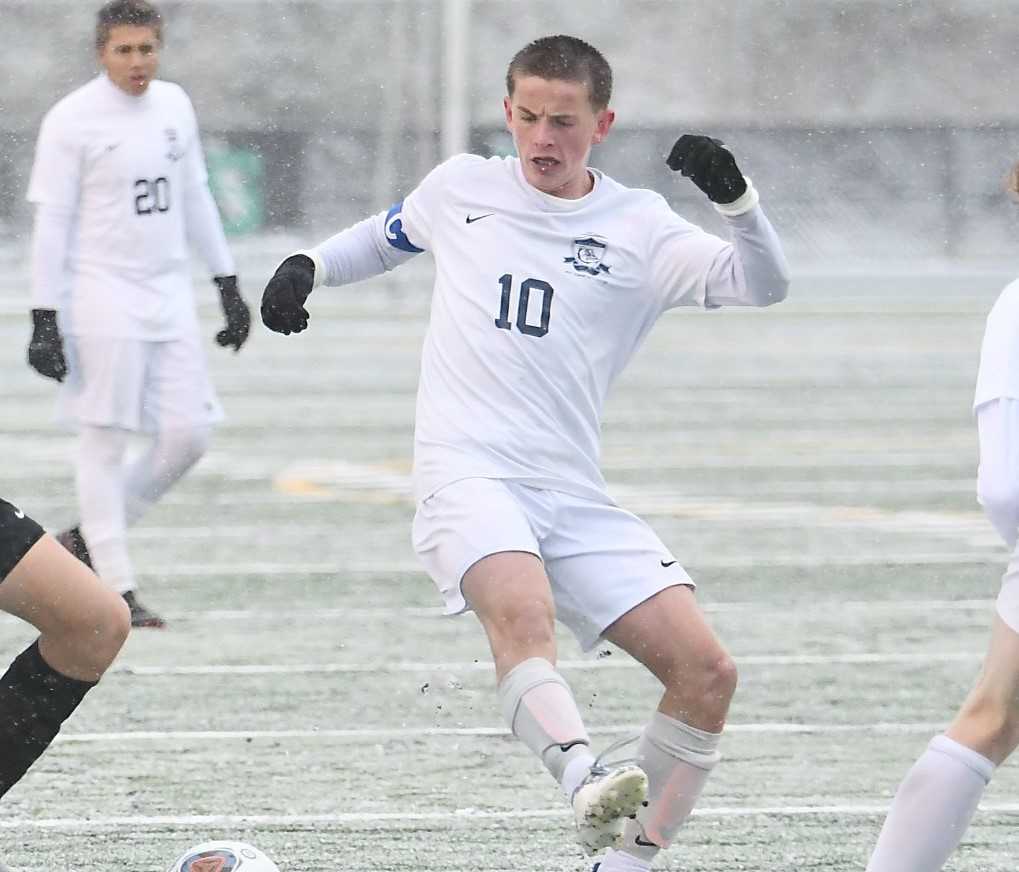 In 2015, when Kevin Branigan returned to his alma mater to coach boys soccer at West Albany, the program was in rough shape.
The Bulldogs had gone winless the previous season, and with few players committed to year-round training, the outlook for competing in the 6A Greater Valley Conference was bleak.
Not surprisingly, the team took its lumps, posting only one win in each of his first three seasons.
"It was brutal," said Branigan, who played goalkeeper for the Bulldogs before graduating in 2007. "We were just getting hammered. It was super dispiriting. A lot of days it was like, 'Do I want to come back and keep doing this?' It was hard to have the patience at that time, or the vision to see the end of the road."
Slowly, though, Branigan and the Bulldogs began to establish a culture of commitment and accountability. And this season, they have blossomed, not only recording their first-ever playoff win, but making it all the way to the 5A championship match.
No. 5 seed West Albany (12-3-2) will take on No. 2 McKay (16-0) in the OSAA/OnPoint Community Credit Union 5A final at 10:30 a.m. Saturday at Hillsboro Stadium. For Branigan and his assistant coaches, several of them former Bulldogs, the appearance punctuates the program's dramatic turnaround.
"The people that I brought with me, the players that played in what we call the 'dark ages,' those guys have experienced the hurt and the pain from getting crushed over and over again," Branigan said. "They can direct the experience, like, 'You don't want this. This is why we put in all the work we do.'"
West Albany had competitive teams at the end of the coaching tenure of George Van Keulen (1999-2012), but fared no better than 5A sub-round defeats in 2006, 2007 and 2009.
The Bulldogs finished 0-13-1 when they moved to 6A in 2014 and went a combined 3-35-2 in Branigan's first three seasons. They moved back to the 5A Mid-Willamette Conference in 2018 and began to find their footing, going 29-21-2 in the last four seasons.
"Athletics in general are such an important thing at the school, it's kind of been an uphill fight to gain respect," Branigan said. "I came in and soccer was the stupid loser sport, and it's taken a long time to change that culture. Now I do feel established, and we feel like we have that respect, and guys are willing to come out and give it a shot."
When Branigan took over, the team was fortunate to have one or two year-round club players. This season, about 90 percent of the roster is stocked with club players, mostly from the local Oregon Valley Football Alliance.
"Now it's turned around and we have a lot of club kids, guys that actually want to play soccer," Branigan said. "The group we have now is super willing and engaged and wants to be there."
West Albany had one of its better teams during the COVID-shortened season in the spring of 2021, finishing 7-2-1, but didn't get a chance to play in a postseason. The team slipped to 6-7-1 last year, and after nine starters from that team graduated, expectations for this season were modest.
"We thought this could be a rebuilding year," Branigan said. "We knew there was talent, for sure, but to what extent we could put it together was a complete mystery. This team has grown in confidence and ability, leaps and bounds. They're peaking at the right time."
Junior center back Devin LaCasse-Tran and junior midfielder Henry Catlin were voted to the Mid-Willamette first team. Junior Jonathon Fiscal leads a balanced attack with seven goals. And the team got a lift when junior goalkeeper Carter McGowan, who plays with a club in Portland, decided to turn out for the first time.
"It's a culture thing," Branigan said. "Carter came out this year and he's just been phenomenal."
West Albany showed its competitive toughness in a Tuesday semifinal by going on the road to defeat Summit, last year's 6A champion, 2-1 in overtime. Senior Ian Lloyd scored twice, including the game-winner in a driving snowstorm five minutes into the second overtime.
Overcoming the fast and skilled Storm, as well as the conditions, showed just how far the Bulldogs have come.
"We felt like we were the better team in the second half and extra time," Branigan said. "We did not think it was going to penalties. We thought we were going to win it right there. We could see the momentum building. We were the ones getting the chances, and we got the one we wanted."
Now West Albany must play unbeaten McKay. The Royal Scots, who dropped to 5A after making the 6A second round last season, defeated the visiting Bulldogs 3-0 in a Mid-Willamette match Oct. 27.
"We did not play our best in that game," Branigan said. "We feel like two out of the three goals don't happen on a different day. McKay is a really good team. They're well-drilled in what they're trying to do, especially in attack. Now that we have a pretty good idea of that, we think we can probably throw some things at them that will slow them down a little bit."
A look at Saturday's finals:
Boys
6A – Hillsboro Stadium, 6 p.m.
No. 7 Westview (14-2-2) vs. No. 1 Jesuit (13-1-4): Jesuit, which has a state-record 15 titles, goes for another against Metro League rival Westview. The Crusaders, semifinalists last year, won their last title in 2018. They are led by Gonzaga-bound senior Drew Pedersen (24 goals), who has scored in every playoff match. Jesuit defeated Westview 4-2 in a league match Sept. 29. The Wildcats are much improved after going 2-9-3 last season. They reached the final with two overtime wins, beating Lakeridge 2-0 in the quarterfinals and Aloha 2-1 in the semifinals. Senior Jeffrey Diaz, who leads the team with 10 goals and eight assists, and senior Alexander DeVassie have led the offense in the playoffs. Westview has won two titles (2011, 2017), defeating Jesuit 2-0 in the 2017 final.
5A – Hillsboro Stadium, 10:30 a.m.
No. 5 West Albany (12-3-2) vs. No. 2 McKay (16-0): McKay made the second round in 6A last and dropped to 5A this season, winning the tough Mid-Willamette Conference. The Royal Scots beat reigning champion La Salle Prep 2-1 in overtime in the semifinals in dramatic fashion, getting a goal from Cesar Velasquez with five seconds left in regulation to stay alive. McKay senior goalkeeper Diego Garibay, who has surrendered three goals this season, was the Mid-Willamette player of the year. McKay defeated West Albany 3-0 in a conference match. The Bulldogs' other loss was against Woodburn. Neither team has ever appeared in a championship game.
4A – Liberty HS, 3:30 p.m.
No. 14 Phoenix (10-6-1) vs. No. 5 Ontario (13-1): Phoenix has gone 10-2 since starting the season 0-4-1. The only two losses in that span came against Skyline Conference rival and second-seeded Henley, a team the Pirates defeated on penalty kicks in the semifinals. Phoenix beat Ontario 5-0 in a nonleague game last year. The Pirates have appeared in two finals, losing in 1995 and 2011. They also were runners-up in the 4A Showcase tournament during the COVID-shortened season in spring of 2021. Senior Danny Palomino (16 goals) leads them in scoring. Ontario, which played in the quarterfinals last year, is making its first finals appearance. The Tigers have won 12 in a row since losing to Henley 2-1. They secured a spot in the final when goalkeeper Martin Benites blocked a penalty kick with 20 seconds left in a 1-0 semifinal win over North Marion. Senior Jaaziel Chavez leads Ontario with 20 goals.
3A/2A/1A – Liberty HS, 6 p.m.
No. 7 McLoughlin (16-2) vs. No. 1 Oregon Episcopal (15-1): Top-seeded Oregon Episcopal has won six titles, but since going back-to-back in 2013 and 2014, the Aardvarks have fallen in the final in 2015, 2018 and 2019. Their only loss this season came against three-time reigning champion Catlin Gabel, a 3-0 defeat that it avenged with a 3-1 win a week later. Oregon Episcopal's attack features senior Alex Chen (15 goals), senior Barrett Lindholm (13 goals) and junior Julian Ettinger (13 goals), who has six goals in the last two matches. McLoughlin won championships in 2005, 2006 and 2007 and was runner-up in 2009. The Pioneers ousted Catlin Gabel on penalty kicks in the quarterfinals. They lead 3A/2A/1A in goals (94) and goals against (8). Junior Angel Castillo has 41 goals and gets plenty of support from junior Almikar Garcia (22 goals) and sophomore Geovanni Sandoval (20 goals).
Girls
6A – Hillsboro Stadium, 3:30 p.m.
No. 2 West Linn (14-0-3) vs. No. 1 Jesuit (18-0): Unbeaten Jesuit, No. 3 in the U.S. Soccer Coaches national rankings, has outscored opponents 66-4. The Crusaders are 14-2 all-time in the finals, their last titles coming in 2017, 2018 and 2019. They fell in the second round to Forest Grove last year. Jesuit has recorded six consecutive shutouts. Junior Abby Cox (team-high 15 goals) scored with five minutes left to beat Oregon City 1-0 in the second round and scored with five minutes left in the second overtime to knock out Tualatin 1-0 in the semifinals. West Linn, playing in its first final, also is undefeated, tying Beaverton, Lakeridge and Tigard. The Lions are coming off three consecutive one-goal wins. Junior defender Kate Cheldelin had the winning goal in the last two games. West Linn second-year coach Madison Gellos (Campbell) played for two state title teams at Tualatin (2011, 2013) before a career at Boise State.
5A – Hillsboro Stadium, 1 p.m.
No. 8 Crescent Valley (11-3-3) vs. No. 7 Wilsonville (12-5-1): Wilsonville won its first title last season and is back in the final despite the graduation of Lindsey Antonson, the state's all-time leading scorer with 139 goals. The Wildcats extended their winning streak to nine in the semifinals with a penalty-kick shootout win at No. 3 Summit in a blizzard. In the playoffs, the Wildcats have been getting their offense from freshman Camryn Schaan, who has scored in all three matches. Junior Kenley Whittaker leads Wilsonville with 21 goals. Crescent Valley, which fell at Wilsonville 2-0 in the semifinals last year, is playing for its third title in four postseasons. The Raiders knocked out No. 1 seed Caldera 2-1 in the quarterfinals, one of three one-goal playoff wins. Junior Maegan Cooper and Montana-bound senior Abby Smith have split the team's four playoff goals.
4A – Liberty HS, 1 p.m.
No. 2 Hidden Valley (12-2-1) vs. No. 1 Marist Catholic (17-1): The top-seeded Spartans are 0-5 in the finals, falling to Woodburn 1-0 in their latest appearance in 2019. They also lost in the 4A Showcase final in the spring of 2021. They have outscored their opponents 81-5 this season, including a 2-0 home win over Hidden Valley on Sept. 13. Marist Catholic has won 15 in a row, the last six by shutout. Senior Sela Freeman, the Sky-Em League player of the year, leads the team in goals (30) and assists (18). Oregon-bound junior Cloe Chase has 26 goals. Hidden Valley was the runner-up last year, losing a penalty-kick shootout 7-6 to Woodburn. The Mustangs won titles in 2006, 2007 and 2018. They advanced by edging Gladstone on penalty kicks in the semifinals. Senior Gabrielle Heverly had the lone goal to beat La Grande 1-0 in the quarterfinals and scored in the shootout against Gladstone. Junior Riley Yunker leads Hidden Valley with 11 goals.
3A/2A/1A – Liberty HS, 10:30 a.m.
No. 2 Valley Catholic (13-4) vs. No. 1 Catlin Gabel (15-1): Two-time reigning champion Catlin Gabel is looking to add to its state-record 15 titles. The Eagles have outscored their foes 93-7, including 17-0 in the playoffs. Their only loss was 2-1 to 6A St. Mary's Academy. Junior Campbell Swaim and freshman Addi Dauler each have 20 goals. Sophomore Annika Sirtori has five goals in the playoffs. Catlin Gabel won both Special District 1 matches against Valley Catholic, 5-2 at home Aug. 26 and 2-1 on the road Sept. 15. Valley Catholic won a 3A/2A/1A title in 2013 and 4A championships in 2014 and 2017. The Valiants held off North Valley 2-0 in the semifinals on goals by junior Malia Groshong and sophomore Mackenzie McCollister.