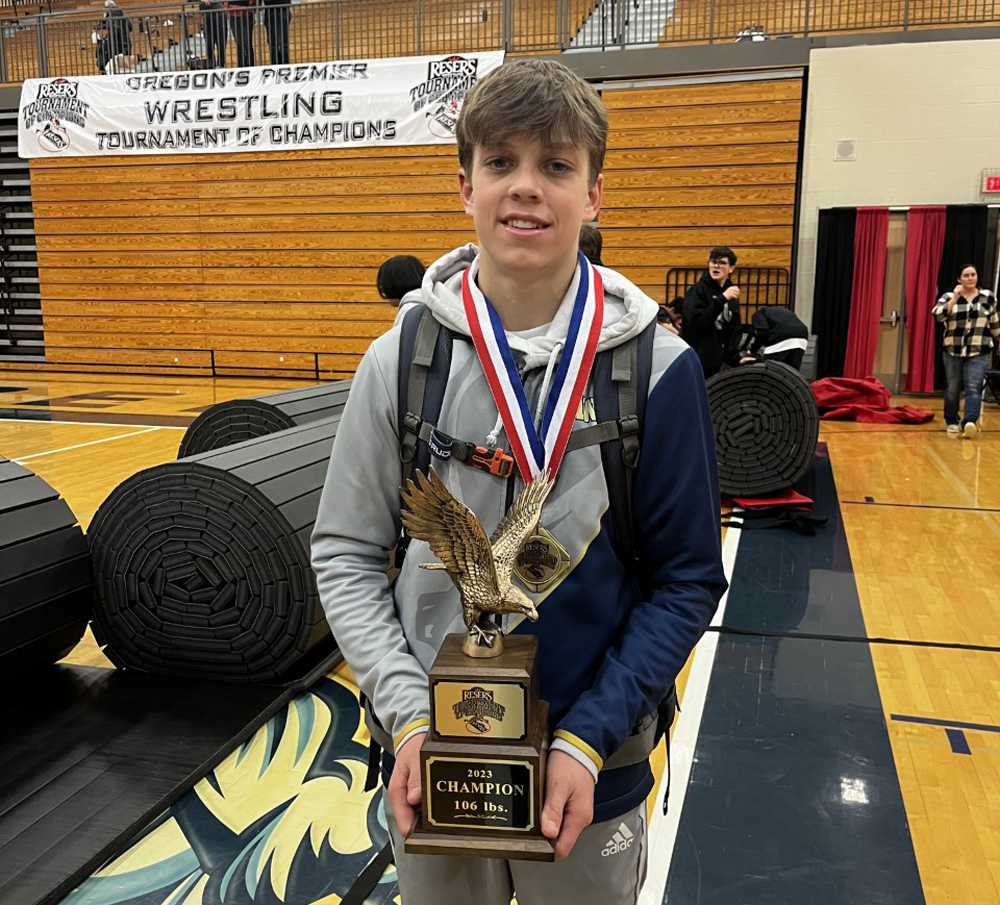 Wrestling notebook: Feb. 9
News and notes from around the state
Tournament of Champions lives up to its name at Reser's
The 21st Reser's Tournament of Champions took place at Liberty HS in Hillsboro over the weekend and more than lived up to its name.
Newberg, the top-ranked 6A team in the OSAAtoday final Coaches Poll, won the team portion tournament, outscoring second-place West Linn, the No. 2 team in 6A, by 35 points.
The 22 teams in the field included every reigning 2022 OSAA state champion and every current No. 1 team in the five final OSAAtoday Coaches Polls.
It included five of the top seven 6A teams in the final polls, eight of the top 10 5A teams, the top four 4A teams, the top two 3A teams and the top 2A/1A team.
In other words, this field was absolutely loaded! And the teams that did well at Reser's signaled how tough they'll be later this month when the state tournament gets underway in five classifications.
Newberg, which scored a whopping 287.5 points last year, showed its overall strength again in 2023, by winning with 190 points, despite graduating three state champions. The Tigers left Reser's with five individual champions: Isaac Hampton at 120, Gavin Rangel at 126, Gus Amerson at 145, Trae Fredrick at 152 and Hudson Davis at 195. Hampton and Davis are themselves defending state champions. Amerson and Frederick both made the podium last year at state. Rangel is a freshman.
"It was a good weekend for us," noted Newberg coach Neil Russo. "I think we got out of there in pretty good shape, physically, which is always a concern this time of year and especially at a grinder of a tournament like Reser's. We will use the next week to get on track for the district tournament and then turn our attention to the OSAA State Championships."
Hampton and Davis both backed up their state championship chops with pins in the championship bouts at Reser's.
Frederick, a state runner up as a sophomore, won convincingly, 8-2, over Ridge Kehr of La Grande. The junior scored the final six points of the match.
Amerson, who placed fifth at State last year at 138 as a freshman, defeated a familiar foe, West Linn's Charlie Spinning, in the finals at 145 by a score of 1-0, courtesy of a second-period escape. Spinning, who was state runner-up at 138 last winter, threatened from the mat late in the third but could not get the reversal that might have reversed the outcome.
The win was the second in as many tries this season for Amerson, who edged Spinning, 4-2, at Rose City in December.
"That match is always going to be a tight one...they are two of the most solid kids in the state," Russo observed. "I said it before, I'll say it again, I don't think that is the last time those two will tangle - not this season and probably again next year. They both have a tremendous amount of respect for one another and it shows up when they compete. To the uneducated fan, perhaps a 1-0 match is not very exciting but there is so much going on that is high level wrestling - it is pretty impressive. Gus just grinds every day and is focused on getting better at all facets of his wrestling. He has some lofty goals for himself and he never loses sight of those."
Rangel, a freshman, was unseeded at 126 because of criteria – it's just hard for a freshman to earn a seed at Reser's – but did not surprise his coach by winning his bracket. Rangel, who was second to teammate (and defending state champion) Zachary Keionen at 126 at Rose City, beat the No. 7, 6, 2 and 1 seeds at Reser's to claim the belt. He defeated La Grande junior, the reigning 4A state champion at 120, by a score of 6-4. A second period takedown, plus two back points, gave Rangel the margin he needed.
"Gavin is having a great year - he's lost three matches all year long - one to Isaac Hampton, one to Zach Keinonen and the other at the Reno TOC in the quarter-finals," Russo said. "It is just what it is as far as seeding freshmen with no returning state or Reser's placing. But, I don't think anyone in the Oregon wrestling community was too surprised by his success this past weekend."
La Grande had a VERY strong third-place showing. Led by second-place finishers Carson and Kehr, the defending 4A champion Tigers put seven of their 12 wrestlers on the podium and got points from all but one.
5A was very well represented, as Mountain View (fourth), Thurston (sixth), Dallas (seventh), Redmond (eighth) and Crater (ninth) all finished among the top 10, foreshadowing the dogfight 5A should be at the Coliseum for the team state title.
Thurston, the state's top-ranked 5A team and the favorite to succeed Crescent Valley as state champions, put six on the podium, led by senior Vaun Halstead. The Oregon State recruit improved to 36-0 on the season with a second-round pin of West Linn's Earl Ingle to win the title at 220. He also won Reser's last year.
"Reser's went as expected," said Thurston coach Mike Simons. "I figured we would finish in the top 7 and we finished 6th. Vaun finished as expected. He defended his Reser's championship title from last year. Vaun has been dominant all season."
Mountain View got a championship from junior Jackson Potts at 160. Potts, who third at 145 last year in 6A, found himself knotted at 3-3 after regulation with Scappoose's Ben Rintoul before winning in overtime.
Mountain View might have had a second champion, but Drew Jones, last year's 6A champion at 138, lost a 4-2 decision to Sweet Home senior Jake Sieminski, the reigning 4A champion at 126. The bout was knotted at 2-2 before Sieminski scrambled for a takedown in the match's frenzied final few seconds.
The Sieminski brothers almost had two titles for Sweet Home, but junior Kyle Sieminski was outpointed, 10-8 at 113, by junior Gage Singleton of Roseburg in another matchup of reigning state champions. Singleton's reversal in the closing seconds provided the winning margin and helped Singleton repeat as a Reser's champion.
"The final was a great match between two kids that are used to winning and had a couple great scrambles," noted Roseburg coach Steve Lander. "We have a lot of respect for Sweet Home program and Kyle is an outstanding wrestler, Gage is a winner and really hustled for that last score."
Sweet Home coach Steve Thorpe noted that Singleton pinned Sieminski in last year's Reser's final and that his wrestler trailed, 13-0, before the fall.
"This year he closed the gap with a great match against an incredible person and wrestler," Thorpe said.
Jake Sieminski's win avenged a Rose City loss to Jones from two months before.
"Winning and competing against great wrestlers this time of year is valuable," Thorpe said. "Jake is probably the hardest worker on our team."
Sweet Home placed fifth overall, a very strong showing made even stronger by the fact that the Huskies entered only 10 wrestlers in the event.
"I'm very proud of our finish and very proud of freshman Tytus Hardee placing 3rd, Ashton Swanson 5th, Ethan Spencer 4th and David Steagall 6th."
La Pine, the top-ranked 3A team in the state and the defending 3A champions, placed 17th at Reser's, but had a champion in senior Tyson Flack at 106 pounds. Flack, who pinned his way through the tournament, scored almost half of the points for his team, which had a few of its top wrestlers out of the lineup. Flack finished third at 106 at the state tournament last year.
"Tyson has had a great year," said coach Aaron Flack. "I expected him to be a front runner at the TOC. He is one of our hardest workers in the room and he is very driven this year. Winning the Rollie Lane tournament in early January, while beating a Fargo All-American, has boosted his confidence. It also helps that he is a true 106 pounder this year, whereas the last three seasons he has been undersized."
Daschle Lamer of Crescent Valley and Justin Rademacher of West Linn won titles at 170 and 182, respectively, just as they did at the Doc Buchanan in Bakersfield last month. Winning to them must feel like old hat…Three-time defending 5A champion DJ Gillett of Crescent Valley also won his bracket. Gillett also was a Reser's champion his freshman year.
Finally, Sprague senior Cole Steketee, a runner up at Reser's in 2022 before winning the 6A state title, earned a 1-0 decision over Roseburg's Grady Hamilton in the heavyweight division. Steketee pinned Hamilton in last year's 6A state tournament final, but this bout was much closer. Only a second-period escape scored points for Steketee, who kept Hamilton on the mat for the entire third period.
Despite the loss, it was a successful weekend for Hamilton, who earlier pinned second-seeded Wylie Johnson of Culver, a defending 2A state champion himself.
"Grady has been pretty focused and working hard," Lander noted. "The win over Johnson of Culver was a big confidence boost for him and a wrestler he wanted to compete against. Reser's is such a great tournament and gives wrestlers of all classes a chance to compete against each other. 1-0 is as close as it gets, we needed to either get a takedown or our escape and were unable to do either. Credit to Cole, a very good wrestler."
Girls making STATE-ments
While Reser's was shining a spotlight on the best boys' wrestlers in the state, girls were busy qualifying for the state tournament at their district or regional events, terms that seem to be used interchangeably.
The team scores at the three Special District events in 6A/5A and the two Special District events in 4A/3A/2A/1A give insights into what to expect later this month.
Hillsboro outpointed defending girls champion Forest Grove in Special District 1, despite having just one champion, Nina Deleon at 100 pounds.
McKay romped to the team win in Special District 2, outpacing North Salem by almost 100 pound. The Royal Scots had three individual champions, Sarahi Chavez at 100, Angelina Paniagua at 105 and Marilyn Mentado at 125.
Thurston edged North Medford to take Special District 3. Kaylee Annis (110), Kristal Zamora (14) and Izabella Castleberry (145) were Colts' individual champions. North Medford had four individual champions: sisters Skylar and Sadie Hall, undefeated Estella Gutches and Isabella Jaime at 155 pounds,
"We had 7 state qualifiers as did North Medford," Thurston's Simons said. "We have our work cut out for us. We definitely have a shot of winning girls state but so do 3 other teams! We have to wrestle a perfect tournament to win it!"
Other news and notes from the 6A/5A district meets:
West Linn's Destiny Rodriguez will go for her fourth straight title in the 155-pound division, the same division she won a year ago.
All other defending state champions, Annis of Thurston, Arianna Martinez of West Albany and Haley Vann of Cleveland, won their brackets. If you're looking for Alice Rickett of Hillsboro, who pinned her way to the title at 130 pounds, she graduated early and is wrestling for Linfield College, where she is 6-5 overall.
In the new 4A/3A/2A/1A classification, La Grande won Special District 1 with two champions, Lyndie Isaacson at 105 pounds and Delia Gulzow at 120.
In Special District 2, Sweet Home edged La Pine for the title by just eight points. Bailey Chafin (125) was Sweet Home's only individual champion.
Sweet Home, La Grande and La Pine are expected to be in a tight race to be the first 4A/3A/2A/1A champion in just over two weeks' time.
Other news and notes from the 4A/3A/2A/1A district meets:
Siletz Valley senior Chelo Garcia, state champion at 100 pounds last year; and La Pine senior Kira Kerr, state champion at 135 pounds, both won their district finals. Kirr pinned her finals opponent in 13 seconds!
The third defending state champion in the smaller school ranks, Grant Union sophomore Mallorie Lusco (235), finished third wrestling at 190 pounds.
News and notes
Regis hosted its first-ever home dual last Thursday.
"It was a great night!" exclaimed head coach Chris Bischoff, whose program is only in its second year.
The Rams dominated Nestucca and lost by two to Kennedy. One highlight was Luke Bischoff of Regis defeating Quinn Hill from Nestucca in overtime, in a matchup of top 10-ranked wrestlers.
Thomas Bischoff has been another Regis standout. The 182 pounder is 33-1 on the year, hasn't given up a takedown since early December and, since then, has had only one opponent score even a point against him…
Five Oakland girls led their team to a fourth-place tie at the 4A/3A/2A/1A Special District 2 tournament last weekend. This performance marked an all-time high team finish at a girl's regional tournament for the Oakers, with four place winners and three qualifiers now set to compete at State.
Zoe Vickers, Bella Eyler and Aurianna VanHouten qualified for their second straight season, combining for 10 wins by fall over the course of the weekend.
Marshfield had two girls qualify for the state tournament last weekend. Junior Elyssa Diego was fourth at 105 pounds and freshman Mariana Velazquez was fourth at 235. They are the first two girls in school history to qualify for the Oregon State Championships.
"We had 26 girls wrestle for our junior high program this season and are hoping to carry them over to high school and start to build the high school girls' program next season," said coach Bo Hampton. "These two that qualified for state have built a ton of excitement in our school and have gained the interest of a lot of girls that are talking about wrestling next year. We also have many girls that did not wrestle this season but are starting to do Freestyle practices to prepare to wrestle next season."
The Roe siblings are tearing it up for Knappa. Junior Corbin Roe is currently 39-2, a school record for wins, while wrestling at 126 pounds on the boys side. Freshman Kiya Roe pinned her way to the 100-pound title at districts, becoming the first female Logger to qualify for the state tournament. Indeed, under the tutelage of new girls coach Sofia Ward, two girls qualified from Knappa. Freshman Isabella Rameriz took third at 235 pounds.
North Valley saw two girls bring home district titles last weekend. Sophomores Sarah Gonzales and Breanna Meek reached the pinnacle in different ways. Gonzales came in seeded fifth at 100 pounds and beat the 1, 3 and 4 seeds. Meek, who is undefeated on the year at 14-0, was the top seed and pinned both her opponents to repeat as regional champion. Freshman Delanie Burton also showed well, finishing fifth at 115. North Valley finished eighth in overall team points out of 48 teams.
Legends of the fall
In this section, we list wrestlers recording pins this season in under 20 seconds.
5 seconds
Eric Larwin, Soph., Bend, 132, Dec. 2
7 seconds
Wylie Johnson, Sr., Culver, 285, Dec. 2
8 seconds
Wylie Johnson, Sr., Culver, 285, Dec. 2
9 seconds
Jon Wiese, Sr., Newport, 182, Jan. 14
Sadie Hall, Soph., North Medford, 120, Feb. 4
10 seconds
Brash Henderson, Soph., Silverton, 220, Dec. 3
Tagge Fry, Sr., Grants Pass, 145, Jan. 28
Estella Gutches, Sr., North Medford, Feb. 4
11 seconds
Victor Perez, Soph., Newport, 113, Jan. 7
12 seconds
Jon Wiese, Sr., Newport, 182, Jan. 7
13 seconds
Breanna Meek, Soph., North Valley, 235, Dec. 3
Kira Kerr, Sr., La Pine, 155, Feb. 4
Lilliyan Jaramillo, Jr., Rogue River, 190, Feb. 4
16 seconds
Lilliyan Jaramillo, Jr., Rogue River, 235, Dec. 3
17 seconds
Quinton Foster, Sr., Oregon City, 170, Dec. 3
19 seconds
Kaci Anderson, Sr., Baker / Powder Valley, 145
Mason Thynes, Soph., Redmond, 126, Dec. 3
20 seconds
Landyn Philpott, Soph., La Pine, 132, Dec. 2
Krystal Zamora, Soph. Thurston, 145, Dec. 10
Undefeateds
In this recurring category, we list wrestlers with 12 or more wins who are currently undefeated on the season.
36-0 – Vaun Halstead, Sr., Thurston, 5A (220)
32-0 – Sadie Hall, Soph., North Medford, 6A/5A (125)
27-0 – Mason Buss, Sr., Siuslaw, 3A (195)
24-0 – Estella Gutches, Sr., North Medford, 6A/5A (135)
22-0 – Aundre Chacon, Sr., North Salem, 6A, 113
17-0 -- Jonavin Keller, Soph., Oakridge, 2A/1A (113)
15-0 -- Logan Clayburn, Jr., Myrtle Point, 2A/1A (220)
14-0 – Breanna Meek, Soph., North Valley, 4A/3A/2A/1A (235)
Pin to the end
In this section, we list wrestlers who pinned their way through an even with four or more wins.
Haley Vann, Sr., Cleveland, 135, War of the Roses, Dec. 10, Average pin: 42 seconds
Marwan Aman, Beaverton, 152, Tyrone Woods Memorial, Dec. 3, Average pin: 43 seconds
Mason Buss, Sr., Siuslaw, 195, North Bend Coast Classic, Dec. 9-10, Average pin: 44 seconds
Derek Torres, Sr., Culver, 138, Adrian Irwin Memorial, Dec. 2-3, Average pin: 44 seconds
Gregory Wallace, Jr., Hillsboro, 195, Southridge Invitational, Jan. 14, Average pin: 48 seconds
Logan Clayburn, Jr., Myrtle Point, 220, Eagle Point Invitational, Jan. 7, Average pin: 48 seconds
Daschle Lamer, Sr., Crescent Valley, 170, Reser's Tournament of Champions, Feb. 3-4, Average pin: 53 seconds
Jaden Echevarria, Sr., Hillsboro, 285, Southridge Invitational, Jan. 14, Average pin: 55 seconds
Wylie Johnson, Sr., Culver, 285, Adrian Irwin Memorial, Dec. 2-3, Average pin: 57 seconds
Sebastian Echevarria, Sr., Hillsboro, 225, Southridge Invitational, Jan. 14, Average pin: 1:22
Cole Steketee, Sr., Sprague, 285, Tyrone Woods Memorial, Dec. 3, Average pin: 1:24
Corbin Roe, Jr. Knappa, Phil White Classic, Dec. 29. Average pin: 1:27
Parker Jarvis, Sr., Grants Pass, 285, Tualatin Invitational, Jan. 28, Average pin: 1:37
Brody Lybarger, Soph., Mountainside, 113, Tyrone Woods Memorial, Dec. 3, Average pin: 1:40
Noah Morris, Sr., Mountainside, 170, Tyrone Woods Memorial, Dec. 3, Average pin: 1:41
Tagge Fry, Sr., Grants Pass, 145, Tualatin Invitational, Jan. 28, Average pin: 1:42
Tyson Flack, Sr., La Pine, 106, Reser's Tournament of Champions, Feb. 3-4, Average pin: 1:43
Ryan Gaskin, Soph., North Valley, 182, Dan Vidlak Invitational, Dec. 3, Average pin: 1:43
Cael White, Sr., Madras, 160, Cottage Grove Invitational, Jan. 28, Average pin: 1:49
Gage Singleton, Jr., Roseburg, 113, North Bend Coast Classic, Dec. 9-10, Average pin: 1:51
Logan Clayburn, Jr., Myrtle Point, 220, North Bend Coast Classic, Dec. 9-10, Average pin: 1:55
Krystal Zamora, Soph. Thurston, 145, War of the Roses, Dec. 10, Average pin: 2:04
Preston Echevarria, Jr., Hillsboro, 182, Southridge Invitational, Jan. 14, Average pin: 2:05
Ryan Gaskin, Soph., North Valley, 182, Rumble on the Rogue, Jan. 21, Average pin: 2:50
Madi Randels, Jr., Tualatin, 155, War of the Roses, Dec. 10, Average pin: 3:06
100 % COMMITTED!
In this section, we identify those wrestlers who have made commitments to wrestle in college.
Hudson Davis, Sr., Newberg, 197 -- Wyoming
Riley Davis, Sr., Sprague, 174 -- Wyoming
DJ Gillett, Sr., Crescent Valley, 133 – Oregon State
Vaun Halstead, Sr., Thurston, 197 – Oregon State
Daschle Lamer, Sr., Crescent Valley, 174 – Cal Poly San Luis Obispo
Justin Rademacher, Sr., West Linn, 174 – Oregon State
Destiny Rodriguez, Sr., West Linn, 152 – McKendree University
Hayden Walters, Sr., Crater, 197 – Michigan
Andrew Worthington, Sr., Mountain View, 133 – Minot State
If you are a high school varsity head coach and want to know how you can contribute to future Notebooks, contact John Tawa at [email protected]