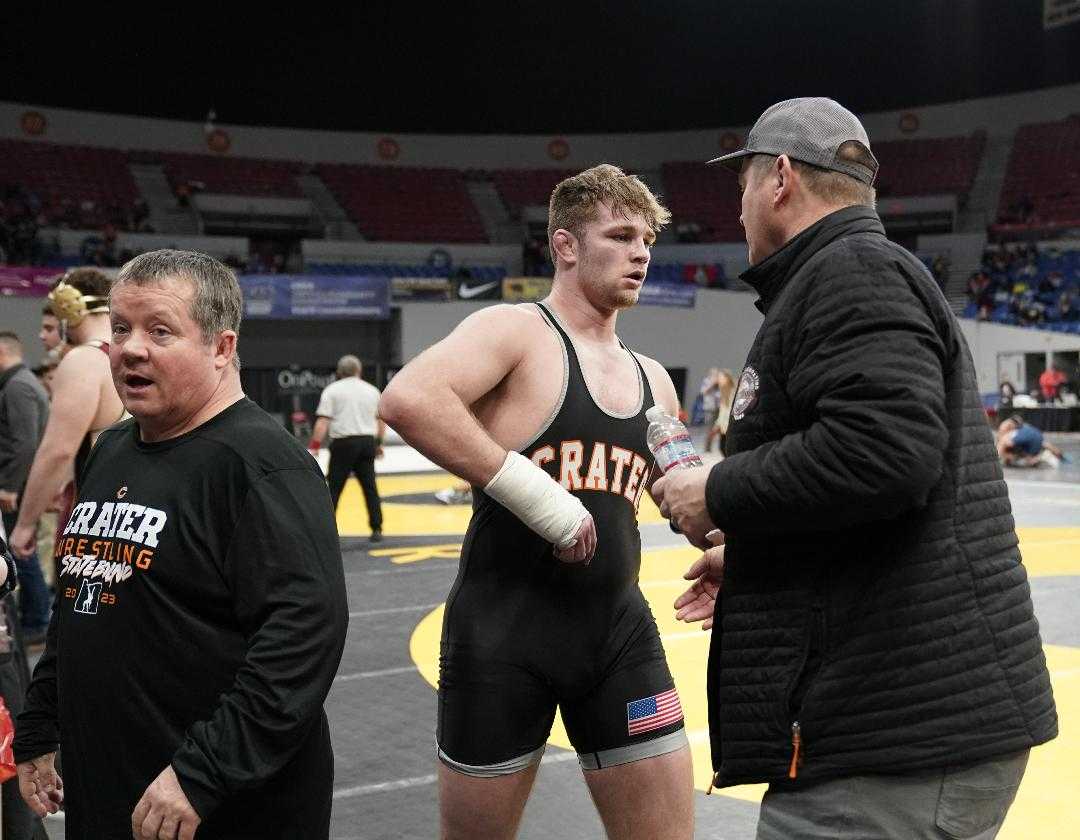 PORTLAND -- Growing up in Central Point, Hayden Walters had Crater wrestling in his blood.
Walters dreamed that one day he would join the elite group of Comets state champions, which included his father Denny, coach Greg Haga's first state champion in 1990.
"Junior Comet through middle school, I'd look up on the wall at Crater, there's a line of pictures of all the state champs," Walters said. "And I always remember wanting to be up there. That was the goal."
Instead of becoming a Comet as a freshman, though, Walters moved 200 miles away to Corvallis, where he joined 5A powerhouse Crescent Valley. Walters won state titles at 182 pounds as a freshman and 195 pounds as a sophomore and junior, helping the Raiders to state championships each season.
But this season, as Walters prepares to move on to a college career at Michigan, he has returned to Crater. And Saturday, he moved to the brink of a fourth state title by advancing to the 220-pound final in the OSAA/OnPoint Community Credit Union 5A championships at Veterans Memorial Coliseum.
Walters, ranked No. 4 in the nation at 220 pounds by FloWrestling, blitzed through the bracket with three wins Saturday, two by fall. He will face Silverton sophomore Brash Henderson (No. 3 seed) in the championship match Sunday. The final session for 5A boys, 6A boys and 6A/5A girls begins at 9 a.m.
For the top-seeded Walters (15-1), becoming a four-timer while wearing a Comets singlet would be the perfect way to go out.
"That's the way I want it," he said. "It's pretty sentimental this year, for sure."
Haga has enjoyed having Walters back in the wrestling room.
"I've seen him since he's been in diapers," Haga said. "It's kind of nice to rekindle that relationship again. He was gone for three years, but three years as a kid grows up through high school, there's a big change in him physically and maturity-wise."
Haga kept Walters' move to Crescent Valley in perspective.
"I've always thought that parents should make the decision for their kids," Haga said. "I've always been an advocate of that, whether it's in athletics or academics, or anything else."
So how did Walters end up back at Crater?
"It was a family decision," he said. "We've got a lot of relatives at Crater, and my dad went to Crater, so it was a big part of wanting to move back. My little brother Ryland, he was kind of struggling in Corvallis, so we felt it would be best to kind of move back down home."
Ryland is an eighth-grader on the wrestling team at Scenic Middle School in Central Point.
"He'll be really good, hopefully better than me," Walters said.
Walters called the transition to Crater "really easy."
"Some of the guys on the team now, I grew up with, in elementary school and with the Junior Comet Wrestling Club. I got back into the team and they kind of took me in. It was nice."
Haga said Walters' attitude helped him fit in.
"He's a nice guy, so it wasn't like he was coming back saying, 'I'm this guy or that guy,'" Haga said. "He just came in and was pretty modest, and always willing to help other kids in the room."
Walters suffered a setback in mid-December when he dislocated his wrist at the Reno Tournament of Champions. He returned to practice three weeks ago and got back into competition by winning the Midwestern League district tournament.
"The injury obviously wasn't how I envisioned my senior season going," he said. "But I kind of adapted to it and started coaching my teammates a little bit, instead of practicing. I really liked that. That was really good for me, brought me closer to the team, as well as the coaching aspect of it helped me with my wrestling. I feel like it didn't really set me back. So I'm happy."
Walters said he protected the wrist in his first matches back, but now it feels fine.
"I adjusted to that a little bit at first, but now it's like it never happened," he said. "I don't have soreness at all. It's pretty crazy. Most people do, is what the doctors are saying."
As Walters reconnects with former Crescent Valley teammates this weekend, he reflects on his three seasons with the Raiders.
"It was great," he said. "Great coaches. Chad Lamer is an awesome coach. All those guys, they're all great dudes. Nothing but good things to say about those guys."
He said he has "no regrets" about the move to Crescent Valley.
"It's just what was right for me and my family at the time," he said. "Times change."
5A
Walters was one of three 5A wrestlers to draw within one win of a fourth state title Saturday. Crescent Valley seniors DJ Gillett (138) and Daschle Lamer (170) also can become four-timers with wins Sunday.
Crescent Valley junior Everest Sutton, seeded second at 113, was going for his third title. But Redmond sophomore Ryder Lee, seeded third, pinned Sutton in the semifinals.
It was payback for last year, when Sutton not only pinned Lee in 35 seconds in the quarterfinals, but pinned Lee's teammate, Billy Jackson, in the first round of the 106 final.
"I had nothing to lose," Lee said. "I wanted to punch my way into the finals, and I did it. It feels great. I was just a lot smarter. I wasn't being super aggressive. It means everything. I did not expect to get in the finals this year."
Other reigning 5A champions who secured berths in the finals were Crater sophomore Elijah Bayne (113) and Thurston seniors Kolton Malone (145) and Vaun Halstead (195). Mountain View senior Drew Jones, the 6A champion at 138 last year, earned a spot in the 132 final.
Three top seeds fell in the semifinals: Crescent Valley senior Ben Hartman (No. 4 seed) beat Hillsboro senior Jaden Echeverria 5-2 at 285; Silverton senior Steven Powell (No. 5 seed) defeated Mountain View junior Liam Byrne 6-4 at 182; and Ridgeview senior Dylan Lee (No. 5 seed) beat Canby senior Ethan Ensrud 10-8 at 160.
Thurston (183.5 points) leads Redmond (170.5) and Mountain View (131.5) in the team race.
6A
West Linn, chasing after it first title, holds a 229-225 edge over three-time reigning champion Newberg heading into Sunday.
Newberg has five No. 1 seeds in the finals, however, in juniors Isaac Hampton (120) and Zachary Keinonen (132), sophomore Gus Amerson (145) and seniors Cougar Friesen (170) and Hudson Davis (195).
West Linn also has five finalists, including two top seeds in junior Henry Dillingham (152) and senior Justin Rademacher (182). Other Lions going for titles Sunday will be sophomore Oscar Doces (No. 3 at 126), junior Charles Spinning (No. 2 at 145) and senior Benjamin Winjum (No. 2 at 195).
Doces helped the Lions' cause in the semifinals with a 6-3 win over Newberg freshman Gavin Rangel, the No. 2 seed.
"We came in to win against Newberg," Doces said.
Doces, a transfer from Wells, said he is much improved this season after coming one spot away from placing at state last year.
"Amazing coach, best training," Doces said of first-year West Linn coach Kevin Keeney. "Best practices I've ever had, by far."
Newberg's Keinonen and Davis and Roseburg junior Gage Singleton, the top seed at 113, will go for their third titles Sunday. Hampton is shooting for his second title.
Sprague senior Cole Steketee, the reigning champion and top seed at 285, was disqualified in the quarterfinals against unseeded Sherwood junior Skyler Randlemen-Galvan. Roseburg senior Grady Hamilton (No. 5 seed) defeated Randlemen-Galvan 2-1 in the semifinals.
6A/5A girls
West Linn senior Destiny Rodriguez, ranked No. 1 in the nation at 152 by FloWrestling, moved one step away from her fourth state championship with two first-round pins.
The top-seeded Rodriguez, who made the U20 World Team, won titles at 145 as a freshman and 155 the last two seasons. She is 70-0 with 68 pins in her high school career.
Sunday's final against Hood River Valley senior Lauraine Smith will mark Rodriguez's last match before beginning a college career at McKendree University, a Division II school in Illinois.
"It's so crazy," Rodriguez said of reflecting on her time at West Linn. "It's sad, having to leave, having it be our last practice, my last tournament with the guys on the team. I'm really close to them. We all grew up together. It's crazy to think how four years went by so fast."
Cleveland senior Haley Vann and Thurston senior Kaylee Annis, the No. 1 seeds at 130 and 110, respectively, moved to the brink of their third titles by reaching the finals.
Vann, who has a 76-match winning streak, finished third in the PIL boys tournament but said she did not consider competing with the boys at state.
"Absolutely not," Vann said. "If it was like last year when the tournaments were separated, I would do it just to do it. Why not? That's how I felt about it going into boys districts, too, like, I might as well challenge myself in that way. But here I would definitely want to go for my third title."
North Medford senior Estella Gutches (No. 1 at 135) and West Albany senior Ariana Martinez (No. 1 at 115) will try for the second titles Sunday.
Three No. 1 seeds lost by pin to unseeded wrestlers. In the first round, David Douglas sophomore McKenzie Mills stopped Corvallis senior Georgia Buehler at 190 and Woodburn senior Jasmine Lopez beat Eagle Point sophomore Alixia Hernandez at 170. In the semifinals, Liberty sophomore Bianca Miranda knocked out Centennial senior Rose Williams at 235.
North Medford has a tournament-high 61 points, leading reigning champion Forest Grove (55) and West Albany (41).
The tournament is the first since the girls split into the 6A/5A and 4A/3A/2A/1A divisions.