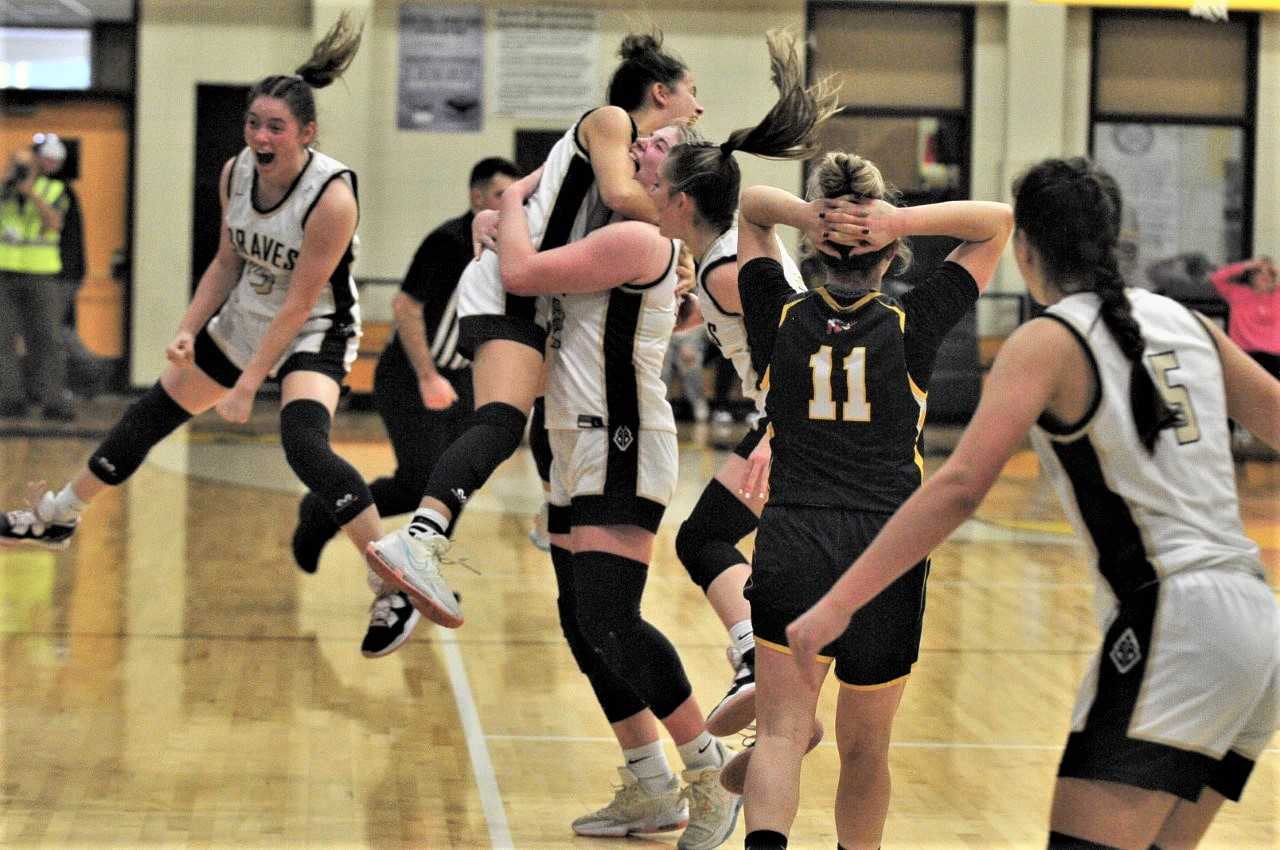 By JOHN GUNTHER/for OSAAtoday
NORTH BEND — One won with a last-second shot, the other with an amazing comeback as Banks and Santiam Christian advanced to the semifinals of the OSAA/OnPoint Community Credit Union 3A girls basketball tournament at North Bend High School on Thursday.
Banks coach Nick Rizzo said Madison Walker put the Braves on her back in the opening game of the day. That was the case all game, and especially at the end when Walker beat the buzzer with an inside basket to give Banks a 36-34 win over Lakeview in the quarterfinals Thursday.
The win put the Braves in the semifinals at noon Friday at Marshfield High School against Santiam Christian, which didn't score until the final minute of the first quarter, but kept fighting and ultimately rallied to edge league foe Amity 36-35.
"I feel fortunate to get out of this round," Rizzo said after Walker's shot lifted Banks over the Honkers in a tight game marked by outstanding defensive efforts from both clubs.
"I'm so proud of my team," Walker said after sharing hugs with teammates following the final buzzer. "(Lakeview) did so well. Their defense is so good."
Walker finished with a game-high 18 points in the win, none bigger than the final shot.
"We drew up the play and I was supposed to post up," Walker said. "I'm glad (the shot) fell."
Neither team shot the ball well, but that wasn't surprising to Rizzo.
"I knew we were going to have to grind it out," Rizzo said. "There were some tough moments out there today on offense.
"Give credit to Lakeview — they played great defense."
And so did the Braves.
"Our bread and butter is defense," Rizzo said. "We are not going to do anything different here. We are going to make it hard on opponents to score. It might not be too pretty all the time."
Banks used a fast start to the game and a strong finish to the second quarter to lead 21-16 at the break.
The Braves burst out of the gates to a 10-2 lead in the first three minutes, but then went more than 10 minutes of game time without a field goal as Lakeview pulled even at 12 points midway through the second.
A lot of that was because of Lakeview's defense. Another issue was rare foul trouble for Banks.
"Alex Saunders never gets in foul trouble," Rizzo said of one of his senior floor leaders. "Today she did. Madison kind of put us on her back a little bit."
Walker finally ended the field goal drought for the Braves by banking in a 3-pointer with just over 3 minutes to go in the second quarter. Walker added two more baskets inside and a pair of free throws and had 14 of the 21 points for Banks in the opening half.
Then the Braves went more than four minutes to start the second half without scoring as Lakeview went in front. But the Honkers weren't scoring with any frequency either so the game remained close.
Tyler McNeley led Lakeview with 12 points and Kenna Stratton had eight points and 19 rebounds.
Saunders had 13 points and both Walker and Madyson Bigsby had 10 rebounds for the Braves.
Lakeview will face Amity in the consolation semifinals Friday morning at Marshfield while Banks continues its dream of a state title.
Rizzo talked on the eve of the tournament about how none of his players had ever been in a state tournament before and they have embraced their role as newcomers.
"This whole season we've been underdogs," Walker said. "I'm glad we proved we belong here."
Santiam Christian 36, Amity 35: The Eagles never gave up after the Warriors scored the first 17 points and led 19-2 through eight minutes in the fourth meeting of the season between the PacWest Conference rivals.
"(Coach) Knox gave us a good pep talk (after the first quarter)," said Santiam Christian's Tayla Yost, who put the Eagles in front when she converted all three free throws after being fouled on an outside shot with 47 seconds to go.
That talk wasn't about Xs and Os.
"I just told the girls it doesn't matter what happens, we are going to show our character," Eagles coach Anthony Knox said.
Whether it resulted in a win or not, he told them, the Eagles would fight for every loose ball, battle for rebounds and play tough defense.
"Our fans are going to see we play with heart every play until the end," Knox said.
The Eagles did just that. Santiam Christian cut the lead to 25-10 at halftime and 31-23 through three quarters and then limited the Warriors to four points in the final quarter.
"I knew if we worked together we could do it," said Yost, who finished with a team-high 11 points and also grabbed 11 rebounds for the Eagles. "In the second half, we trusted each other.
"I think we did better on defense. We locked them up."
And Santiam Christian took advantage of its opportunities at the line, hitting 14 of its first 16 free throw attempts before missing its final four.
"We've been working a lot on free throws," Yost said. "At the beginning of the season, we weren't doing so hot.
"The last couple practices we've been having to do lines if we missed free throws."
Santiam Christian's only points in the fourth quarter that weren't from the line were a layup by Emma Yenchik after a steal by Maddie Fields and a jumper by Yenchik.
Meanwhile, Amity only got two free throws by Mya Haarsma and a layup by Haarsma in the fourth quarter, the latter after Santiam Christian had tied the game at 33 on two more free throws by Yost.
The Warriors were hurt by twin sisters Adie and Eliza Nisly both fouling out in the fourth. Ellie McMullen led the Warriors with 10 points, Eliza Nisly had nine points and nine rebounds and Haarsma and Adie Nisly scored eight each.
Knox had nothing but respect for the Warriors, the regular-season PacWest champs who had won the first two meetings between the teams before Santiam Christian won the third game in the league playoffs.
"Jed (McMullen) does such a great job at Amity," Knox said. "Those are terrific girls. They are young. They are going to go real far.
"We were fortunate to pull it out today."
Santiam Christian did just that, and the team celebrated with its cheerleaders and fans on the court after a desperate shot from past half court by Amity was off the mark at the buzzer.
"I'm really excited," Yost said. "My whole high school career we haven't gotten past the first round."
Corbett 47, Nyssa 41: The Cardinals ended the Bulldogs' hopes of repeating as champions, scoring the first 12 points of the fourth quarter and holding on for a quarterfinal win.
Corbett, which played for the 4A title last winter before dropping down to 3A, will face Sutherlin in the second semifinal at 1:45 p.m. Friday.
Ally Schimel had 17 points, Ella Holwege and Taylor Donahue nine each and Lilly Schimel eight as the Cardinals won by outscoring Nyssa 18-10 in the fourth. Donahue and Ally Schimel both had 3-pointers in Corbett's big run in the final quarter and the Cardinals had seven 3-pointers as a team for the game.
Gracie Johnson had 20 points and 18 rebounds for Nyssa, which faces Pleasant Hill in the consolation semifinals Friday morning.
Sutherlin 52, Pleasant Hill 34: The Bulldogs shook off a slow start to advance to Friday's semifinals and hand the Billies just their second loss of the season.
Micah Wicks had five 3-pointers and 22 points to lead Sutherlin, which scored just three in the first quarter before pushing in front by outscoring Pleasant Hill 23-10 in the second.
Madison Huntley had nine points and Huntley and Wicks each grabbed eight rebounds for Sutherlin, which hopes to improve on last year's semifinal showing when the Bulldogs lost a close game to eventual champion Nyssa.
Claire Crawford had 19 points and Cheyenne Green added nine for Pleasant Hill. Both grabbed 11 rebounds.