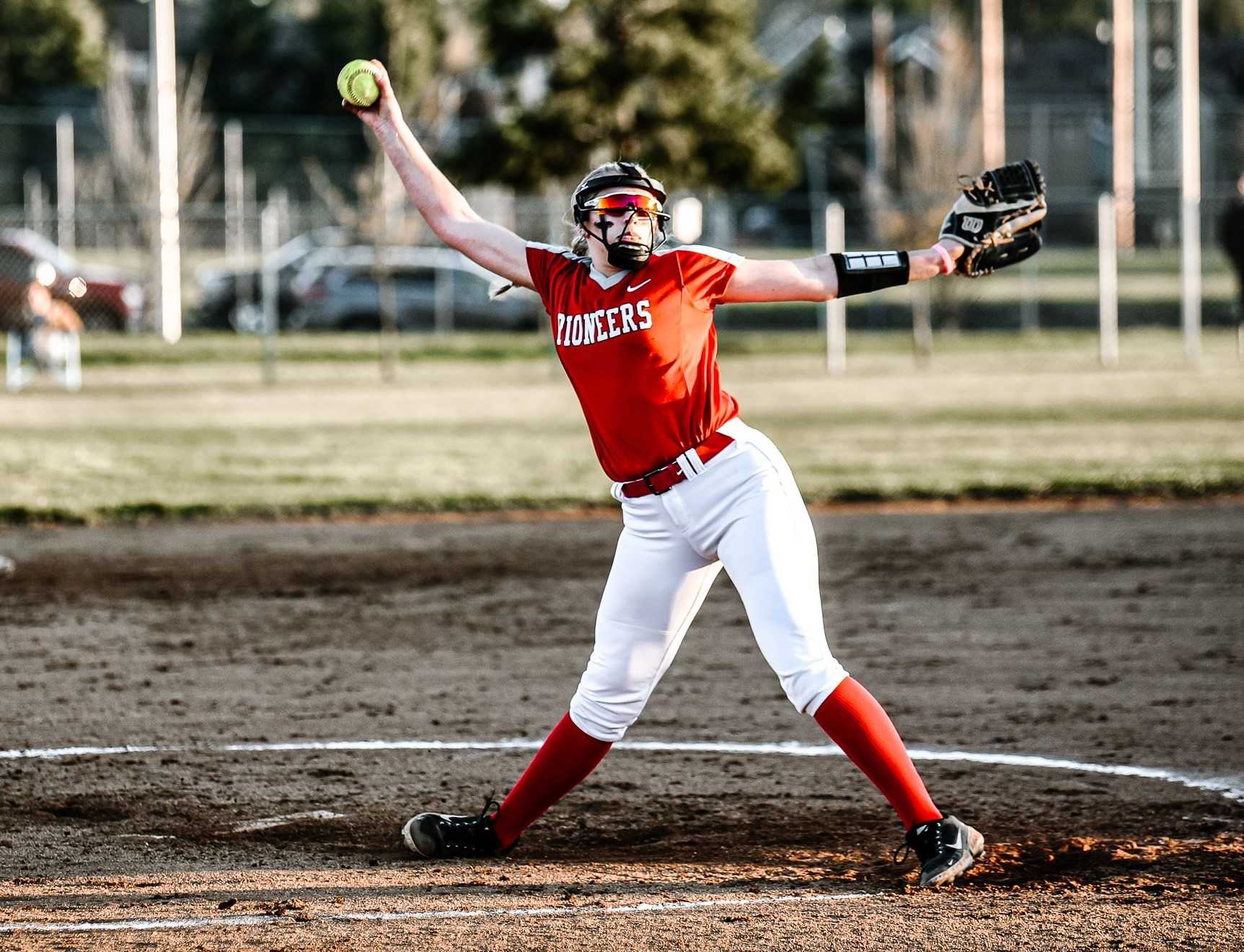 No. 1 Oregon City began of a season of high expectations with an impressive 13-2, five-inning win over No. 6 Jesuit in a nonleague softball game Tuesday.
The host Pioneers, who brought back all but one starter from last year's 6A runner-up, flexed their offensive firepower by scoring 11 runs in the second inning.
Senior Gina Allen started the second-inning rally with a three-run triple. Allen also hit a double in the game, as did senior Lily Castor, juniors Chloe Grimmer and Lily Riley and sophomore Ellie Joseph.
The offensive onslaught was an encouraging sign for Oregon City coach MacKenzie Washington.
"I'm cautiously optimistic," Washington said. "We started out like this last season, too, and definitely hit a little bit of a hitting slump midseason last year."
Washington liked the Pioneers' mental approach at the plate.
"We have lots of hitters making adjustments at the plate this year that we didn't see late last year," she said. "So it makes me very excited that we're starting to make those adjustments early, and we're starting to find our groove right off the bat. I hope it stays around this year."
Riley, who took over as Oregon City's ace late last season, earned the win against Jesuit (1-2). She pitched four innings, allowed one hit and struck out eight before yielding to Joseph, who pitched the final inning.
"The adrenaline of the first home game was definitely with her," Washington said. "She was able to rely on her speed. But in all honesty, we had the opportunity to get a lot of batters to chase some of her junk pitches, which was good to see because she's been working hard on those."
Oregon City gets a good test Wednesday at home against Southridge, which is off to a 3-0 start.
Burns extends streak
Burns rallied from a three-run deficit to win at Pendleton 4-3 in a matchup of reigning state champions Friday.
By winning their opener, the 3A Hilanders extended their winning streak to 31 games, tied for the eighth-longest in state history.
Pendleton, which has moved to 4A after winning the 5A title last season, took a 3-0 lead in the third inning when senior Sammantha Wilks ripped a two-out, three-run homer off Burns junior Ayla Davies.
But Davies, who fanned 342 batters in piching the Hilanders to their first state championship, held the Buckaroos in check the rest of the way. She struck out nine of the last 10 batters and finished with a three-hitter with 20 strikeouts, walking three.
Burns rallied for three runs in the fourth inning. Sophomore Gracie Mello hit a two-run double and senior Mattie Woodbury followed with a single, driving in Mello to make it 3-3.
Woodbury drove in the eventual winning run with a single in the fifth inning.
Sophomore Reese Furstenberg took the loss for Pendleton. She struck out 10 in 6 2/3 innings.
Burns, No. 1 in the OSAAtoday 3A coaches poll, puts its winning streak on the line Thursday when it visits Grant Union/Prairie City, ranked No. 2 in 2A/1A. Grant Union was the only team to defeat Burns last season, winning 4-0 in the season opener.
Pendleton (4-1), No. 7 in 4A, played two games Friday. Before facing Burns, the Buckaroos scored three runs in the bottom of the seventh inning for a 5-4 win over The Dalles, co-No. 8 in 4A. Junior Avery Krigbaum hit a two-run homer to tie and sophomore Kendall Murphy followed with a solo shot for the win.
Tornado ruffles Bend
North Medford struck for three runs against Bend star pitcher Addisen Fisher, ranked as the top junior recruit in the nation, to earn a doubleheader split Saturday at home.
Trailing the opener 1-0 in the fourth inning, the Black Tornado (2-1) put up three runs on three hits against Fisher and held on for a 3-1 win over the Lava Bears (2-1), ranked No. 2 in the OSAAtoday 5A preseason coaches poll.
Junior Presley Lawton led off with a single and junior Gabbi Urban followed with an RBI double down the right field line. With two outs, sophomore Caileigh Raines hit a two-run single to center field for a 3-1 lead.
Urban did the rest in the circle, finishing with a four-hitter with four strikeouts. The UCLA-bound Fisher allowed five hits and one earned run in six innings, striking out four.
"I'm ecstatic with what they did, facing a pitcher like (Fisher) and doing what we did against her," North Medford coach Chris Campbell told the Rogue Valley Tribune. "It was a great team effort in accomplishing that."
Bend won the second game 4-0 behind senior Allison Parker, who threw a no-hitter with 14 strikeouts and two walks. The Lava Bears scored all four of their runs off Urban on errors.
Bend opened the season Friday with a 5-0 home win over Sherwood as Fisher threw a one-hitter with 13 strikeouts and went 2 for 4 with a home run and two RBIs.
Notes: No. 4 South Medford hit the road for two impressive wins, beating No. 8 Westview 7-6 on Friday and Barlow 13-3 in six innings Saturday. Against Westview, junior Kaycee Hudson and senior Kirsten Morgan hit home runs and Hudson struck out 10 to earn the win. Against Barlow, the Panthers rapped 16 hits, getting three each from senior Sydney Boren and junior Nicole Ledendecker. Hudson fanned 14 and allowed one hit in 5 1/3 innings of relief. … Host Crater had 28 hits, 13 for extra bases, in six innings of offense to sweep Mountain View 24-0 and 18-0 Saturday. The Comets got home runs in each game from senior Taylor Kenworthy, who went 3 for 3 with six RBIs in the opener. … Grant Union junior Halle Parsons opened the season with a bang, going 4 for 4 with three home runs and eight RBIs as the Pioneers coasted past Union/Cove 17-0. …
Beaverton sophomore center fielder Amy Rusin is off to a hot start. Through three games, she is hitting .583 and has six assists at home plate for the Beavers (0-3). … Junior left-handed pitcher Addison Johnson has struck out 33 batters in three games for Liberty (2-1). She has an ERA of 1.64. … Senior shortstop Ellie Austin has sparked St. Helens to a 4-1 start. She is batting .700 (14 for 20) with six doubles, two triples, 10 RBIs and has scored nine runs without striking out. She also is 4 for 4 on stolen base attempts. … Phoenix freshman pitcher Destiny Chrislieb shined in her high school debut, throwing a two-hitter with 11 strikeouts and three walks to beat North Valley 16-2. …
Eagle Point lost its opener 14-9 to Grants Pass on Saturday despite a big game from junior Baylee Mullen, who went 4 for 5 with five RBIs, including a three-run homer. … Senior catcher Mia Zachary, West Salem's leadoff hitter, went 5 for 9 with five stolen bases in the first three games for the Titans (1-2). She threw out two of three runners attempting to steal and picked off a runner at first base. … Warrenton defeated Knappa 8-4 and Vernonia 14-4 behind freshman Natalie Pike, who went 7 for 8 with three triples and five RBIs and scored five runs. … Yamhill-Carlton, co-No. 2 in 3A, rolled to an 11-0, five-inning win at Kennedy, No. 1 in 2A/1A on Tuesday. Junior Maddy Tuning and seniors Dorothy Adair and Lexiss Antle each drove in two runs for the Tigers. Yamhill-Carlton (2-0), the 3A runner-up last year, opened the season with an 8-3 win at 4A No. 4 Astoria.
– Coaches send information to [email protected]