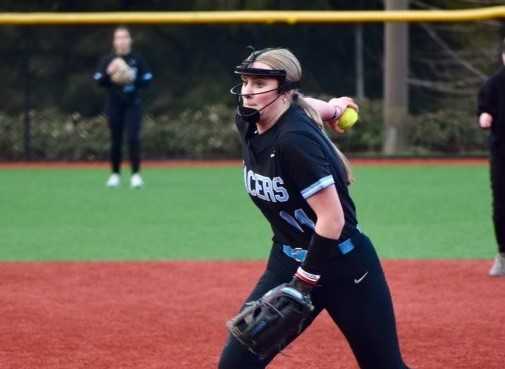 A crushing end to last season provided an impetus for Lakeridge to get off to a fast start this softball season.
The Pacers, who twice came within one strike of making the 6A semifinals a year ago before being eliminated with a 2-1 loss at Oregon City, have outscored their opponents 91-13 in winning their first seven games.
"That hit them a little bit hard, so I think they're pretty motivated," coach Howard Hoyle said. "More than anything else, what I feel from this team is that they're relaxed and having fun. That's the energy I think they feed off. When they're having fun, they're a good team."
Last season, Lakeridge relied heavily on the battery of pitcher Holly Beeman and catcher Ella Hoyle, who have started their college careers at Fordham and Emory, respectively.
This season, junior Delaney Hoyle – the team's No. 2 pitcher last year – is excelling as the ace, not allowing a run in her first six outings. In 40 innings, she has given up 13 hits and struck out 91.
Delaney Hoyle and Beeman have honed their craft under the same pitching coach, former Jesuit standout Paige Hall, the head coach at Willamette University. Beeman is known for her drop and riseball, and Hoyle teases hitters with the curve and changeup.
"They're a little bit different, but they throw a lot of the same stuff," Howard Hoyle said. "Holly's been kind of a mentor to her. Now it's time for Delaney to move out from the shadow and shine, and she's doing it."
Delaney Hoyle also is emerging as a force on offense. Last year, she hit a home run off Tigard's Makenna Reid, the 6A pitcher of the year who now plays at Florida State. This season, she is batting .722 with seven home runs and 22 RBIs.
"This last summer and fall on her club teams, she just owned it," Howard Hoyle said. "She came out more relaxed and having fun. It was really awesome to see."
Junior catcher Elayna Jansen (.625, three home runs, 18 RBIs), junior right fielder Lauren Beach (three home runs, 14 RBIs) and junior infielder Ella Privatsky (.500), the leadoff hitter, also are producing for the Pacers.
"We've got kids really believing in themselves and launching the ball out there," Howard Hoyle said.
Lakeridge ripped through its six games, defeating Grant, Aloha, South Albany, Glencoe, Centennial and McDaniel by a combined score of 75-1, before holding on to beat 4A No. 8 The Dalles 16-12 on Tuesday in the Nelson Spring Break Tournament.
The Pacers built a big lead early against The Dalles, and after the Riverhawks rallied to within striking distance, Delaney Hoyle put the game on a ice with a sixth-inning grand slam.
"That was a rough game," Howard Hoyle said. "Driving rain the whole day, cold, nobody could get a grip on the ball."
Howard Hoyle, the father of Delaney and Ella, has taken over as coach this season after Katie Boos stepped down. He has coached for 19 years, serving in Tualatin Little League and the Bat Company and SOAR club programs.
"I've coached kids on every single team in our conference," he said of the Three Rivers League. "I just wanted to make sure that there was somebody that knew what they were doing and was positive with the kids. And my daughter asked me to do it."
The Hoyles live in Tualatin. Ella was the starting third baseman on Tualatin's 6A runner-up team as a freshman in 2019, but she and Delaney transferred to Lakeridge during the COVID pandemic.
The Pacers went 14-4 in the COVID-shortened season in 2021 and were 13-12 last year, boasting Three Rivers wins over 6A champion Tigard and runner-up Oregon City. They brought back all but four players from last season.
"We worked a lot in the fall and winter," Howard Hoyle said. "They're buying into believing in themselves and just going out and having fun. … I kind of feel like they're doing what they should be doing."
The Pacers know that the road will get much tougher in the Three Rivers, which includes top-ranked Oregon City.
"It will be a slugfest," Howard Hoyle said.
Sheldon topples No. 1s
Sheldon, No. 3 in the OSAAtoday 6A coaches poll, knocked off two No. 1 teams in the North Medford Spring Break Tournament this week.
The Irish (6-0) defeated 5A No. 1 Bend 5-1 and Canby 11-0 on Monday. They beat 6A No. 1 Oregon City 2-1 on Tuesday, handing the Pioneers their first loss.
Against Bend, junior Payton Burnham hit a two-run homer off junior Addisen Fisher in the bottom of the first inning. That was enough offense for the Irish as Burnham tossed a two-hitter with 16 strikeouts and one walk and did not allow an earned run.
Sheldon got four hits off the UCLA-bound Fisher, who struck out seven in six innings and was charged with one earned run. Junior Kinley Pappas and sophomore Jazmin Gallegos had RBI singles in the fourth inning. Senior Meara Sain had two hits.
In the win over Canby, Burnham went 3 for 3 with two RBIs and pitched five shutout innings, giving up one hit, fanning nine and walking one. Freshman Presley DeBaldo had two hits and four RBIs and Pappas and Gallegos had two hits each.
The Irish rallied for two runs in the bottom of the seventh inning to beat Oregon City. With two outs, freshman Soraya Dorsey doubled to drive in the tying run. Gallegos followed with a sharp grounder that got past the first baseman, scoring Dorsey with the winning run.
Burnham pitched a five-hitter with 14 strikeouts and one walk, giving up an unearned run. Pappas went 3 for 3 with a double and two stolen bases.
South Medford improves to 7-0
No. 2 South Medford dominated at the North Medford Spring Break Tournament, winning all four of its games Monday and Tuesday to improve to 7-0.
The Panthers rolled past Thurston 10-0 and Del Norte (Calif.) 10-0 in five-inning wins Monday. They stopped Canby 6-0 and Glencoe 14-6 in five innings Tuesday.
Junior Kaycee Hudson threw a five-inning perfect game with eight strikeouts against Thurston and tossed a three-hitter with five strikeouts against Canby. She also did damage at the plate, going 3 for 4 in each of Monday's games and 4 for 4 against Canby.
Junior Nicole Ledendecker pitched a five-inning no-hitter, striking out nine and walking one, to beat Del Norte. Senior Kirsten Morgan and sophomore Jordan Knutson hit two-run doubles in the game.
South Medford rapped 12 hits in each of Tuesday's wins. The Panthers scored five runs in the sixth inning to pull away from Canby, getting a two-run single from freshman Aubree Joe.