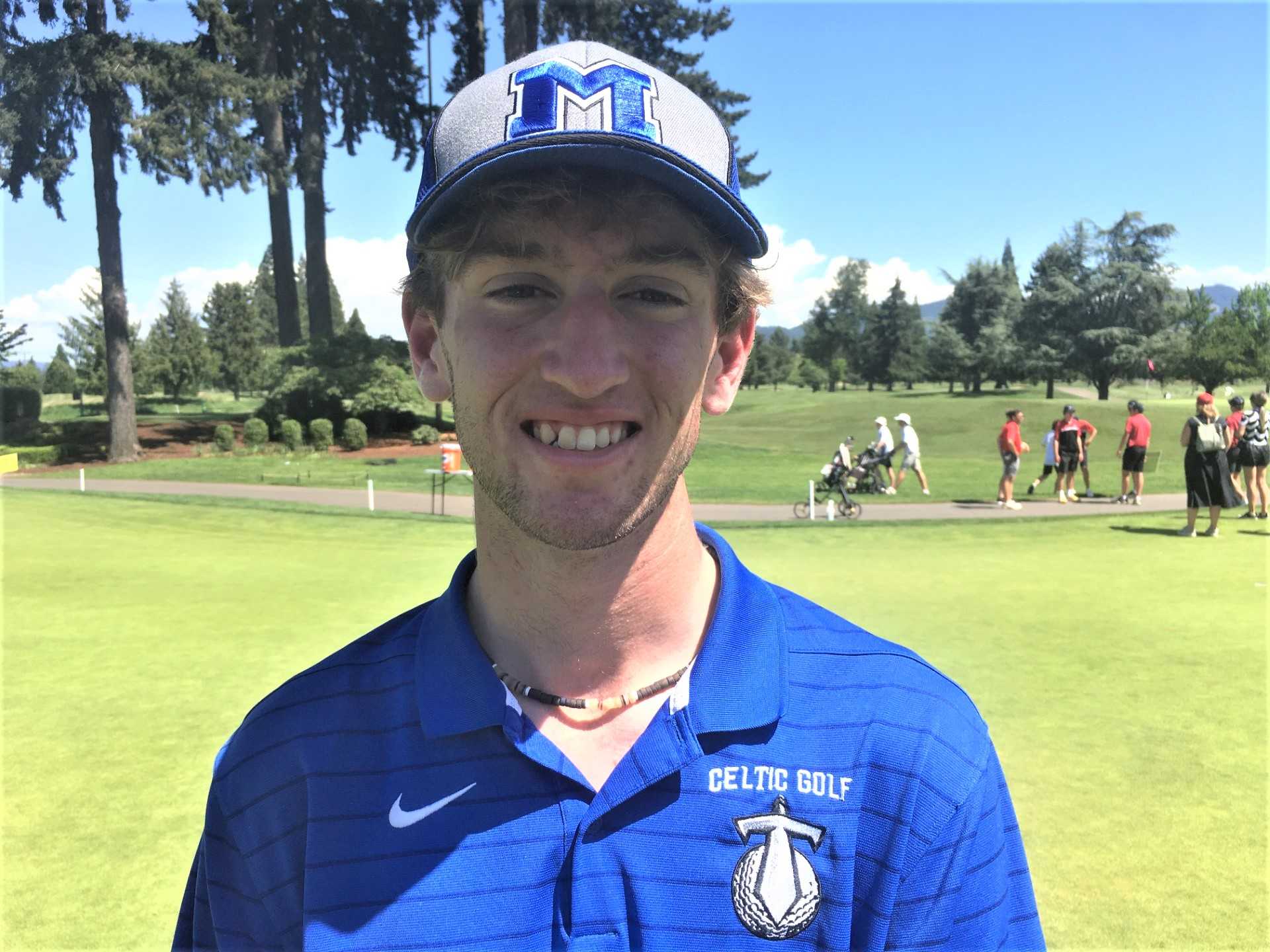 CRESWELL – McNary senior Colby Sullivan had a sense of deja vu heading into the second round of the OSAA/OnPoint Community Credit Union 6A boys golf tournament Tuesday at Emerald Valley Golf Club.
Sullivan was one stroke off the lead after one round, just like last year, when he ended up tied for fourth place, four strokes behind the winner.
"It was the exact same situation," Sullivan said.
This time, though, Sullivan seized the opportunity. He followed a 2-under 70 in the first round with a 1-under 71 to finish at 141, two strokes ahead of the runner-up, Forest Grove senior Ka'ena Kaulia.
"I learned some things from last year," Sullivan said. "Don't get ahead of myself, play it one shot at a time, and that's what I did today."
It capped a brilliant season for Sullivan, who became McNary's first champion since Jeff McRae shared the title in 1970. He won eight tournaments this season, including district and regional titles leading up to state. But nothing compared to what he accomplished Tuesday.
"It's by far my biggest win," said Sullivan, who placed fourth in the Virginia 1A tournament as a freshman before moving to Oregon. "Winning districts and regionals was really good, almost good enough. But coming out here and winning state, I haven't done anything like this before.
"Going into this tournament, it meant so much to me. I've never put so much pressure on myself, honestly. It's such a good bond we've created here the last three years, and I knew it was my last ride with them."
Sullivan, the son of former PGA Tour member Chip Sullivan, left an impression in his final high school tournament before heading off to a college career at Southeastern Louisiana. McNary coach Nathan Bauer sensed that Sullivan was going to do something special this week.
"We came down Sunday and played a nine-hole practice round, and you could tell, he was just giddy with excitement," Bauer said. "He's had some amazing scores this year, but to come out and do this out here, it's huge for him."
Tigard senior Douglas Bailey shot a 69 Monday to lead Sullivan (70) and Kaulia (71), but when Bailey fell out of contention Tuesday, it left Sullivan and Kaulia battling for the title.
After shooting par on the front nine, Sullivan began missing fairways and greens on the back nine. But he made up for it with clutch putting, including a 35-footer for par on No. 11. He wrapped up his round with a 12-foot birdie putt on No. 18.
"On the back side, he got up and down probably four or five times," Bauer said. "He made four- and five-foot putts all day long. It was great to see."
Said Sullivan: "I couldn't have putted better on the back side."
Five players finished tied for third at 147: Sunset senior Kamal Singh, Sherwood freshman Tiger Lu, South Eugene junior Owen Davis-Piger, Grants Pass freshman Carson Krauss and Tigard sophomore Jennings Oelke.
Bailey tied for eighth at 148 with Westview junior Andy Yang and Lake Oswego senior Tanner Frinell.
Lake Oswego outscored Three Rivers League rival Tigard 610-617 to win its first team title since taking five in a row from 2012 to 2016. The Lakers did it behind Frinell, freshman Drew Woolworth (149) and juniors Adam Blackmore (156) and Adam Wrenn (157).
It was an emotional victory for the Lakers, in particular for coach Adam Ruben, who was a senior on the 2012 team that won its title at Emerald Valley.
"It's pretty surreal," Ruben said. "Definitely got goosebumps right now. We had a really good couple of days. We got closer as a team. To have it all come to a close like this, it's pretty special."
Ruben praised the play of Frinell, the team's lone senior, who shot 72 on Tuesday to help the Lakers pull away after sharing the lead with Tigard through one round.
"Our senior came up huge today," Ruben said. "Probably the best performance I've ever seen from him."
Ruben said he believes Frinell's gutsy play could help propel the team into the future. With all but Frinell eligible to return, could it be the start of another Lake Oswego title run?
"Everyone saw that one guy fight until the end," Ruben said. "It's going to motivate these guys going forward. I'm excited for next year, and the years after that. I think we're just going to get better and better after this."
Grants Pass, Westview and Sunset finished tied for third at 630.
5A
La Salle Prep senior William Koch, the reigning champion, roared back from being tied for 10th after the first round to earn a share of the 5A title with Wilsonville sophomore Michael Flaherty, the first-round leader, at Emerald Valley.
Koch shot a 3-over 75 on Tuesday to finish with a 12-over 156. He was able to pull even with Flaherty, who followed Monday's 76 with an 80.
Koch said he thought it would be tough to catch Flaherty, who beat him twice in Northwest Oregon Conference matches this season.
"I did, especially with how hard this course is," Koch said. "It's really hard to make birdies and it's hard not to make bogeys. I thought it was going to be incredibly difficult. But I'm glad it ended up the way it did. It's an awesome situation."
Flaherty birdied the par-three No. 17 to take a one-stroke lead but recorded a bogey on the par-five No. 18, skidding a 3-iron shot out of the rough, to settle for the co-title. He said he wasn't aware of the score down the stretch.
"I actually thought I wasn't going to win," said Flaherty, who played with the final group. "I feel pretty good with it. I'm all right with it."
Koch said he didn't know where the standings stood until Flaherty's score was announced.
"I entered the back nine like, 'Let's play good golf and get top 10 so I can get one of those medals,'" Koch said. "It was just like, stick to my game, because I really wanted this team to go home with some hardware. We ended up getting third, so I'm happy I can help with that."
Woodburn senior Ty Beyer, Summit senior Nick Huffman and West Albany senior Nick Anderson tied for third at 159. Summit junior Jakob Hansen tied two Bend players – senior Kyle Garrity and freshman Silas Waller – for sixth at 160.
Summit senior Brody Grieb, who won the 6A title last year, finished tied for 14th at 163.
Summit, which ran away with the 6A team title last year, finished first in its return to 5A, where it won titles in 2015, 2016 and 2017. The Storm outscored runner-up Wilsonville 640-656 behind Huffman, Hansen, freshman Bryce Grieb (161) and Brody Grieb.
One year after setting a state record by shooting 16-under to win by 39 strokes, Summit shot 64-over to win. The Storm retooled after graduating three Division I college players.
"Totally different wins, I'll tell you that," Storm coach Andy Heinly said. "Last year was fun, this year was a grind. It's hard to turn it over. We had a couple of the same kids, but it's a different year.
"None of them played the way they have all year, the way I thought they would, but they ground it out pretty well, which is really fun to watch."
La Salle Prep (673) placed third and Thurston (680) took fourth.
4A
Baker/Powder Valley cruised to the win at Trysting Tree Golf Club in Corvallis, shooting a 45-over 613 to pull away from second-place Molalla (639). It is the first team title for Baker.
The Bulldogs' won with sophomore Isaiah Jones (143), freshman Elias Long (148) and sophomore Jaxon Logsdon (156) scoring on both days. The other counting scores came from junior Kaden Conklin (82) on Monday and sophomore Palmer Chandler (84) on Tuesday.
Crook County (657) finished third and The Dalles (685) placed fourth.
Ontario senior Tyce Helmick fired a 1-under 141 to win the individual title, becoming the Tigers' first state champion since Lynn Yturri went back-to-back in 1959 and 1960.
Helmick defeated North Bend sophomore Owen Bascom (142) by one stroke. Baker's Jones was third, followed by Molalla sophomore Massimo Cereghino (144) and Tillamook senior Elliot Lee (145), last year's champion.
3A/2A/1A
Valley Catholic freshman Benny Zhu rebounded from an opening-round 77 to shoot a 3-under 69 and win the 3A/2A/1A title at Tokatee Golf Course.
Zhu carded four birdies and one bogey Tuesday as he surged to the top of the leaderboard, finishing at 146 to beat Bandon sophomore Peyton Simonds (148), Brookings-Harbor sophomore Lucas Vanderlip (148), Oregon Episcopal junior Alex Tseng (148) and Catlin Gabel senior Harrison Bell (149).
St. Mary's senior Brock Drury, last year's champion, finished tied for sixth with Oregon Episcopal junior Benjamin Tieu at 151.
Oregon Episcopal won its third consecutive team title, shooting a 37-over 613 to edge Valley Catholic (619). St. Mary's (633) and Bandon (649) were next.
The Aardvarks won with a lineup of Tseng, Tieu and seniors Mathew Chan (153), Knute Geary (169) and Sean Murphy (169). They got their No. 4 score from Murphy (81) on Monday and Geary (80) on Tuesday.