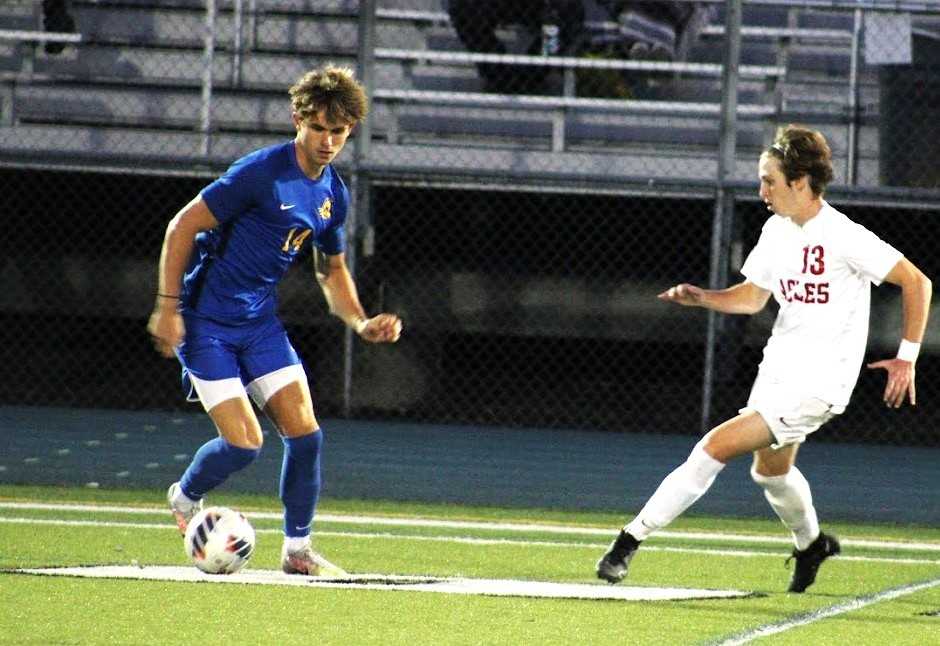 An early-season reality check has helped propel Aloha's boys soccer team to a six-game winning streak and the No. 4 ranking in the OSAAtoday 6A coaches poll.
The Warriors, loaded with returners from last year's state semifinal team, entered the season with designs on the 6A championship. But a 3-0 loss at Sherwood in their second game left them stunned.
"They got upset at each other and started to argue," Aloha coach Enrique Abad said. "That was a lesson for us. We had to fix that. We did fix it, and the next game we started working much better. It was good to start with that because they were a little bit too confident."
During the six-game run, Aloha (7-1) has outscored its opponents 25-4. The Warriors believe they are taking a step forward from last season, when they shared the Metro League title with 6A champion Jesuit and finished 12-3-3 overall.
"Our seniors are mature," Abad said. "They feel more comfortable. That gives us the potential to go all the way up."
Aloha begins Metro play Wednesday at home against Beaverton (4-1-3). The Warriors play host to No. 5 Jesuit (5-2-1) in a key game Oct. 5.
"We have a good perspective for the next step, the Metro League," Abad said. "We're ready. We have the skills and the team. Our goal is to get the Metro League first, and then move on. Can be the champions this year, too."
Aloha is deep with experience in senior midfielders Milos Mavrak and Abdouraheem Jallow, both fourth-year varsity players. The Warriors also brought back senior forward Christian Silva Tapia, junior midfielder Matthew Castanon and senior goalkeeper Joshua Meza Otero.
Tapia, a Metro first-team pick who led the team in scoring last year, has a team-high five goals this season. Junior left back Cole Feuerbacher is next with three goals.
"Everybody is scoring this year," Abad said.
The Warriors graduated the Metro co-player of the year in forward Yahir Ocampo-Navarro but have added senior center back Michael Dunne, a member of the Timbers Academy, and senior midfielder Jose Cruz, a transfer from 3A/2A/1A Delphian/Willamina.
Dunne, who is home-schooled, joined the team late and has scored twice in his first two matches. He starts on the back line but also joins the attack at center midfield.
"He wanted to be with us," Abad said of Dunne, who is schedule to graduate in December. "It's great for the kids. When kids are in those programs, you can see the maturity. He's a great player. The kids can see that as a model. That's a good addition for our team because I see the kids looking up to him."
Aloha won the Metro title in 2018, ending a 29-year title drought. The Warriors struggled to maintain that level – going 6-7-2, 2-6-2 and 2-10-2 in the ensuring seasons – but made a leap last year. Abad believes the program is establishing a winning culture.
"Most of our kids aren't coming from clubs, so it's hard for us," he said. "We select kids and we work with them. Sometimes they don't know the discipline. We have to work to make sure the kids perform in the kids perform in the field, not just technically, but how they address the coaches. It's working, but we still have more work to do."
The Warriors are motivated by how last season ended. Down three starters due to injuries, they fell 2-1 in overtime in the semifinals to Westview, a team they defeated 3-1 in league play.
No. 1 Willamette falls
No. 6 South Medford used four second-half goals to defeat No. 1 Willamette 4-1 in a key 6A Southwest Conference match Monday.
The host Panthers (6-0-1, 4-0-1) moved into first place by beating the previously undefeated Wolverines (6-1, 4-1).
South Medford broke a scoreless tie in the 51st minute when a 30-yard shot bounced off the arms of Willamette sophomore goalkeeper Brandon Olvera Morales and into the net.
The Panthers extended the lead to 3-0 on goals by junior Alexis Reyes in the 63rd minute and senior Kyle Denn in the 71st minute. Willamette made it 3-1 in the 72nd minute when senior Joaquin Balcazar-Recinos converted a corner kick by senior Emi Rojo, but South Medford closed on the scoring in the final minute when senior Danny Centeno put back a rebound.
Boys notes
No. 2 Hidden Valley played No. 1 Henley to a scoreless draw in a 4A Skyline Conference showdown Thursday on the Mustangs' field. … McLoughlin, the top-ranked team in 3A/2A/1A, rolled past No. 6 Riverside 6-2 on the road Sept. 19. Almikar Garcia scored three goals for the Pioneers. … Dominic Crenshaw had a hat trick in Phoenix's 6-0 win over Mazama. … Grants Pass defeated Roseburg 5-0 behind three goals from Tyler McIntosh.
Girls notes
Addi Dauler scored the lone goal as Catlin Gabel, No. 2 in 3A/2A/1A, won 1-0 at longtime rival Oregon Episcopal on Friday. Dauler also stood out in an 8-0 win over Trout Lake last week, scoring three goals in a 12-minute span in the first half. She also had two assists. … Ella Jenning's two goals were the difference for Caldera in a 2-1 home win over rival Bend in a 5A Intermountain Conference match Sept. 20. … Marist Catholic's Cloe Chase scored eight goals in her last three matches. She has 22 goals and eight assists through eight games. … Sutherlin's Paige Edmonson racked up seven goals in wins over Coquille/Myrtle Point and St. Mary's. … No. 5 Tigard got four goals from McKenna Eggleston in winning at McNary 6-1 on Sept. 19.