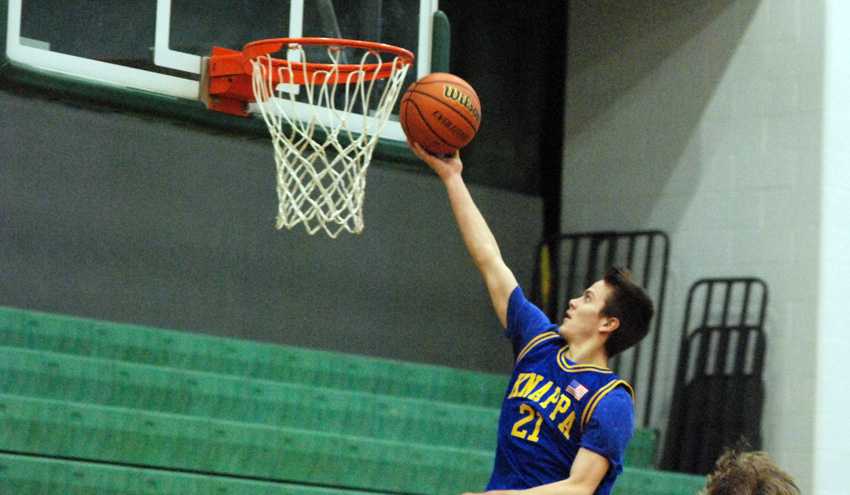 PENDLETON -- Fast senior Timber Engblom scored 29 points to help fifth-seeded Knappa hold off No. 4 Oakland, 53-50, in a quarterfinal thriller Thursday afternoon in Pendleton at the OSAA / OnPoint Community Credit Union Boys 2A State Basketball Championship.
"He's a special player; he's a special kid," said Knappa coach Paul Isom. "When the chips are down you know he's going to make a play for you and that's what he did all night tonight."
"He was tough off the dribble and a good finisher," said Oakland coach Jeff Clark. "He hit big buckets every time they needed one."
Oakland, which had lost just twice all year before Thursday's contest, was hampered by a lack of practice time because of snow that hit the community located on the I-5 between Cottage Grove and Roseburg and knocked out power for several days. The Oakers were only able to practice once – at Dufur on the way to Pendleton – before taking on the Loggers.
"It's tough to only have one practice in five days but that's not an excuse," Clark said. "We needed to do a better job out there."
Oakland looked sharp in the game's opening moments. With springy Colton Brownson scoring outside on a deep corner three, inside on a two-handed flush and patrolling the paint on defense with two impressive blocks, the Oakers led 11-6 with three minutes remaining in the first.
Knappa turned the game around with pressure defense that turned into a 12-0 run to end the quarter. Engblom, whose father is a real-life logger, scored six of his eight first-quarter points in that stretch, mostly by using his speed to knife through Oakland's interior for nice finishes or convert turnovers into easy layups.
Oakland has the word "defense" written on the back of its shorts, but Knappa was the team wreaking havoc on the defensive end for much of the game. Two more Engblom buckets from close range helped extend Knappa's lead to nine, 22-13, early in the second quarter.
Oakland got back into the game thanks to the 3-ball, as Jacob Brooksby and Triston Mask both hit from long range to help the Oakers, which also got two late buckets from Austin Madden, pull even at 28-28 at the half.
Defense reigned again for Knappa in the third quarter. The Loggers struggled to score in the half-court offense but did just fine forcing turnovers and scoring in transition. With Engblom scoring a cool dozen in the period, Knappa opened a 45-36 advantage heading to the fourth.
"The second quarter was a little rough but the third quarter we came out and really put it on them," said Isom. "We played with a lot of energy and got some steals. With our athletes, we can get out and run so when we get steals we're pretty tough."
Oakland never stopped fighting. The Oakers pulled within 45-42 three minutes into the final stanza after a Brownson steal and dish to Madden for a deuce. They cut the led to three again, 51-48, on a deep three from Noah Strempel.
"I told our guys, 'We just have to fight. I don't care what the score is,'" said Isom. "That's a helluva team with a helluva tradition. I knew they wouldn't disappear; they were going to keep fighting so we had to keep fighting. Up 20, down 20 or tied, we're fighting I don't care. And they did that. They battled."
Knappa made only 2-of-7 free throws down the stretch, which allowed Oakland to think of completing the comeback. The Oakers had a chance to take the lead with less than 30 seconds left down just 52-50 but missed a three-point attempt. One final three-point try to tie with nine seconds remaining also did not fall.
"We did a pretty good job getting stops in our half-court defense and fought back to give ourselves a shot at the end," said Clark. "But too many points in transition off of turnovers meant too many easy points for them."
"I was a little worried," said Isom, who is in his first year at Knappa. "Our history here the past couple of years hasn't been great. To beat a team like Oakland with their tradition is not an easy task."
Knappa's win sets up today's semifinal versus Northwest League foe Columbia Christian. The Loggers are 0-3 versus the top-seeded Knights this season and were blown out the last two times they played. But if they play defense like they did against Oakland holding the Oakers to 37 percent shooting, with their athletes they have a chance.
Recapping the other quarterfinals from the 2A boys tournament:
Columbia Christian 72, Kennedy 42 – The defending champion Knights outscored Kennedy 19-8 in the first quarter and 27-6 in the second to put this game away early.
Ben Gregg, a 6-8 sophomore, scored 30 points, added 14 rebounds and had more than a few dunks to lead the top seeds (27-2). Senior Carson Hall led Kennedy (20-8) with 16 points.
Toledo 68, Santiam 61 – Junior forward Clifton Howard scored eight points over the last four minutes of the third quarter as part of a 12-1 run that helped lift the Boomers to the win in the back-and-forth affair.
Santiam got eight early points from freshman Chaz Storm but when he picked up his second foul five minutes into the contest, Toledo went on a run, aided by a triple from Madison McAlpine and a hook shot from post Jaxon Rozewski, and built a 20-13 lead after one.
It took Santiam just one minute at the start of the second quarter to tie things up. Dustin Keys and Colin Thurston sparked the Wolverines, who opened up a seven-point lead before late heroics from Toledo point guard Conner Marchant cut the margin to a more manageable 34-32 at the break.
The third quarter featured the teams trading buckets – Trevor Whitmire had six points inside for Santiam while Marchant dazzled inside and out for Toledo – before Howard's scoring spurt, which included two free throws and two nothing-but-net launches from beyond the arc.
Howard, who finished with 17 points and added eight rebounds, hit one more cold-blooded three in the fourth quarter to stifle one Santiam comeback attempt and the Boomers made enough free throws down the stretch to hold on for the victory.
Marchant led the way for Toledo (26-1) with 22 points, eight assists and five steals. Thurston scored 19 in the loss for Santiam (22-8).
Western Christian 73, Lost River 42 – Alex Nicoli scored 18 of his game-high 28 points in the third quarter to help Western Christian break open a close game and cruise to the easy win.
Led by Junior Pena, Lost River met the challenge of the second-seeded Pioneers over the first 16 minutes. The Raiders, who start only underclassmen, never led but kept the game close and trailed by just six, 29-23, after Aiden McAuliffe scored to complete the first half.
Nicoli hit four three-pointers in the third quarter, including two as part of a 9-0 Western Christian run to start the second half, and the Pioneers never looked back. Nicoli was brilliant in the third but so, too, was quarterback Johnny Williams, whose pressure defense and timely passes for buckets sparked Western, which outscored Lost River by 18 in the third quarter.
Nicoli added seven rebounds to go along with his 28 points for Western (27-1), which also got 14 points from Payton Richardson and seven point and seven assists from Williams. Pena's 10 points paced Lost River (18-9).
Recapping the quarterfinals from the 2A girls tournament:
Coquille 54, Grant Union 36 -- Coquille went on a 15-2 run in the first four minutes of the third quarter to break open a close game and propel the Lady Devils to the 54-36 win over Grant Union.
Hailie Wright hit a three pointer to close the first half to cut a Coquille advantage that had been as large as seven to just 25-22 after 16 minutes. But Drew Wilson stole the inbounds pass to start the second half for Coquille, finished with a lay-in and the Lady Devils never looked back.
Morgan Baird had four points during the run but was dominant throughout. The Sunset Conference Player of the Year scored 22 points and added nine rebounds and five assists for the Lady Devils, who improved to 26-1. Abby Dieu added 10 points and 11 boards.
Madison McKrola scored 14 points and added nine rebounds in a losing effort for Grant Union (18-6).
Heppner 48, Oakland 39 -- Facing off against the third-ranked Oakland Oakers (24-3), the Heppner Mustangs (19-8) came out fast and determined, led by seniors Sydney Wilson and Jacee Currin.
Wilson was the game-high scorer with 21 points and eight rebounds. Her aggressive drives to the rim and physical game were keys to the Mustangs' success, exciting fans and boosting team spirits that needed boosting after falling behind in the first.
Currin also had a strong game for Heppner, which outscored Oakland 29-13 in the second and third quarters. She scored 15 points, nine in the second half, giving the team the extra energy it needed to break away against an Oaker team that struggled to find its offense.
Defense was a big determining factor for Heppner. The Mustangs held Oakland's high scorer Hadley Brooksby to just eight points in the first half and 14 total for the game.
"We had a good game plan for defending her" said Heppner coach Robert Wilson. "The team came out and really executed well. We came out hard and really ready to work together. We knew Oakland is a really good team and I think we matched their intensity and it turned out good for us. Having Jacee as kind of a leader to come out and lead the team is very valuable, but I really think it was the whole team and their overall defense that really keyed the win for us."
Kennedy 39, Central Linn 31 – Kennedy, the defending champions and top seeds, had all it could handle from Central Linn in a turnover-filled affair. The Trojans led by just three points after three quarters and by just two with 45 seconds remaining but scored the final six points to advance.
Sophia Carley led the way for Kennedy (27-1) with 10 points and 11 rebounds. Sarah Conner had 16 for Central Linn (21-6) before fouling out with less than a minute remaining.
Enterprise 37, Vernonia 31 – Enterprise outscored Vernonia 17-4 in the second and third quarters to overcome the Loggers. The game was tied at 11-11 after one, but Enterprise scored the first eight points of the second quarter, including four by Karli Bedard, to take control.
The Outlaws (20-6) expanded their advantage to 13 at the end of the third quarter. Vernonia cut the margin to six in the final period but could get no closer.
Bedard and Lexie Gassett combined for 21 points in the win for Enterprise. Freshman Brooklynn Walters scored 14 to lead Vernonia, which fell to 16-10.
Thanks to Andre Panse for the Heppner/Oakland recap