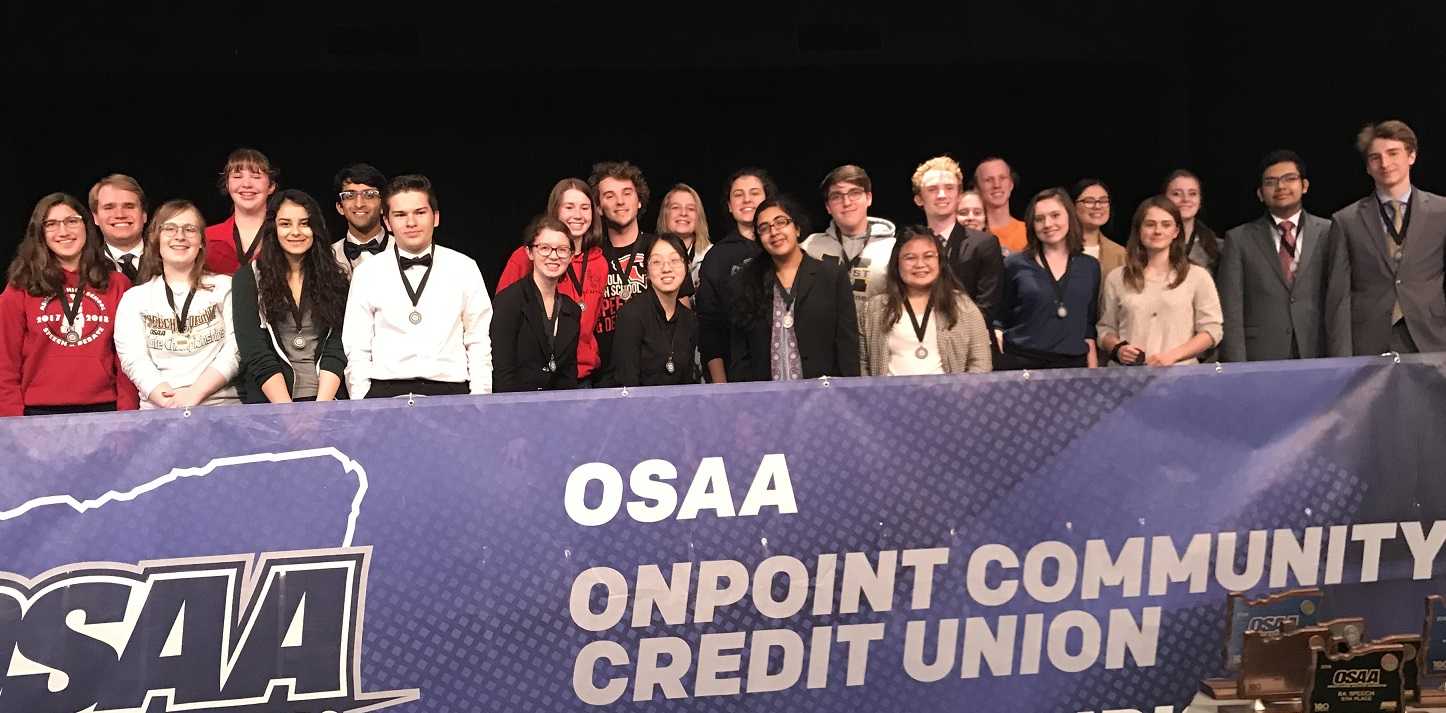 On April 18-20, Western Oregon University was the site of the OSAA / OnPoint Community Credit Union speech and debate championships.
Competing in 17 different speech and debate events, 67 teams battled to finish in the top five and bring home the OSAA hardware. The top finishes were a mix of dynasty programs and upstarts.
6A
1. Westview 118 sweepstakes points; 2. Cleveland 55; 3. McMinnville 48; 4. Lake Oswego 43; 5. Sprague 43
Westview broke away from the pack and won the championship. All year, Westview and Cleveland had battled to win most all of the high school invitationals.
Westview won the day by closing out Public Forum Debate and by individual versatile performances such as Roshun Sunder, who not only finalled in Public Forum but in Oratory as well with a powerful speech on the normailization of periods.
McMinnville took third leaning on the strength of their deep culture of Interpretations. For fourth and fifth, Lake Oswego and Sprague nearly tied following similar routes with strong performances in Lincoln Douglas Debate and Extemporaneous Speaking.
5A
1. Ashland 52 sweepstakes points; 2. West Albany 22; 3. Silverton 20; 4. La Salle Prep 14; 5. Crater, 12
Ashland returned as state champion. The Grizzlies continue an incredible streak of three decades of finishing in the trophy range at the state championship.
Ashland debater Sarah Aaronson finished second with her partner, Sienna Scoggin, in Parliamentary Debate and semi-finaled in Extemporaneous Speaking. Sarah barely has time to hang the medals around her neck; she has important work to do as she leads an organization of high school debaters (RAD) through a movement to make high school debate more inclusive.
In second place, West Albany followed the lead of their state champion in After Dinner Speaking (stand-up comedy), senior Megan Cox.
4A/3A/2A/1A
1. Oak Hill 33 sweepstakes points; 2. Marshfield 26; 3. St. Mary's (Medford) 22; 4. Oregon Episcopal 14; 5. Marist Catholic 12
Oak Hill took the championship with help from a closeout of Oregon Cross-Examination Debate, the nation's oldest form of debate. This year's topic was on immigration in the United States. With both debate teams making in to the finals and being from the same school, tradition dictates that the two teams do not debate against each other.
This kept the peace at one household. One Oak Hill Cross-Ex team included Katrina Carrier, the other had her twin sister, McKenzie Carrier. Thus was avoided any awkwardness around the Carrier family dinner table.
The Marshfield team, a perrenial trophy winner, grabbed second without their head coach, Kayla Crooks, who had just given birth the week before; they were pleasantly shocked to see Kayla show up in time for the trophy ceremony and pictures. This affirmed that they too were family!
-- John Gonzales