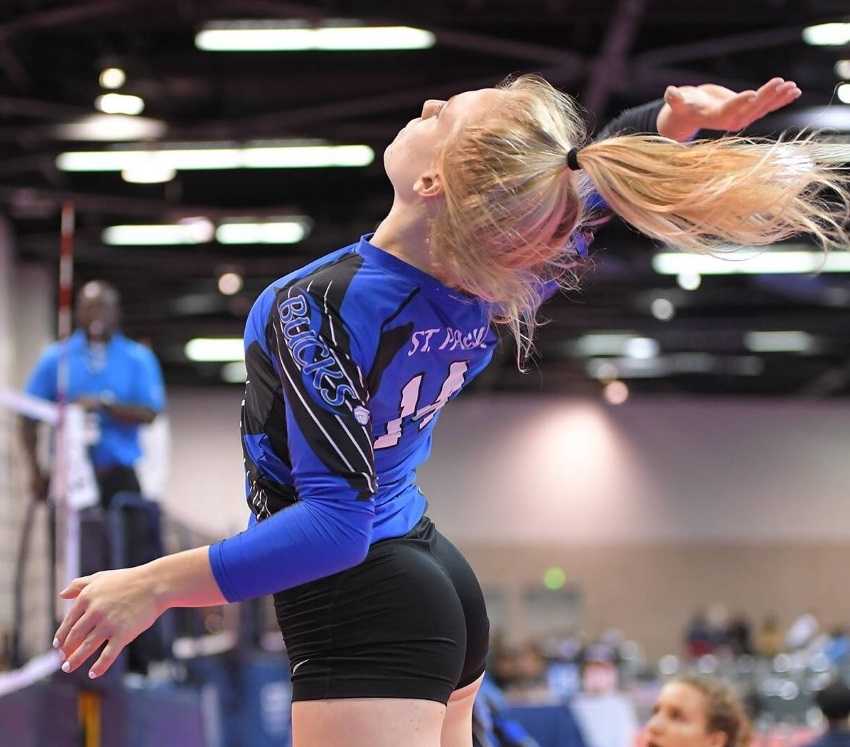 Considering how much winning St. Paul's girls have done in the past year, a loss could be a shock to their system.
Many of the same players who went unbeaten in volleyball last year also ran the table in basketball as the Buckaroos racked up two 1A championships.
But when St. Paul fell to 2A power Kennedy 25-20, 15-25, 15-12 in the Mount Angel Tournament on Aug. 31, the second-ranked Buckaroos just shook it off and considered it as part of their growing process.
"The undefeated thing, that's just not even in our minds," coach Lesli Hiller said. "It wasn't like devastating that we lost because we sold ourselves on a tough schedule this year. Regardless of wins or losses, we want to play at a higher level."
It certainly didn't help St. Paul that senior middle blocker Erin Counts suffered a concussion in the middle of the third set against Kennedy, ranked No. 1 in the OSAAtoday 2A coaches poll.
The Buckaroos (10-1) showed their depth in the following week without Counts, though, by winning their next seven matches as junior Paige Curtis filled in at middle blocker alongside freshman Annabelle Davidson.
"It was actually nice because our third middle was able to play," Hiller said. "It got her some good time."
St. Paul – which lost only libero Emma Connor from its starting lineup of last season -- has beaten 3A No. 3 Salem Academy and three ranked 2A teams in No. 2 Weston-McEwen, No. 5 Portland Christian and No. 7 Vernonia.
"As far as 2A, we're doing pretty good," Hiller said.
The Buckaroos have one of the state's more dynamic hitters in Belle Wyss, a 5-foot-8 senior with a 26-inch vertical jump. She has 118 kills (3.8 per set) and a 46.8 percent kill rate.
"She's phenomenal to watch," Hiller said. "It's just fun to sit and watch her get up that high."
The 5-foot-10 Counts is averaging 2.3 kills and 1.8 blocks per set, killing at 35.5 percent. Senior setter Karlee Southerland has 98 assists (3.2 per set) and is serving at 97 percent.
Wyss, Counts, Southerland, junior setter Jordan Caldwell and senior Destiny Smith, who has moved from defensive specialist to libero, played key roles on last year's 30-0 team.
The Buckaroos got a boost this season with the addition of the Davidson sisters – 5-10 Annabelle and 5-10 junior outside hitter Mary – who transferred from Gervais.
With experience and some new pieces, the team's offense has evolved.
"We're doing some different things," she said. "We're mainly working on being quicker, and just being more effective with our locality as hitters. … Our setters are just amazing. They can pretty much set anything. A lot of the teams that we play, especially at the 2A level, are just amazed that we pretty much set up every ball."
Hiller said that Counts and Wyss "have improved quite a bit" as hitters.
"They continue to push themselves," she said. "They are really good at firing up the team. They're very positive on the court and real vocal in their excitement. Great leadership to have."
Counts, Wyss and Southerland also helped lead the basketball team to the state title last season. The Davidsons will join that mix this season.
The Buckaroos get a chance to face some strong 1A competition this week when they play at Crosshill Christian and No. 3. Perrydale in Casco League matches.
St. Paul plays host to a 12-team tournament Saturday that is loaded with top 1A and 2A teams. On Oct. 4-5, they will be in Arizona for the Nike Tournament of Champions.
One team not on St. Paul's schedule is 1A No. 1 Powder Valley, last year's state runner-up. The Buckaroos not only beat the Badgers in the volleyball final, but also for the basketball title, so a rivalry has developed.
"They look really strong," Hiller said. "We want to meet up with them. They invited us to their tournament, we invited them to our tournament, and neither of us could do it. It's a good rivalry to have. It's nice to have that team that you really look forward to that match."