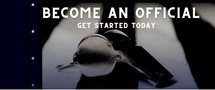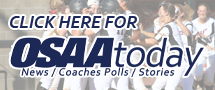 OSAA Awards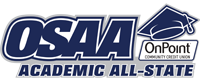 OnPoint Community Credit Union
Academic All-State
About This Award
The OnPoint Community Credit Union Academic All-State Program recognizes outstanding achievement in the classroom. The boys and girls team in each OSAA-sanctioned activity with the highest team grade point average (G.P.A.) earns the Academic All-State Award. Each member of a winning team receives a commemorative decal and a certificate. The school receives a plaque in honor of its team. Members of top ten schools in each activity at each classification are also recognized.
All teams that earn a 3.0 GPA or higher will receive 25 points for their school in The OSAA Cup standings. Teams in the Top 10 in an activity receive additional points, according to the scoring system outlined
here
. A list of all teams with a 3.0 GPA or higher will also be posted to the OSAA website.
Previous Winners
Overall Winners by Activity for 1997-2007 (PDF)
Select a school year from the drop-down list above to view a past year's Academic All-State results.
Submitting Nominations
Every season, each full member school has the option to submit a
OnPoint Community Credit Union Academic All-State Nomination Form
for each hosted activity.
School administrators can access these forms from the "My Account" page under the "Academic All-State" sub-tab.
On these forms, you will list the entire varsity team only. You do not include sub-varsity participants. Do not combine boys and girl teams, each activity has a separate form.
Use the most recent, unweighted, transcripted grades included on each student's transcript. Do not use cumulative GPA. Be sure to include all co-op students and their GPA from his/her cooperating school.
If a student's grades were not earned at your high school or cooperating high school during the previous transcripted grading period, please list his/her name and leave the GPA field blank. (For example: first term freshman, home school students, new exchange students, new transfer students.)
There must be a minimum of 5 students with a GPA entry in order to submit a nomination form.

Les Schwab Tires Team of the Month
About This Award
Each month throughout the school year (September through May) Les Schwab Tires and the OSAA will recognize a varsity team of the month for each of the six classifications. Each winning team will be chosen based on performance, dedication in the classroom, and service to the community.
The Les Schwab Tires Team of the Month will be selected from nominations. To nominate a team for consideration, please fill out the form below. The deadline is the 25th of each month (i.e. September deadline is September 25).
Each winner of the Les Schwab Tires Team of the Month award will receive a commemorative trophy and $100 will be donated to the team's program, courtesy of Les Schwab Tires. The winning teams will also be celebrated by the their local Les Schwab Tires store. Winners will be announced on the OSAA website and across OSAA social media platforms.
2018-2019 Team of the Month Winners
2019-2020 Team of the Month Winners
2020-2021 Team of the Month Winners
2021-2022 Team of the Month Winners
2022-2023 Team of the Month Winners
Month
Classification
School
Activity
September 2022
6A
Reynolds
Speech
5A
Caldera
Girls Soccer
4A
Scappoose
Boys Soccer
3A
Amity
Girls Soccer
2A
Weston-McEwen
Football
1A
Siletz Valley
Football
October 2022
6A
McNary
Boys Soccer
5A
Central
Cheerleading
4A
Marist Catholic
Girls Soccer
3A
Sutherlin
Girls Soccer
2A
Umatilla
Football
1A
Rogue Valley Adventist
Volleyball
November 2022
6A
Sunset
Girls Cross Country
5A
McKay
Boys Soccer
4A
Ontario
Boys Soccer
3A
Banks
Girls Soccer
2A
Stanfield
Boys Cross Country
1A
Spray/Mitchell/Wheeler
Football
December 2022
6A
Lincoln
Boys Basketball
5A
Dallas
Wrestling
4A
Astoria
Girls Basketball
3A
McLoughlin
Girls Soccer
2A
Toledo
Girls Basketball
1A
Lost River/Bonanza
Boys Soccer
January 2023
6A
Tualatin
Girls Basketball
5A
Mountain View
Wrestling
4A
Klamath Union
Girls Basketball
3A
Sheridan
Cheerleading
2A
Central Linn
Girls Basketball
1A
Open Door Christian
Boys Basketball
February 2023
6A
Oregon City
Cheerleading
5A
South Albany
Girls Basketball
4A
The Dalles
Swimming
3A
Scio
Cheerleading
2A
Illinois Valley
Wrestling
1A
Gilchrist
Wrestling
March 2023
6A
Gresham
Boys Basketball
5A
Crescent Valley
Boys Basketball
4A
Gladstone
Girls Basketball
3A
Oregon Episcopal
Boys Basketball
2A
Monroe
Girls Basketball
1A
Cove Charter
Boys Basketball
April 2023
6A
Sheldon
Softball
5A
Ridgeview
Baseball
4A
Baker
Girls Basketball
3A
Creswell
Softball
2A
Bandon
Band
1A
Pine Eagle
Boys Track & Field
May 2023
6A
West Salem
Boys Tennis
5A
Summit
Girls Tennis
4A
Crook County
Girls Golf
3A
Siuslaw
Boys Golf
2A
Willamina
Softball
1A
Trinity Lutheran
Choir
The OSAA Cup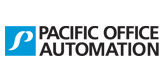 Presented by Pacific Office Automation
Updated 06/22/2022

Results for the 2021-22 OSAA Cup presented by Pacific Office Automation
6A

#
School
Pts
1
Jesuit
3381.3
2
West Linn
3283.75
3
Lake Oswego
3007.5
4
Summit
2888.3
5
Lincoln
2600
6
Tualatin
2583
7
Lakeridge
2530
8
Tigard
2527.5
9
Grant
2523.75
10
S. Salem
2486
11
Sherwood
2315
12
Central Catholic
2263.75
13
Barlow
2182.05
14
Clackamas
2113.75
15
S. Eugene
2086.25
16
West Salem
2084.55
17
Ida B. Wells
2063.75
18
Bend
2042.5
19
Sunset
2041.25
20
Mountainside
2025
21
Oregon City
1946.25
22
Newberg
1906.25
23
Westview
1901
24
Cleveland
1840
25
Nelson
1781.25
26
S. Medford
1757.5
27
McMinnville
1756.25
28
Canby
1711
29
Grants Pass
1695
30
McNary
1640
31
Beaverton
1605
32
Sprague
1595
33
David Douglas
1552.5
34
Mountain View
1390
35
Forest Grove
1371.75
36
N. Medford
1330
37
S.ridge
1255
38
Jefferson, Portland
1241.25
39
Franklin
1220
40
St. Mary's Acad.
1218.1
41
Sheldon
1195
42
Roseburg
1081.25
43
McDaniel
1008.75
44
Sandy
990
45
Glencoe
985
46
McKay
972.5
47
Roosevelt
962.5
48
Gresham
892.5
49
Benson
757.5
50
Caldera
755
51
Reynolds
720
52
Liberty
666.25
53
Century
617.5
54
Aloha
475
55
Centennial
455

6A
5A

#
School
Pts
1
Wilsonville
4052.5
2
Crescent Valley
3662.5
3
La Salle Prep
2780.4
4
Silverton
2507.5
5
Corvallis
2444.8
6
Pendleton
2338.75
7
West Albany
2318
8
Churchill
2307
9
Putnam
2258.75
10
Redmond
2204.75
11
Ashland
2199
12
Ridgeview
2183
13
Crater
2060.3
14
N. Bend
2008.75
15
Thurston
1945
16
Crook County
1893.7
17
Willamette
1773.75
18
Scappoose
1646
19
Dallas
1637.05
20
Hillsboro
1606.65
21
Central
1596.25
22
Parkrose
1495.4
23
Hood River Valley
1435
24
Lebanon
1435
25
N. Salem
1412.5
26
St Helens
1405
27
The Dalles
1373.75
28
N. Eugene
1327.5
29
Eagle Point
1102.5
30
S. Albany
1067.5
31
Milwaukie
940
32
Springfield
695

5A
4A

#
School
Pts
1
Philomath
3052.5
2
Valley Catholic
2614.15
3
Marist Catholic
2566.25
4
La Grande
2342.5
5
Henley
2340
6
Cascade
2265
7
Marshfield
2245
8
Baker
2216.25
9
Molalla
2042.5
10
Tillamook
2019.15
11
N. Marion
1848.75
12
Stayton
1830
13
Hidden Valley
1795
14
Mazama
1793.25
15
Sweet Home
1785
16
N. Valley
1676.25
17
Cottage Grove
1551.25
18
Siuslaw
1515
19
Banks
1506.25
20
Astoria
1472.9
21
Woodburn
1467.5
22
Gladstone
1457.5
23
Sisters
1415
24
Newport
1280
25
Madras
1145
26
Seaside
1124.5
27
Junction City
1115
28
McLoughlin
1075
29
Ontario
1057.5
30
Corbett
1020
31
Phoenix
950
32
Estacada
937.5
33
Klamath Union
810
34
Elmira
525

4A
3A

#
School
Pts
1
St Mary's Sch.
2440
2
Catlin Gabel
2311
3
Cascade Chr.
2163.75
4
Santiam Chr.
2162.5
5
Burns
2075
6
S. Umpqua
1900
7
Nyssa
1846.25
8
Oregon Episcopal Sch.
1826.5
9
Blanchet Catholic
1795
10
Warrenton
1737.5
11
Riverdale
1722.5
12
Vale
1667.5
13
Yamhill-Carlton
1652.5
14
Sutherlin
1555
15
Pleasant Hill
1510.75
16
Westside Chr.
1377.5
17
Creswell
1375
18
Scio
1332.5
19
Brookings - Harbor
1312.5
20
Rainier
1255
21
Dayton
1184
22
La Pine
1120
23
Harrisburg
1080
24
Amity
1037.5
25
Horizon Chr. (Tual)
1032.5
26
Willamina
1020
27
Riverside
997.5
28
Taft
963.5
29
Douglas
880
30
Portland Adv. Acad.
850
31
De La Salle N. Catholic
720
32
Umatilla
585
33
Clatskanie
570
34
Salem Acad.
525
35
Irrigon
450

3A
2A

#
School
Pts
1
Regis
2023
2
Kennedy
1942.5
3
Bandon
1918.75
4
Salem Acad.
1645
5
Monroe
1515
6
Central Linn
1507.5
7
Oakland
1482.5
8
Grant Union
1427.5
9
Lakeview
1410
10
Coquille
1387.5
11
Weston-McEwen
1222.5
12
Culver
1201.25
13
Heppner
1195
14
Knappa
1155
15
Union
1115
16
East Linn Chr. Acad.
1102.25
17
Lost River
1100
18
Nestucca
1020
19
Toledo
985
20
Western Chr.
983.75
21
Neah-Kah-Nie
970
22
Jefferson
955
23
Enterprise
945
24
Stanfield
935
25
Delphian
930
26
Waldport
912.5
27
Glide
895
28
Oakridge
895
29
Lowell
890
30
Portland Chr.
865
31
Illinois Valley
855
32
Vernonia
797.5
33
Myrtle Point
785
34
Santiam
785
35
Gold Beach
760
36
Bonanza
752.5
37
Faith Bible
735
38
Sheridan
707.5
39
Mannahouse Chr. Acad.
705
40
Rogue River
667.5
41
Pilot Rock
662.5
42
Columbia Chr.
650
43
Colton
605
44
Gaston
600
45
Chemawa
600
46
Reedsport
530
47
Gervais
505

2A
1A

#
School
Pts
1
Crane
1765
2
St. Paul
1592.5
3
Adrian
1447.5
4
S.west Chr.
1447.5
5
N. Clackamas Chr.
1352.5
6
N. Douglas
1345
7
Powder Valley
1337.5
8
St. Stephen's Acad.
1276.25
9
Damascus Chr.
1225
10
Crosspoint Chr.
1070
11
Trinity Lutheran
1045
12
Joseph
1022.5
13
Country Chr.
1010
14
Imbler
1005
15
Ione
997
16
Rogue Valley Adv. Acad.
976.25
17
Perrydale
965
18
Cove
955
19
Dufur
935
20
N. Lake
885
21
Elgin
885
22
Crosshill Chr.
877.5
23
Echo
875
24
S. Wasco County
855
25
Riddle
830
26
Pine Eagle
813.75
27
Umpqua Valley Chr.
805
28
Jewell
800
29
Jordan Valley
800
30
Central Chr.
787.5
31
Horizon Chr., Hood River
781.25
32
Days Creek
775
33
Wallowa
757.5
34
Camas Valley
750
35
Elkton
737.5
36
Prairie City
730
37
Four Rivers
707.5
38
New Hope Chr.
700
39
Crow
680
40
Chiloquin
675
41
Condon
663.75
42
Trout Lake
655
43
Dayville
655
44
Pacific
650
45
McKenzie
650
46
Cascades Acad.
637.5
47
Glendale
630
48
Arlington
625
49
Bickleton
625
50
Klickitat
625
51
Livingstone Adv. Acad.
625
52
Long Creek
625
53
Lyle
625
54
Mitchell
625
55
Open Door Chr. Acad.
625
56
Powers
625
57
Trinity Acad.
625
58
Willamette Valley Chr.
625
59
Alsea
600
60
Burnt River
600
61
Butte Falls
600
62
Falls City
600
63
Glenwood
600
64
Grand View Chr. Acad.
600
65
Harper Char.
600
66
Huntington
600
67
Kings Valley Char.
600
68
Life Chr.
600
69
Milo Adv. Acad.
600
70
Monument
600
71
Oak Hill
600
72
Prospect Char.
600
73
Spray
600
74
Valor Chr.
600
75
Wheeler
600
76
Wishram
600
77
Nixyaawii
585
78
Yoncalla
580
79
Siletz Valley
575
80
Sherman
562.5
81
Gilchrist
537.5
82
Griswold
537.5
83
Mapleton
537.5
84
Mohawk
515
85
Veritas
510
86
Oregon Sch. f/t Deaf
500
87
Ukiah
500
88
Triangle Lake
475
89
C.S. Lewis Acad.
462.5
90
Paisley
425
91
Eddyville Char.
205

1A