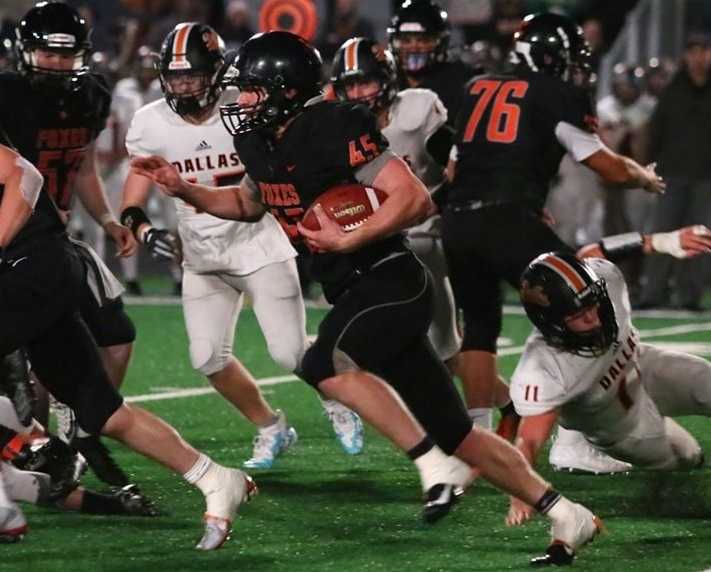 On a collision course all football season, No. 4 Silverton and No. 2 West Albany are bracing for impact Friday.
For the second year in a row, the Foxes and Bulldogs meet in the regular-season finale with the 5A Mid-Willamette Conference title on the line. But unlike last year, when Silverton won and shared the title with West Albany, both teams enter with 8-0 records.
"It's kind of like déjà vu," said Foxes coach Josh Craig, whose team is the host Friday.
The teams know each other well. They met twice last season, with Silverton prevailing 17-14 on the road in the conference game and West Albany getting payback two weeks later with a 20-16 win on the Foxes' field in the state quarterfinals.
If comparative scores in the Mid-Willamette mean anything, West Albany would appear to have a slight edge. But both sides are anticipating another battle to the final play.
"I think we're pretty evenly matched," Craig said. "Both teams are probably deeper than last year. If anything, I'd say it might be a little bit higher scoring, but it's going to be a dogfight."
West Albany coach Brian Mehl concurred.
"Silverton is a physical team. I'd like to think we're similar to that in a lot of ways," Mehl said. "We know it's a tough test. We have a lot of respect for what they're doing."
Perhaps the most intriguing aspect of the matchup is how Silverton's offense, with a sophomore quarterback in Jordan McCarty, will navigate a West Albany defense that is holding teams to a 5A-low 4.5 points per game.
The 6-foot-1, 165-pound McCarty, who replaced a three-year starter in Levi Nielsen, has passed for 1,152 yards and 12 touchdowns with no interceptions and rushed for 345 yards and eight scores.
"He's athletic enough to make plays when we don't see them there," Craig said. "It adds sort of an x-factor when we need it. He's probably the fastest player on the team. Levi was quick, but it took him a while to get going. Jordy's got that quick-twitch. In a second, he can be out of there."
Foxes senior running backs Hayden Roth (742 rushing yards, 14 touchdowns) and Nathan Kuenzi (642 yards, 10 touchdowns) have been "a huge part of salting away games," according to Craig. And sophomore receiver Grant Buchheit (28 catches, 643 yards, six touchdowns) is averaging 24.4 yards per catch.
"He's a good down-the-field threat, but he can also catch a little screen and take it the distance, too," Craig said. "He's super dynamic."
Silverton hasn't faced a defense like West Albany's, though. The Bulldogs have three shutouts and have held all but one foe to single digits, the only exception coming in a 48-13 win at Lebanon.
"They're super disciplined," Craig said. "They rarely let big plays go. They have a knack of letting what looks like a 30-yard play turn into an eight-yard gain. They tighten it up."
West Albany senior Porter Phillips, a 6-1, 210-pound defensive back who also plays linebacker, has 10 tackles for loss and is one of five Bulldogs to return an interception for a touchdown. The defensive line, featuring seniors James Burwell and Austin Leeper and junior TJ Zimmerman, has been suffocating.
On offense, West Albany can pound away with Phillips (954 rushing yards, 15 touchdowns) or open it up with senior quarterback Carson Van Dyke (1,248 passing yards, 18 touchdowns, two interceptions). Senior Connor Wolfe has caught 30 passes for 685 yards and 12 touchdowns.
"We're getting a lot more explosion plays than we did last year," Mehl said. "We were a little more conservative. We've hit some big plays in the running game and passing game. It's allowed us to get off and run and kind of control the game with what we do defensively."
The Bulldogs go up against a Silverton defense that is limiting teams to 11.0 points per game, down from 19.3 over the same span last season.
"They're just more understanding of our schemes," Craig said. "The football IQ has improved."
Craig said that junior Owen Magill is "a throwback, hard-nosed middle linebacker," and the Foxes are getting stellar play on the defensive line from Roth at end and senior Spencer Von Flue at tackle.
The game also is critical for securing a top-four spot in the OSAA power rankings and ensuring a quarterfinal home game. The teams enter Friday tied for third behind Thurston and Crater.
A glance at other key games in Week 9:
6A
No. 5 Jesuit (6-2, 4-1 Metro) at No. 7 Beaverton (7-1, 4-0): It's the biggest game in years for Beaverton, which can win its first Metro League title since going back-to-back in 2002 and 2003. But the Beavers will have to do it against the Crusaders, who are going for their seventh league title in a row. Jesuit has been steamrolling opponents with their offensive line and the running back tandem of Kade Wisher and Ted Atkinson. Beaverton hasn't beaten the Crusaders since 2003.
No. 6 Central Catholic (6-2, 3-0 Mt. Hood) at Clackamas (4-3, 3-0): The two division winners in the Mt. Hood Conference meet to decide the title for the second consecutive year. In last year's game, Clackamas held on for a 24-22 win when Richard Kennewell sacked Cade Knighton on a two-point conversion attempt with 19 seconds left. The Cavaliers have won the last three meetings, including 17-14 in the 2017 quarterfinals. Clackamas will be playing for interim coach Randy Fisher, the team's offensive coordinator, after first-year coach Terry Drake went on medical leave this week for the remainder of the season.
No. 2 Tualatin (7-1, 4-1 Three Rivers) at No. 1 Tigard (8-0, 5-0): A huge game between district rivals. Tigard will either win the Three Rivers League title outright or be forced to share it with the Timberwolves, who haven't won a league title since 2010, when they were 6A runners-up. Tigard has won the last three in the series, including 27-14 last year. Tualatin bounced back from a 34-20 loss to West Linn with a rollicking 34-8 win at reigning state champion Lake Oswego last week.
5A
No. 9 Parkrose (5-2, 4-1 Special District 1 East) at No. 5 Wilsonville (7-1, 6-0 Special District 1 West): A matchup of the two division winners in Special District 1. Parkrose has won five in a row since opening with losses to Prairie (Wash.) and Hood River Valley, but now must face the Wildcats, who have won 22 consecutive conference games. Wilsonville has won all 10 games between the teams since 2006 by an average of 41.1 points. The teams did not meet last year.
4A
Play-in round: Last week marked the end of the regular season in 4A. Friday's schedule has four play-in round games, with the winners advancing to the 16-team first round next week: Tillamook (5-3) at Elmira (4-4); Sweet Home (3-5) at Estacada (5-3); Crook County (4-4) at North Valley (5-3); and Valley Catholic (3-5) at The Dalles (4-4).
3A
No. 9 Vale (5-3, 3-0 Special District 3) at No. 4 Burns (8-0, 3-0): The Vikings and Hilanders face off to decide the district championship. The teams shared the title with Nyssa last year, when Burns defeated Vale 26-6, but the Vikings got revenge two weeks later in the quarterfinals, winning 36-14. The Hilanders, who have four shutouts and have allowed a 3A-low 37 points, will try to shut down Vale running back Keegan Mizuta, who rushed for 175 yards and four touchdowns against Umatilla last week.
2A
No. 4 Coquille (7-1, 3-0 Sunset) at No. 5 Toledo (7-1, 2-1): Coquille has clinched a share of its fourth conference title in five years, but can win it outright by beating the Boomers. Toledo can claim a share of the title with a win, and if that happens, Bandon (4-4, 2-1) can make it a three-way tie by defeating winless Gold Beach. Last year, Coquille blew away Toledo 69-42 by rushing for 655 yards, getting 366 from Ean Smith and 203 from Caiden Yates, who are seniors this season.
1A 8-man
No. 2 St. Paul (8-0, 5-0 Special District 1 North) at No. 6 Lowell (7-1, 5-0 Special District 1 South): Two of the state's highest-scoring eight-man teams – St. Paul first at 65.5 per game, Lowell fourth at 56.3 -- collide in a district crossover game. The Buckaroos have dominated the Red Devils in recent games, 76-6 in Week 9 last year and 68-18 on Sept. 20 this season. Both teams have qualified for the 16-team state playoff bracket.
No. 9 Pilot Rock/Nixyaawii (6-1, 5-0 Special District 3 West) at No. 1 Adrian/Jordan Valley (8-0, 6-0 Special District 3 East): The Rockets -- who suffered their first loss of the season last week, 48-36 to Powder Valley – will try to rebound in the district crossover game against the Antelopes, who defeated Powder Valley 84-26 on Oct. 11. Both teams have secured automatic berths to the state playoffs. Last year, Adrian beat Pilot Rock 52-14 in the crossover game and 26-8 one week later in the playoffs.
1A 6-man
No. 1 Joseph (6-0) vs. No. 2 South Wasco County (5-2) at Madras HS, Saturday: The Eagles and Redsides meet in the unofficial six-man championship game. In semifinal games Saturday, Joseph beat Prairie City 49-0 and South Wasco County topped Triangle Lake 57-20. The teams met Oct. 11 at South Wasco County, with the Eagles winning 25-13.