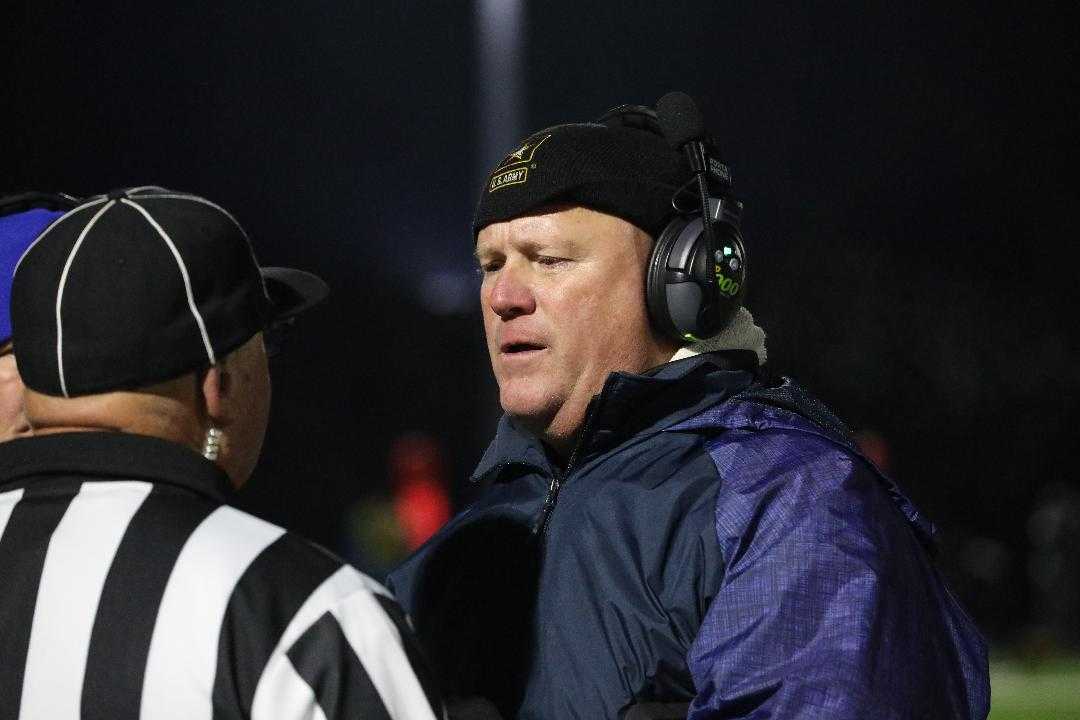 The 6A football semifinals have been an exclusive club in the last decade, aside from occasional outliers.
There was South Medford in 2017. Sherwood in 2015. West Salem in 2014. Tualatin and Aloha in 2010.
This year, though, the party-crasher comes from one of the most unlikely places. Barlow will become the first team from east Multnomah County to play in the semifinals since Centennial did it in 1993.
The Bruins, who last made it this far in 1991, are the blue-collar kid with a pass to the country club. The other three schools in the semifinals – blue bloods Central Catholic, Lake Oswego and Jesuit – have a combined 16 final-four appearances in the previous 10 seasons.
"We've always had kind of a little chip on our shoulder," Barlow coach Terry Summerfield said. "We pride ourselves on the fact that we want to play some physical football. We're playing private schools and schools from the west side."
The No. 9 seed Bruins (10-2), who have never appeared in a final, will be the underdog when they meet No. 4 seed Central Catholic (10-2) at 12 p.m. Friday at Hillsboro Stadium. And rightfully so, considering when the teams met in a Mt. Hood Conference game Oct. 25 at the same site, the Rams rolled to a 53-14 win.
Since that loss, however, Barlow has showed plenty of grit. The Bruins have won playoff games over Glencoe, Sheldon and Mountainside by a combined 11 points.
"The kids have taken it up a completely different notch," Summerfield said. "We've played a lot more physical once we got into the playoffs. They've kind of embraced that aspect of it. They've done a great job of making big plays throughout the games."
Central Catholic coach Steve Pyne, who has coached the Rams to 14 consecutive wins over Barlow, said the Bruins are "playing with great confidence."
"You've got a pretty veteran group there, and they don't panic in those situations," Pyne said. "They've executed late in all three of those games to pull out the win. At this point in time, everybody's here for a reason. You can't take anything for granted."
The Bruins are "more dialed in and disciplined" than they were in October, according to Summerfield.
"We're a different football team," he said. "We're very humble about what we've been given, and appreciative, but we're here for the long haul."
To have a chance against Central Catholic, Barlow must control the ball and play a clean game. In the loss last month, bad snaps and short punts contributed to the Bruins digging a 20-0 hole in the middle of the first quarter. They trailed 39-7 at half.
"We've just got to do what we can to not let them have the ball," said Summerfield, who was Central Catholic's coach from 1992 to 1997. "The key is doing as much as we can, hanging onto the football, and stay in long drives, and we have to get something out of those."
The Bruins haven't beaten themselves in the playoffs due in large part to the veteran play of quarterback Jaren Hunter, a 6-foot-3, 210-pound senior.
The future Oregon State baseball player helped direct Barlow back from a nine-point, fourth-quarter deficit to beat Mountainside 20-16 in the quarterfinals. For the season, Hunter has thrown for 2,475 yards and 21 touchdowns with four interceptions and has rushed for 460 yards and 11 touchdowns.
"Jaren's just a field general," Summerfield said. "There are times in a game when he might actually call 30, 40 percent of the plays. We give him the freedom. He's so cerebral."
Hunter's main targets are 6-3 senior Durham Sundberg (44 catches, 827 yards, nine touchdowns) and 5-7 senior Josh Nomie (36 catches, 561 yards, five touchdowns). Senior Nick Collins has a team-high 550 rushing yards.
The Bruins are running into a highly motivated Central Catholic team. The senior-dominated Rams, who lost in the quarterfinals the last two years after finishing as runners-up in 2016, advanced to the semifinals with a 42-35 win over West Linn.
Central Catholic senior quarterback Cade Knighton, a fourth-year starter, has completed 72.5 percent of his passes for 2,815 yards and 33 touchdowns with four interceptions. Stanford-bound senior receiver Silas Starr, another fourth-year starter, has 102 catches for 1,051 yards and 11 touchdowns. Senior Elijah Elliott has rushed for 830 yards and 11 scores.
The chemistry between Knighton and Starr runs deep.
"Those two are pretty much in lock-step with each other," Pyne said. "They've thrown and caught a lot of balls from each other over the years."
In the first meeting, Central Catholic amassed 431 total yards. Knighton was on point in an abbreviated performance, completing 12 of 14 passes for 177 yards and two touchdowns.
"Cade's been unbelievably efficient this year," Pyne said. "His process, his clock, has slowed down, which makes him quicker to his decisions. And he's been able to keep plays alive with his feet a lot better this year."
The Rams suffered a blow in the quarterfinals when senior left tackle Andrew Gross, first-team all-conference, went down with a broken tibia and fibula. Senior Logan Nomura will start in his place Friday.
"It's a pretty big loss for us," Pyne said. "He was kind of the heart of our offensive line."
Barlow is healthier than it was in the first meeting with Central Catholic. The Bruins were missing a handful of players, including Nomie, a key contributor not only at receiver, but also in the secondary.
If the Bruins have an advantage in the rematch, it's that they have far exceeded expectations and can play fast and loose.
"You never know what could happen," Summerfield said. "Who would've thought that Tigard would've lost to Mountainside, or us beating Sheldon? Anything can happen on any given night, especially if somebody's not ready, and things aren't going exactly their way."
A look at the other 6A semifinal:
No. 3 Lake Oswego (10-2) vs. No. 2 Jesuit (10-2), 5 p.m. Friday, Hillsboro Stadium: A rematch of a Week 2 nonleague game, won by reigning 6A champion Lake Oswego 44-41. In that game, the Lakers built a 17-point lead in the first quarter and held on behind senior tailback Casey Filkins, who rushed for 227 yards and four touchdowns on 24 carries. Jesuit was missing one of the state's top recruits in California-bound senior linebacker and running back Andy Alfieri, who was believed to be lost for the season with a cracked vertebra but made it back to play in the last two games. The Crusaders also didn't have their big-play threat at wide receiver at Joey Gatto, who was out with a groin injury. … Lake Oswego, which started the season with junior JJ Woodin at quarterback, has modified its offense in the playoffs as the Stanford-bound Filkins (2,162 rushing yards, 35 touchdowns) now takes the majority of the snaps. In three playoff games, he has rushed for 721 yards and 12 touchdowns and thrown two scoring passes. … Jesuit has won eight in a row since a 42-41 overtime loss to Aloha. The streak includes a 42-26 win over semifinalist Central Catholic. The Crusaders have been trampling opponents with their prolific running game, averaging 327.5 rushing yards per game. Senior Kade Wisher ran for 330 yards and four touchdowns in a 42-28 semifinal win over Tualatin, giving him 2,296 yards and 30 scores for the season. Senior Ted Atkinson has rushed for 1,295 yards and 21 touchdowns. … Jesuit hasn't advanced to the final since 2015, when it defeated West Linn 21-14 for the title. … The Crusaders and Lake Oswego are meeting in the playoffs for the third year in a row. The Lakers beat Jesuit 48-17 in the 2017 quarterfinals and 24-14 in last year's semifinals. Lake Oswego has won nine of the 14 meetings since 2006, including four of the five playoff matchups. … Lake Oswego is making its 14th semifinal appearance, including its 12th since 2001. Jesuit is in the final four for the 19th time, the 12th time since 2004.