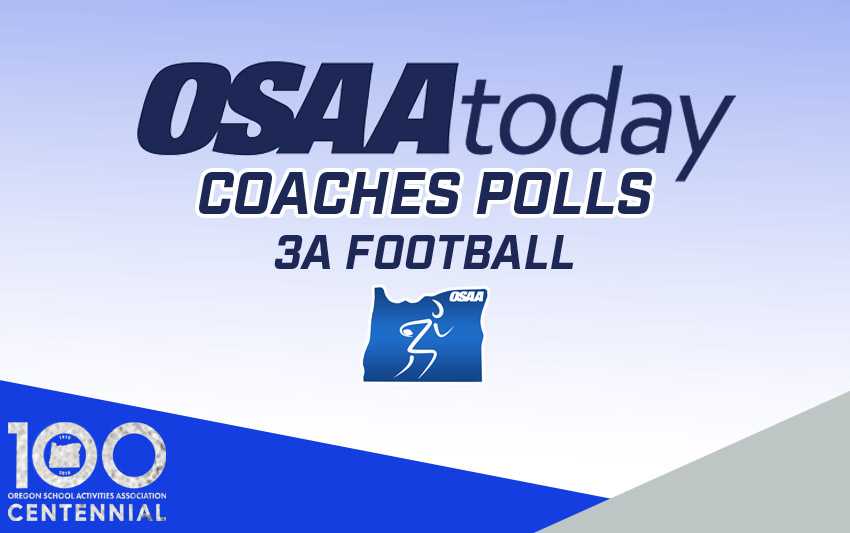 Week 3 Statewide Football Coaches Poll 3A
OSAAtoday presents its weekly 3A Football Coaches Poll. Thanks to all the coaches who took the time and had the expertise to contribute their opinions to this endeavor.
Please note: these polls are for generating interest and discussion only and have no impact on the OSAA's RPI and Colley ratings that form the basis of the OSAA's rankings for playoff purposes.
3A
1. Clatskanie (5) [1] 3-0 101
2. Rainier (5) [2] 3-0 99
3. Amity [3] 3-0 67
4. Burns [7] 3-0 65
5. Cascade Christian (1) [5] 2-1 60
6. Madras [9] 2-1 36
7. Harrisburg [3] 2-1 35
8. Santiam Christian [6] 2-1 33
9. Nyssa [nr] 2-1 24
10. Scio [nr] 1-2 15
First-place votes in parentheses
Last ranking in brackets
Record listed is what's posted on www.osaa.org
Others receiving significant votes: Brookings-Harbor (14), Vale (11)
Notes: Amity rolled up 560 yards of offense in beating Salem Academy 47-7. Brian Hatch and Cody Dyche each had two interceptions for Amity. … Rainier amassed 389 rushing yards in a 28-6 win over Madras. … Cascade Christian's Kiegan Schaan threw four touchdown passes, and had two interceptions on defense, returning one for a score, in a 52-20 win over Harrisburg. Eagles running back Gabe Knox rushed for 117 yards before leaving with a leg injury in the third quarter. … Vale couldn't hold a 16-14 lead and fell to Weiser (Idaho) 31-16. ... Burns held La Pine to 122 yards in a 43-0 win. Josh Reagle rushed for 165 yards and three touchdowns and Dawson Williams scored touchdowns on an interception return and 13-yard catch for Burns. ... Clatskanie plays at Rainier on Sept. 28.