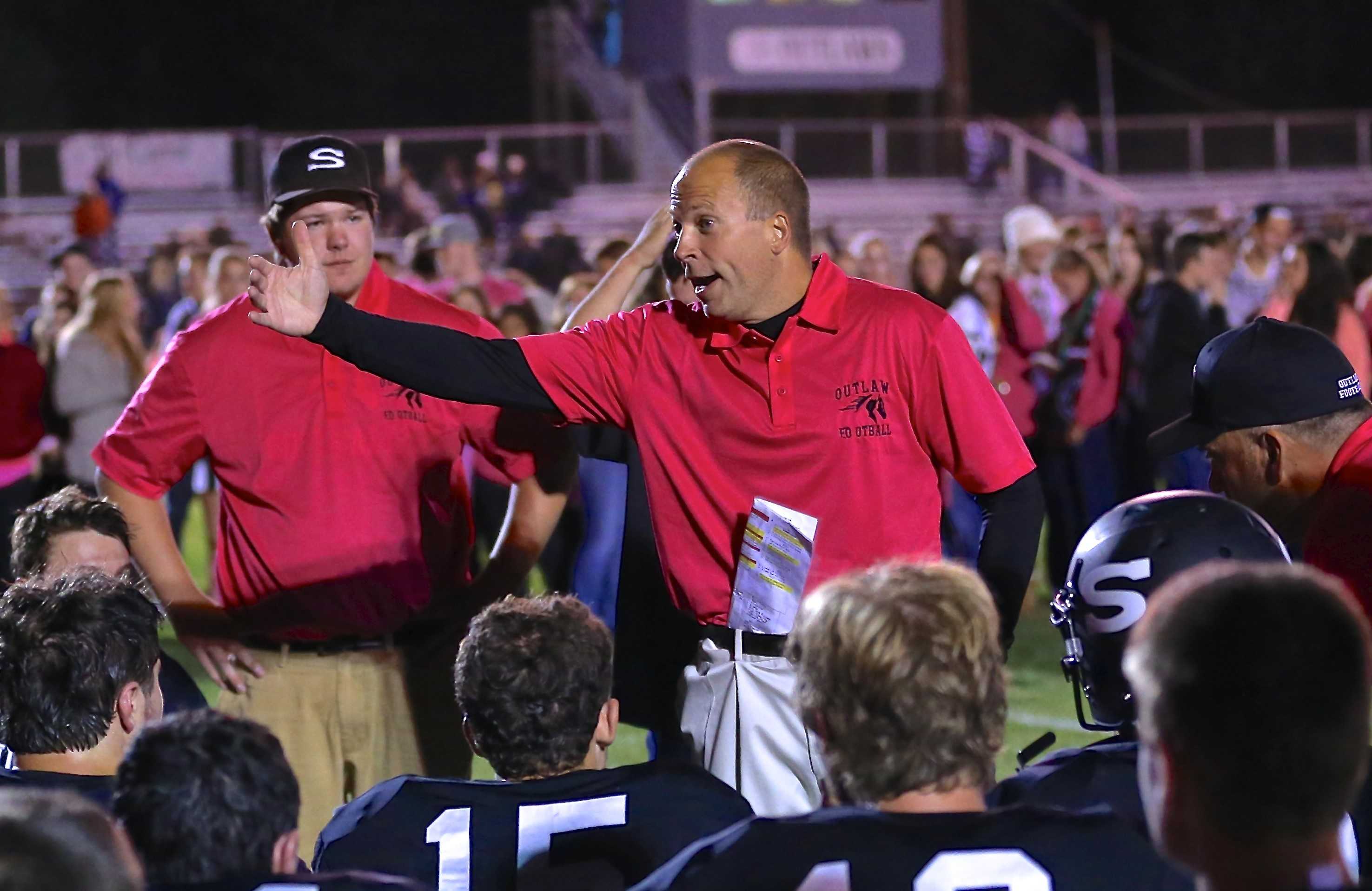 Since becoming the athletic director at Sisters in 2017, Gary Thorson has missed coaching. Now, he will get all he can handle.
Two months after taking over as the Outlaws' head wrestling coach due to the lack of a qualified candidate, Thorson has agreed to do the same for football.
"I was wanting to get back into coaching, but not this much," Thorson said with a laugh. "It'll be interesting around the Thorson household, at least until February, I would say."
It will be the second stint as the school's football coach for Thorson, who went 19-9 from 2014 to 2016. He replaces Neil Fendall, who went 6-18 in the last three seasons, including 2-6 last year.
Fendall announced he was stepping down two weeks after last season to pursue an administrative degree and watch his son, Taylor, play quarterback at Linfield. But Fendall, who assisted Thorson in 2015 and 2016, has agreed to return as an assistant this season.
"We both saw the need," Thorson said. "With us not finding that right candidate, we're both going to step in there and make sure kids get a great experience this year. We're familiar with working with each other. I think we have a good plan in place if we can get some football."
Thorson has compiled a 72-43 record in 11 seasons as a head coach, going 21-20 at Grant (2001-04), 10-11 at Dallas (2005-06) and 22-3 at Dayton (2010-11) before taking over at Sisters. He had state quarterfinal teams at Grant (2004) and Dallas (2006) and took Dayton to the 3A semifinals (2010) and championship game (2011).
He went 5-5, 7-1 and 7-3 in three seasons at Sisters, losing in the first round of the 4A playoffs in 2014 and 2016. Those were the last playoff appearances for the Outlaws, who will move to 3A this year after meeting OSAA criteria to drop down one classification.
Thorson said that Fendall did a "great job" despite the recent struggles.
"Even though they weren't where they wanted to be in the win-loss column, the number of athletes going out for football was increasing, which is rare in high school football these days," Thorson said. "That shows you what kind of person he is and what kind of program he had established."
Sisters has a history of success. The Outlaws have won five titles, the most recent in 1998 and 1999, and finished second in 2006 and 2007.
"I think there's a hunger for football to get back up there," Thorson said. "I think all the pieces are there. Neil was building it. It was on its way back. We've just got to capitalize on the momentum that he had going."
The turnout was in the lower 40s last season, but Thorson said he has reason to believe it will be in the mid to upper 40s this season. Sisters is a developing community that could benefit from families seeking to move away from more populated areas, according to Thorson.
"We've heard that from parents who have already made the switch, that they're no longer happy with what they're seeing in some of the bigger cities," Thorson said.
Thorson and Fendall, who also coached together at Linfield, are eager to team up again. Thorson ran the wing-T offense at Sisters, but the Outlaws will stick with the veer installed by Fendall, in part because of the lack of preparation time heading into the season.
"Neil's an unbelievable assistant, and I've got a handful of other guys on the staff who are experienced and know it very well," Thorson said.
Thorson said he will lean heavily on his assistants in wrestling, a sport he hasn't coached since early in his career. He sees himself as a "director of operations," with the assistants doing much of the teaching.
Establishing a youth wrestling program is a priority for Thorson. He believes Sisters has great potential in wrestling.
"As an athletic director I really wanted to get that program going, and now I really want to get my hands on it and get it going," he said.
Thorson knows his plate will be full in 2020-21, but he is looking forward to it.
"If it was a deal where I was trying to solo both of those things, I couldn't, and I wouldn't," he said. "But I feel good in both cases, the help that I have."