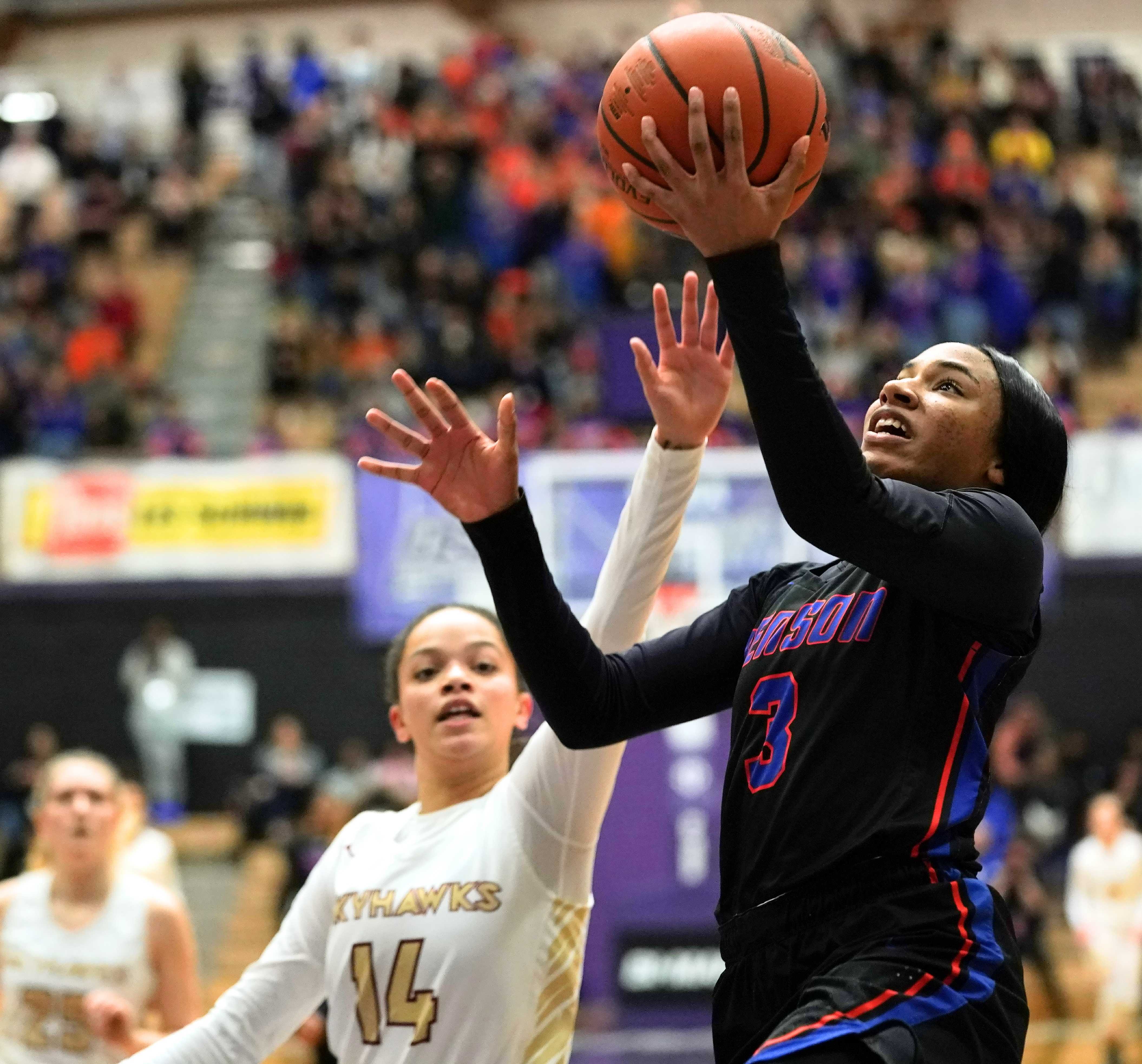 PORTLAND – It was just "ping-ping, zip-zip" – to borrow their terminology – and the Benson Techsters cut down mighty Southridge.
In one of the more impressive state-championship performances in recent memory, Benson passed circles around two-time reigning champion Southridge to win 66-42 in the final of the OSAA / OnPoint Community Credit Union 6A girls basketball tournament Saturday night at the Chiles Center.
The ball never sticking, the Techsters recorded 22 assists on 25 field goals and shot 50 percent, executing with precision to win their first state championship.
"Ping-ping, zip-zip," Benson senior point guard Ciera Ellington said. "Ping-ping is passing the ball, and zip-zip is cutting. Just playing very unselfish basketball. That was just our game plan. We stayed true to Benson."
The game couldn't have played out more perfectly for the Techsters, who scored the first six points and never trailed.
"We did something that everybody thought we wouldn't do, and we just blew everybody away," Benson senior wing Tayler Lyday said. "We did our game, and we just showed that we've been working real hard for this. It feels like a dream."
Benson coach Eric Knox said his team "absolutely shocked the world."
"Southridge is an amazing team," Knox said. "They're two-time defending state champions, and I didn't expect the game to break that way, but our girls are hungry and they just went at them. They were fearless."
The Techsters had been gunning for Southridge since last season, when they lost to the Skyhawks in a nonleague game and 46-27 in the state final. Southridge beat Benson 55-50 in the POA Holiday Classic in December, but the Techsters sensed they were ready to take down the Skyhawks.
"Like I said early in the season, Southridge puts their shoes on the same way we do. They put their jerseys on the same way we do," Benson senior guard Makenzy Porter said. "And we believed that throughout the whole season. We weren't working to play Southridge, we were working to play ourselves."
Ellington finished with 20 points, eight assists, six rebounds and three steals to lead No. 2 seed Benson (26-4). Lyday had 15 points and eight rebounds, junior forward Aujae Yoakum had 13 points and eight rebounds and junior guard Bria Dixson added 12 points and seven assists.
Knox came with a plan. He put Ellington at the high post and forced Cameron Brink, Southridge's 6-foot-5 center, to make a choice as the anchor of the zone defense. She could sit back and let Ellington pop short jumpers, or come out and risk giving up easy baskets on back-cuts.
"I thought it was brilliant," Lyday said. "It worked a lot. We watched last game when they ran the same zone, and Cameron didn't really come up."
Four of Ellington's assists went to Lyday, who repeatedly got open behind Brink. Ellington also made 8 of 13 shots, many of them just outside the long reach of Brink.
"I knew she was long. Her wingspan is crazy," Ellington said of Brink. "So I was like, 'If I try to drive, she's going to block it. So I'm going to get her up in the air, and get it to Tay,' and it worked, thankfully."
The Techsters came out with more intensity than Southridge, and each basket seemed to crank it up another notch. At times, Benson's energy and execution appeared to demoralize the Skyhawks.
"They got the lead early and we weren't as composed as I would like us to be," Southridge coach Michael Bergmann said. "It was one of those days. I think we came out with the idea of having energy, but we got down a little bit, and it's new territory, and we started doubting a little bit. And that's where the energy went down."
Even with Brink and junior point guard McKelle Meek -- starters on the last two championship teams – the top-seeded Skyhawks (25-4) were overwhelmed by the Techsters. It didn't help Southridge that one of its starters, sophomore guard Maya Hoff, was out after taking a hard fall in the semifinals.
"Benson was the better team tonight," Meek said. "They came out ready to play and we didn't. They knew our stuff. They scouted us well. We didn't play our game tonight."
Said Brink: "I think they wanted it more than we did. We came out slow and then they took advantage of it."
Benson led 16-6 after one quarter, and after Southridge closed within 22-20, the Techsters scored 11 consecutive points to lead 33-20 at half. The surge included two three-pointers by Dixson and a triple by Porter.
Ellington hit two jumpers to start the second half to make it 37-20, and the lead grew to 46-24 on a three-pointer by Yoakum. The Skyhawks got within 52-39 on a putback by Brink with 6:22 left, but could get no closer.
Benson, which started four seniors, appeared hungrier than the senior-less Skyhawks.
"They are some great players, and they're going to be good next year, too, but we're seniors and we didn't want to lose anymore," Porter said. "We wanted to definitely bring that trophy home with us."
It is Benson's first title in any sport since both track teams won championships in 2004.
"Benson has always been like the laughingstock," Ellington said. "People always are like, 'Why didn't you go to Grant? Why didn't you go somewhere?' But I love Benson. … We're not a laughingstock anymore."
Brink finished with 23 points, 16 rebounds, three blocks and two steals to lead Southridge. She made 11 of 20 shots, but the Skyhawks shot 33.3 percent as a team.
Ellington and Brink – who have committed to Loyola Marymount and Stanford, respectively -- were the only unanimous selections for first-team all-tournament. Ellington said that Brink had a word for her as they accepted their awards.
"She said she looked up to me," Ellington said. "That means a lot, because us and Southridge, on the court, it looks like we hate each other. But that means a lot because I respect her.
"I told her that she's going to go kill it at Stanford, and I truly believe that. She's a great player. I expect her to be somebody big one day. I'm rooting for her."
But this was Benson's night. And according to Ellington, it was a win that went beyond the doors of the northeast Portland school.
"This really meant something for all the black and brown girls in Portland," Ellington said. "If they put their mind to it, they can achieve anything. We've dealt with adversity, haters, injuries – everything you could think of, we had to deal with it. We want to be an inspiration to them."
And the Techsters also struck a blow for the Portland Interscholastic League.
"Don't sleep on the PIL," Ellington said. "We have players there, too. It's not just boys basketball. Girls can do it, too."