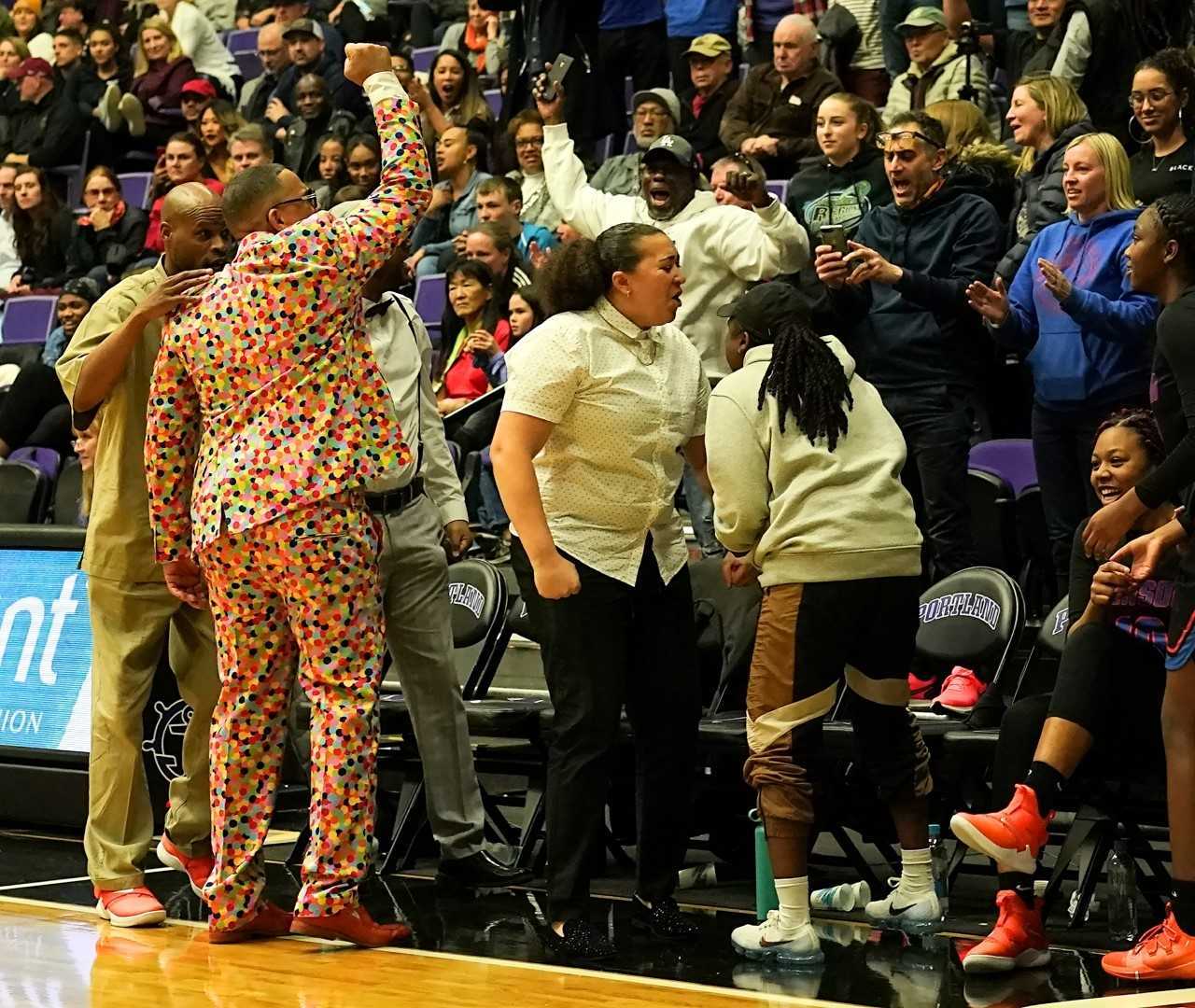 The first time Benson girls basketball coach Eric Knox walked into the room wearing an outlandish suit, his players were speechless.
It was a Christmas suit with bells on it that he wore for a mid-December game between the Techsters and Jesuit in 2017. Almost immediately, the players whipped out their phones and started taking pictures of their coach, who looked as if he'd lost his mind.
And that reaction has been commonplace at Benson. Anyone who has attended Benson games cannot help but notice Knox in his different, vibrant suits that have become a staple in the past two seasons.
The meaning of the suits goes much deeper than the fabric, though. They have complex themes and represent a journey; which was capped off with a confetti suit that Knox wore when his team defeated two-time reigning champion Southridge 66-42 in the final of the OSAA / OnPoint Community Credit Union 6A tournament Saturday at the Chiles Center.
"I've been waiting all week, and this is the confetti suit," Knox said after leading Benson to its first title. "I've been telling people that this year is just the year of celebration. This suit to me represents a celebration."
Knox started wearing the suits a season ago to send a personal message to his players, but also to take some pressure off of them.
"My kids live with a lot of pressure," he said. "They're black and brown kids in the whitest state in America, and they feel that pressure.
"Not only that pressure from the state. I think they feel like they are carrying the burden of their own north and northeast community. The black community really rides hard for its sports teams, and I wanted to take that pressure off them. I start wearing all them crazy suits to say 'Hey, let's just go out there and have fun. It's a big stage, but this is the most fun time of your life so go out and make the most of it and do it with joy.'"
The attitude behind the suits rubbed off on the Techsters.
"He's not afraid to put himself out there, to be embarrassing or different, so why wouldn't we go out and do the same?" Benson senior Ciera Ellington said.
"Everything isn't so serious. It's OK to be happy and be yourself in big moments. If you stay calm, cool, collected, and yourself, you will be just fine. ... The suits just further represented what being a part of Benson girls basketball is like.. We have a lot of character and swag to us that just adds to our game."
Said Benson senior Makenzy Porter: "It meant a lot to us because he always had different tricks up his sleeves and different reasonings behind his suits. He did it to take the pressure off us sometimes, too."
And a lot more thought was put into these gameday suits than just scrolling through a website and thinking what would look cool. All the different suits that Knox has worn have had different themes that are relevant to the team.
For example, last season Knox noticed that a lot of people were talking about the Techsters in the future tense saying that "one day, they would be good." For the semifinals of the 6A state tournament last season he came out in a futuristic suit. He wanted to let the players know that the future was now and that it was time for them to capitalize on all their work.
Another notable suit that meant a lot to Knox was a superhero suit he wore near the beginning of this year's state tournament. The superheroes represented the players who he describes as living heroes to black and brown youth in the area. He said he wanted his girls to come out and "show their superpowers."
Knox said his favorite had to be the money suit that he wore last year. He loved how it looked, and the message was that they had been laboring for a long time and that it was time for them to enjoy the fruit of their labor. It was time for them to "get paid."
According to Porter, the suit that garnered the biggest reaction from the players was another Christmas-themed suit that he wore during the first game of a holiday tournament against Tigard a year ago that looked more like an ugly sweater.
"It was so random and unexpected," Ellington said.
Despite all the themes that the suits portray, the underlying message is simple.
"I just say 'Let's go out there and be different. You're different, so I'm going to be different,'" Knox said. "I always give them permission to be themselves, the best version of themselves, and the suits in so many regards represent that."
Knox stores the suits in his closet at home. They are kept as mementos of the team's journey to its first state title.
One suit will be missing from his personal collection, though. The confetti suit will be stored with the championship trophy at Benson.
Next season Knox is ready to embark on another adventure. One that will surely need more suits.
"It's time to tell a new story," Knox said when asked about some of his future ideas. "I don't know what that story is; it's to be continued. I haven't even thought that hard, I'm just thinking about now and this night so we'll see."
Kyle Pinnell is a junior at Southridge