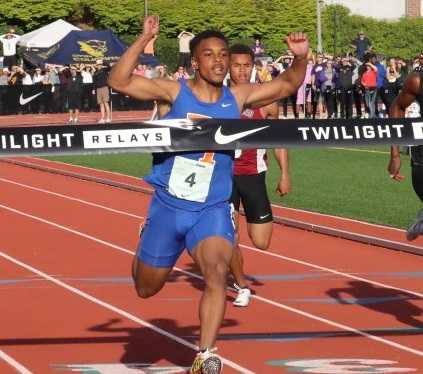 PORTLAND -- Benson junior Micah Williams became the fastest 100-meter high school sprinter ever from the West Coast on Friday at the Nike Jesuit Twilight Relays.
Williams, cheered by a big crowd and running in perfect conditions, ran 10.21 seconds.
That's faster than the Oregon high school best of Aloha's Thomas Tyner, who ran 10.35 in 2011. And it's also faster than the Washington high school record of 10.27 by Ja'Warren Hooker in 1997, or the California record of 10.25 by Henry Thomas in 1985.
"It feels good," Williams said. "It shows that all my hard work is starting to pay off. It's a marker of things I want to do in the future and I just want to keep pushing it farther."
Williams, who had a previous best of 10.37 seconds from 2018, was primed for a breakout race this spring -- and performance to reflect the level of his training.
"I didn't think he'd run that fast because he's had a big workload with our other sprint coach (John Mays)," Benson coach Leon McKenzie said. "He's been putting in some massive intervals and we said let's get a good solid race here at Jesuit and we'll run faster later on."
The country has been abuzz this week over Strake Jesuit (Texas) senior Matthew Boling running 9.98 last weekend. That race was wind-aided, with a 4.2 meters-per-second tailwind. It's the fastest 100 by a prep run under any conditions.
Williams' 10.21 is the fastest wind-legal time in the country this spring and moves him into a tie for No. 16 all-time in U.S. history.
"I drove longer, I stayed patient and I didn't let anyone distract me in my race," Williams said. "All the hard work I'm doing, everyone's starting to see it now."
Four weeks ago, Williams broke the Oregon high school record in the 200 meters when he ran 21.03 seconds.
Last summer, Williams anchored the U.S. team to a gold medal in the 4x100 relay at the IAAF U-20 World Championships in Finland. In doing so, at 16, he became the youngest U.S. male to win a gold medal at the prestigious global meet.
Elsewhere at the Nike Jesuit Twilight Relays, Seaside's Gretchen Hoekstre became the second Oregon high school girl to surpass 50 feet in the shot put. Her mark of 50 feet, 1.50 inches moved her to No. 1 in the country.
In the elite miles, Lexy Halladay of Mountain View (Idaho) ran 4:46.98 to edge Summit's Fiona Max (4:48.30) in the girls race. In the boys race, Nathan Green of Borah (Idaho), a sophomore, ran 4:07.84 for the win. Ashland junior E.J. Holland was second with 4:10.11.
Doug Binder is the editor of DyeStat.com