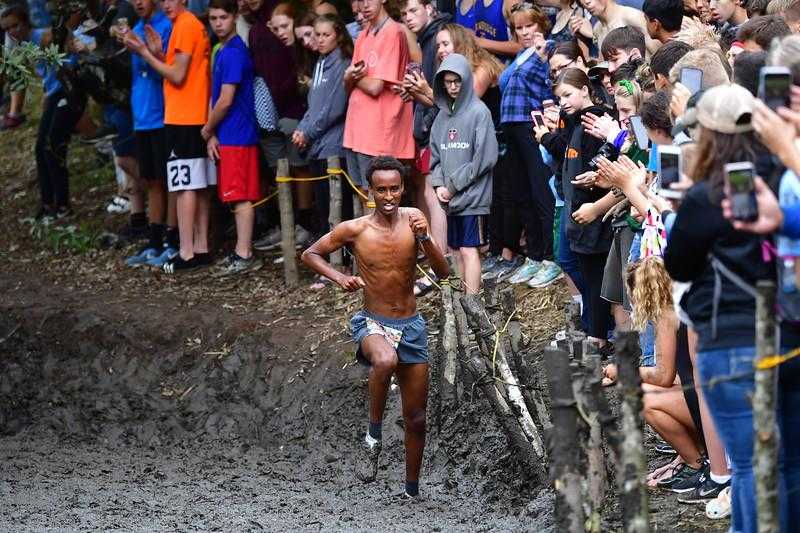 For all but a select few, cross country events like Ultimook are not about securing a personal best, or making it to the finish line with a clean uniform.
The 2,000-plus runners who competed at Saturday's Ultimook cross county event, located at Hydrangea Ranch a few miles north of Tillamook, come for a challenge, yes, but mostly for something fun and different.
The meet, hosted by Tillamook coach Pat Zweifel, has become an annual fixture for cross country teams aiming to break up the monotony of training with something different.
And Ultimook is different. The course is broken up by a variety of terrain, including a thick, soupy mud hole that extends about 20 yards, and there is also a Kilchis River crossing.
Some attempt to skirt the edges of the mud, and many others plow right though it, and sometimes end up on their hands and knees.
A few other September meets, most notably, the Three Course Challenge in Warrenton, offer a similar experience.
The grounds at Ultimook, in addition to Tillamook's training, are also used for a summer camp. Next July, the first Melody Fairchild Girls Running Camp will come to Ultimook. (Fairchild is a high school running legend who competed at the University of Oregon and now lives and coaches in her native Colorado).
At the front of the varsity 5A/6A races were a pair of winners who expect to contend for state titles.
Parkrose senior Ahmed Ibrahim dipped under 16 minutes (15:59.3) for the fastest time ever on the 5,000-meter Ultimook course.
Grant junior Annelies Quinton covered the course in 18:51.2 to win the large-school girls race by 18 seconds -- also a meet record. Hood River Valley twins Frances Dickinson and Josephine Dickinson finished second and third, respectively.
At the Western Oregon's Ash Creek Cross Country Festival, a handful of the state's top teams went head to head in one of the first high-profile meets of the season.
Jesuit and Franklin, both ranked in the top 50 nationally to start the season, both ran well in hotly contested boys race. The Crusaders scored 57 points to edge the Quakers by a single point and Dublin, one of the top teams in California, finished third with 74.
Ashland, running without standout senior Evan Holland, was fourth with 105 points. Sherwood (133), Central Catholic (138) and Lincoln (160) weren't far behind.
Senior Jonas Price of Yakima's Eisenhower High broke the course record by running 15:02.2. Franklin junior Charlie Robertson was second in 15:06.3.
Lincoln freshman Kate Peters won her first high school 5,000 meters race impressively, taking down a record held by Summit's Olivia Brooks with a winning time of 17:48.7. Franklin junior Autumn Ost was second on 17:58.8.
Jesuit put six runners in the top 11 to win the team title easily, with 35 points. Lincoln put three in the top eight and scored 46 points.
At the Spartan XC Invite at Marist Catholic in Eugene, the U.S. No. 1 Summit girls held out several of their top runners but still swept the top three spots and scored 19 points for a convincing team win. Sophomore Teaghan Knox ran 18:05 and won by nearly 40 seconds.
Sheldon junior Vincent Mestler won the boys race in 15:54.4, outlasting South Eugene's Nate Tavakolian by 1.2 seconds.
Summit, with Sam Hatfield and Joseph Sortor going 3-4, won the team tite with 39 points. Sheldon was second with 53 and South Eugene was third with 81.
Doug Binder is the editor of DyeStat.com