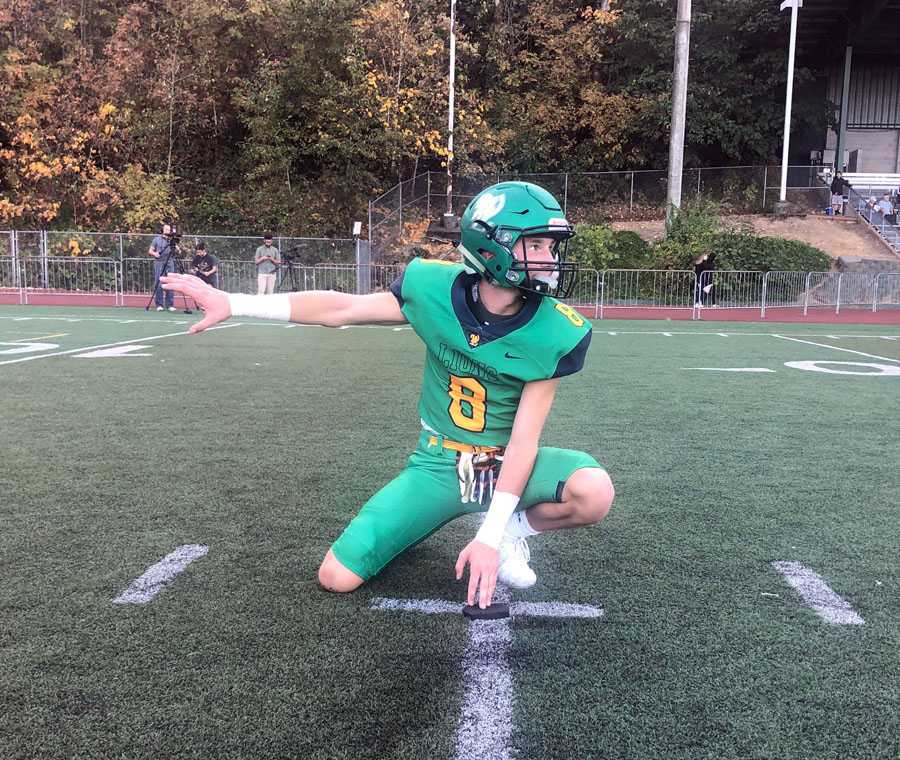 Every Friday night, we'll offer you PATs, a few nuggets from the night that was. Be sure to check out Jerry Ulmer's comprehensive Football Notebook, published Sundays, for an in-depth look at all of Friday's action from across the state.
Thurston Howls
Beaten by 51 points last year when these teams met, defending 5A champion Thurston shocked 6A runner up Sheldon on the road, 34-19. The Colts became the first Eugene-area team since 2000 to beat the Irish and also provided a boost to 5A programs across the state, which had regularly taken beatings when facing quality 6A opponents. Cade Crist threw four touchdown passes and Thurston piled up 542 yards of total offense in the win.
85 points?
Not many would have guessed that 6A No. 1 Lake Oswego and No. 3 Jesuit would combine for 85 points. This was supposed to be a low scoring affair with the way Jesuit likes to keep the ball on the ground and run clock and with LO still breaking in a new QB. Indeed, in two meetings last year the team combined for a total of 72 points! Friday at Lake Oswego featured fumbles, a pick six, one blocked punt for each team and some explosion plays from Casey Filkins and Thomas Dukart. That's how the teams got to 85 total points in a game that the Lakers, which won, 44-41, led 24-7 late in the first half and by 16 late in the third quarter. Jesuit, which got strong running from Kade Wisher and Ted Atkinson, played without injured star Andy Alfieri. That's got to give Crusader fans hope if they face LO again this season. Jesuit has lost the last four meetings between the teams.
Where's the turnover chain?
2A top-ranked Monroe found itself in a battle with 0-1 Grant Union knotted at 14-14 at the half. But the Dragons benefited from five second half turnovers to down GU 27-14. Dylan Lynn had two INTs and Dylan Irwin had 14 tackles for Monroe, which pitched a shutout in the second half. Zach Young had 171 rushing yards and QB Austin Teran accounted for three scores, two rushing, for the Dragon offense. Russell Hodge eclipsed the century mark on the ground in the loss for GU.
Vikings Un-Vale Running Game
Jared Fulwyler rushed for 139 yards and QB Colton Kesey added 104 yards on the ground as Vale, No. 5 in 3A, pulled away from 4A Ontario for a 41-30 win in what was a back and forth affair. "This game was exactly what rivalry games are supposed to be about," said Bob Phillips a coach at Vale.
One Heckuva Bounce Back!
Lakeridge got embarrassed last week, 53-7, on the road versus Tualatin. It didn't figure to get better for first-year head coach Forrest Sherman and his Pacers traveling to powerful Clackamas. But with Jalen John running with authority and the Cavaliers perhaps showing rust after their opener last week with Iolani from Hawaii got canceled, Lakeridge showed its promise and resilience in coming away with the 41-28 win.
Madras Buffaloed By La Pine
3A La Pine traveled to 4A Madras with a huge [Buffalo] chip on its shoulder. La Pine coach Bo De Forest said his kids have been hearing for two weeks how Madras was favored to win handily. Well, the Hawks turned the table on the White Buffaloes. La Pine controlled the ball, the line of scrimmage and the game in the 22-3 win. "It was great to see us step up and impose our will," De Forest said. "We are still a young team and we needed a game like this."
Query What A Rolling Moss Gathers?
Jakoby Moss scrambled for a six-year touchdown as time expired in a close first half and Mountain View scored four long-distance rushing touchdowns in the second half to pull away from Sandy for the 48-13 home win. Keenan Harpole finished with 185 yards rushing on 27 carries and scored two of those second-half TDs, from 51 and 36 yards out.
Coleman Passing Good For Six
Making only the second start of his career Ethan Coleman threw six touchdown passes, two to TE Mitchell Duea, as West Linn built a 49-0 lead after three quarters and went on to the 49-14 road win over McNary.
Ashland and West Albany Toss Gooses
Ashland got four TD tosses from Rieger Sayre in a 49-0 win over Springfield. West Albany took a 41-0 decision over Crescent Valley behind stout defense and three touchdown, two through the air, from QB Carson Van Dyke.
Deuces Wild For Aloha
Aloha got two touchdowns apiece from Sir Charles Mitchell, Alex Reid and Tanner Volk in a 56-6 win on the road at Gresham. Oh by the way, Timothy Dennis, Jr. threw six touchdown passes for the Warriors.
Tackle This Bowman Stat
Middle linebacker Bryan Cuthbertson had 21 total tackles in Sherwood's 42-14 home win over Sprague. The Bowmen trailed 14-7 at the half before exploding for 35 unanswered. RB Clay Peden finished with three scores for Sherwood.
Moving On Up
Nationally-ranked Eastside Catholic of Sammamish, Washington spotted Central Catholic a 14-point lead then rattled off 44 straight to win going away, 44-21. Gee Scott, Jr. caught three scoring strikes for the victors.
Ground Game For Moreland Makes Sense For Southridge
Romel Moreland rushed for two touchdowns in the first half and two more in the second, when Southridge overcame a 23-20 deficit to pull away from Lincoln, 62-42. Josh Calo finished with two receiving touchdowns and Katsuo Steward got a TD and had a pick six in the Southridge win. Marko Vidakovic had two first-half receiving touchdowns for Lincoln.
***
That's all we have time for tonight. Be sure to check out Jerry's report on Sunday!