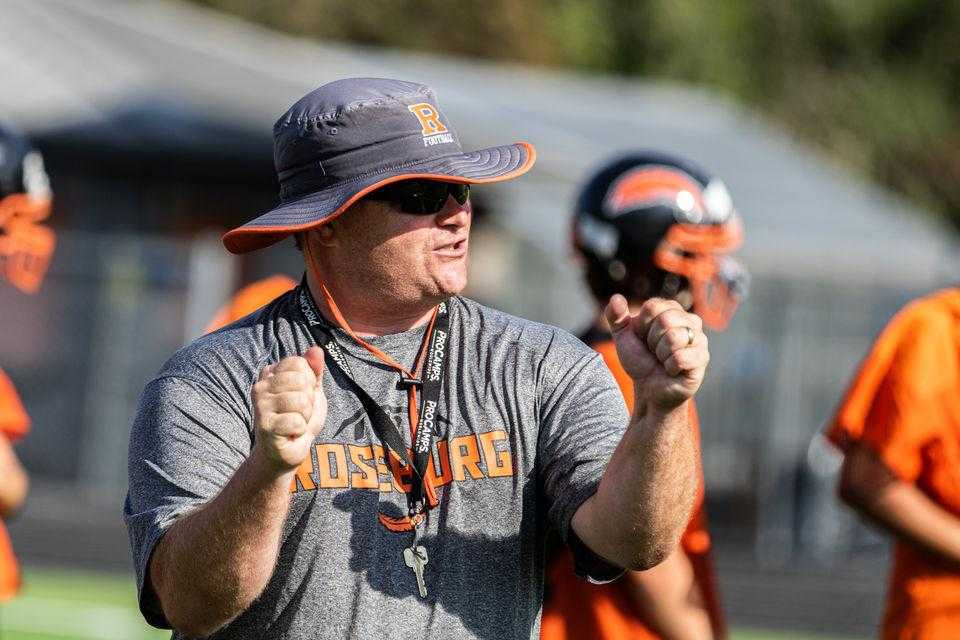 It's been a while since the glory days of Roseburg football.
The Indians, who won 332 games and four state championships in 45 seasons under legendary coach Thurman Bell, haven't won a state title since 1996. They haven't had a winning record since 2013 and haven't won a playoff game since 2012.
Dave Heuberger, who replaced Bell as coach in 2016, would like to reconnect to the winning tradition, but after finishing 1-8, 3-6 and 3-6 in his first three seasons, he knows there are no shortcuts.
So with the Indians off to a 2-0 start heading into Friday's 6A nonleague game against Reynolds (2-0) at Mt. Hood Community College, he is hoping to capitalize on the early success.
"Obviously, it's easier to coach after a win," said Heuberger, who went 35-10 during a four-year run as the coach at Springfield, including a 5A semifinal appearance in 2014. "They're more receptive to what you're saying. We've still got a long ways to go, but it helps to have some wins to go along with that process."
Things are looking up for Roseburg. The Indians have struggled with turnout in recent seasons, as low as 64 three years ago, but now have 95 in the program, including 35 freshmen.
On the field, Roseburg is making big gains. Last year, the Indians opened the season by losing to Mountain View 46-6 and McMinnville 23-7. This year, they beat Mountain View 33-30 and McMinnville 42-0.
The offense, which averaged 14.9 points in 2016, 18.3 points in 2017 and 24.0 points last season, appears to have taken another step forward.
"We're spreading the ball around pretty good out of our spread offense," Heuberger said. "We're pretty balanced, running and passing. That's opened things up. We're pleased with the distribution of the ball so far."
Roseburg senior quarterback Jace Stoffal (6-4, 185) was a slot last year but suffered a season-ending broken collarbone early in the team's first game. The Southwest Conference pitcher of the year in baseball, Stoffal is off to a strong start, completing 29 of 42 passes for 396 yards and four touchdowns with one interception.
"He's very calm from everything he's done in other sports," Heuberger said. "The main thing that's very impressive is he's checking us in and out of some plays. He's probably audibling 15 to 20 times a game. It's pretty fun to watch him do that, and the confidence he has when he does it."
Sophomores Carson Six (10 catches, 161 yards) and Garrett Zeimet (seven catches, 128 yards, two touchdowns) are proving to be reliable targets. Senior Doran Gillespie (160 rushing yards, three touchdowns) leads the Indians in rushing.
Senior linemen Hunter Blix (5-11, 225), Colton Jordan (6-0, 25) and Jon Pike (6-3, 190), who has moved from receiver to defensive end, anchor the defense.
"A lot of those guys started as undersized bigs for us as sophomores," Heuberger said. "They've played in a lot of games up front. We're excited about their leadership up front."
Roseburg beat Reynolds 49-38 at home last season, but the Raiders appear to be improved after defeating Roosevelt 56-12 and Franklin 64-0. Reynolds has outgained its opponents 806-203, led by junior running back Miles Wilson, who has rushed for 377 yards and six touchdowns.
"We'll be tested by Reynolds. They have some dynamic playmakers," Heuberger said.
A glance at other top games in Week 3:
6A
No. 9 Sheldon (0-2) at No. 6 West Linn (1-1): The Irish are still searching for their first win after losing 34-19 at home to 5A No. 1 Thurston last week, ending a 65-game winning streak against Eugene-area teams that dated to 2000. West Linn bounced back from an opening loss to Central Catholic with a 49-14 win at McNary as Ethan Coleman threw six touchdown passes, three to Casey Tawa. Last year, Sheldon defeated visiting West Linn 42-27.
No. 7 Sherwood (2-0) at No. 8 Lakeridge (1-1): Which is the real Lakeridge team? The one that lost to Tualatin 53-7 in the opener, or the one that stunned Clackamas 41-28 on the road last week, behind 330 rushing yards from Arizona-bound Jalen John? A game against the Bowmen will be revealing. Last year, Sherwood rallied from a 14-0 halftime deficit to beat the Pacers 27-22.
5A
No. 1 Thurston (2-0) at No. 3 Crater (2-0): No team is riding a bigger wave right now than reigning 5A champion Thurston, which smacked 6A power Sheldon 34-19 last week, the Colts' first win over the Irish since 1998. But Thurston QB Cade Crist faces a stiff challenge in the Comets, who have allowed seven points in two wins. Thurston outlasted Crater 40-35 last season.
No. 4 Silverton (2-0) at No. 5 Lebanon (2-0): The Mid-Willamette Conference seems to produce at least one big matchup each week, and this time it's the Foxes, who have outscored their foes 96-7, against the Warriors, who are coming off a hard-fought 28-20 win at Dallas. A year ago, Silverton scored a touchdown and extra point with 37 seconds left to beat Lebanon 37-36.
4A
No. 1 Banks (2-0) at No. 3 Marist Catholic (2-0): Reigning 4A champion Banks extended its winning streak to 13 last week by rolling past Sweet Home 35-20 as Tanner Shook scored touchdowns passing, rushing and receiving. To keep the streak alive, the Braves must overcome the rejuvenated Spartans, who have beaten Sweet Home 55-13 and Seaside 35-3. Banks dominated Marist Catholic 51-13 last year.
3A
No. 7 La Pine (2-0) at Burns (2-0): La Pine dropped from 9-1 in 2017 to 3-6 last year, but the Hawks look to be back on track after beating Douglas 42-22 and Madras 22-3. Next up is Burns, which beat La Pine 43-0 last year and has held its opponents to six points this season.
2A
No. 1 Monroe (2-0) at No. 5 Toledo (2-0): Toledo's defense appears much improved this season after last week's 22-12 win at Knappa, which beat the Boomers 52-0 in 2017 and 70-28 last year. A big test awaits in explosive tailback Zach Young and the Dragons, who beat Toledo 54-26 a year ago.
1A
Co-No. 5 Lowell (2-0) at No. 1 St. Paul (2-0): The top-ranked Buckaroos have yet to be challenged – throttling Wallowa 40-6 and Dufur 68-18 – but need to be careful with the Red Devils, who have put up 120 points in two games behind QB Odin Sinnett and running back Taysian Williamson. When the teams met in the Special District 1 championship game in Week 9 last year, St. Paul rolled 76-6.