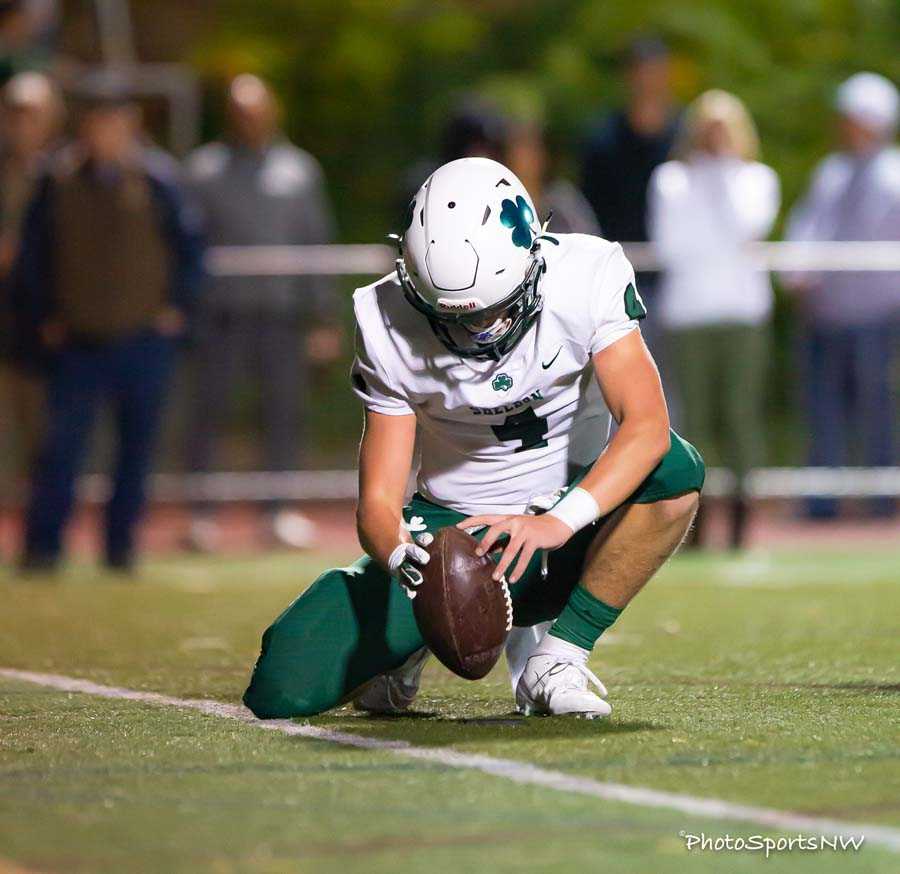 Every Friday night, we'll offer you PATs, a few nuggets from the night that was. Be sure to check out Jerry Ulmer's comprehensive Football Notebook, published Sundays, for an in-depth look at all of Friday's action from across the state.
You Get The Point!
Silverton and Lebanon was not a one-point affair like the last three match ups between the two, but it was still tightly contested for four quarters. Hayden Roth's seven-yard TD run with less than three minutes remaining was the clincher in Silverton's 29-25 win.
Thurston Gets Its Kicks In Crater Win
Gavin Levesque booted two fourth-quarter field goals in what had been a one-score game in Thurston's 31-20 win over Crater, a matchup pitting the No. 1 and No. 3 teams in 5A. Cade Crist finished with 385 passing yards and three scores to pace the Colts, who led 19-7 at halftime but by only 25-20 two minutes into the fourth quarter.
Defense Saving Banks
Defending 4A champion Banks got a TD reception and two FGs from Jacob Slifka and made a 19-0 fourth quarter lead hold up in a 19-14 win over Marist Catholic. Marist scored twice in the fourth quarter and had the ball last, but could not drive the 70 yards needed against Banks' defense to upset the top-seeded Braves.
Central Catholic Returns To Form
Kalvin Souders returned an interception for a touchdown early, Jaden Fulsher rumbled 55 yards for a score on a fumble return and Xavier Simpson returned a kickoff 75 yards for a touchdown in Central Catholic's dominant 67-6 win over Sprague.
Nobody Doesn't Like Tristan Lee
Tristan Lee's second touchdown run of the game, from 59 yards out late in the third quarter, gave Mazama a 21-14 come-from-behind win over previously-unbeaten Del Norte from Cali, which came into the game having outscored its four opponents, 173-33.
Spencer For Higher? Hosanna In The Highest!
Spencer Crawford threw for 124 yards and three TDs as Hosanna Christian remained undefeated with a 44-0 win over Falls City / King's Valley Charter. The Lions held Falls City to 91 total yards.
Sure Would Like A Win
Lucas Voss scored three times and gained 112 yards rushing as Sherwood remained unbeaten with a 50-13 thrashing of Lakeridge. The Bowmen, who also got two TD tosses from Gavin Evans, rolled up 525 yards of offense.
(Wild) Cat Knapp Puts Cleveland Game To Bed
Junior signal called Jayce Knapp threw for 230 yards and four TDs in Wilsonville's dominating win over Cleveland.
Irish Eyes Are Not Smiling
West Linn scored TDs on all six first-half possessions and got interceptions from Chase Fletcher and Zyion Nelson in a 55-14 win over visiting Sheldon. The banged up Irish, who played for the 6A state title last year, fell to 0-3 for the first time in 27 years.
Yamhill-Carlton Dashes To Win
Garret Doran had three scores as the unbeaten Tigers cruised, 48-8, over Willamina. Y-C has scored 40 or more points in every game this year.
Shout Out For Shut Out
3A No. 10 Scio figured to be a step up in competition for No. 2 Santiam Christian. But the Eagles, who lost last year's battle, 30-22, sure didn't play like it and defeated Scio 39-0, the third straight shutout to start the year for the Santiam Christian defense.
North Bend Doesn't Break
North Bend / Powers won a 5A battle of ranked unbeaten by holding South Eugene to 99 yards rushing in a 21-0 home win. Divenson Willis and Ian Spalding combined for 277 rushing yards and three scores in the win.
All Right Now, I Don't Want Them To Gain Another Yard!
Remember Coach Yost from Remember the Titans? Through three quarters Friday, Westview, playing at home, had gained a total of one yard on Jesuit. The Crusaders, getting 150 yards passing and three scores from QB Jack Heyden, led 50-0 after three. Westview scored a touch in the fourth and had 107 yards of offense in the final quarter. 50-6 was the final score.
Grants Pass Rushes To Late Win
Grants Pass came from behind with two fourth-quarter rushing scores, the last from 17 yards out with 62 ticks remaining, to propel the host Cavemen to a 49-43 win over Mountain View. Keeenan Harpole had a huge night in the loss, carrying 32 times for 213 yards. His fourth touchdown, from 33 yards early in the fourth quarter, gave the Cougars a lead they could not hold.
Sunset Cruises Past Southridge
What looked like a shootout early became a blowout as Sunset scored on all nine of their possessions and piled up 611 yards of offense in a 57-7 home win over Southridge. Eight different Apollos scored TDs, including received Jake Eilers, who snagged nine for a buck twenty-six.
Weiser Loss Smarts For Vale
The Vale Vikings dropped their first game of the year, 42-13, to Weiser of Idaho in a game that was closer than the final score. Colton Kesey tossed two touchdown passes for Vale but had chances for an even bigger game. This was the first of three really tough Idaho opponents Vale will face before getting into its District slate.
Same As The Old Berg
Newberg is a one point loss to Grant last week from being 3-0. The Tigers' defense forced seven turnovers and scored twice in Friday's 41-0 shutout of Summit. Price Pothier and Justin Holton teamed for 176 rushing yards and three scores to lead the offense.
There's A Catch In Aloha's Win
Regan Wilson's third touchdown reception of the night, with 5:21 remaining in the fourth quarter, helped Aloha get by David Douglas 48-39 to remain unbeaten on the year. Dakota Lohmeier threw for 310 yards and 3 TDs in the loss for David Douglas.
***
That's all we have time for tonight. Be sure to check out Jerry's report on Sunday!