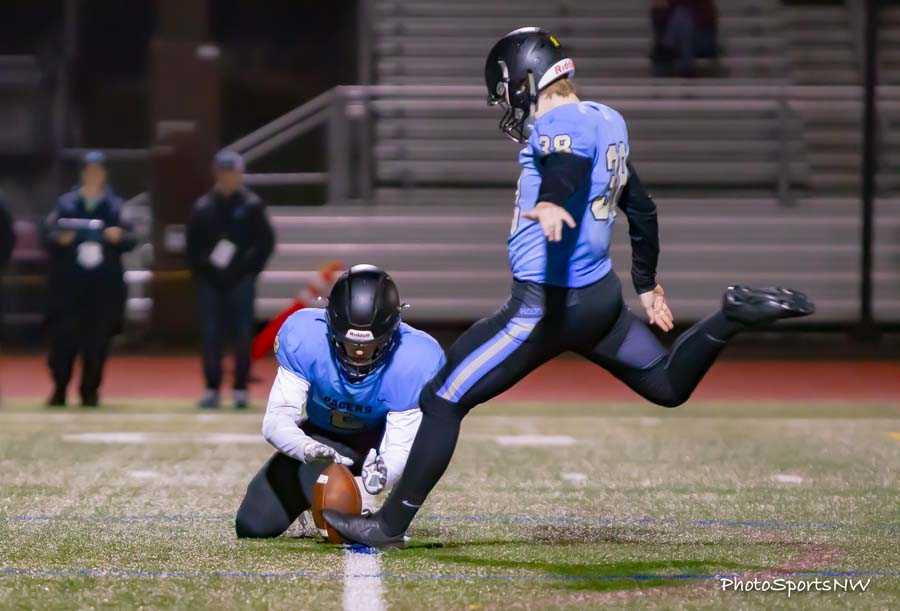 Every Friday night, we'll offer you PATs, a few nuggets from the night that was. Be sure to check out Jerry Ulmer's comprehensive Football Notebook, published Sundays, for an in-depth look at all of Friday's action from across the state.
Aloha Passes Over 'Saders
Timothy Dennis, Jr. threw five touchdown passes, including a 40-yard strike to Regan Wilson in overtime as Aloha stunned Jesuit on the road, 42-41. Aloha had a chance to win the game late in regulation play but the extra point attempt was blocked following Wilson's 14-yard TD reception with less than two minutes remaining. Jesuit scored first in OT on Kade Wisher's second rushing touchdown of the game and kicked the extra point. After Aloha scored, the Warriors elected to go for two and Dennis hit Wilson again for the game winner. The win was the first for Aloha (4-0) over Jesuit since 2010.
Tigard to the Runner
A punishing ground game propelled Tigard past defending 6A champion Lake Oswego, 31-7, at Tigard. With the Tigers ahead 17-7 at halftime, Tigard chewed up more than six minutes of the third quarter clock on its opening drive, which was capped by a Josh Burns run, and the game was effectively over. Hunter Gilbert added a 54-yard run of his 150+ midway through the fourth quarter to put the icing on the cake.
Kommer Goes For The Record
In 5A No. 1 Thurston's dominating 50-7 home win over Eagle Point, RB Wes Kommer became the school's all-time leading rusher. The bruising senior carried 15 times for 93 yards and three TDs. He broke a record set in 2002 by Brian Ford.
Gavin a Blast
West Linn junior Gavin Haines scored three touchdowns, including a scintillating 74-yard run that showcased both power and speed one play after Lakeridge tied the score at 13-13, and the Lions overcame four turnovers to win on the road, 48-27. Jalen John scored two touchdowns for Lakeridge in the loss, but the star of the game for the Pacers was QB Cooper Justice, who tossed two scoring strikes and wore down West Linn's defense with his scrambling ability.
It's Good to be Young!
Zach Young scored four times for 2A power Monroe, including a 62-yard punt return and a 58-yard catch and run, in the Dragons' 49-8 win over Willamina. Edgardo Rodriguez added a fumble recovery TD and Dylan Irwin scored on a 43-yard run in a game Monroe led 29-0 at the half.
At Least The Second Half Was Close…
3A No. 9 Yamhill-Carlton jumped to a 30-0 halftime lead on Taft and the Tigers cruised to the 37-6 win on Homecoming. Jacob Preston ran for two scores and Mikel Rivas caught two TD passes for the still-unbeaten Tigers.
Great Scots!
Jermain Robinson caught three TD passes on offense and had 10 tackles and a pick on D as David Douglas built a 27-14 halftime lead and went on to defeat Glencoe, 34-21, on Homecoming.
Aerial Attack Sends Skyhawks Past Grants Pass
Josh Calo caught three TD passes, Eric Brown two and Katuso Stewart one in Southridge's 56-36 home win over Grants Pass.
Vikings Hate Donuts
Forest Grove trailed Cleveland 6-0 at halftime but got two sustained drives led by Jarod Miller, who was 8-8 passing on those drives, and won a defensive battle, 14-8 at Cleveland. Cameron Bennett had two sacks as part of the Vikings' stout work in the trenches.
Bandon the Run
Ahead by just one at halftime, Bandon forced turnovers to score 28 unanswered in its home win over Creswell.
Lucases Wild In Marist Win
Lucas Patterson returned the opening kickoff 92 yards for a score and scored a rushing touchdown (and had two picks) and Lucas Tuski scored four times on the ground in Marist Catholic's 53-19 home win over Elmira.
Price Is Right in Newberg Win
Sophomore Price Pothier ran for 201 yards and five touchdowns as Newberg won at Canby, 40-14. The Tigers carried a shutout into the fourth quarter thanks to stellar defense from senior end Harrison Hess, who had two sacks and recovered a fumble.
Mazama Rushes To Judgment
Charlie Baker toted the rock for 158 yards and Tristan Lee gobbled up 141 more on the ground in Mazama's 45-0 road win over Phoenix. The Vikings, No. 2 in 4A, finished with 434 yards rushing. They attempted a grand total of two passes and completed only one, but it went for 35 and a touch to Ben Hoegee.
True Grit Shown In Sandy Win
Colby Carson scored three touchdown and Sandy defeated Gresham, 43-12, helping Josh Dill win his first game as head coach of the Pioneers.
Axe Grind Out Win
South Eugene rebounded from being shut out one week ago by dominating Springfield, 50-7. Sparked by OH Bryce Boettcher, who threw for four and ran for two, the Axe led 36-0 at halftime and was working on a shutout until the Millers scored very late in the fourth.
Quick Hits…
McKay stunned Lebanon 42-41, Santiam Christian had its scoreless streak end but still won big, West Albany won its 14th straight over South Albany in shutout fashion, North Medford stayed undefeated with an easy win over Mountain View, head coach Steve Turner's old school, Pendleton continued to have Scappoose's number, Elgin continued to score, putting up 62 in a win over Powder Valley and Grant had several long, long runs in a PIL win over Roosevelt.
***
That's all we have time for tonight. Be sure to check out Jerry's report on Sunday!