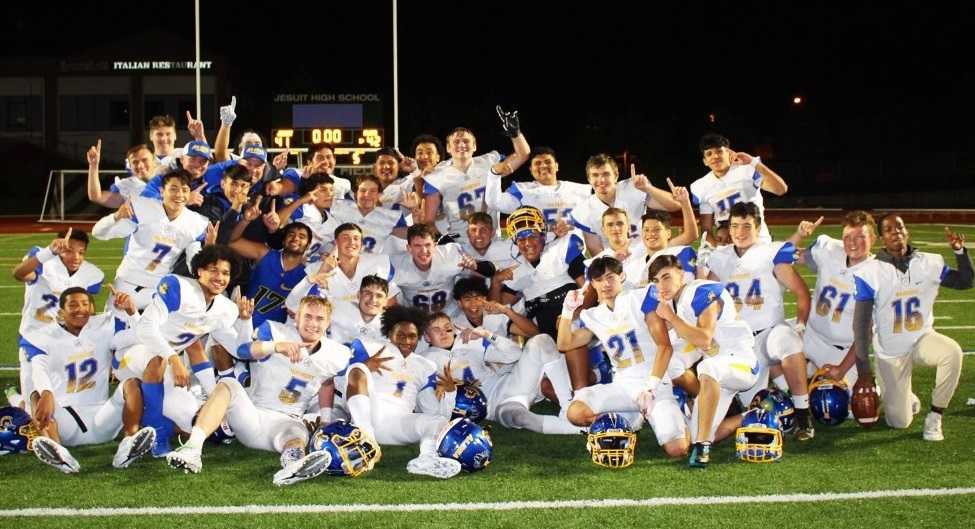 Aloha's football team did more than shock the state Friday night when it won 42-41 in overtime at No. 4 Jesuit, ending the Crusaders' 43-game Metro League winning streak.
"I think we shocked ourselves, too," said Warriors coach Bill Volk, whose team improved to 4-0, 1-0 in the Metro. "It was like the old 'Miracle' movie. Play them 10 times, they might win nine, but that was our turn."
As far as upsets go, this one ranks high. Since beating Jesuit in 2010 on their way to the 6A title, the Warriors had lost eight consecutive games to the Crusaders by an average score of 54-5. Last year, it was 56-7.
So when they had their chance to put away Jesuit at the end of the first overtime, the Warriors seized it, opting for a two-point conversion to win the game rather than force a second overtime with a PAT.
"We just felt it was probably in our best interest to put the ball in our playmakers' hands instead of giving them a chance," Volk said. "They just blocked our PAT before that. We thought, 'You know what, we're on the road, we're at Jesuit, let's end it now. Let's take a shot at it.'"
Senior receiver Regan Wilson – who had just won a jump-ball in the end zone against three defenders for a 40-yard touchdown catch – caught a two-point pass on a fade route from senior Timmy Dennis Jr. to win the game. Aloha's sideline emptied to mob Wilson in the end zone.
"Just a deep sigh of relief. It's over," Volk said. "We all just kind of stood there and waited for the kids to perform, and the kids did their thing."
Dennis completed 26 of 46 passes for 409 yards and five touchdowns with three interceptions, giving him 1,455 yards and 20 touchdowns through four games. Wilson had nine catches for 136 yards and three scores.
Jesuit (2-2, 2-1) led 28-14 at half but Aloha pulled even at 28-28 on two touchdown passes from Dennis to junior Tanner Volk. The Warriors tied again at 34-34 on a 14-yard touchdown catch by Wilson with 1:51 left, but Jesuit blocked the extra-point attempt.
The Crusaders took a 41-34 lead in overtime on a one-yard run by Kade Wisher, who finished with 276 yards and two touchdowns on 36 carries. But it wouldn't be enough to turn back Aloha, which now finds itself in the thick of the league title race.
"Now the target's on us, right?" Volk said. "We better come to work."
'Very, very blessed'
A familiar face can be seen on the sidelines at Tigard games this season.
Craig Ruecker, who resigned as the Tigers' coach after last season for health reasons, has attended all four of the team's games, keeping a low profile near the 10-yard line.
"I promised our group of kids that we have this year that I wouldn't miss any games," said Ruecker, 70. "I just stand down there and watch the game and feel the excitement of how wonderful Friday nights are."
Ruecker has a career record of 308-155 in 42 seasons, ranking him fourth on the state's all-time wins list. In 10 seasons with the Tigers, he guided them to the 6A semifinals five times and a runner-up finish in 2014.
Ruecker said he never planned to retire, but complications from Type I diabetes, including loss of eyesight, forced his hand. Also, he was diagnosed with lung cancer five years ago and had the upper lobe of his right lung removed. He is cancer free.
"My heart aches that I'm not coaching anymore, but with losing my eyesight, I know in my mind that I made the right decision," Ruecker said. "I'm doing OK. I have my limitations."
He said he recently failed an eye test at the DMV, but after visiting the eye doctor, he is now licensed to drive, but only during the day.
"My wife and I were laughing that if I was coaching this year, I could end up standing on the curb with all the freshmen after practice, waiting for their moms to pick them up," he said.
Ruecker said that all things considered, he is a "very, very blessed man."
"I was told in my early 30s, by three different doctors, that I would not live past 42," he said. "I've had Type I diabetes my whole life. The year I was 42, I kind of held my breath.
"I'm very, very blessed that I've had the career I've had. The only crummy thing is I still have my mind. My mind is as good or better than it's ever been. And right now I'm not getting to use it."
Ruecker was thrilled to watch the fifth-ranked Tigers roll past No. 1 and reigning state champion Lake Oswego 31-7 on Friday. He praised the work of his former assistants, first-year head coach John Kemper and defensive coordinator Shane Kessler.
"I'm really proud of them and the staff," Ruecker said. "You can see that Tigard football – and we knew that this group was going to be very special – they're doing a great job with these kids. They've playing good football."
Scots get offensive
McKay's offense picked an opportune time to spring to life Friday as the Scots rallied to beat No. 5 Lebanon 42-41 in overtime for their first home win since 2016.
The Scots, who had scored a total of 13 points in losing their first three games, appeared headed toward another defeat when they trailed the Warriors 35-14 in the third quarter of the 5A Mid-Willamette Conference game.
But behind senior quarterback Tyler Kynaston – who threw touchdown passes to Kaven Enlet, Chansse Lee and Ben Ponce and ran for two scores – McKay rallied to tie 35-35 and force overtime.
"He had easily his best game of the season and probably the best game of his career," first-year McKay coach Brandis Piper said. "We finally got our passing game untracked. That was a huge change."
McKay (1-3, 1-3) missed a potential game-winning field goal in the final moments of regulation, but struck first in overtime when senior Rafael Aguilar ran for a 25-yard touchdown on the first play for a 42-35 lead.
Lebanon (2-2, 2-2) answered with a touchdown and opted to go for two points and the win. Quarterback Dane Sipos rolled out and tried to run for the score, but Aguilar and the Scots dragged him down at the 1-yard line.
It was McKay's first win on its artificial turf, which was installed in 2017. The 42 points is the most the team has scored since a 43-0 win over Forest Grove in 2016, the last home win.
"The biggest thing is we didn't turn the ball over," Piper said. "That's kind of been our Achilles heel. We've been able to move the ball pretty well, but we had 10 turnovers in the first three games. We've been taking opportunities away from ourselves."
McKay, which went 1-8 in 6A in 2017, moved to 5A last year by meeting criteria to play down one classification. The team finished 1-8 last season under coach Josh Riddell, whose contract was not renewed.
McKay hired Willamette coach Glen Fowles, who decided to bring along Piper, his offensive coordinator. But after Fowles moved to Texas for family reasons, Piper was named the coach in June.
Buzz around Hornets
For the first time since 2000, Henley is off to a 4-0 start.
The Hornets built on their momentum Friday by opening 4A Skyline Conference play with a 35-6 win over crosstown rival Klamath Union.
After going 2-7 last season, Henley has climbed to No. 8 in the OSAAtoday 4A coaches poll and is looking like a legitimate contender. It helps that the team brought back 18 starters and 25 players from last season.
"I think the preparation, the mental approach to the game, with more experienced players, has really shown," third-year coach Alex Stork said. "It's been a really great start for us."
Tight end and defensive end Braden Lawrie, a 6-3, 215-pound senior, is having a big year on both sides of the ball. He has five touchdown catches as well as 8.5 tackles for loss and four sacks.
"He's just a relentless player," Stork said.
Junior defensive end Joe Northcutt (6-4, 230) had four tackles for loss and a forced fumble against Klamath Union. Senior middle linebacker John Tacchini, a two-time, first-team all-conference pick, returned an interception for a touchdown Friday.
The offense features all-conference senior receiver Sam Dixon (five touchdown catches) and senior Cameron O'Connor (6-2, 180), who ran for 97 yards on 20 carries Friday.
Stork said that O'Connor "has been a difference-maker for us this year. He's a workhorse, but he's got a little burst that we haven't had in a while."
The Hornets got past the winless Pelicans (0-4) in the Skyline opener, which had all the makings of a trap game, according to Stork, a Klamath Union graduate.
"This was a game that really worried me and our staff," he said. "They're a really good team, but their record doesn't represent that."
To win the Skyline, Henley will have to deal its intra-district rival, No. 2 Mazama. The teams meet in the regular-season finale Oct. 25 at Mazama.
"They always circle that one," Stork said of his players.
Staying grounded
If one team isn't getting carried away with being 4-0, it's No. 2 Tualatin.
The Timberwolves (4-0, 2-0 6A Three Rivers League) remember last season, when they started off 6-0 and finished 6-3 after losing to West Linn, Lake Oswego and Tigard. The same backloaded schedule awaits them this season.
"I told the kids, 'You've got to think of it in terms of getting ready for November,'" coach Dan Lever said. "If Tualatin has two bad practices, and Lake Oswego and Tigard and Jesuit and Central Catholic have two or three good ones, well, we're behind."
The Timberwolves, who beat Sunset 49-27 on Friday, have yet to defeat a team currently ranked in the top 10. They play two more unranked teams, Canby and Westview, before the difficult stretch run.
"I feel like right now we're right where we should be," said Lever, in his third season as coach. "It's fun for me to look at Year 3 and see the difference in our culture. We're pleased with the culture of accountability and leadership the kids have within the team."
The team has benefitted from the return of senior running back Kainoa Sayre, who missed his junior year with a broken ankle. Sayre rushed for 116 yards and two touchdowns on 16 carries Friday.
"Losing him before the season last year, you're going into games missing a bullet," Lever said. "He's played extremely well. I've been shutting him down a series or two early, just to get other kids reps, and keep him healthy."
Lever said his players have learned lessons from last year, when they lost in the second round to Central Catholic.
"The No. 1 lesson the kids have learned is protecting the football," he said. "The other thing, too, is not taking plays off. If you get a lead on somebody, the game's not over. We're really going to find out if we've learned that down the stretch here."
A glance at highlights from Week 4:
6A
Hunter Gilbert ran for 152 yards and Tigard had eight sacks to beat Lake Oswego 31-7. … Sheldon got its first win, dropping West Salem 28-14 as Pierce Ewing recovered a blocked punt for a touchdown. … Beaverton dominated Westview 48-12 behind Carson Budke (333 passing yards, five touchdowns) and Trent Walker (two touchdown catches, 99-yard interception return for a score). … North Medford stayed unbeaten by holding Mountain View to 161 yards and forcing four turnovers in a 38-7 win. Nolan Morris had two interceptions and Devin Bradd ran for two touchdowns. … Toren Tuttle threw two touchdown passes to Austin Boster to lead South Medford past McMinnville 21-7. … Nate Denney rushed for 342 yards and three touchdowns on 37 carries as Bend beat Roseburg 28-14. … Sandy coach Josh Dill got his first win as the Pioneers downed Gresham 43-12 behind three touchdowns from Colby Carson. … Price Pothier rushed for 201 yards and five touchdowns to help Newberg dispatch Canby 40-14. … David Douglas defeated Glencoe 34-21 as Dakota Lohmeier threw four touchdown passes, three to Jermaine Robinson, who had 10 tackles and an interception on defense. … Ryan Rickman rushed for 107 yards and four touchdowns as South Salem rallied from an 18-7 halftime deficit to beat Sprague 28-18. … Cade Knighton completed 18 of 22 passes for 293 yards and two touchdowns in Central Catholic's 35-29 win over Sherwood. … Gavin Haines ran for three touchdowns in West Linn pulled away from Lakeridge 48-27. … Clackamas lost to Tumwater (Wash.) 35-19 despite three touchdown passes from Austin Atkeson. … Mountainside handed Reynolds its first loss, 56-7, as EJ Broussard ran for three touchdowns and Justin Hughes passed for three scores, two to Andrew Simpson. The Mavericks have outscored their opponents 140-7 during a three-game winning streak. … Darik Salinas threw six touchdown passes, three to Josh Calo, to lift Southridge over Grants Pass 56-36. … Damir Collins rushed for 270 yards and three touchdowns in Jefferson's 58-0 win over Madison. Collins has 1,213 yards and 14 touchdowns in four games. … Summit handled Lincoln 51-22 behind Oliver Husmann, who ran for three touchdowns and blocked a punt for a safety. ... Grant's Luke McCullough had five catches for 190 yards and three touchdowns to help defeat Roosevelt 66-30.
5A
Jake Trone caught three touchdown passes and ran for a 60-yard score to lift South Eugene over Springfield 50-7. Bryce Boettcher passed for four touchdowns and ran for two scores. … Thurston beat Eagle Point 50-7 as Wesley Kommer ran for three touchdowns and Cade Crist passed for two scores. … Willamette's Elisha Thompson returned an interception 100 yards for a touchdown in a 44-29 win over North Eugene. … West Albany won its 14th in a row over South Albany, 49-0, getting a 100-yard interception return for a touchdown by Caeden Zamora. … Trever Davis passed for four touchdowns and kicked a 40-yard field goal in Crater's 66-28 win over North Bend. … St. Helens outlasted Wilson 56-49 despite a big game from Trojans quarterback Hunter Davis, who threw for 275 yards and four touchdowns, two to JayShaunn Avritt. … Jayce Knapp threw two touchdown passes and Wilsonville broke from a 20-20 halftime tie to beat Hillsboro 30-26. … Jarod Miller threw two touchdown passes as Forest Grove came from behind to beat Cleveland 14-8. … Grant Buchheit had five catches for 151 yards and one touchdown in Silverton's 41-6 win over North Salem. … Pendleton downed Scappoose 32-14, the Buckaroos' third win over the Indians in the past two seasons.
4A
Lucas Patterson returned a kickoff 92 yards for a touchdown and had two interceptions and Lucas Tuski ran for 155 yards and four scores in Marist Catholic's 53-19 win over Elmira. … Elijah Colas rushed for 127 yards as North Valley defeated Junction City 27-14. … Seaside stopped Astoria 8-0 on a three-yard touchdown run by Brayden Johnson in the first quarter and a safety in the second quarter. … Marshfield won 78-29 over shorthanded Cottage Grove, which suited up 14 players. Josiah Niblett rushed for 143 yards and four touchdowns and Dom Montiel completed 14 of 19 passes for 332 yards and three scores. ... Mazama thumped Phoenix 45-0 as Tristan Lee ran for 141 yards and two touchdowns and threw for a score. … Mason Scheehean ran for touchdowns of 65 and 64 yards to spark Gladstone past Estacada 23-20. … Parker Robinson threw three touchdown passes in La Grande's 43-0 win at 3A Clatskanie.
3A
Umatilla beat Grant Union 6-0 behind a five-yard touchdown run by Eric Hoyas in the first half. … Rainier was tied with Corbett 0-0 at half before winning 14-0. Brandon Isaacson ran for touchdowns of 33 and 52 yards. … Yamhill-Carlton improved to 4-0 as Jaime Garcia threw two touchdown passes to Mikel Rivas in a 37-6 win over Taft. … Kiegan Schaan ran for 141 yards and three touchdowns and passed for two scores to lead Cascade Christian past Pleasant Hill 42-0. … St. Mary's got four touchdown passes from Aliiloa Kaeo-Wailehua and 149 rushing yards from Brady Eiler in a 56-6 win over Gold Beach. … La Pine held off Rogue River 34-20 as Adrian Boysha ran for three touchdowns. … Sutherlin defeated South Umpqua 66-21, getting 100-yard rushing games from Josh Davis, Jake Merrifield and Case Wells. … Sam Vidlak completed 14 of 16 passes for 265 yards and four touchdowns in Hidden Valley's 64-0 win over Salem Academy. … Vale fell to Gooding (Idaho) 41-14. … Siuslaw stopped a two-point conversion attempt with 18 seconds left to beat McLoughlin 48-46. Camp LaCouture ran for 218 yards and four touchdowns for Siuslaw. … Amity ran over 2A Coquille 54-22 with Cody Dyche (146 yards) and Russel Brown (157 yards).
2A
Monroe's Zach Young ran for two touchdowns, caught a touchdown pass and returned a punt for a score to help put down Willamina 49-8. … Heppner blanked Colfax (Wash.) 27-0 as quarterback Jayden Wilson accounted for three touchdowns. … Miguel Velasquez had a 46-yard touchdown run in Reedsport's 20-2 win over Illinois Valley. … Bandon handled Creswell 42-13 as Braydon Freitag threw two touchdown passes, one to Reef Berry, who also ran for scores of 54 and 66 yards. … Oakland blitzed Glide 39-14 by rushing for 498 yards, 328 from Corbin Picknell. … Ashton Bautista kicked a field goal in the third overtime to give Portland Christian a 3-0 win over Vernonia.
1A
Taysian Williamson scored seven touchdowns – rushing for five in the first half -- to spark Lowell past North Douglas 72-30. … JJ Neece rushed for 311 yards and five touchdowns for Mapleton in beating Elkton 52-6. … Pilot Rock rolled over DeSales (Wash.) 44-0 as Tyasin Burns rushed for 311 yards and Logan Weinke caught three touchdown passes. … Wesley Goad had three touchdown catches and returned a punt 88 yards for a score in Ione/Arlington's 50-20 win over Cambridge (Wash.). … Jared Hunt and River Wolfe combined to rush for seven touchdowns as Camas Valley pasted Days Creek 66-14. … Sophomore Tyler Goodwin threw four touchdown passes as Eddyville Charter controlled the second half to beat Jewell 38-28 in a six-man game. ... TJ Crawford completed 8 of 13 passes for 245 yards and four touchdowns, and ran for a score, to lead St. Paul past Mohawk 60-0. ... Adrian/Jordan Valley beat Wallowa 60-6, owning a 450-170 edge in total yards.