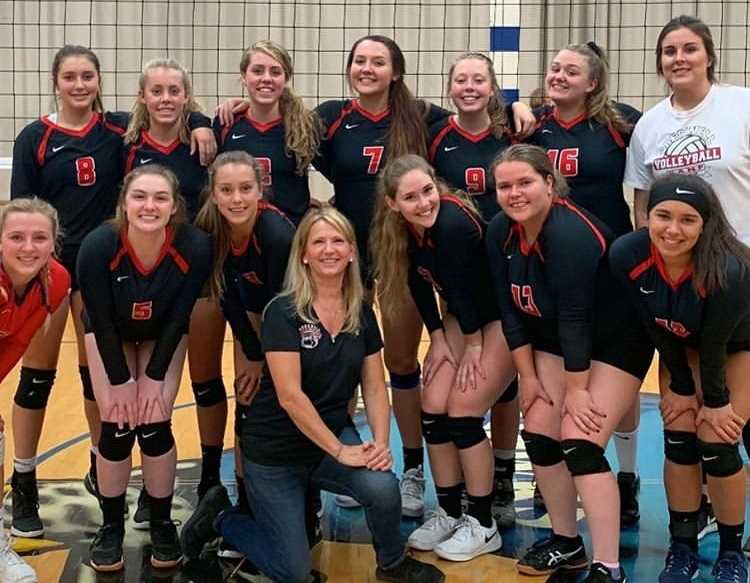 As disappointing as it was for Creswell's volleyball team to lose in the 3A final in 2014, 2015 and 2016, coach Anna Baltrusch found a silver lining.
"All my players said I that I had to get some type of tattoo if we won," Baltrusch said. "When we got there and lost those championship games, I thought, 'Thank God I don't have to get a tattoo.'"
Now Baltrusch, who celebrated her 500th win at Creswell last week, says that she probably wouldn't mind it so much. And the way the Bulldogs have started the season, they could make a run at the school's first title.
"When they show up and they play together, it's a really exciting thing to watch," Baltrusch said. "They know the sky's the limit."
Creswell (11-3), ranked second in the OSAAtoday 3A coaches poll, has defeated several top teams, including 2A No. 2 Portland Christian, 4A No. 5 Philomath, 3A No. 6 South Umpqua and 3A No. 9 Amity. The Bulldogs dropped two matches to 2A No. 1 Kennedy and one to 4A Marshfield.
"The kids just have great ball control," Baltrusch said. "They're playing unbelievable defense, and I've got two awesome setters. I've got a lot of good pieces we've been putting together. And we've got some depth this year, as well. They're gelling together."
The Bulldogs brought back seven players from last year's team, which finished 13-12 and reached the 3A quarterfinals. The group includes 6-foot junior outside hitter Breanna Dapron, an all-Mountain Valley Conference pick in 2018 who is leading the team in kills for the second year in a row.
"After a match, she never asks how many kills she's got. She doesn't care," Baltrusch said. "She's just out there to help the team be successful."
Senior Jenessa Mallory is back at setter and junior Bryndal Olson has moved from the right side to assume the other setter spot. Senior Jane Marquess is the libero.
Thursday, Creswell is home to play top-ranked and reigning 3A champion Santiam Christian (9-0), which has not dropped a set this season. Saturday, the Bulldogs play host to the Creswell Tournament, which is loaded with top teams.
"I'm going to find out a lot this week," Baltrusch said. "It's a big week."
Baltrusch graduated from Creswell in 1979, when she was known as Anna Kelsch, and began coaching in the program as Anna Davis in 1993. She has been head coach since 1996, except for a one-year break in 2003.
Both of her daughters played for the Bulldogs: Heather Peterson, a 1997 graduate who played in college at Christian Heritage (Calif.); and Sarah Hanson, a 1999 graduate who played at UTEP. Her son, Chad Davis, played three sports at Creswell before graduating in 2003.
Baltrusch has been wildly successful at Creswell, coaching the Bulldogs to the state tournament 11 times since 2006. The school plans to have a ceremony before Thursday's match to honor Baltrusch, who is 16th on the state's all-time wins list.
"The reason you coach is not to win championships. You get your team to perform at the highest level, that's my goal," she said. "It's really important to me that the kids care more about their teammates and have a team attitude. I really want kids to love the game of volleyball."
Baltrusch credits her success is due to an ability to create a positive and fun environment for players.
"Everybody that has played here goes on to play in women's leagues or in college, or they coach," she said. "They just love to play the game."