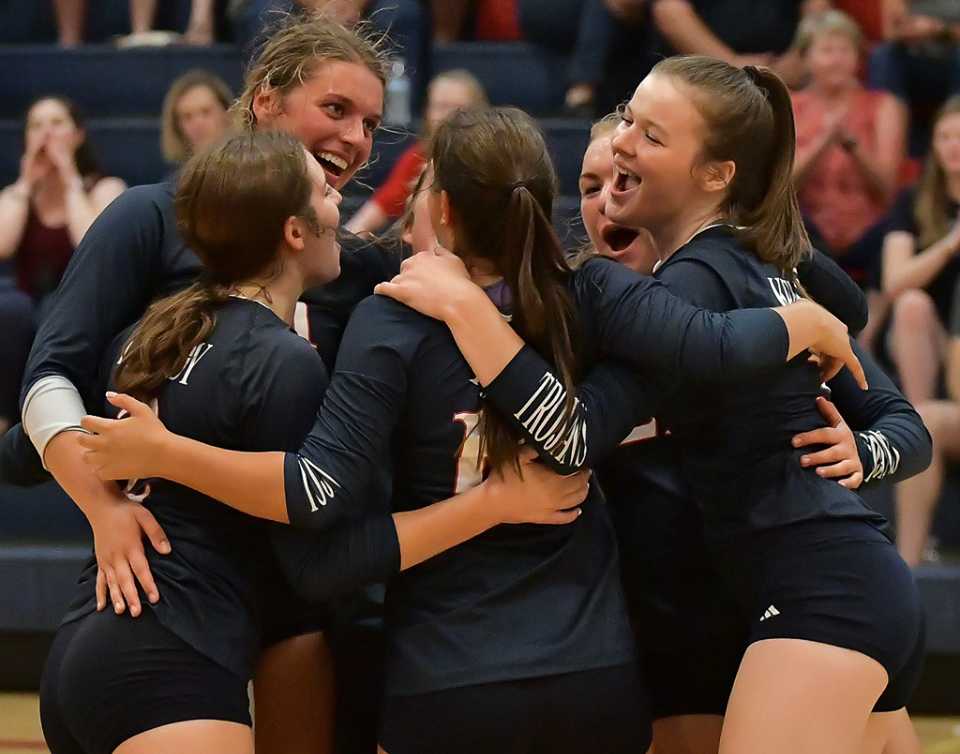 Kennedy's volleyball team finished third at the OSAA 2A state tournament in 2017 and fifth a year ago. But the Trojans, who captured state titles in girls basketball and softball in 2018, have never earned the blue trophy in volleyball. That may change come November. Head coach Laura Beyer's team is 18-1 to date and ranked No. 1 by a comfortable margin in the most recent OSAAtoday 2A coaches poll.
"We are very motivated to go back to Redmond this year and finish strong," Beyer said. "Last year we had some unfortunate illnesses and mild injuries the week of the state tournament, which affected us both physically and mentally."
Kennedy returned seven varsity players, including six starters, from last year's team, which was seeded first entering the state playoffs before losing a semifinal heartbreaker, 16-14 in the fifth set, to eventual champion Portland Christian. The Trojans fell subsequently to Central Linn in the third/fifth match.
This year, Kennedy has already defeated PC and Central Linn, which rank second and third, respectively, in the 2A coaches poll. Indeed, the teams the Trojans have vanquished over the first month of the season read like a Who's Who of the top small schools from across the state. Kennedy has defeated 1A No. 2 St. Paul, is 5-0 against the 2A Top 10, owns wins over the Nos. 2, 3, 4 and 5 teams in 3A and swept 4A No. 10 Astoria. The Trojans' only loss was to Sweet Home, which happens to be No. 1 in 4A.
"We play against very tough 3A and 4A teams to assess our strengths and weaknesses," Beyer said. "Our early success is in part due to the tough pre-season and tournament games that we choose to schedule."
Senior middle blocker Sophia Carley, junior libero Hailey Arritola and junior setter Ellie Cantu lead the team. All three were members of state championship teams in basketball and softball. Elise Suing, Emily Cuff and Kelsey Kleinschmitt also played basketball or softball or both.
While Kennedy has a history of producing strong girls teams, it is a special time for girls athletics on the Mt. Angel campus.
"We have a core group of girls that are now juniors and seniors that have played together for many years beginning in middle school," Beyer said. "Their exposure to volleyball was very minimal compared to softball and basketball, where they began as young as first graders. However, they have developed a love and passion for volleyball that has prompted them to seek out opportunities to play volleyball in the off-season as well. Several of our girls this year have played some club volleyball and competed in sand volleyball tournaments."
Beyer said what motivates her team isn't that Kennedy has never won a volleyball title. Rather, the players have a natural passion for the sport. That passion fuels their drive to continuously better their games individually and as a team.
"Kennedy has an experienced group of players that are unselfish, hardworking and passionate about the sport, which has contributed to our early successes," Beyer added. "We are much more balanced this year on defense and offense. We are not dependent on any one or even two players. The team is really working together to be successful. They are really enjoying not only our victories but each other."
The trio of Arritola passing serve, Cantu making pinpoint passes and Carley overwhelming defenses with her hitting power would be enough alone for any 2A team seeking to make a deep tournament run. Kennedy, however, is much more than three players. After getting passes from Arritola and Ibeth Gomez (who sometimes sets while Cantu hits right side), the athletic Cantu is able to run a fast offense and pinpoint sets to Carley and fellow middle Emma Beyer, who has made stepped up her offensive game this year; as well as pins Suing, Kleinschmitt and freshman Meah Carley.
While Kennedy is a strong favorite to capture its first state title, Beyer is working to make sure that her talented team stays on task and doesn't get ahead of itself.
"It's always a challenge to compete at our highest level each and every night," she explained. "We are at times facing teams that are not as experienced or skilled. We can never look past any opponent. We are challenged to push ourselves to stay in the best of shape, mentally and physically, continuing to carve out time for strength and conditioning and goal setting during our practice sessions."
The Trojans have 10 matches remaining, including an endowment match at 5A Silverton, before the state playoffs begin. Chances are they will be 28-1 entering the post-season.
"Our goals are to mentally and physically prepare for our end of season league and the state playoffs," Beyer said. "We are determined to pick up the tempo of our game. This is really about using all of our offensive weapons to the best of their abilities and it all starts with our defense to make sure our passes enable our setters to run the quick and varied sets that opponents will have trouble defending.
"Do I think we can win the state tournament? Of course! Do I think we will win the state tournament? I don't know. Sometimes there are factors we can't control. This year we are very aware of learning how to prepare for those unexpected hardships that night arise and play strong and with confidence in those times. I do know that whether or not we bring home that trophy, this team has already made me quite proud with their outstanding effort, determination and dedication to the team."