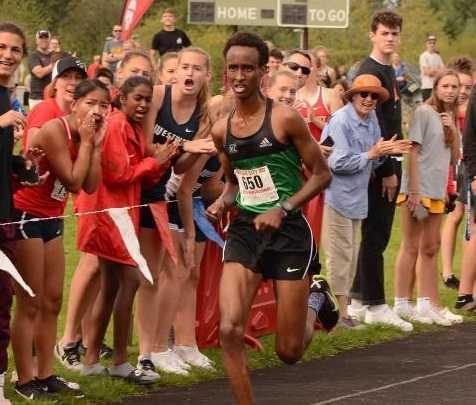 When Parkrose cross country coach Steve Sexton began working with three brothers -- senior Hassan Ibrahim, junior Abdi Ibrahim and sophomore Ahmed Ibrahim -- he knew right away something wasn't quite right.
The brothers, immigrants from Kenya, had spent the previous year at 2A Jefferson in Marion County before moving to east Portland.
Sexton noticed that the boys often finished in the order of their ages. Hassan would lead, Abdi was next and Ahmed would follow.
The coach could tell Ahmed was actually faster than his brothers, but deferred to them.
"I had to break those guys up a bit," Sexton said. "They are very close, but they had established a pecking order."
Two years later, Hassan and Abdi have graduated and Ahmed is free to roam as a senior. Ibrahim has enjoyed a tremendous first month of the season, racking up wins at the Bill Chapman Invitational, Ultimook, the Northwest Oregon Conference Preview, the Oregon City Invitational and the Meriwether Invitational. On Oct. 28, he finished third at Nike Portland XC.
After placing third in the 5A final last year, Ibrahim has continued to grow and get stronger. Building strength, in the form or running hills and routine of plyometric exercises, were central to his summer training. But he also had a slight knee injury that Sexton kept a close eye on and that limited some of his mileage.
When Ibrahim opened with a 15:20 5K at the Bill Chapman Invitational, Sexton was surprised.
"When he starts racing, he turns it up. I don't know where it comes from," Sexton said.
Ibrahim is motivated to succeed. His family supports his goals of running in college. Additionally, Ahmed Muhumed, the two-time 6A champion from West Salem who runs at Boise State, is a role model.
"I want to get better every year," Ibrahim said. "(Muhumed) is a (mentor) for me, in making sure I'm doing the right things. I admire him and am trying to follow his footsteps."
Ibrahim would like to run a 5K time under 15 minutes and is hoping that it might come on Oct. 19 at the Warner Pacific XC Classic at Lents Park. He expects to go up against Ashland's Evan Holland, one of the top runners in the nation. The two of them will clash again at the state meet in the 5A final.
Beyond that, Ibrahim would also like to perform better than last year's 97th place at Nike Cross Northwest. He had a rough outing last year, but he learned about the course and the event that could qualify him for a berth at Nike Cross Nationals.
"It opened my eyes a lot," Ibrahim said of the experience. "This year I feel like I'm ready to go."
Sexton said he has adjusted the training schedule with the regional meet in mind, following important dates for the district and state meet championships.
"Ahmed wants to do well at the regional meet and make it to nationals, so we are preparing every way we can to make sure he's ready," Sexton said.
If he can clear that hurdle, the national meet will feel like a home game.
Nike Cross Nationals takes place at Glendoveer Golf Course on Northeast Glisan Street, is just a block from his house.
"That would be amazing," Ibrahim said.
Doug Binder is the editor of DyeStat.com