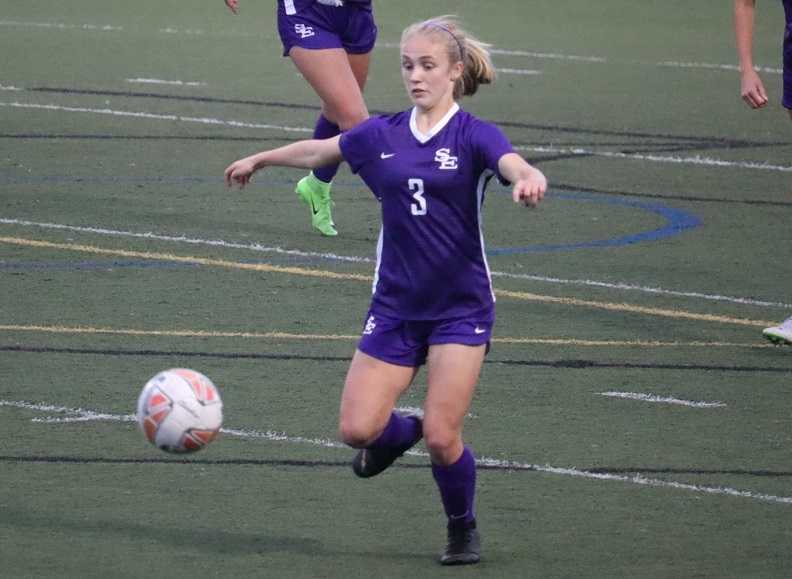 A high-scoring forward and a rock-solid defense has helped South Eugene emerge as the frontrunner in the 6A Southwest Conference.
The junior-dominated Axe, which went 5-7-3 last year, has started 6-0-1, including 4-0 in the conference. The team has scored 32 goals, surpassing its total of 23 from last season, and has yet to allow a goal.
South Eugene moved up to No. 5 in the OSAAtoday 6A coaches poll that was released Tuesday. First-year coach Dean Blachly, who coached South Eugene's JV2 boys in 2018, said the team has exceeded his expectations.
"The pace is just faster than what I expected," he said. "They're playing a lot more intelligently. They move the ball quickly. They play a very beautiful game that I think American soccer hasn't really had a reputation for. This is the first time I've seen it played out on a girls team."
The offense features junior Devyn Simmons, who has racked up 17 goals through seven matches. Twice she has scored six goals in a match.
"She's a very intelligent player," Blachly said. "She's also incredibly fast, and she has the endurance of a marathon runner. She's almost tireless.
"And she's powerful. She's one of the few players we have who can truly hold off defenders. She has that finesse. Whether she's 35 yards out, taking a shot to the far post, or she's going breakneck speed, she seems to have that finesse touch to put the ball away."
Junior captain Lily Lauderbach and senior captain Katelyn Morgan anchor the defense in front of junior goalkeeper Brianna Alvarez.
"They kind of hold it all together," Blachly said. "They're in good shape and they're very well organized. They don't get flustered."
The closest the team has come to giving up a goal was in a 0-0 tie with visiting West Linn on a wet night Sept. 17.
"Brianna has had some great saves when she's been tested," Blachly said. "I think it's a combination of her and that defense and the press that we have in the midfield."
In the midfield, junior Haley Sherrill brings a defensive mindset and juniors Tessa Bretschneider and Sahve Beller have more of an attacking approach.
South Eugene is winning despite having only two seniors on its roster in Morgan and senior defender Ani Lessley, who was lost for the season to a knee injury in a win at Roseburg on Sept. 20.
The Axe struggled from 2013 to 2016, winning two matches each season, before going 13-2-1 and winning the Southwest Conference in 2017. The team slumped last season but has bounced back in a big way.
South Eugene can tighten its grip on the Southwest on Wednesday when it plays at second-place Sheldon (5-2-1, 3-1).
"I'm very curious to see how we do against them," Blachly said. "They're going to come out to want to beat us. We have that rivalry with them."