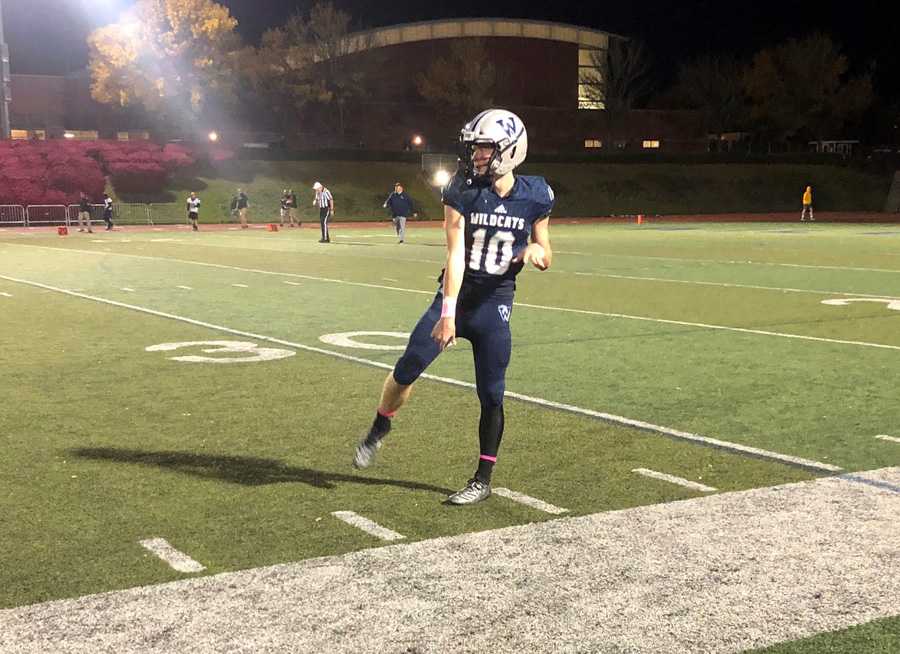 Did anyone see this coming? After a first quarter that featured five punts and both Wilsonville and Scappoose struggling to establish any kind of offensive rhythm, the Wildcats (5-1) exploded for 34 second-quarter points on their way to a convincing 50-14 win in a 5A game played Thursday night in Wilsonville. The victory moved the Wildcats into first place alone in the Northwest Oregon Conference (or, as it is artfully known for football, "5A-SD1-W Special District 1- West").
Wilsonville struggled to find its running legs throughout the contest, but its aerial attack took flight early in the second quarter and never relented. Junior quarterback Jayce Knapp, in his first year succeeding 2018 Gatorade Oregon POY Nathan Overholt, threw a career-high six touchdown passes in the win for Wilsonville, five in a spectacular second-quarter showing.
The first scoring strike came on Wilsonville's fourth drive of the night. The first three drives netted only 54 yards and resulted in Wildcat punts. The fourth drive, which originated in Scappoose territory following a Frank Cooper interception, featured two huge plays: a 29-yard hookup to Payton Dart on first and 25 and the TD pass to junior Chad Overholt. The touchdown happened one play after Knapp was sacked by Tommy McKedy for a nine-yard loss on third down. Going for it on fourth-and-14 from the Scappoose 20-yard-line, Knapp sensed the pressure, rolled right and hit Overholt in the end zone.
Knapp added scoring tosses of 45 and 15 yards to Dart, 71 yards to Jack Kimball and a second to Overholt from 15 yards away before the quarter was done. He finished the half 13-for-25 for 265 yards.
Scappoose, playing without standout senior running back Josh Rice, had very few offensive bright spots in the first half. The Indians found their ground game bottled up by linemen Jake Moore and Aaron Wilcox and Overholt from his linebacker position. Their one highlight was a scintillating 80 yard catch and run from sophomore QB Luke McNabb to fleet Drake Kramer.
The celebration following the score, which pulled Scappoose (4-2) within 21-7, was short lived, however. Two plays later, Knapp connected with Kimball from long distance, effectively sealing Scappoose's fate. After the teams played to a standoff in the third quarter, Knapp added one more TD toss, a shorty to Overholt from six yards out one play into the fourth quarter, to send the fans to the exits.