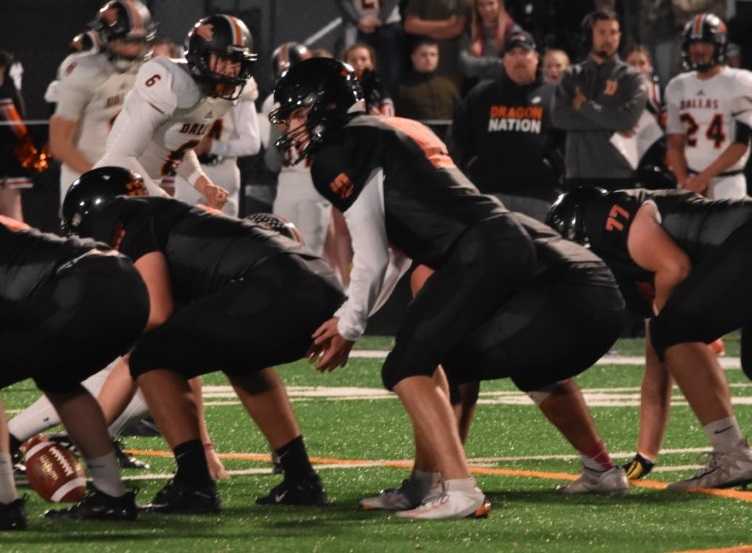 SILVERTON – No. 4 Silverton compiled 459 total yards to remain unbeaten with a 40-23 win over No. 10 Dallas in a 5A Mid-Willamette Conference football game Thursday night.
The host Foxes improved to 6-0 overall, and 6-0 in the conference. Dallas (4-2, 4-2) falls further behind frontrunning Silverton and West Albany (6-0, 6-0).
It was a big win for Silverton, which is overcoming the injury bug.
"A lot of guys fought through, pushed through it and played tonight and had a good game," Foxes senior running back Nathan Kuenzi said. "I'm just proud of everyone. Like (coach Josh Craig) was saying, we played about 42, 43 minutes of good football. If we play 48 minutes of good football, we're going to be really, really tough this year."
Kuenzi rushed for 91 yards on 17 carries and Hayden Roth had 99 yards on 12 carries for Silverton. Quarterback Jordan McCarty threw touchdown passes of 63 and 47 yards to Grant Buchheit, who had 158 yards on five catches.
Run-heavy Dallas rushed for 198 yards, getting 135 yards from Colby Johnson. But the Dragons got most of their yards after Silverton had taken a 34-7 lead early in the third quarter.
"It was nice to stop a primarily run-team right off the get-go, and stop them in their tracks," said Roth, who also played defensive end. "It really brings up the morale and really let our offense really start pushing. When the defensive line is up, our offensive line is up. It's kind of the bowling ball effect I guess."
The Dragons took consolation in their strong finish.
"I think if there was another six minutes left, we could've came back," Johnson said. "It's all about the mental game. We can't get down on ourselves, so we've just got to stay up and stay positive."
Silverton plays Crescent Valley and McKay before a potential league-title matchup with West Albany in the regular-season finale. Last year, the Foxes started 6-0 before losing to Crescent Valley 27-14 and ultimately sharing the conference title with West Albany.